Outfit Details: Topshop Cardigan (XS) | cabi Replay Top c/o (small) | Madewell Denim (old) | Nisolo Sandals
Kitchen Details: GreenPan Cookware Set (also here and here) | Le Creuset Cast Iron Dutch Oven (7.25 quart) | Silicone Utensils | Marble Utensil Holder | LSU Hand Towel | Ole Miss Hand Towel

Today, I'm excited to share a full GreenPan review with you!
If you've been around here for a while, you know that I try to lead a clean lifestyle and started making small changes in my life a few years ago to do so. I started with swapping out makeup products for clean, non toxic products. Then I moved onto skincare. Then body care. Now, both Michael and I use almost exclusively clean brands for our personal care products. Next on my list was household cleaners. I switched everything to Branch Basics (get 10% off any Starter Kit with code COBALT) and Young Living (I started with this Starter Kit).
A few months ago, I decided that my kitchen would be the next space I wanted to tackle. I was on a mission to find the best non toxic cookware.
I knew that teflon wasn't great – the non-stick coating on lots of cookware – but I didn't know how bad it can be for your health until I looked into it a bit further. Teflon coating is made from perfluorochemicals (PFCs), which have been shown to be carcinogenic, disrupt hormones, and affect fetal development. I immediately wanted to get rid of all of my Calphalon cookware that was coated in teflon. After doing a bit of research on my own and chatting with my friend Andréa at Switch Natural, I decided to go with ceramic and cast iron cookware. I ultimately landed on GreenPan cookware for my ceramics (full GreenPan review below!).
GreenPan Review
Before jumping into my GreenPan review, I wanted to point out that even when ditching teflon and making the switch to ceramic, you still need to look out for potentially harmful ceramic cookware. Some ceramics are ceramic-coated and contain heavy metals. Over time, the coating can break down and release the metals into your food. GreenPan does use a ceramic coating, but it's one called Thermolon. It's scratch resistant (more on this below) and doesn't contain heavy metals like lead. GreenPan does use aluminum in its cookware, but it is anodized (coated) so that you are not exposed to it.
After settling on GreenPan, I ditched all of my old non-stick cookware for this GreenPan cookware set (also available here and here). I found that GreenPan not only had great reviews but the price wasn't too jarring for a full cookware set replacement. I went with the classic black with white ceramic inside, but GreenPan offers lots of different color options!
Along with replacing all of my pots and pans, I also threw out all of my old plastic and metal cooking utensils. I purchased this 14-pieces set of silicone utensils, which I love! Not only do they work great, they don't scratch my cookware, and they look beautiful displayed on my countertop!
One last note before jumping into the pros of GreenPan cookware. It's important that you follow the easy care instructions for the cookware so that the pieces last! Do not use non-stick spray on the pans. Instead, use a small amount of olive oil, butter, or ghee. Hand wash the pans. The pans are SO easy to wash! Avoid high heat – ceramic holds heat incredibly well. You'll likely never need to use anything past a medium heat source with the pans.
Pros of GreenPan Cookware
Non-stick surface // Food doesn't stick to the ceramic.
Easy to clean // The cookware is incredibly easy to clean with soap, water, and a dish brush or sponge. Any food or oil remnants essentially wipe right off.
Doesn't scratch easily // The ceramic coating doesn't scratch easily, especially if you're using silicone utensils!
Cooks on low heat // Ceramic holds heat incredibly well. You'll quickly notice that you won't need to turn your burners up past medium on most occasions.
Beautiful appearance // Ok, maybe this only matters to me, but the GreenPan cookware is beautiful! I love the classic black with cream ceramic on the inside. If a more colorful kitchen is your thing, GreenPan has lots of color options to choose from!
Cast Iron Cookware
I won't spend a lot of time on cast iron cookware, but just know that it's a safe alternative to teflon coated non-stick cookware too. While it's certainly pricier than most ceramic cookware, it will last a long, long time! I have a classic cast iron skillet that we use on occasion and a Le Creuset dutch oven (7.25 quart) that I love! We use the dutch oven a couple of times a month. I leave it out on our stove top because I love the look of it so much! It's one of those kitchen pieces that just makes me happy!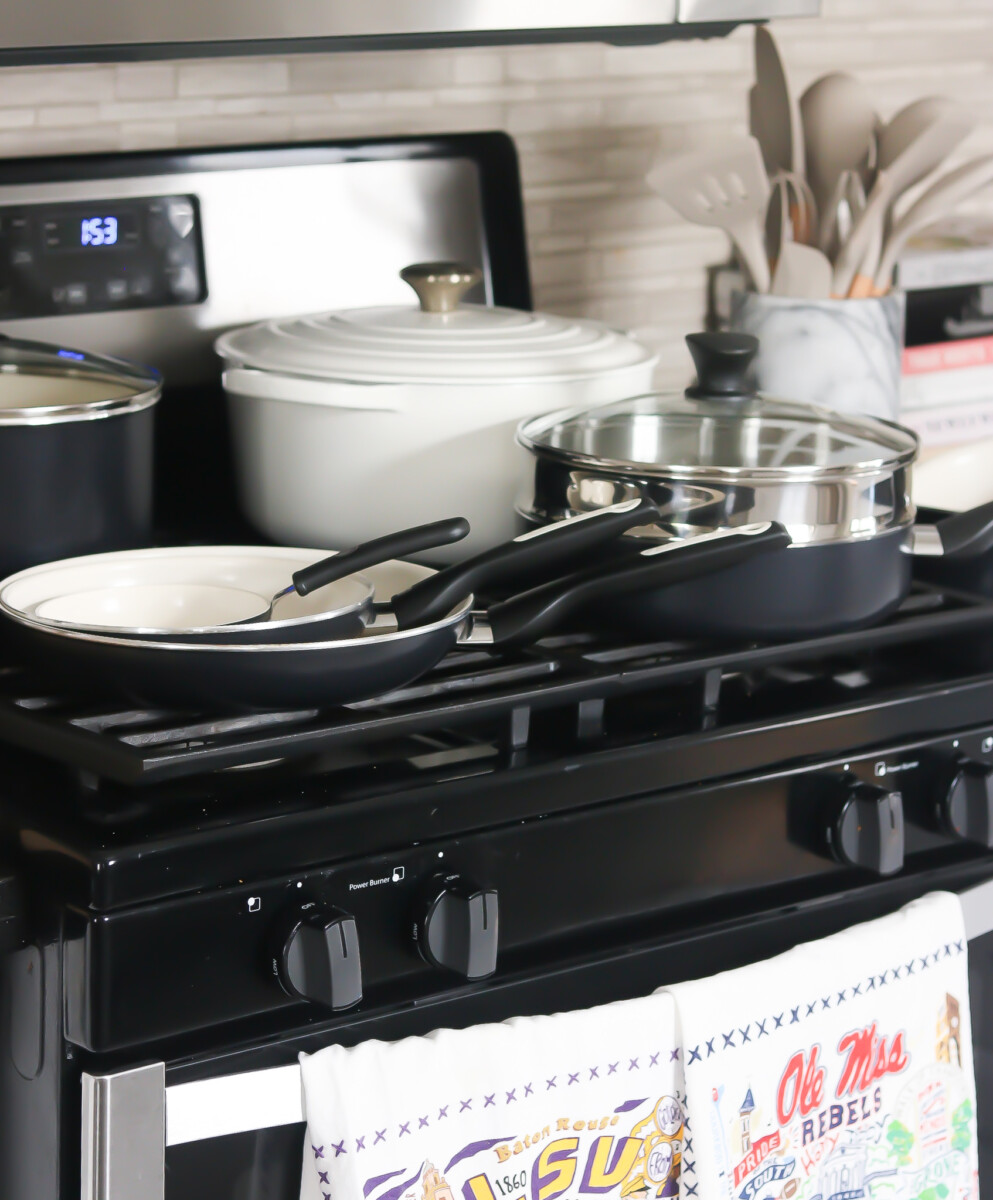 GreenPan Cookware Set (also here and here) | Le Creuset Cast Iron Dutch Oven (7.25 quart) | Silicone Utensils | Marble Utensil Holder | LSU Hand Towel | Ole Miss Hand Towel

GreenPan Cookware Set (also here and here) | Le Creuset Cast Iron Dutch Oven (7.25 quart) | Silicone Utensils | Marble Utensil Holder | LSU Hand Towel | Ole Miss Hand Towel