This post may contain affiliate links.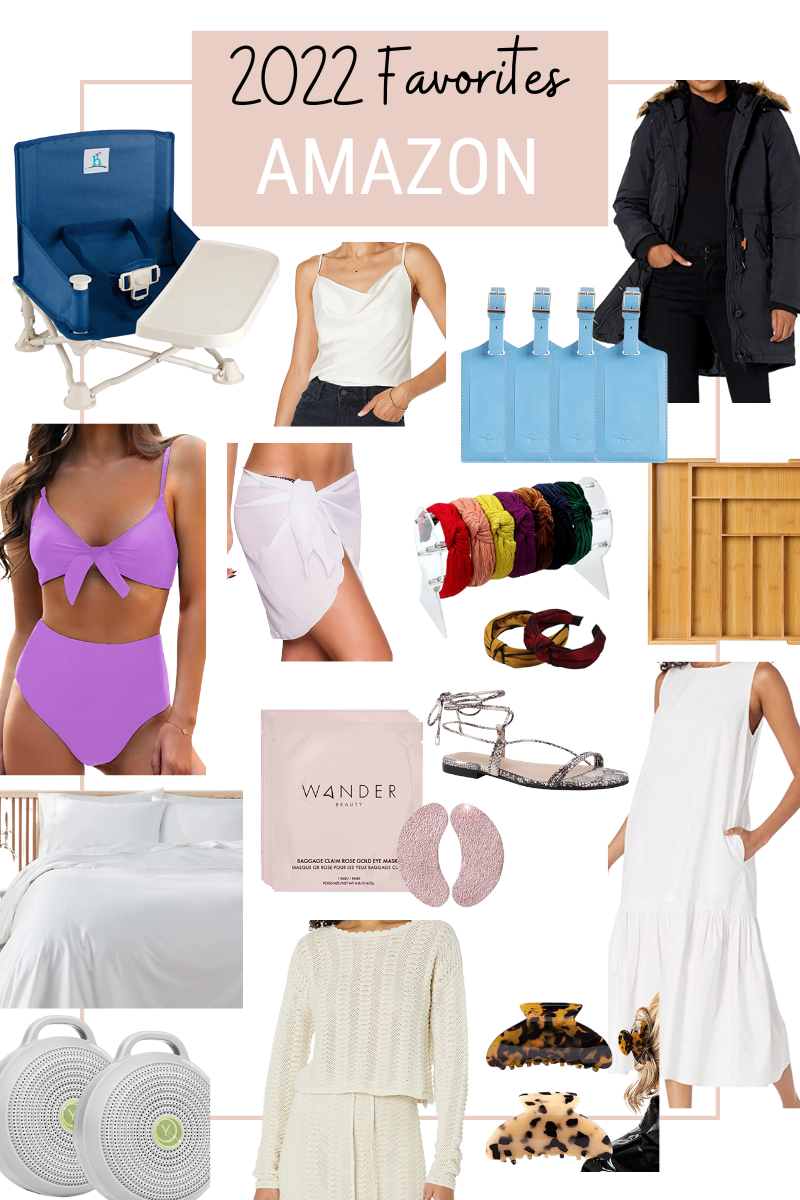 It seems like a week doesn't go by without an Amazon box showing up on my doorstep … anyone else?! I'm excited to round up my top Amazon purchases of 2022! My most used and most loved Amazon purchases of the year!
You can find my monthly Amazon Favorites posts here if you're looking for more Amazon finds! I'm excited to keep up this monthly blog post series into 2023! And you can shop my curated Amazon Shop here … amazon.com/shop/cobaltchronicles, which you can always shop via the Amazon Shop tab at the top of the page. I constantly update it with all of the best Amazon finds!
Top Amazon Purchases 2022
I replaced all of our luggage tags with these blue leather bag tags. Now all of our bag tags match, which brings me joy. And more practically, with the bright blue color that I opted for, it's easy to spot our bags on the conveyor belt!
I'm obsessed with these under eye patches. They do wonders for de-puffing my under eye area. They also feel so so nice too. They're cooling and feel like such a treat in the morning (especially after a long night).
I needed a refresh on my basic camis. I purchased this cami in both ivory and black, and I LOVE it! It's perfect to wear alone or layered under an oversized blazer too. I have a size small in both colors.
An addition to my closet that I didn't know I needed! I love this headband organizer! I have all of my pretty headbands in one spot and on display in my closet.
I purchased this set of claw clips three times this year! And not because they broke, but because I need them in every drawer and in every purse.
Another repeat purchase. the best sound machine! We (Michael, myself, and Weldon) are all obsessed with these little sound machines. We have one in each bedroom and I keep one in Weldon's travel backpack. I also have a couple of extras on hand since they're such a vital part of all of us getting a good night's sleep!
A simple thing that brings me immense joy! I have this organizer in several drawers in our kitchen.
This swimsuit was my MVP last spring and summer! I have it in purple and black. For sizing reference, I wear a size small.
Along with the swimsuit linked above, this sarong was my most worn coverup this past spring and summer. I have it in white and black. It's great as it provides the perfect amount of coverage!
I have been thoroughly impressed with this duvet cover! We were in need of a new duvet cover for our bedroom. This one is really great! And the price point can't be beat! I purchased ours in March 2022 and so far it has held up great!
This little high chair traveled everywhere with us this past year, including every single trip we took, to friends houses, to the park etc. It's the perfect chair to travel with as a high chair. It folds up super compact, and it's easy to clean. We used it on the beach, in hotel rooms, at the park, at friends' houses … seriously such a good purchase!
I'm still mind blown by this winter coat … when I got mine, it was $68, which is INSANE for the quality of this coat! As I'm publishing this post, the coat is on "deal" for $33! Not a joke! This coat is really great quality. Very warm, zips and snaps closed, has a hood with removable faux fur lining … I mean, I really can't recommend this coat enough if you're in need of a new winter coat!
The weight of this top is perfect for warmer weather climates. I wore it all throughout the spring and fall with jeans and paired it with shorts during the summer months. I have it in a size small. It's really cute on!
I have these sandals in three colors (oops!). They're pretty much the only sandal I wore last spring/summer/fall. I have the snakeskin, doe tan, and black leather. They run TTS.
I'm sensing a theme … I have this dress in two colors (white and black). I can't help that I like what I like! This dress is much thicker in person that it looks in the photos – it has a thicker lining. It's not hot, just a nice extra layer (especially in the white shade). For sizing reference, I have it in a size XS.
Happy shopping my top Amazon purchases of 2022!