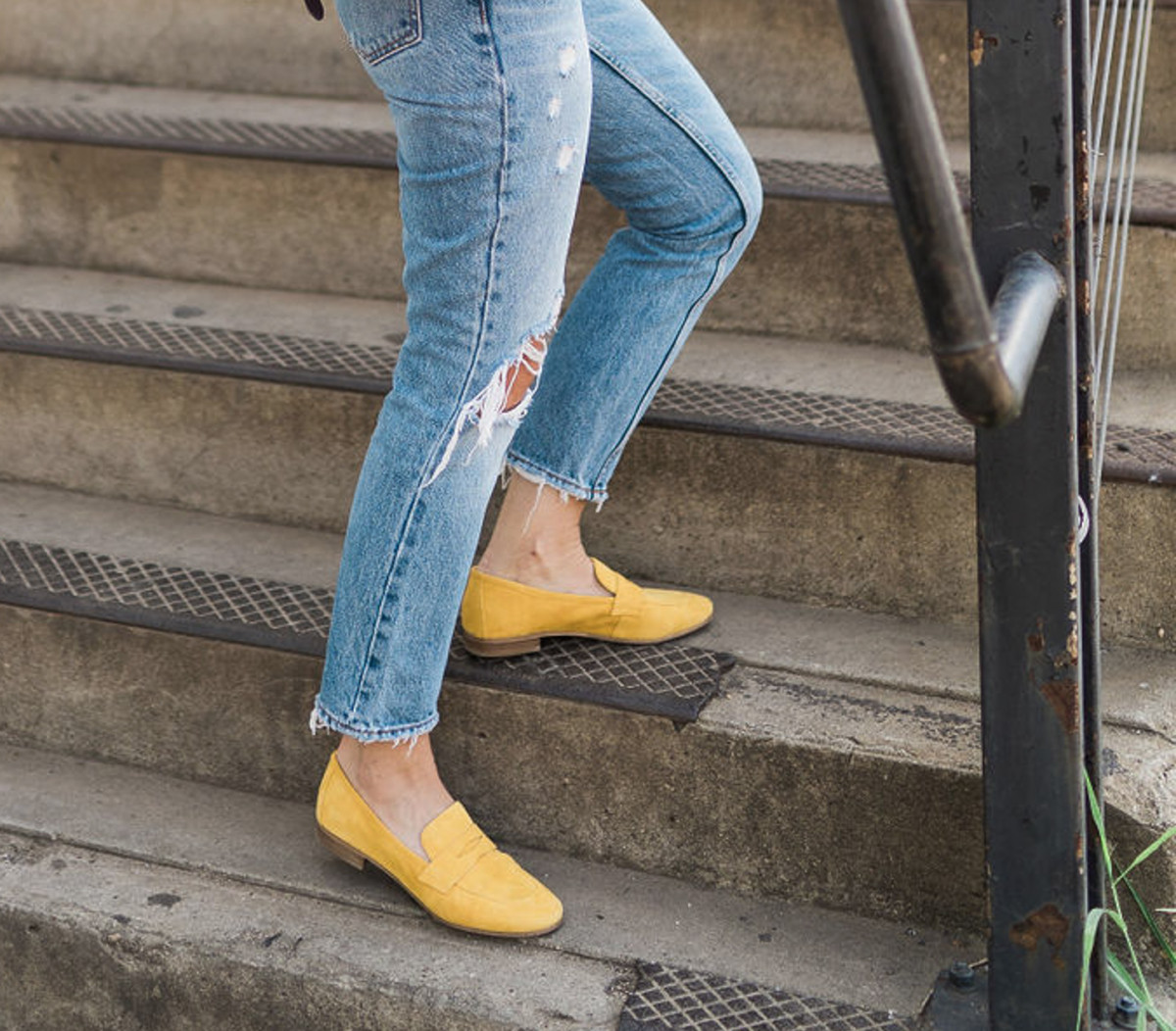 It's mid-September so fall is officially here in my book! Loafers are my favorite shoe to transition into the cooler months. While I really want to pull out my booties and boots, it's not quite cold enough for those just yet. Luckily, there are some super cute loafers and mules out there this season!
Today I'm sharing my top 5 fall loafers!
Top 5 Fall Loafers
Marc Fisher Suede Penny Loafer (On sale! 60% off!)
Marc Fisher was one of the sponsors at this year's TBSCon that I attended in August (full recap on the conference here). They gifted me a pair of loafers from their fall collection (see in the photo above). I've been wearing them ever since! They're made of super soft suede, which makes them so comfortable! No required break-in time. And lucky for you, they're currently 60% off! They're marked down from $140 to $56! A steal! They run TTS.

Sarto Perforated Leather Loafer
I love the uniqueness of the perforated leather. I have a pair of Sarto mules from last year that are super similar to this style of loafer. They held up wonderfully.

Louise et Cie Tassel Loafer (On sale! 60% off!)
Louise et Cie is another shoe brand that I have in my closet. I love the classic tassels on this pair of loafers. And they're currently 60% off – marked down from $140 to $56!

I've had this pair of Everlane loafers for a few years now. I look forward to breaking them out every fall! They're perfect for the office paired with skinny black pants and look so cute with jeans too! They do take a few wears to break in, but after they're broken in, they're very comfortable. Tip: When I first picked up my pair, I left them at my office and would wear them around for short periods during the day to slowly break them in.

Ok, this one isn't a true loafer, but I love a mule for fall, so I had to throw one in! I like this pair because of the heel height. There's still a bit of height without being too tall to be uncomfortable. The perfect amount of heel to dress up a pair of jeans for work and to wear out on the weekends!

Happy fall shopping!

Photo by Lois Campos Fotography