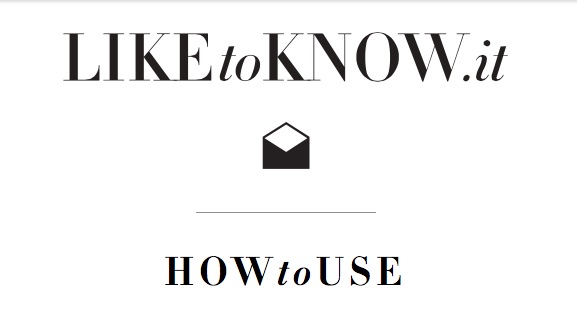 A little lesson in liketoknow.it!  I want to make sure you're in the loop, lady!  If you've stopped by my Instagram account lately, you may have noticed a caption like this one …
{Instagram Caption}
So that little link right there … yeah, this one right here: http://liketk.it/2qtmT.  What in the world?!  Let me explain.  Like to Know it is this convenient little site/app that makes shopping directly from an Instagram photo SO easy!  You can basically shop exactly what the Instagramer is wearing.  It's amazing!
First things first, you have to sign up here.  Just once!  You enter your email and Instagram info, and then, when you "like" a photo on Instagram that has the weird liketoknow.it tag, you'll get an email sent directly to your inbox linking to all of the items in the photo!  And if that particular item is sold out, I always try to link to a similar option.
The number one reason I love liketoknow.it is because it saves so much time!  It's so convenient.  All the work is done for you.  All you have to do is click on the linked items to shop.  Easy peasy.
It all sounds great so far, right?  Ok, I know one thing that might be making you a little hesitant to sign up … You already receive 900 emails a day and don't want anymore clutter.  Well I've got you covered!  You can choose how often you receive the emails: ASAP, daily, or weekly!  And you won't receive any other emails from the app (promise), just the linked items from photos that you "like" on Insta.
Here's the cliff notes version:
1) Sign up for LIKEtoKNOW.it and you'll be set for future "likes"
2) When you "like" a photo you'll receive an email with all of the linked items!
If you have any questions at all, please let me know!
And just for convenience today, I've linked a few of my most recent Instagram posts below.
Happy Shopping!
Marc Fisher Flatforms | Kenneth Cole Wedges (c/o Imelda's) | Marc Fisher Wedges | Sam Edelman Heels (c/o Imelda's)
Buckley K Tank c/o | Michael Stars Cardigan (c/o Imelda's, exact color only available at Imelda's) | Frame Denim | Timex Watch c/o | Moon and Lola Monogram Necklace c/o | Lune + Aster Eye Shadow c/o | IT Cosmetics Lip Gloss c/o
Cole Haan Sneakers | Levi's Distressed Denim | Free People Fringe Scarf | White Tee (old Anthropologie, similar) | Long Cardigan (old Nordstrom, similar) | Timex Watch c/o
lou lou boutiques Plaid Scarf c/o (sold out, exact) | Long Sleeve White Tee | Nordstrom Gray Cardigan (similar) | Steve Madden Tassel Mule Loafers