Happy Friday!  In case you've been living under a rock and somehow missed it, the Nordstrom Anniversary Sale opens up to EVERYONE today!  It can be somewhat overwhelming so I wanted to share with you guys all of the items that I have purchased so far!  There are SO many great pieces included in the sale – Most of them are geared towards fall, but as you can see below, a lot of the items can be worn now too!
Also, as a caveat, I know it's super annoying that a few of these items are currently sold out, but I'm almost certain they will be restocked at some point, so I'll be sure to keep y'all posted when they are!  Let's dive in …
Nordstrom Anniversary Sale Try On Session
This ruffle top will most likely be my most worn piece that I've gotten so far!  I wore it last night to dinner with sandals as seen below.  It's perfect for wearing now and into the fall!  AND it's only $27!  I'm wearing a size Small.  Also love these jeans (this exact pair appears to be sold out) – I ordered a few other pairs of jeans to try out (these, these [my fave and only $38!], and these).  I like all of the denim for different reasons but overall, I really think you can't go wrong with these STS jeans.  The fit is awesome and they don't look like $38 jeans at all!  Great buy.
The ones pictured here are the 7 For All Mankind – They fit TTS but I would need to have them hemmed (I'm 5'4″ for reference).
The boots – y'all.  I know these will be a staple this fall!  I love the slit in the front, it elongates my leg, which I surely can't complain about.  They fit TTS (I'm wearing my normal size 7).  The heel height is great too.  Although I haven't worn them out just yet (because it's one million degrees outside), they are pretty comfortable and I'm pretty sure they'd be great for walking around in!
And lastly, the bag.  I've been in need of a new bag for quite sometime.  I've actually been eyeing this one (also included in the sale) for FOREVER, but when I saw that this one was included in the sale, I knew it was the one.  The size is perfect (it expands the more you have in it – my big canon camera fits in there!), and I love that you can carry it two ways.  Also, it's marked down by $170!!!
Top ($27!) | Denim (exact sold out, favorite pair) | Boots | Bag | iPhone case (not included in sale)
Boots | Rug (Not included in sale)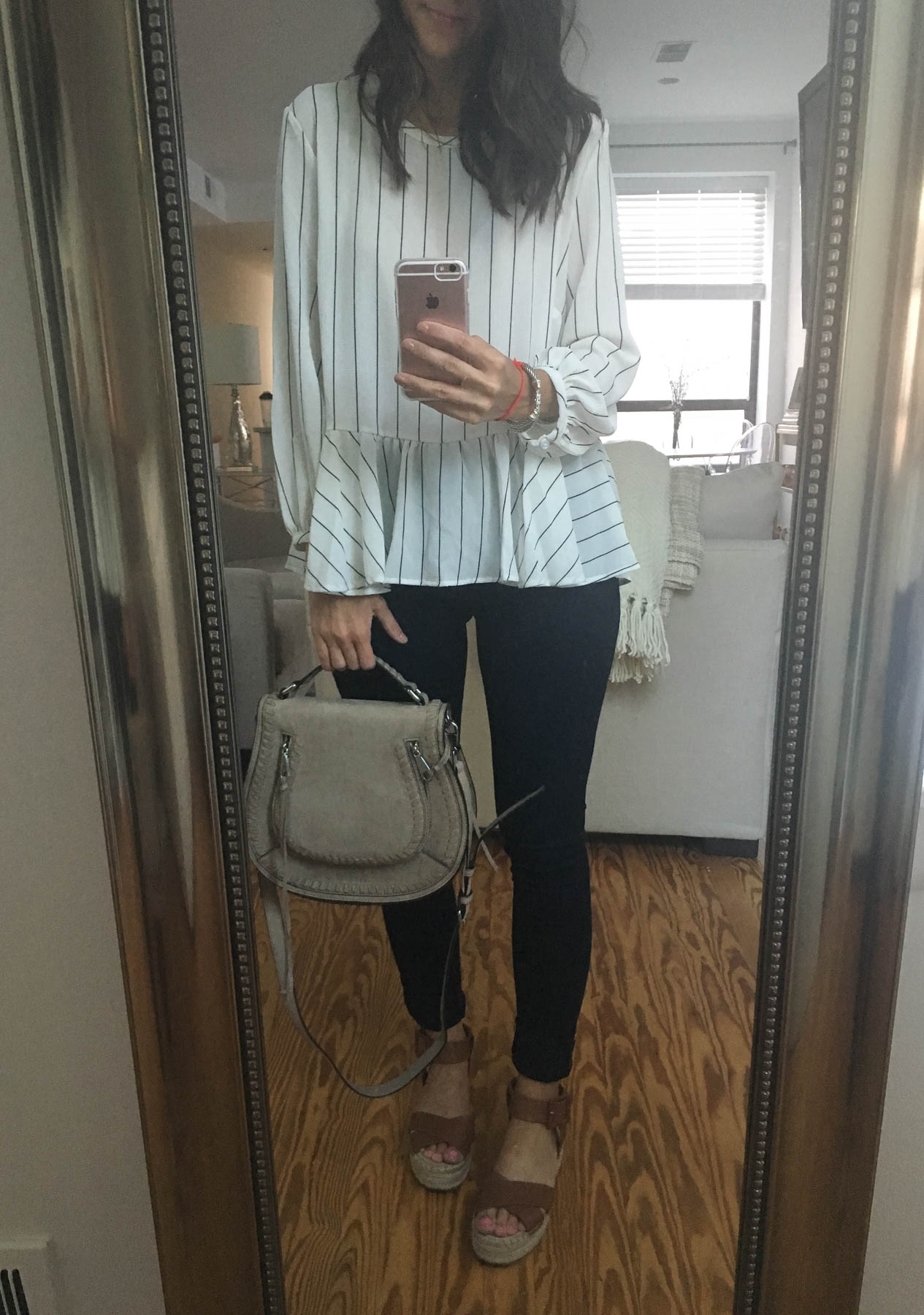 Wear it Now!

Y'all may remember a similar shoe from last year.  This is the updated version for this fall, and I'm in LOVE!  The color on these is so bomb.  They are TTS, I'm wearing my normal size 7.  They're REALLY comfortable, even without socks!  And they're marked down to under $100!

THIS sweater and THESE boots.  OMG.  Let's talk about the sweater first.  The picture on Nordstrom's site does NOT do this sleeveless sweater justice at all.  It is perfect in person!  It can easily be worn right now because of how open it is (the slits up the side and billowy bottom make it breathable).  The quality is amazing, super soft material!  I threw on this bra underneath it for now and will pair a full cami under it in the fall (and eventually a long sleeve).  It's marked down to $52 (post-sale price is $79).  I'm wearing a size XSmall and there is plenty of room so I'd suggest sizing down.  (Remember, free shipping and free returns so buy it in 2 sizes if you're unsure.)
The boots.  I wasn't so sure about them at first, but as soon as I slipped them on I was sold!  They're very similar to the ever so popular (and SO FAR OUT OF MY PRICE RANGE) Stuart Weitzman boots.  It looks like they may be out of stock right now (I bet they restock them soon), but for now, these are VERY similar.  If they do restock, for reference, I sized down 1/2 a size, wearing a 6.5.
Wear it Now!

Yes, I have a shoe problem.  These are staple fall booties!  They're so comfortable, and even though they look like they have somewhat of a heel, they feel more like flat booties when they're on.  They're marked down to $86 (post-sale price is $129), and they are available in brown too!

These PJs are THE SOFTEST!  I have them in a size Small.  I also snagged these lounge shorts (also incredibly soft).  I have them in a size Medium.  I also bought a few new bras (this one, this one, and this one), and a couple of pairs of Hanky Pankys (on major sale!)
I bought this Top Shop dress (on sale for $75!), but I'm currently waiting on another size to arrive.  It looks a million times better in person!  The quality of the material is amazing.  It's a really pretty dress and can be worn with black sandals now and black boots in the fall!  I would size up – I ordered a size 4 and it was snug through my midsection and hips.  I reordered a size 6, and I think it should fit much better!
I just bought these jeans and this off the shoulder dress too!
CURRENTLY IN MY CART
(shop by clicking on image)