I'm so excited to be partnering with my friend Nora from Purely Nora today for a little style session! We're both sharing 4 ways to style our favorite Everlane jumpsuit!
As a little background on how Nora and I know each other, we met through Beautycounter! We're on the same team (love our team!) and share a love for clean beauty, wellness, and Everlane! We met last year IRL in NYC when I was visiting for a few work meetings. We bonded again over sweetgreen and the rest is history! Check out Nora's blog here!
Now let's jump into the style session!
For sizing reference, I'm 5'4 and Nora is 5'8″, so you can see how the Everlane jumpsuit works for a lot of different heights! I had to size down to a size 0. I originally ordered a size 2, but the arm holes were too big (small boob problems). If you're in between sizes, I recommend sizing down.
The jumpsuit is available in 5 colors. I think the marigold might be next on my list! One of the many reasons I love this Everlane jumpsuit is that it's so versatile! It can easily be dressed up or down. Keep scrolling to see the 4 ways I styled the jumpsuit and then hop over to Nora's site to see how she styled hers!
We'll also be sharing how we styled the jumpsuit on Instagram Stories today so be sure to check that out too! You can find me here and Nora here.
Outfit 1: No Belt, Dressed Up with a Duster
Everlane Jumpsuit (wearing size 0) | cabi Poet Jacket (wearing XS) | Kendra Scott Necklace (on sale!) | Aerosoles Mules – Use code ASH30 for 30% OFF! (TTS)

First up, a dressy way to style the jumpsuit! The jumpsuit comes with a removable tie belt. I removed the belt for this look and threw on a long duster (my cabi Poet Jacket), a statement necklace by Kendra Scott, and a pair of white heeled mules. I love this look for dinner dates or even an office look!
While it looks dressy, it's still a really comfortable outfit. The Everlane jumpsuit is so comfortable! It's linen. Throwing on a long duster dresses it up a bit while adding another layer. When I first styled this look, I knew I needed a longer statement necklace to add something to the front. This Kendra Scott oversized pendant necklace works perfectly. My white heeled mules look dressy, but they're also really comfortable – they're Aerosoles after all! (Use my code ASH30 for 30% OFF).
An easy way to dress up the jumpsuit!
Outfit 2: Everyday Casual
Everlane Jumpsuit (wearing size 0) | Kendra Scott Heart Necklace | Aerosoles Leopard Sandals – Use code ASH30 for 30% OFF! (TTS)

This is the way you've likely seen me where this jumpsuit before. It's such an easy throw on and go piece all by itself! You can see that I added the belt back in for this look. There are two thin belt loops on the sides of the jumpsuit where the belt feeds through. For this look, I tied the belt in a simple bow. I threw on a pair of easy leopard sandals and that's it! This look has been one of my go-tos during quarantine when I want to get dressed for date night (usually grilling out on our deck) but still be comfortable!
Outfit 3: Belt in Back, Oversized Blazer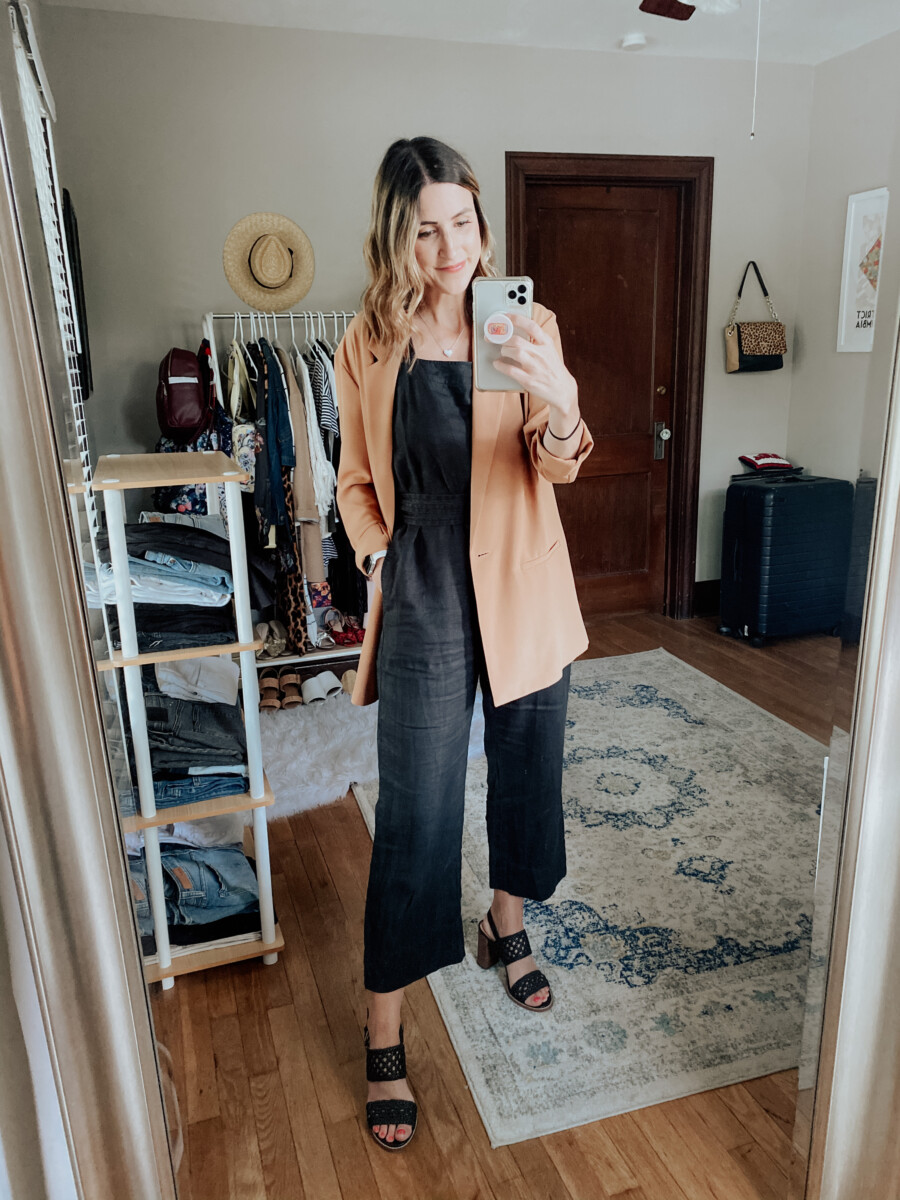 Everlane Jumpsuit (wearing size 0) | Kendra Scott Heart Necklace | Leith Blazer (old, similar drape) | Madewell Shoes

This is my favorite look out of the four! This look is perfect for date night, girls' night out, the office, or a conference look (when that's a thing again). This time, instead of tying the belt in a bow in the front, I looped it back around and tied it in a simple knot in the back. This way, the belt creates shape at your waist without the bulk of the belt. The shape created by the belt is needed since I paired the Everlane jumpsuit with an oversized blazer.
This exact blazer is sold out, but any oversized blazer will do! I'm sure you have one in your closet! 😉 Throw on a pair of fun heeled sandals, and you've got your look!
If you're confused about the tying of the belt, I'm sharing how to tie the belt over on Stories so be sure to check that out!
Outfit 4: Layered with a Tee
Everlane Jumpsuit (wearing size 0) | Everlane Tank (wearing size Small) | Aerosoles Sandals – Use code ASH30 for 30% OFF! (TTS)

Last but not least, the most casual look of the four. I like the layered, overall look of pairing a sleeveless, short sleeve, or even a long sleeve tee if it's cooler where you are, underneath the jumpsuit. For this to work, you need a tight fitting tee. This Everlane Tank is perfect! I threw on my favorite pair of sandals (on sale + get 30% off with code ASH30) and was ready to go!
Reasons I Love the Everlane Jumpsuit
I'll leave you with a few reasons why I love this jumpsuit so much!
It's so comfortable! But still flattering!
Easy to style so many different ways.
There's s a removable belt – again, can be styled so many ways!
It slips on and off, which makes it easy to GET on and off.
The quality is great. I'm on year two!
I hope you enjoyed the style session! 🙂