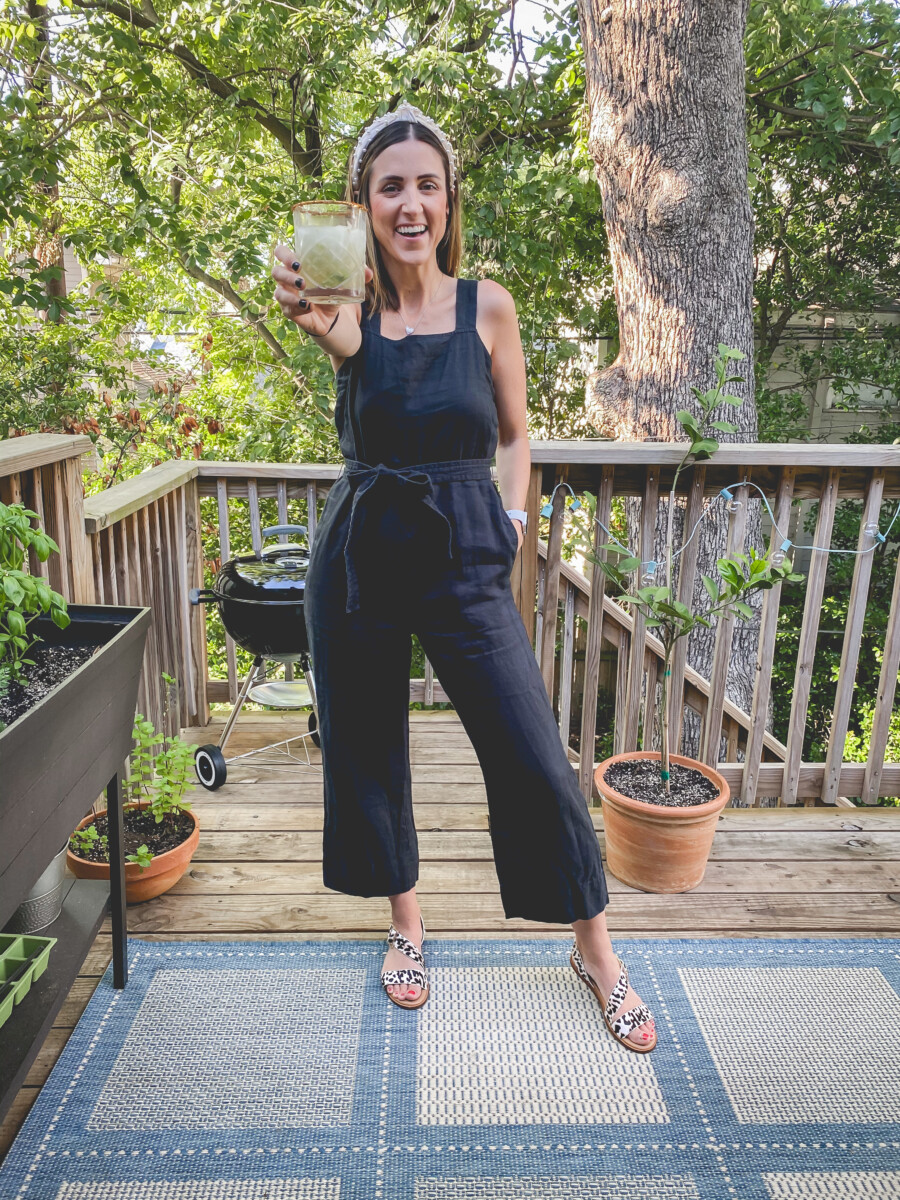 Amazon Headband | Everlane Jumpsuit (wearing 0) | Kendra Scott Heart Necklace | Aerosoles Leopard Sandals (TTS) | Godinger Cocktail Glasses | Raised Garden Box (also here and here) | Grill | Rug (not available, similar here)

One perk of quarantine (the lock-down days) was that Michael and I upped our at-home cocktail game. I'd venture to say we perfected our simple spicy margarita recipe! I honestly didn't realize how simple an at-home margarita is to make!
You'll likely have to play around with the measurements of the ingredients below to get the margarita to your exact liking, but the measurements are what works for me. The finished product is DELICIOUS!
If the margarita is too sour or too strong for your taste, add a tiny bit more agave or honey. If it's too sweet, try cutting the sweetness with a touch more lime juice. Another tip, if you're using honey, Michael and I found that if you heat it in the microwave for 10 seconds prior to adding to the cocktail shaker, it incorporates into the drink easily.
Simple Spicy Margarita Recipe
Print
Ingredients
2 shots of tequila (I prefer reposado, Clase Azul is great)

Juice from 1/2 lime

1/2 jalapeño sliced

1/2 tsp of agave or honey

Handful of ice

Optional: Trader Joe's Chili Lime Seasoning for rimming the glass
Print
Directions
Add tequila, lime juice, jalapeño, agave/honey, and ice to a cocktail shaker. Shake a few times to mix ingredients.
Use the 1/2 lime that you juiced to rim the cocktail glass. Sprinkle TJ's chili lime seasoning (or salt) onto a cutting board or other surface. Dip lime juice covered rim of glass into the seasoning to create a seasoned rim.
Pour the cocktail shaker contents into glass. Add additional ice if needed. Enjoy!

Amazon Headband | Everlane Jumpsuit (wearing 0) | Kendra Scott Heart Necklace | Aerosoles Leopard Sandals (TTS) | Godinger Cocktail Glasses | Raised Garden Box (also here and here) | Grill | Rug (not available, similar here)