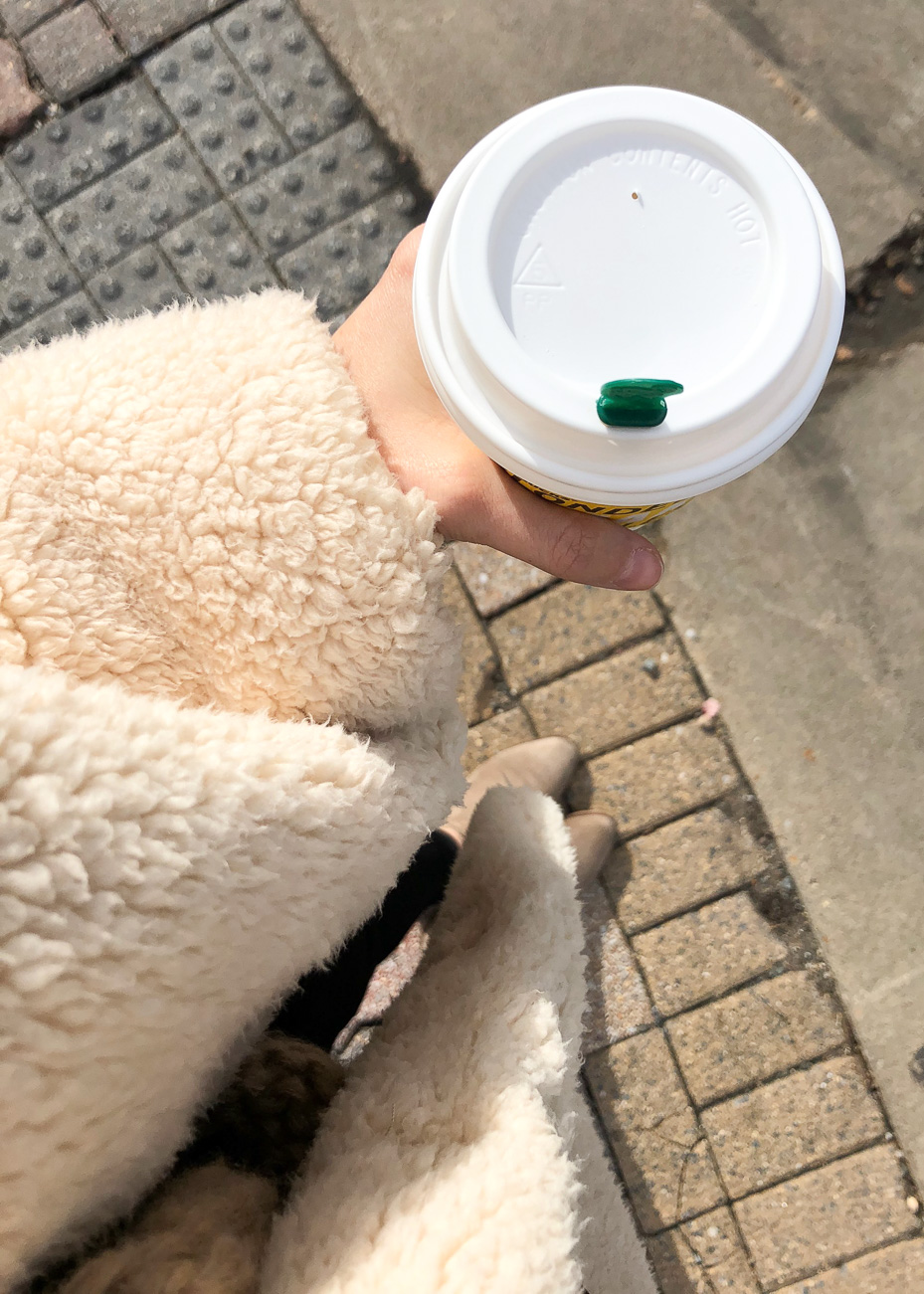 Teddy Coat (available here, here, here) | Chunky Sweater c/o ($20) | Madewell Jeans | Dolce Vita Booties

I hope you had a wonderful week!  Of course I'm happy to see Friday but who isn't?!  Michael and I got two king cakes in the mail yesterday (one thanks to Michael's mom!) so I'm ready for the workday to end so I can dig into those!  Gambino's vs. Randazzo's … who will win?!
Let's take a look back at the week, shall we?!
Monday
I was really excited to share Monday's post!  I talked about how I avoid over-committing my time.  If you haven't checked out the post, I highly recommend it.  Try out the technique and let me know what you think!  Also in the post is an amazing sweater find from Amazon Fashion.  Do you shop for clothes on Amazon?  I recently started, and I have to say they have a pretty decent selection although it definitely takes some time to sift through the site to find what you're looking for.  I'm thinking of doing an upcoming post on how to shop Amazon for clothing pieces (because helllllo Prime shipping!).
Monday evening I went to meditation class at Take Five Meditation.  I'm still really enjoying the classes even if it's just for the fact that it's 30 minutes of peace and quiet.  No computer, no phone, no distractions.
Tuesday
In Tuesday's #TravelTuesday post, I shared 5 reasons I LOVE to fly Southwest Airlines.  On top of those 5 reasons, another reason I love SWA is because their Twitter game is strong!  Every time I tweet at them, they always respond.  This week was no exception, but this will forever and always be my favorite response from the Southwest team.
Tuesday evening I hit up SoulCycle.  I had a new-to-me instructor.  Isn't it crazy how instructors can have such an effect on a workout class?!  I've been going to SoulCycle at the same location enough now that I know who I like.  My favorites at the 14th Street studio are Pauline, Kathleen, and Sunny Mae.  If you take a class there in D.C., definitely sign up for one of their classes!
Wednesday
Spring fever is definitely setting in.  On Wednesday I shared 7 spring tops I'm eyeing  (I already picked up one) that are easily wear-now pieces too!  They're all under $100.
I stopped by SoulCycle Wednesday evening for another class … I shared my look for class on Instagram.  One of my favorite workout tops is currently marked down to $21!

Thursday
A new Kendra Scott store opened in Georgetown recently, and I had the opportunity to attend a little brunch with the Kendra Scott team on Thursday to celebrate!  I have my eye on so many of the new spring pieces!  Just to give you a taste …

Thursday night I joined Victoria and Elise for a much needed girls' night.  It's always fun to talk shop with these two and just catch up!
Weekend Plans
It's the last weekend of Dry January!  Hooray!  Michael and I have a birthday party get together for a friend on Saturday night, but other than that not much planned this weekend.  Even our "long" run this week for half-marathon training isn't a long one.  This week it backs down to a 5k distance just at a fast "race" pace.
Other Happenings
If you find my #TravelTuesday posts interesting, check out this feature on Michael this week from Million Mile Secrets.  He shares a little background on how we got into traveling with points and miles (the best way to travel)!
Have a great weekend!