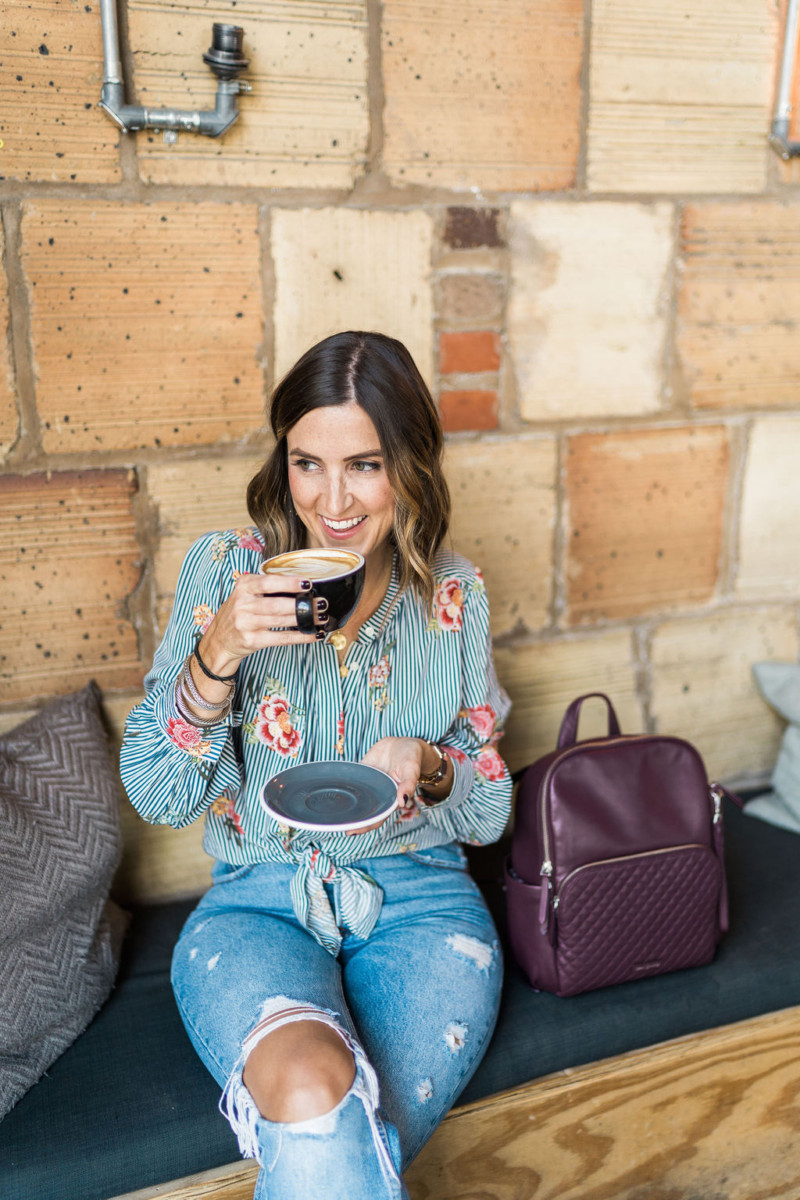 Top (old Loft) | Denim (Medium Distressed Wash, TTS) | Backpack
Running Cobalt Chronicles and Contracts for Creatives is my full time job. Most days I work from home, but I do try to get out of my home office at least once a week to work remotely at a coffee shop. I usually delegate Friday as my coffee shop day – a treat at the end of the week!
Michael and I live in the Heights neighborhood, about 10 minutes from downtown for those of you not familiar. As a result, I mostly hit up coffee shops in the Heights neighborhood, but I'm trying to venture outside of our neighborhood more! Today I'm sharing my 5 best coffee shops in Houston to get work done!
5 Best Coffee Shops in Houston with WiFi
The most important qualifier for being a good coffee shop to get stuff done is a strong WiFi signal! All of the coffee shops on my list check this box. 🙂
A 2nd Cup is by far the coffee shop that I frequent the most to get work done. There are lots of seats, great WiFi, lots of outlets (the front row of seats against the window), and great coffee and food too! I always grab a latte and an açaí bowl (so good!) as a treat while I'm working there.
Toute Suite is situated close to downtown. It's a lively coffee shop and bakery all wrapped in one. It seems to be a hot spot for creatives to work and take photos. Every time I'm there, there is always some sort of photo shoot happening in one of the corners. Good WiFi, lots of seats, and big windows (lots of natural light).
EQ Heights is located on busy Heights Boulevard. I love the vibes of EQ. There's a real neighborhood feel here. There's a constant stream of people in and out, a lot of whom the baristas know by name. There are different rooms where you can post up at a table with your laptop. WiFi is good and there are outlets along the walls. The cold brew here is great too, and I'm partial to the blueberry scones!
Boomtown Coffee is located on historic 19th Street in the Heights. It's the first coffee shop I visited when we moved to Houston! Good WiFi, good vibes, and good coffee. It does get a bit crowded, so I'd recommend getting there early in the morning to grab a seat.
Common Bond has been a staple in Montrose for a while now, but it recently opened a second location in The Heights! It's beautifully designed with lots of tables and seats (outside seats too!). It tends to get crowded around lunch time. I prefer to get there early and leave right before the lunch crowd makes its way in. The WiFi is strong and there are plugs along the wall.
What are your favorite Houston coffee shops?! Share them below!