Before Weldon, I was clueless on toys for babies. I knew I didn't want to junk up my small living space with too much stuff (famous last words by new parents). But other than that, I had no clue what to buy for him to play with during his awake time. I saw Lovevery advertised on Instagram and noticed a lot of my Insta friends with babies had the Lovevery Play Gym. Lovevery ended up reaching out to see if I wanted to try one of its Play Kits. I was all in! Spoiler alert … I (and Weldon) loved the Play Kit so much, that I ended up purchasing the Play Gym on my own!
Lovevery Play Kits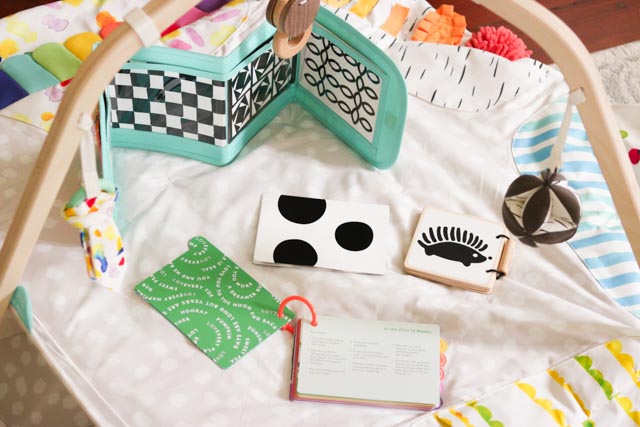 The Play Kits are montessori-inspired play kits that are curated and designed to fit children's specific ages. Lovevery designed the toys in the Play Kits to encourage brain development, which I love! The toys are made from sustainably sourced wood and 100% organic cotton. You can't beat the quality! We've had ours for 4ish months and all of the pieces are still in perfect condition.
How Does It Work?
To choose the right Play Kit for your child's developmental age, you enter your child's birth date, due date, or adjusted birth date, and Lovevery will suggest the Play Kit that's right for your child. From there, you can subscribe to receive new, age-appropriate Play Kits every 2-3 months! How fun!
We have The Looker Play Kit – for ages 0-12 weeks. It comes with a double-sided mobile that provides a way for your baby to engage in visual exploration during play time or diaper changes.
A multi-colored card holder that we use for tummy time! Also included in the Play Kit is a black and white card set. The cards fit perfectly in the card holder (seen in my photos). Weldon loves the black and white image cards. The holder is great for storing all of the cards so that they don't get lost or damaged.
Also included is a travel card holder for on-the-go! Weldon doesn't need much entertainment in the car just yet, but I know this piece will come in handy when he does! It holds the black and white image cards and is designed to fit over the headrest in the backseat of most cars.
We haven't used these yet, but The Looker Play Kit also includes black and white mittens, which promote hand discovery, hand control, and body awareness
Weldon's FAVORITE piece in The Looker Play Kit is the wooden book! He is obsessed with the animal images. We use this toy to practice tracking with his eyes both horizontally and vertically. Did you know babies LOVE contrasting black and white images?! I had no idea.
Another favorite is the silicone rattle with removable ball. It's great for grasping and learning how to track moving objects and sounds.
And last but not least, The Looker Play Kit includes a guide book with ideas for how to play with your baby during weeks 0‑12. This is extremely helpful in giving Michael and I ideas on what to do with Weldon during his awake time. Lovevery has done all of the research for you so that you don't have to!
We absolutely love the Play Kit and can't wait to get our next one in the mail!
Lovevery Play Gym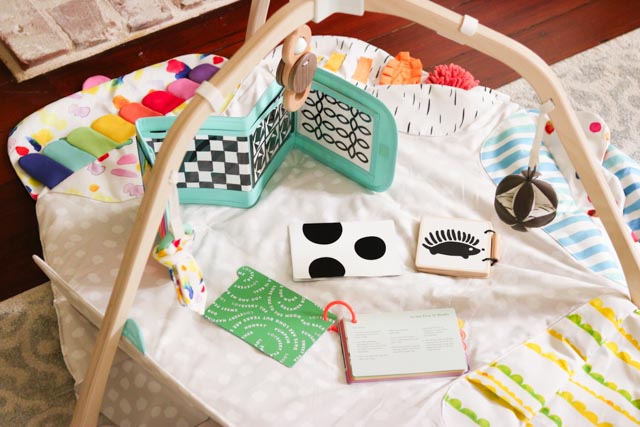 As soon as we fell in love with the Play Kit, I knew I wanted to get the Lovevery Play Gym for Weldon! We use the Play Gym anytime Weldon is awake during the day. The quality of this Play Gym is top notch. I had another play mat/play gym for Weldon before this one, and while it was fine, the Lovevery Play Gym is MUCH nicer and has many more bells and whistles (the good kind).
You can read more about the Play Gym here. It includes five different play areas on the mat alone. There are slots at the top of the wooden bars for the black and white image cards (Weldon loves looking up at these!). There are also three different attachments for hanging toys. Weldon has recently started reaching for these and practicing batting at the black and white ball too!
I love that the play mat is large enough for Weldon to roll over, explore the different play zones, and practice tummy time all in one space. And as a plus for parents, it's aesthetically pleasing too. 😉
Lovevery designed the Play Gym to encourage development for the first year of life. It's a product that I know we'll get a ton of use out of over the next 6+ months seeing as we already use it multiple times a day, everyday!