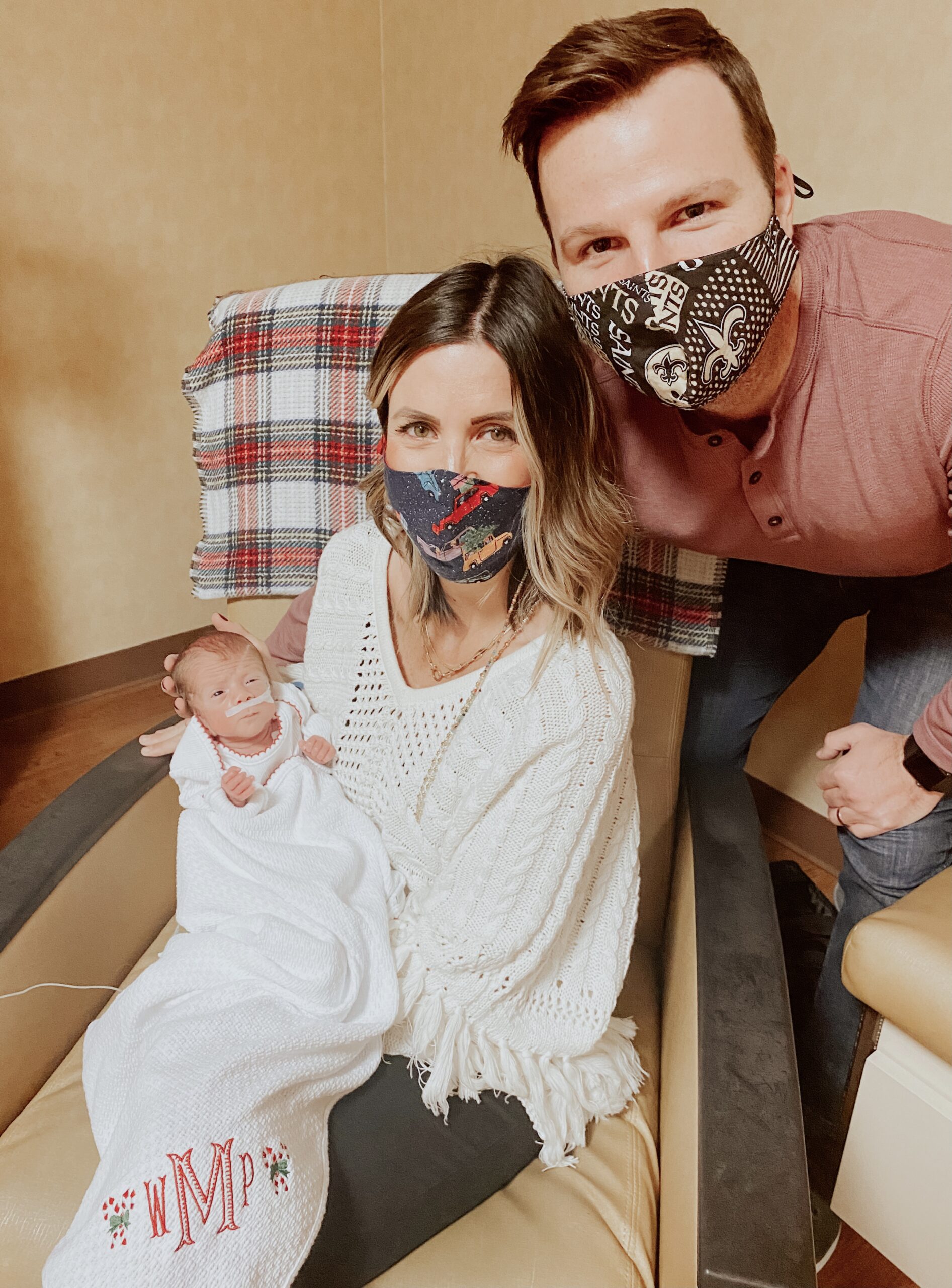 Christmas Day 2020 in the NICU
Last year, thanks to you and this wonderful Cobalt community, we raised over $2,000 to support precious, tiny preemie babies, their caregivers, and the nurses, doctors, and staff that support them every second of every day during their NICU stay. I'm so excited to hopefully match and exceed that gift amount this year! I'll go into more detail below, but this year's needs are preemie sized clothes for both boys and girls, restaurant gift cards for caregivers, and snacks to fill snack baskets and carts for caregivers spending hours on end at the NICU. Keep reading to see how you can help (every $1 is BEYOND appreciated and helpful!).
It's true what they say, there's no way to understand how much becoming a mom changes you until you become a mom yourself. As many of you know, Weldon's first few months were filled with lots of hard days along with joyous ones too. He spent 74 days in the NICU. It was a marathon, not a sprint to get him home. I learned so much information in those two and a half months that I never thought I'd know or need to know. Did you know babies don't develop their suck/swallow reflex until 34 weeks gestation? Or how about the fact that most preemies need weekly eye exams to check for ROP (retinopathy of prematurity)? Weldon had ROP stage two at one point, but thankfully it resolved on its own. Did you know that most preemies born at a certain gestation almost all have some level of a brain bleed? Weldon had two bleeds, a grade two and a grade four. The amount of information (most of it heavy) thrown at a preemie mom is insane. Not to mention it's usually after a traumatic and most likely unplanned early birth. Nothing can prepare you to bring your tiny little human into the world before it's "time."
As hard as those 74 days were and even the days beyond our NICU stay, we were able to make it through thanks to our village. Not a day goes by that I don't think about some portion of our NICU stay. But the thing I think about the most might not be what you'd expect.
Our Village
Weldon is our little Thanksgiving miracle, born on Thanksgiving day two years ago. Two years later, I still constantly think about how lucky and blessed we are to have so many people in our lives including friends, family, nurses, doctors, hospital staff, my blog and Instagram family, and even complete strangers, who supported us, cheered Weldon on, prayed for us, sent baby gifts, gifted Uber Eats gift cards, and DMed me with words of encouragement and comfort during our NICU stay. I continue to struggle to find the right words to adequately describe the space in my heart the gratitude for those acts of kindness and acts of care takes up.
Our 74-day stay in the NICU happened to fall over the holidays. During that time, we were blessed with so many thoughtful gifts from complete strangers and our wonderful nurses to make our NICU room cozy and cheerful and gifts from family and friends to make our lives a little easier, to take a little stress away.
I'm so thankful for our village. I'm thankful for every person that prayed for Weldon to grow stronger every day. I'm thankful for our family that dropped everything to support us from near and far. I'm thankful for my mom and dad for letting us move in with them for four months (Weldon was born in Shreveport, my hometown, while we were visiting for Thanksgiving). I'm thankful for my mom who had dinner ready for Michael and I every night after we made it home from the NICU, did our laundry, drove me to the NICU every morning, and did a million other things to make our lives easier over those 74 days. I'm thankful for my Dad putting on a Santa costume so Weldon could have his picture made with Santa for his first Christmas. I'm thankful for my McHugh family for making the drive from Baton Rouge to visit and spend time with Weldon.
I'm thankful for the nurses who I spent all day, every day with who not only took care of Weldon like he was their own, but who also took care of me on a daily basis. For the night nurses that allowed us to go home and sleep at night. For the doctors who took time to explain, in detail, every little thing, every single day. For the hospital staff who became some of the only people I interacted with for weeks on end – the smiles, good mornings, and little tidbits of chatter here and there brought some sense of normalcy to my days. For our friends who sent meals, gift cards, and baby items.
For my Instagram and blog family, some whom I've never met in real life, who sent items off of my baby registry, thoughtful DMs, and even Venmo funds. I'm thankful for my friends who threw me virtual and drive-by baby showers after Weldon was born and for those that helped us celebrate. I'm thankful for friends who made and gifted us Christmas ornaments to decorate Weldon's tree in his NICU room. For the strangers who handmade blankets, hats, and gift bags for all of the babies in the NICU. I could go on and on and on. I'll never be able to find the words to adequately describe how thankful I am for for our village.
Paying It Forward
Last year, for Weldon's first Christmas season at home, I wanted to do something to pay it forward. For all of the kindness, care, and thoughtfulness that was showered upon us over the holiday season during our NICU stay. With your help, we were able to raise over $2,000 (I was blown away by your generosity and our Cobalt community!). We were able to gift the nurses, who work 12-hour shifts, multiple days a week, saving babies' lives minute after minute (and take care of the mamas all day long too!), with a heavy duty microwave for their break room. For the parents, we were able to gift hundreds of dollars in gift cards to restaurants that are within walking distance of the NICU. And for the precious babies, we were able to donate hundreds of dollars in new preemie sized clothing to the miracle babies and their families.
This year, the needs are similar … gift cards to restaurants close by the NICU and preemie sized clothing. While brainstorming ideas with one of Weldon's NICU nurses who still works at the NICU, she mentioned having a snack cart/baskets for parents and caregivers. What a fantastic idea! So we're adding that in this year! A little more about each need below …
For the parents, gift cards to restaurants that are within walking distance of the NICU and snacks on the NICU floor. I can personally attest to this need. I was at the NICU without a car on most days. And I didn't want to spend a lot of time away from Weldon. Keep in mind that many parents are from out of town. Babies are flown in from all over as NICUs are few and far between. Some parents are only able to visit their babies on certain days of the week because of other life commitments. Making the time spent at the NICU precious.
For the babies, there is always a need for preemie sized clothing. Again, I can speak from my personal experience. When Weldon was born, I had not one single piece of clothing for him, much less any preemie sized clothing. When preemies are first born, most don't wear clothing. Weldon was almost a month old before he was cleared to wear clothes, but even that day snuck up on me! I had nothing for him to wear. Thank goodness for the donation closet! It's hard to explain, but hitting that milestone of him being able to wear clothes felt HUGE. It felt like he was heading in the direction of being a "normal" newborn. There are also families in the NICU who not only aren't prepared for their baby's early arrival, but may not be able to afford to run out and purchase clothing for their baby. There's also the reality that some of the babies in the NICU have been given up for adoption or abandoned by their birth mother. These babies rely on the clothing donations.
How You Can Help
I'm so excited to fulfill these needs this holiday season. I thought we could have an even bigger impact on these special people and precious little lives if I shared this with you all! Last year, we used Venmo, and it worked pretty seamlessly (it's the only platform that doesn't charge processing fees). I'll be accepting donations via Venmo TODAY through Christmas Eve. I'll be in Shreveport the week after Christmas so I'll be handling all of the logistics to get the gift cards, snacks, and clothing delivered to the NICU while I'm in town. If you'd like to participate in any other way, aside from donating through Venmo, please email me at [email protected] (I can send my PayPal information or if you're local to Shreveport, I'm happy to pickup cash/check too!).
DONATE HERE: Donate via Venmo by clicking here! My Venmo name is ashlee-hightower if that's easier for you!
Thank you in advance! I truly appreciate each and every one of you! You have no idea the impact these small acts of kindness will have on each family.
I'll keep everyone up to date via Instagram in my Stories! You can see our impact from last year's gift HERE!