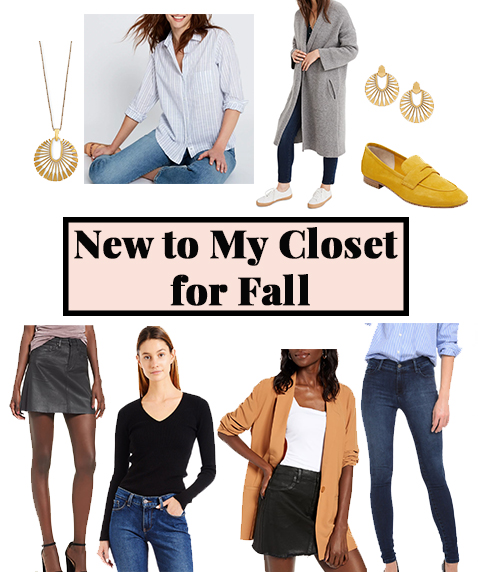 Even though it might not feel like it outside just yet, with the first weekend of college football under our belts and Labor Day a week from today, I'm feeling all the fall feels. My friend Cathy put it perfectly when she published this post last week, Pretending It Is Fall Makes Me Happy, OK?
With that said, I wanted to share a few new for fall items that I've added to my closet over the last few weeks that I can't wait to pull out and style!
New for Fall
Kendra Scott Necklace & Kendra Scott Earrings // I love Kendra Scott's new Fall Collection. I added this statement necklace and matching earrings to my collection last week. I love the sunburst design! And the necklace is a true statement necklace. The chain is thicker than most Kendra Scott necklaces and the sunburst piece is larger in person than it appears on the website. P.S. You can receive 15% off of your order when you sign up for Kendra Scott's newsletter! Scroll to the bottom of this page and sign up.

Grayson Button Up // I was introduced to Grayson at The Blog Societies Conference. They make button ups specifically designed for women. They fit perfectly! They're loose and relaxed and don't button all the way up (almost to give a v-neck affect). The material is also super soft! They offer free shipping – I highly recommend trying them out! For sizing reference, I wear a size 2.
Madewell Sweater Coat // I eyed this sweater coat all last year and when I saw Madewell made it again for this fall season, I immediately scooped it up! I LOVE LOVE LOVE it! It's the perfect overcoat/sweater! For sizing reference, I have a size XS.

Marc Fisher Loafers // I was gifted this pair of Marc Fisher loafers at The Blog Societies Conference. I love the mustard color for fall! They're super soft – no break in time needed! Can't wait to pair them with jeans and a button up for a casual work-from-home look! They're available in 7 colors and run TTS.

Blank NYC Skirt (currently price matched!) // Living in Houston has changed how I shop for fall a bit. I picked up this Blank NYC skirt since I know it's going to stay hot here for a while … the coating on the skirt gives it a fall feel. I'm planning on pairing it with sweaters and booties to create a fall look while the temperatures might not yet be cooperating. It runs TTS, I have a size 26.

Mott & Bow Cotton/Cashmere Sweater // I actually picked this cotton/cashmere sweater up towards the end of spring, but since it quickly warmed up, I didn't have a chance to get much wear out of it. It's lightweight and super soft and PERFECT for transitioning from summer to fall. It's also a great layering piece! Excited to pull this piece back out! It runs TTS, I have a size small.
Leith Blazer // I love this oversized blazer! I've already worn it a few times for different speaking engagements for Contracts for Creatives. It pairs perfectly with skinny jeans or distressed denim. I've worn different black tanks underneath to create a few different looks. It runs large as it's meant to be oversized. I have a size XS.

Mott & Bow Skinny Jeans // Last but not least, I'm so excited to bring back my skinny jeans! I haven't worn a pair of true skinny jeans in months. Mott & Bow makes a great, classic skinny jean! I have the Moore style in medium/dark blue wash. The jeans run small, I sized up one size to a 27.
Happy fall shopping!