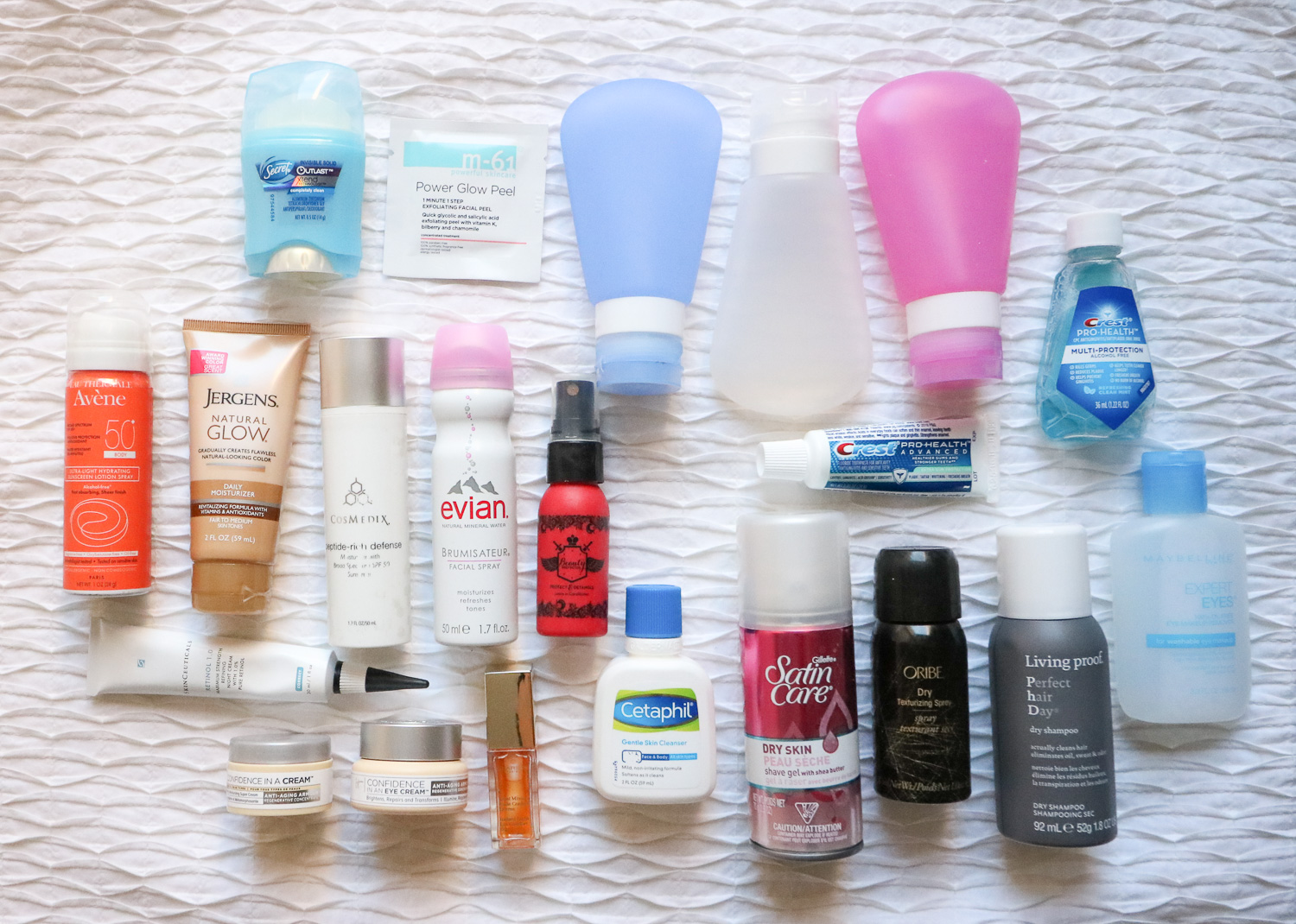 I hope you had a nice, long holiday weekend!  Michael and I are still bouncing around Europe – We're in Berlin today and heading to Amsterdam tomorrow!
Following up on last week's Travel Tuesday post where I shared what I packed for two weeks in Europe in only a carry on bag, today I'm sharing my travel toiletry necessities.  This is exactly what I have with me and so far, so good!
Prior to our trip I invested in two new clear, plastic toiletry bags and these easy squeeze bottles.  Game. Changer.  I love these bags – they're rather large but still fit the standard TSA requirement.  Also, I know the TSA rules say you're only allowed one of these bags, but I've always carried two in my carry on luggage, and I've never had a problem!
I try to keep my skincare routine as normal as possible when traveling.  A useful tip for making sure you can fit all of your necessities, if your usual face creams, eye makeup remover etc. doesn't come in a travel size, try to remember to save old sample size containers and use those to package up your creams etc.  I have so many of those little clear (with the black lid) Bobbi Brown sample jars that I like to use!
Without further ado …
Travel Toiletry Necessities
Travel Deodorant
M-61 Power Glow Peels (Perfect for after a travel day or a long day out and about!)
Refillable, squeeze bottles for shampoo, conditioner, and body wash
Travel Mouthwash & Toothpaste
Eye Makeup Remover
Sunscreen
Lotion (I prefer the Jergens Natural Glow just to add a bit of color)
Moisturizer with SPF (love the Cosmedix moisturizer with SPF 50!)
Evian Mist (Perfect for a long haul flight!)
Travel Shaving Cream
Travel Living Proof Dry Shampoo (I don't go anywhere without this stuff!)
Travel Cetaphil Facewash
Any questions?  Feel free to leave a comment below!
 Interested in learning more about my favorite credit card that I use for travel (earn 2x points on any travel purchase!)?!  Check out this post and compare my favorite card with other travel cards here!