This post may contain affiliate links.

This post was originally published in September 2018. As of 2023, I've now visited Baha Mar four times. I've since updated the post to reflect additional things I've learned and things that have changed over the past few years. Michael and I spent an entire week at Baha Mar for our wedding. I love it more and more every time I visit! It's the BEST resort to visit in the Caribbean. With that said, I've learned new things about the resort each time I've visited. Keep reading for my Grand Hyatt Baha Mar Review plus an entire review of Baha Mar Resort!
If you have specific questions about your trip, email me at [email protected]
The reason for my first trip was a wedding planning trip with my mom. See how Michael and I chose The Bahamas as our destination wedding location here! We visited in September 2018, shortly after the Baha Mar opened. My second trip was for our wedding! Michael and I spent an entire week at the Grand Hyatt Baha Mar. Our wedding was in January 2019. Michael and I went back to Baha Mar to celebrate our first wedding anniversary in January 2020. And our most recent trip was in February 2023. We brought our two year old along with us this time!

Grand Hyatt Baha Mar Review

Best Time to Visit
When my mom and I visited the Baha Mar in September, it was essentially deserted! The weather was actually really great while we were there, but September is smack dab in the middle of hurricane season and it's right when kids are back in school. While it was nice that we essentially had the entire resort to ourselves, there were some downsides. Not everything was open – the food trucks that are usually lively spots to grab quick snacks, drinks, and lunch by the beach and pools weren't open, some were even off site having maintenance done.
The other three times I have visited were in January and February. If you're looking for a wintertime escape, Baha Mar is a great option! The temperatures both times were in the high 70s and 80s during the day and the mid 60s at night. It's not super hot. It's nice that you can comfortably sit on the beach without sweating! January is high season for The Bahamas and Baha Mar. On Thursday, Friday, and Saturday during these months it's extremely crowded at the resort. Not unbearable, but definitely crowded by the pools and at on-site restaurants for dinner.
I personally love visiting in January and February.
Getting There
Away Large Bag (full review here) | Away Everywhere Bag

The Hyatt Baha Mar is located on the island of New Providence (Nassau), the main island in The Bahamas. There is a large airport in Nassau, which makes getting there pretty easy. I've flown from New Orleans, D.C., and Houston. Nassau is only a 30ish minute flight from Fort Lauderdale and Miami, which makes it even more appealing in comparison to other Caribbean islands, especially when traveling with children.
The Nassau airport is really nice! Especially compared to other Caribbean airports that I've visited. You'll need a passport to visit The Bahamas so make sure you plan ahead on that front! Upon arrival, the security scanning process is pretty easy – I've breezed through security and customs on all of my trips.
There's no Lyft or Uber in The Bahamas. Upon the Hyatt's recommendation, we grabbed a taxi at the airport. It was easy to locate the legit taxi drivers as there's a long line of them and people happily pointed us in the right direction. An important note, you must bring cash! The taxi drivers only accept cash. I've now taxied multiple times to and from the airport. It's an easy 10 minute ride to/from Baha Mar and should cost around $25-$30 one way.
An important note regarding the return trip – Getting through security when departing The Bahamas can be a pain. It's not complicated, it just jams up. On two occasions, I've had to wait longer than 30 minutes in the security line. So plan accordingly. One nice thing is that U.S. Customs is in The Bahamas airport, so you handle that on The Bahamas side and not when you land back in the States. And if you have Global Entry, it'll make the process even easier! If you're traveling with children, they'll need their own Global Entry as well – they can't tag on with parents.
The Rooms
The Hyatt Baha Mar property is gigantic. The Hyatt property itself boasts over 1800 rooms spread across two towers (the East and West). Not only is the Hyatt itself huge, but it's connected to two other properties as well, Rosewood Baha Mar and SLS Baha Mar. It's a unique setup in that all of the properties are connected and share amenities. You can walk from the SLS lobby, through the Hyatt property, and into the Rosewood lobby without really noticing that you're passing through different properties.
I've now stayed in the East tower of the Grand Hyatt Baha Mar and the West tower of Grand Hyatt Baha Mar. I've LOVED both towers! They are decorated differently. The blue rooms pictured in this post are located in the East tower. The West tower is filled with creamy neutrals and beachy whites.
My mom and I had a room in the East tower with two queen beds, an ocean view, and a Juliette balcony. I highly recommend paying the few extra bucks for the ocean view. When we were walking around the property, I noticed several floors of rooms that directly faced a brick wall. I would hate to travel to the Caribbean and have to stare at a brick wall out of my window for a week. Another aspect to consider when booking your room is whether a full size balcony is important to you. Some rooms have step-out, Juliette balconies like ours, while others had full size balconies with a table and chairs. If you're sharing a room with your child (or children), I highly recommend asking for a regular sized balcony as it provides a separate are for the adults to hang out during naptime and after bedtime.
The interior of the rooms are so fun and fresh! Not at all like your typical beach resort decor. The bathrooms are spacious with a soaking tub, shower, and double sinks. There's also an option to slide the doors of the bathroom completely open so that you could get an ocean view while soaking in the tub! I've been impressed with every room we've ever stayed in.
The Property

The Grand Hyatt Baha Mar property is larger than life. It still blows me away! The property is virtually brand new as it opened in late 2017. This is very evident by the decor, the landscaping, and the general vibes of the property.
The Casino //
Upon arrival at the property, you are greeted with massive waterfalls out front and then you enter through a beautifully decorated lobby. The lobby is situated in between the East and West towers of the Hyatt and leads out into the largest casino floor in the Caribbean. While I'm not much of a gambler, the casino is pretty impressive! The floor boasts every casino game you can imagine. Along with a casino, there's also a sports book where guests can watch sports and place bets on the action.
Shops //
On the outside of the casino floor is where you'll find most of the shops and restaurants. The shops range from high end like Cartier to more mainstream shops like Vineyard Vindes.
The Pools //
Once you venture outside, the real beauty of the resort shines. There are six different pools on the Hyatt property, which is a lot, but honestly, I would have guessed there were more just from walking around the resort! The pools are all situated in a winding complex in between the hotel towers and the beach. The pools are impressive! There's a pool with cabanas, a pool with a rainfall feature, a pool with a cliff jump, a pool with a built in aquarium, a pool with a swim up bar … you get the point!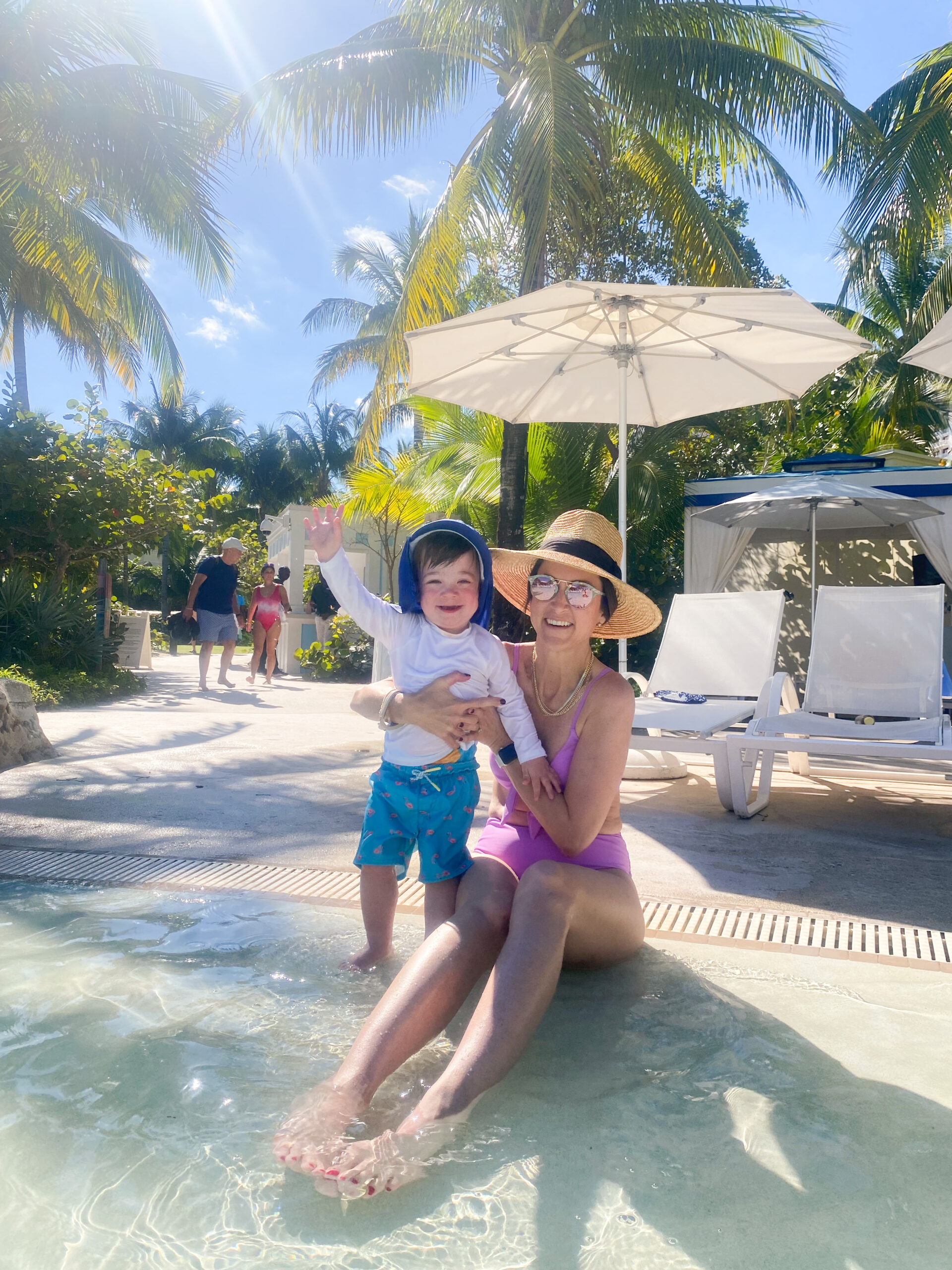 Flamingoes & Aquarium //
There are a number of different restaurants mixed within the pool area (more on those below). On your walk to the beach, you'll also find the flamingo sanctuary where there's a community of flamingoes hanging out and a live aquarium (attached to one of the pools) that includes nurse sharks, stingrays, sea turtles, and other fish.
The Beach //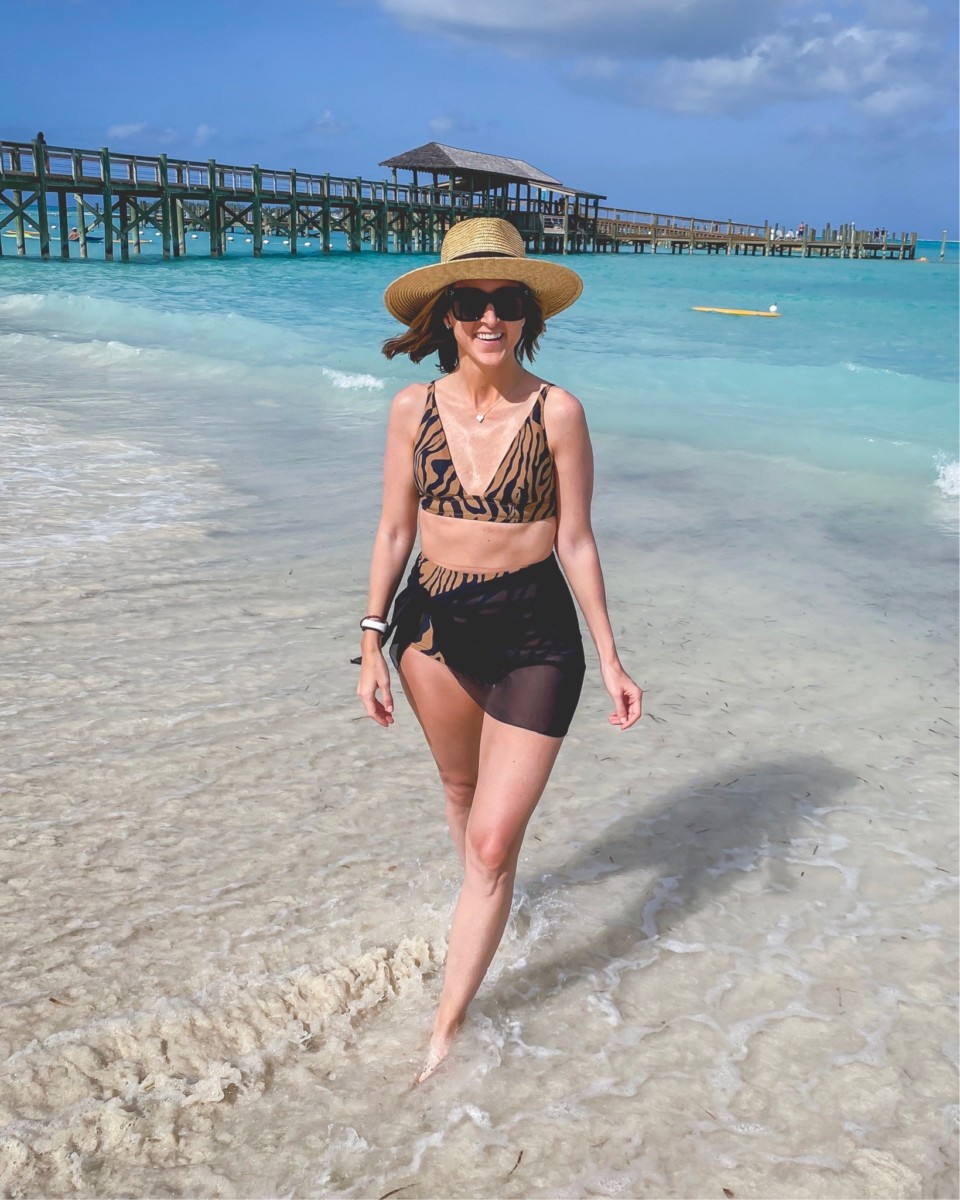 With the extensiveness of the property, you may forget that there's also a beach! The Grand Hyatt Baha Mar is located on Cable Beach, a 3,000 foot stretch of pristine, white sand beach.

Activities //
The resort offers daily activities at the beach that are included in the resort fee. The activities include standup paddle boarding, kayaking, hanging out in the water hammocks or floating lounges, and snorkeling.
The resort also offers an opportunity to feed the sea turtles, nurse sharks, stingrays, and flamingoes for a fee. However, I'd recommend catching the complimentary daily viewing of the feedings.
Baha Bay //
The newest addition to Baha Mar is the all new luxury water park, Baha Bay. It's incredible. It offers fun for all ages, even the littlest of guests! There's an area for toddlers that was perfect for Weldon. Turtle Beach has a splash pad, wading pools, and numerous toddler-friendly water slides. It's so cute! Weldon also loved the lazy river!
There's an area for older kids too, Stingray Cove. As well as tons of giant water slides for the bravest visitors. Baha Bay also boasts a wave pool and surf pool.
Baha Bay is also home to a few restaurants, an additional casino (partially outdoors), and a beach club where you can book ESPA spa services to be had beachfront.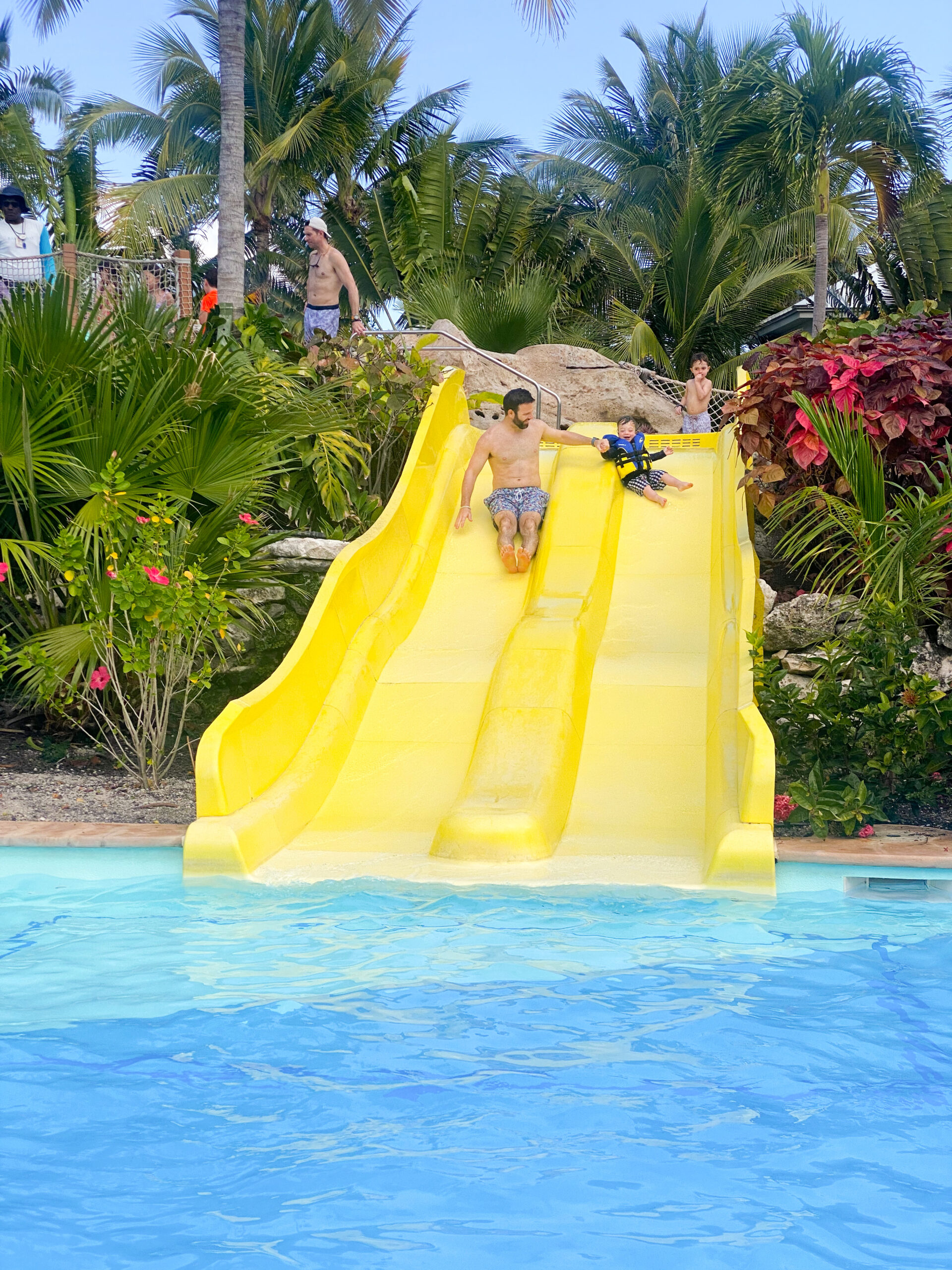 The Gym & Spa //
Lastly, it's worth noting that the Hyatt Baha Mar has an outstanding workout facility and spa. I've used the gym on numerous occasions and even took a yoga class on the lawn. It is not at all your typical resort gym. It has true, clip-in spin bikes on an outside balcony, over 20 cardio machines, a weight machine section, free weights, TRX bands, and a box jump area, along with daily group class offerings like yoga and zumba. The gym is included in your stay while classes are available for a small fee.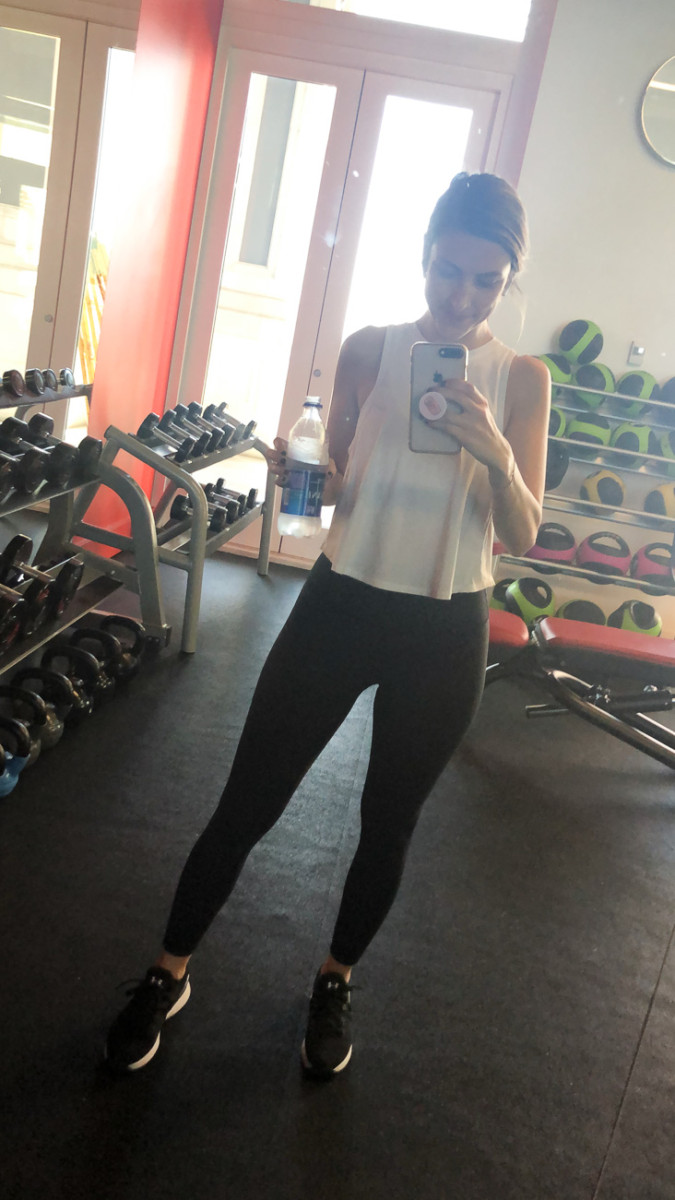 On my latest trip to Baha Mar, I booked a 50-minute Swedish massage, and it was heavenly! I had Lyle (who happened to go to school in New Orleans – how crazy?!). He was great, I highly recommend taking advantage of the spa services and booking a treat-yourself service! With any spa booking you have access to all spa amenities like the sauna, relaxation room, and steam room.
Where to Eat
Not only is the Hyatt Baha Mar property itself impressive, the restaurants are equally as noteworthy, which is hard to say about most resorts! The restaurants at Baha Mar make you feel like you're off property. The decor, ambiance, drinks, and food at all of the restaurants we dined at were outstanding. There are SO many dining options on site that you could easily stay for an entire week and never have to leave the resort for a meal.
For breakfast, I really like Café Madeline. It's a really cute coffee shop with great, healthy breakfast options. If you happen to have Hyatt Globalist status, you'll have access to free breakfast every morning at Regatta, which is a breakfast buffet. With Michael's Globalist status, we took advantage of this offering to save a little money during our trip. The breakfast buffet has tons to offer, it's much more extensive than your typical American resort breakfast buffet. There are also two Starbucks on-site, which is very nice!
For lunch, I like the shack options like Da' Poke Bowl or the food trucks – Knosh is my favorite. There are also several pool-side dining options as well like The Palms and Drift Bar. Both offer salads, sandwiches, burgers etc.
There are just as many dinner options as there are lunch spots, maybe more. I HIGHLY recommend making reservations for dinner each night. I like to make reservations as far in advance as possible to guarantee we have a spot to go each night.
I've dined at Costa, which is actually on Rosewood's property. But like I mentioned above, you're able to easily access both Rosewood and SLS (you can hardly even tell that you're crossing onto another property). Costa is great! I would describe it as modern Mexican. The restaurant itself is tucked away and sits on top of winding paths of water.
Marcus is a new spot that opened just prior to our 2023 trip. It's beachfront. We dined outside and the ambiance and atmosphere are hard to beat! The food is also incredible. Highly recommend!
Fi'lia, an Italian restaurant, is a great option too! To my point above, I thought this restaurant was located in the Hyatt portion of the property, but when I looked it up to link here, it's technically part of SLS. It is delicious and their wine menu is outstanding!
Pizza Lab is a casual pizza spot, but it still has a fun atmosphere and a large bar. It's a great low key spot! There spritz drinks are phenomenal (and pack a punch!).
Katsuya is a Japanese restaurant offering Japanese classics along with lots of sushi options. Katsuya is one of my favorite restaurants at Baha Mar!
Cleo is a Meditteranean inspired restaurant that we recently visited. I'd recommend skipping this one. The food doesn't match the price and we had a small, but annoying, customer service issue here that just took away from the meal.
Children Under 5 Eat FREE! – This is a perk I only learned during our last visit. Weldon ate for free at almost every restaurant we visited, even the nicer dinner restaurants. This is such an awesome perk! I was able to order off of the kid's menu for Weldon every night for free. The kid's menu at most of the restaurants is outstanding and offers options from the main menu just in smaller portion sizes.

After Hours
After dinner there are plenty of options to keep the night going! Jazz Bar, a piano bar located right off of the casino floor, is a fun option! The scene is always lively! There's live music there every single night.
There are two additional bar/club options – Sky Bar at SLS and BOND, which is a nightclub.
My favorite spot for pre or post dinner drinks is the Manor at Rosewood. It's a really cool cocktail bar located on the Rosewood property.
What to Wear
I received a few questions about what to wear at Baha Mar. The Baha Mar is similar to any other resort in the Caribbean, it's super relaxed and casual. I'm pretty sure the highest standard dress code I've seen at the nicest restaurants on-site is "smart casual" – which just means don't wear leggings or sweats, ya know?! I've worn sun dresses, maxi dresses, and white jeans all with flat sandals to dinner and to the bars. The resort is massive so you'll want to keep that in mind as you'll be walking a lot – pack shoes that lend themselves to that.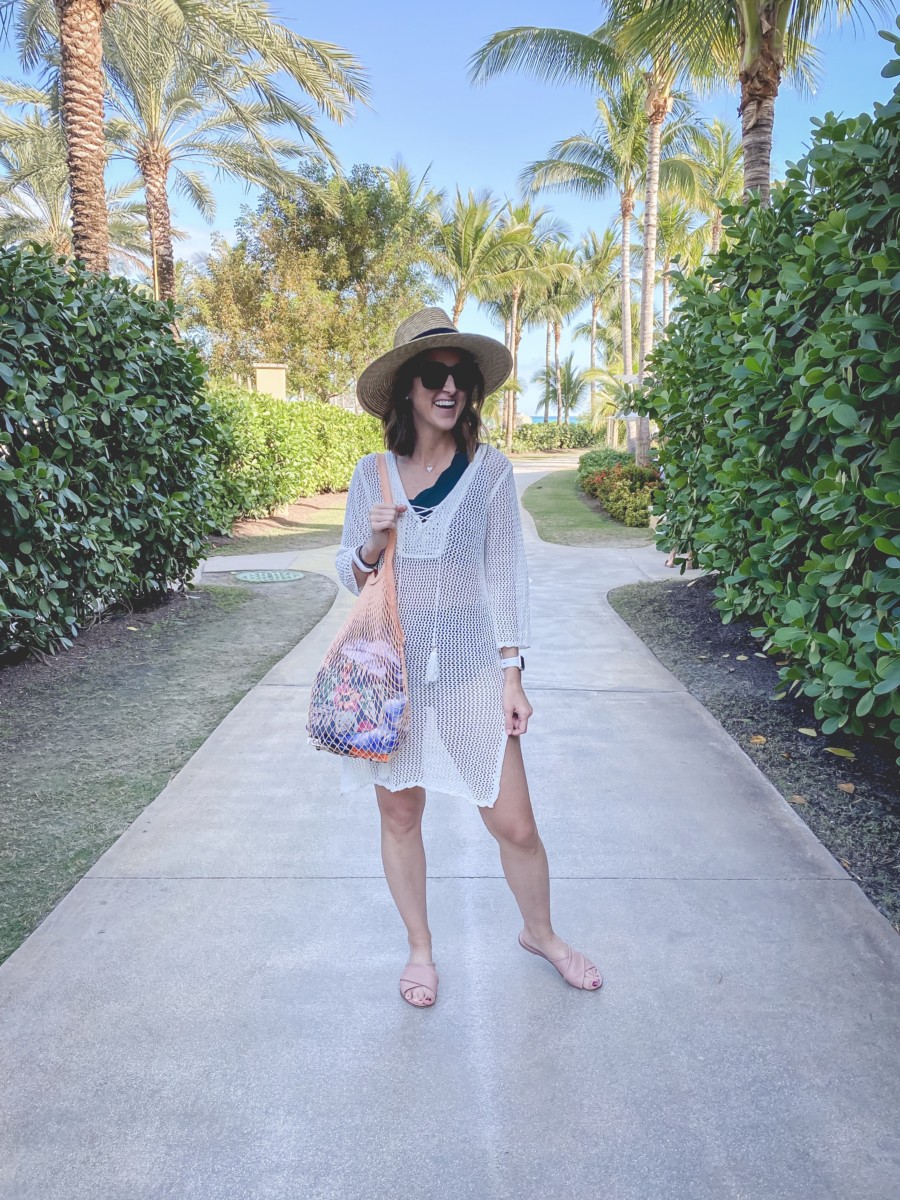 Travel Tips
Lastly, before I wrap up my Grand Hyatt Baha Mar Review, a few travel tips to leave you with so that you're prepared for your trip to Baha Mar!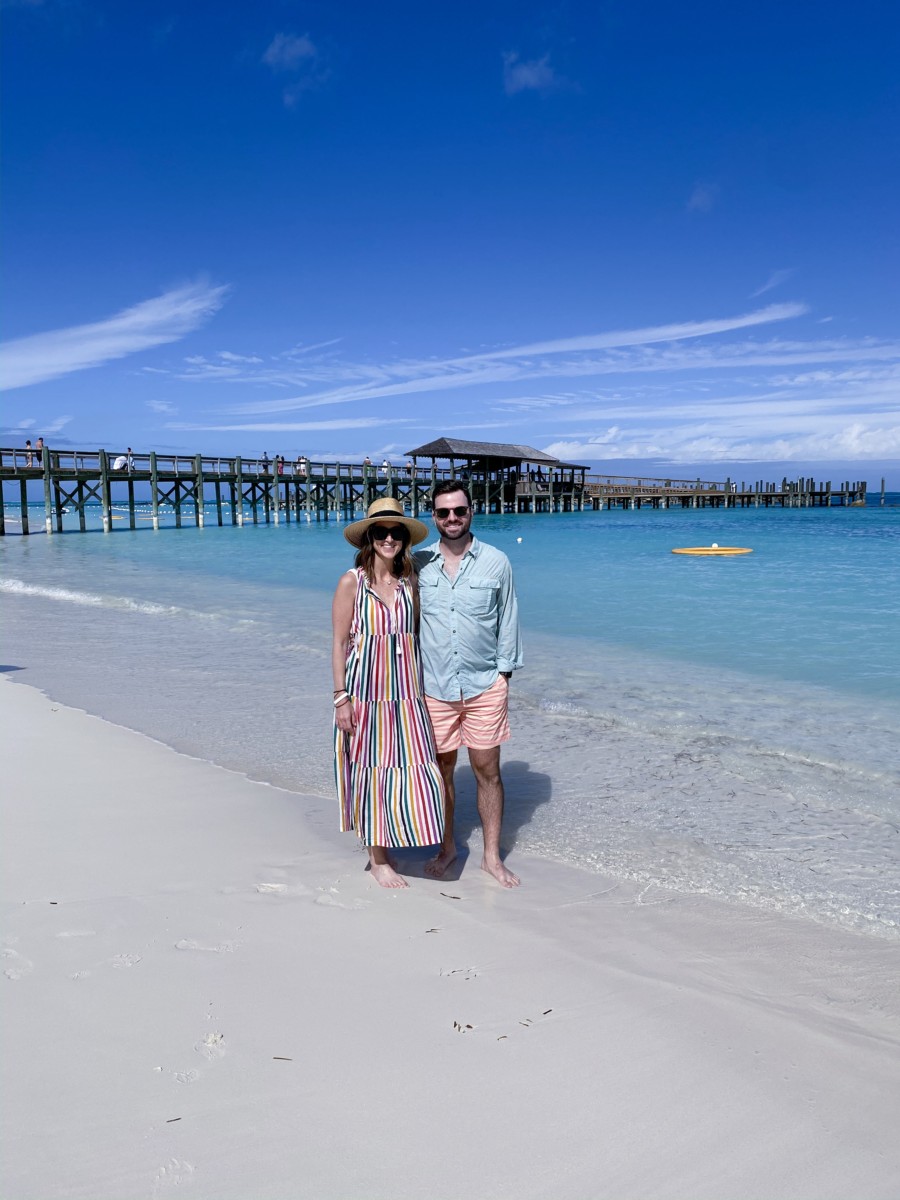 The Baha Mar is NOT an all-inclusive resort. You pay for everything individually.
Pro-tip: If you're willing to check a bag, pack your own bottles of wine and/or alcohol and bring snacks too. Since you can freely walk around the resort with drinks, this will save you a pretty penny if you plan on drinking alcohol on your trip. You can also venture to a liquor store and/or grocery store on the island, but items tend to be more expensive since you're on an island …
Bring a re-fillable water bottle. Michael and I always travel with our own refillable water bottles. Baha Mar has water stations around the resort where you can refill your bottles. This will save you money on having to constantly purchase water bottles.
Bring cash. Like I mentioned, the taxi drivers do not accept credit cards. They do accept U.S. dollars. You'll also need cash to tip bellmen. All onsite bars and restaurants only accept credit cards or room charges as payment.
Update your phone plan. There's strong WiFi on site, but I like having a working cell phone so that I can use Google Maps to/from the airport. I have the Verizon Travel Plan, which allows me to use my normal plan plus pay $10/day for everyday that I'm out of the country.
Customs. Be aware that you will go through customs upon leaving The Bahamas at the Nassau airport. Unlike most places that you've likely traveled outside of the U.S., you go through customs BEFORE arriving in the U.S. Global Entry included. All of it happens at the Nassau airport. With that being said, it is imperative that you arrive at the airport at least 2 hours prior to your flight. The positive note is that once you make it through customs in The Bahamas, you don't have to deal with it upon arriving back into the States.
Overall Thoughts

Plan a trip now, you won't regret it. Everything about the resort is outstanding. The service, the rooms, the lobby, the amenities, the restaurants, the pools, the beach … everything. I love it! If you're looking for a tropical destination with all of the bells and whistles, this is your spot.
If you have any questions about the resort, feel free to email me at [email protected]!