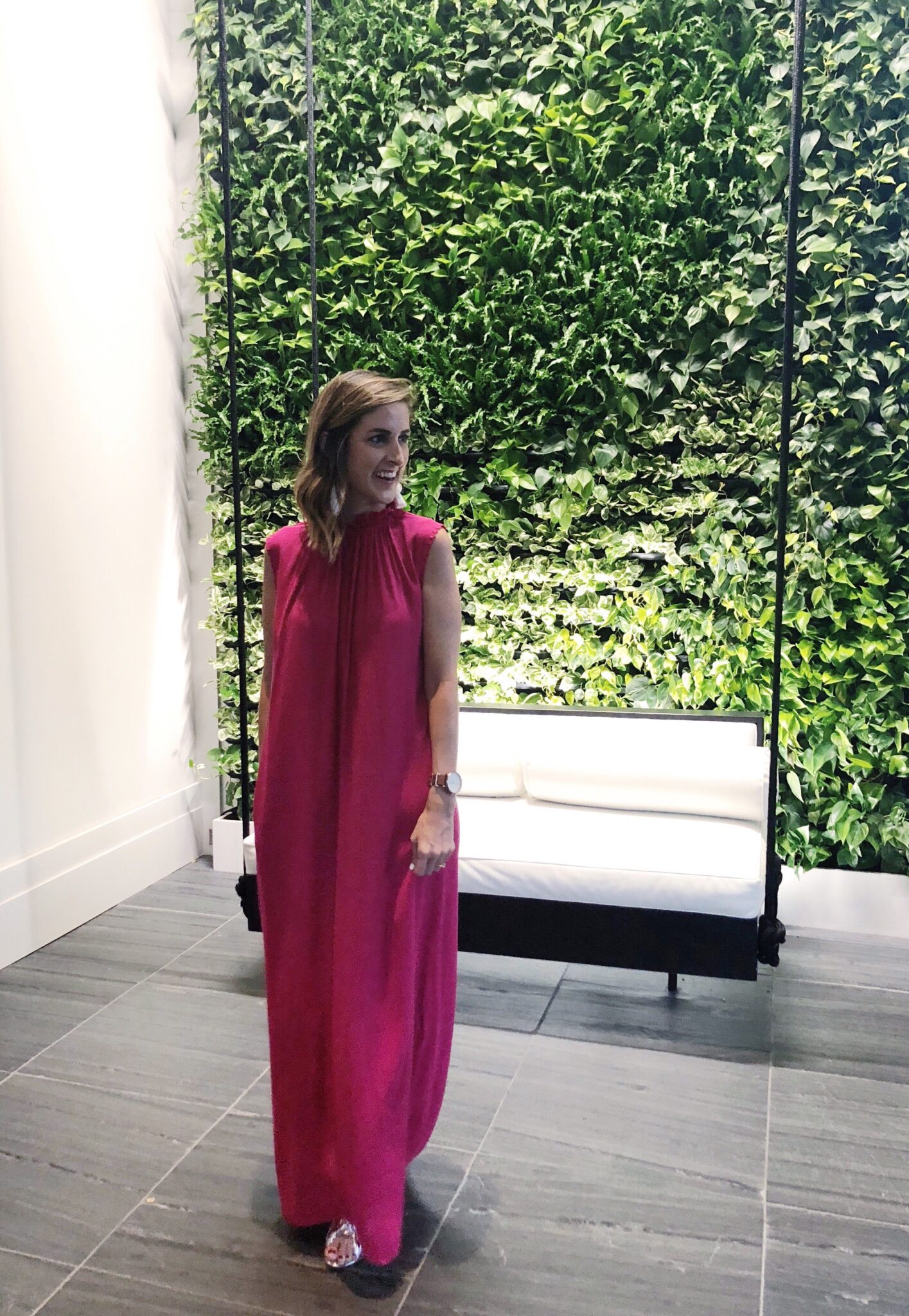 & Other Stories Dress ($89) | Loeffler Randal Sandals (on MAJOR sale!) | Kendra Scott Earrings

Hooray!  It's Friday!  I'm currently in Atlanta for The Blog Societies Conference (#TBSCon).  I'm hosting a workshop here on contracts for bloggers!  I attended #TBSCon myself as a blogger two years ago when it was held in Charleston.  It's such a fun weekend filled with networking and learning!  The photo above is from the cocktail reception held last night at the Hotel at Avalon.  More on that below.  Let's jump into today's week in review!
Monday
On Monday I shared my updated morning routine!  It has been an adjustment since leaving my 9-5 job.  Check out the post and leave a comment about your morning routine.  I always love to hear how others start their day!
Monday's work day was pretty run of the mill.  I spent the day checking off items on my do-to-list and ended the day with SoulCycle!
Tuesday
In this week's Travel Tuesday post, I shared an updated post on every credit card that's currently in my wallet.  What I use each credit card for and why I signed up for each card.  Credit cards are the main way that Michael and I are able to travel as much as we do!  Being smart about what cards you have in your wallet and what spend you're putting on each card is the key to earning points and miles for free travel!
I started off my morning at Philz coffee with my friend Molly of MABE Wellness.  It's always nice to start off the day talking a bit of business and just catching up!  Next, I headed over to Navy Yard for a client meeting, and then spent the rest of the afternoon working at home.  Michael and I were treated to a fun night at Nationals ballpark that night.  One of the perks of living in DC is that there are so many professional sports teams to cheer on!  I love heading out to Nats park for the baseball games!  Such a fun way to spend a summer night!
Wednesday
On Wednesday I shared my SoulCycle journey.  I've been consistently attending SoulCycle classes since the beginning of the year, and it has had such a positive affect on all aspects of my life (not to sound dramatic, but it's true!).
Wednesday was one of those I-have-a-million-things-to-do-before-heading-out-of-town kind of days.  I finished up a few client projects and prepped and packed for #TBSCon and the weekend ahead.  I closed out Wednesday with a killer workout at BlastDC with Under Armour.  Under Armour was in town promoting their #WillFindsAWay campaign.  Check out more about the workout and what I wore in this post!

Thursday
I headed to the airport Thursday morning to catch my flight to Atlanta!  Jackie and I were on the same flight.  Once we landed, we made our way out to Alpharetta to the Hotel at Avalon, where #TBSCon is being held.  It's a super cool area that I've never been to.  There are tons of shops and restaurants, and the hotel itself is pretty awesome.  It's a Marriott Autograph property so it's super chic and super unique.  More of a boutique hotel feel than your standard Marriott.
After a quick lunch at Farm to Ladle, I knocked out a couple hours of work before getting ready for dinner at Cru with Jackie and Brittany.  We had an early dinner and then joined everyone at the welcome cocktail party.  It was such a great night of connecting with girls that I've met through the years from blogging and meeting tons of new girls too!  There were also some great brands on hand like Kendra Scott, La Croix, and Vera Bradley.  Be sure to follow along on Instagram Stories as I'll be share more of the conference there!
Weekend Plans
I'll be in Atlanta for the conference until Saturday afternoon.  Then I'm heading to Birmingham for a couple of days!  I attended law school in Birmingham and lived there for a few years after school too.  Birmingham is a short 2.5 hour drive from Atlanta, and a handful of my very best friends still live in the Ham.  So I'm heading there for a couple of days to spend time catching up with them!
Favorite Things This Week
My Nespresso Machine // This week was a busy one.  Especially after being out of town for the majority of last week and then heading out again this Thursday.  I NEEDED my Nespresso machine this week.  It's one of the items in my house that I use twice a day, almost every day!  It's so worth the investment.
& Other Stories (love/hate) // I shopped a new-to-me store this week, & Other Stories.  I actually fell in love with a couple of their pieces!  The fuchsia maxi dress pictured above is from there, and in my opinion, it's a steal at $89.  It looks so much more expensive in person!  I also snagged this embroidered top that I'm planning on wearing this weekend.  So while I do love the store and their pieces, the hate part comes in when I tried to return another piece I ordered online to the store in Georgetown.  Apparently they don't accept online returns in-store.  Just a heads up!  🙂

Loeffler Randal Sandals // I've been eyeing these Loeffler Randal shoes all summer long!  But let's be honest, I'm not about to spend $350 on a pair of shoes.  To say I was ecstatic when they were marked down to $130 is an understatement!  I had a few gift cards burning a hole in my wallet, so I decided to give it a whirl and snag them.  I picked them up in the metallic foiled leather, and I'm in love!  They are the perfect low, block heel that can easily be dressed up or down.  They're still available in a few sizes and a few different colors as well!

Have a great weekend!