This post may contain affiliate links.
photo by Meagan LeDoux at Cochon Butcher featuring Great Raft Brewing beer
outfit details: Amazon Sherpa Jacket (wearing XS) | Everlane Tank | Levi's Denim (wearing 27 inch length, size 26) | Zara Boots | Kendra Scott Necklaces (here, here, here)

Happy Friday! I'm looking forward to a mix of fun and slowness this weekend. Michael and I celebrated our four year wedding anniversary on Thursday. We booked a new-to-us restaurant to check out over the weekend. I'm sure I'll share all the details on Instagram. It should be quite the experience as the restaurant only offers a set tasting menu.
I'm also planning on finishing my glitter cups. I'm riding in the Krewe of Cleopatra Mardi Gras parade again this year (we roll on Friday, February 10th!). Our signature throw is the glitter cup (see below). I shared a quick video on how we make them here! It's a time consuming process, but it's a lot of fun too!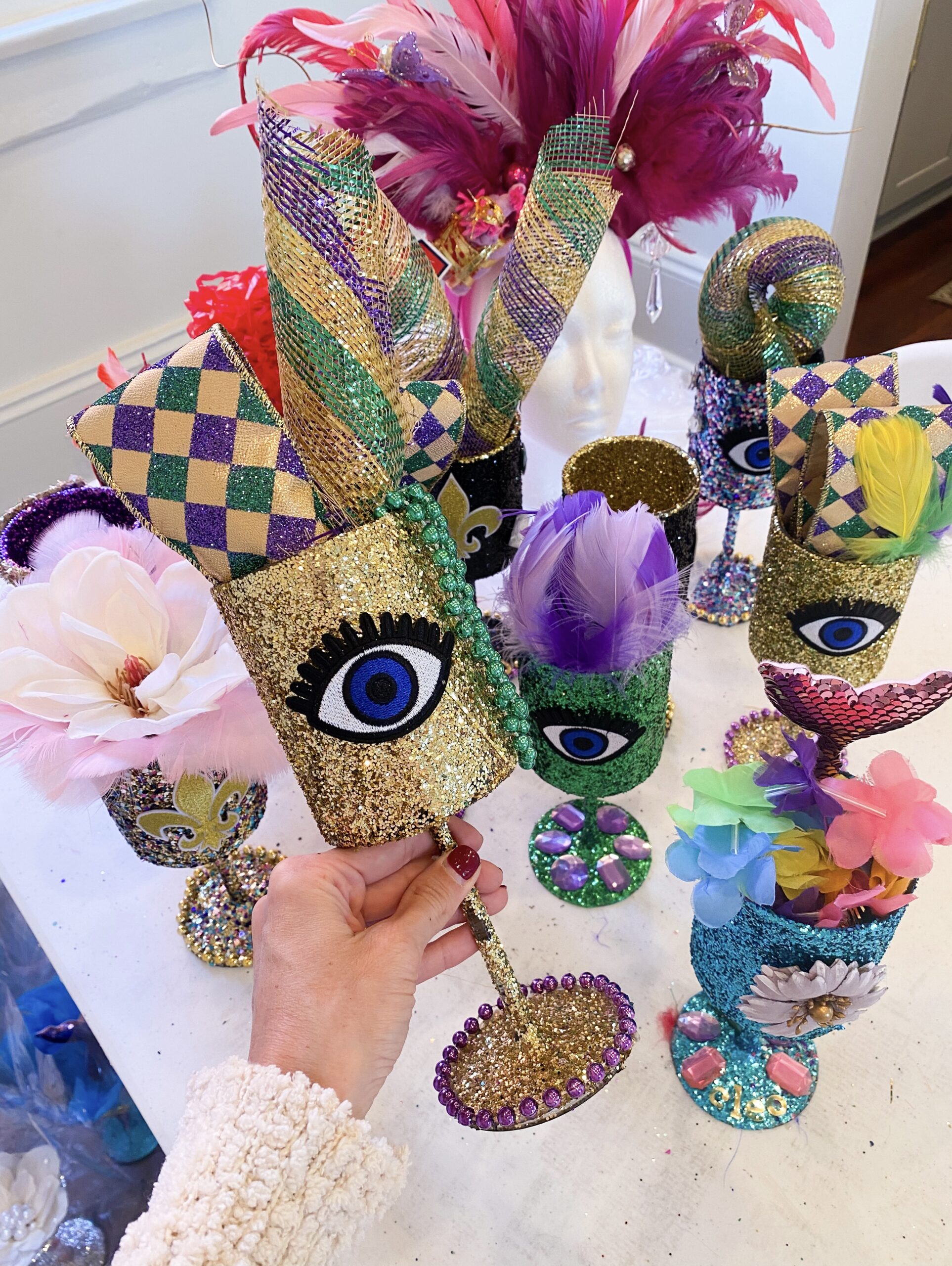 This Week's Posts
The BEST Detox Mask (it's clean too!) // My favorite face mask! I shared a full review of Beautycounter's charcoal mask, including the benefits and how often I use it. Don't forget, you can get 20% OFF your first purchase with code CLEANFORALL20! Shop the mask here –> Charcoal Face Mask
My Easy Breezy Morning Skincare Routine // I shared a video of my 4 step morning skincare routine. I use this Indie Lee toner, my favorite vitamin C serum, and Follain's moisturizer (I'm currently out of the regular moisturizer so I've been using Follain's eye cream as all over moisturizer, and I'm actually loving it!). Lastly, I use my gua sha stone to massage my face to help with drainage and to reduce puffiness. The gua sha massage is also very relaxing!
My Morning Coffee // I'm obsessed with my Nespresso machine. I shared how I make my morning coffee + my favorite Nespresso pods in the caption. I've had my Vertuo machine for at least 6 years, and I still love it! It makes the perfect cup of coffee – so frothy! It has the capability to make espresso drinks as well! My milk frother is linked here –> frother.
4 Ways to Style Leather Pants // I finally found a pair of leather pants I love! They run a little big, I sized down one size to a size 2. You can shop the looks from the video here, here, here, and here.
Weekly Workouts
Like I mentioned last week, I'm slowly but surely getting back into group fitness classes. Over the past two years I've mainly relied on daily walks and lifting my child as my workout routine. And honestly, it worked out well for me during that time! But I love a group workout class. I used ClassPass's free two-week trial to try out a handful of studios. I landed on two favorites – City Surf and Romney Studios.
A new studio opened this week in New Orleans, Swoot. I'm planning on trying out a class or two next week!
This week I took two hot yoga classes at Romney, a hot sculpt yoga class and a hot power yoga class. Both were great! I really enjoy the "hot" classes as they're a great way to sweat a ton. If you're local and looking for a yoga class to try, I highly recommend these two! Morgan and Lillian are the instructors for the classes I've attended, they're both great! In addition to those two classes, Weldon and I have gone on a couple of long afternoon walks this week – the weather has been absolutely gorgeous (in the mid-70s and full sunshine!). I'm planning on getting in another long walk this morning and a couple over the weekend too.
Cobalt Household Favorites + Discount Codes
Beautycounter // One of my favorite clean beauty brands. I received a recent order this week, which included two of the new Hyaluronic Lip Balms! My first impression, they're SO hydrating! The Plush shade is a great everyday pink. An added bonus, I love the packaging! Get 20% OFF your first order (or use a new email address if you're a returning customer) with code CLEANFORALL20. Shop here!
Branch Basics // My FAVORITE non-toxic cleaning products! The best non-toxic household cleaning supplies! Check out my review here! Get 10% OFF your Starter Kit with code COBALT.
White Loft // The sweet owner of White Loft sent us one of her growth charts to hang in Weldon's room. It's such a precious addition to his room and one that I know we'll treasure for years to come! Get 15% OFF your order with code COBALT.
Weekend Plans
In addition to dinner out and decorating Mardi Gras cups, I'm sure we'll squeeze in a visit to Audubon Park (a Sunday favorite of ours!) and perhaps dabble in watching another movie from the Golden Globes nominees list. We watched The Menu last weekend – woah. So weird and crazy. I felt like I was trapped in that restaurant for two hours … IYKYK!
My Favorite Things this Week
Purse Organizers // So random, but I saw these on Shaheen's Instagram page and immediately bought them! I have a shelf in our closet that houses all of my smaller purses and clutches. These organizers are a game changer!! My bags are all lined up perfectly now and not in a big heaping messy pile. Praise be.

Sherpa Jacket // Still loving this new Amazon jacket! I branched out and tried this men's sherpa jacket after reading a couple of reviews. I have it in the tan and green shade in a size xsmall.

Have a great weekend!