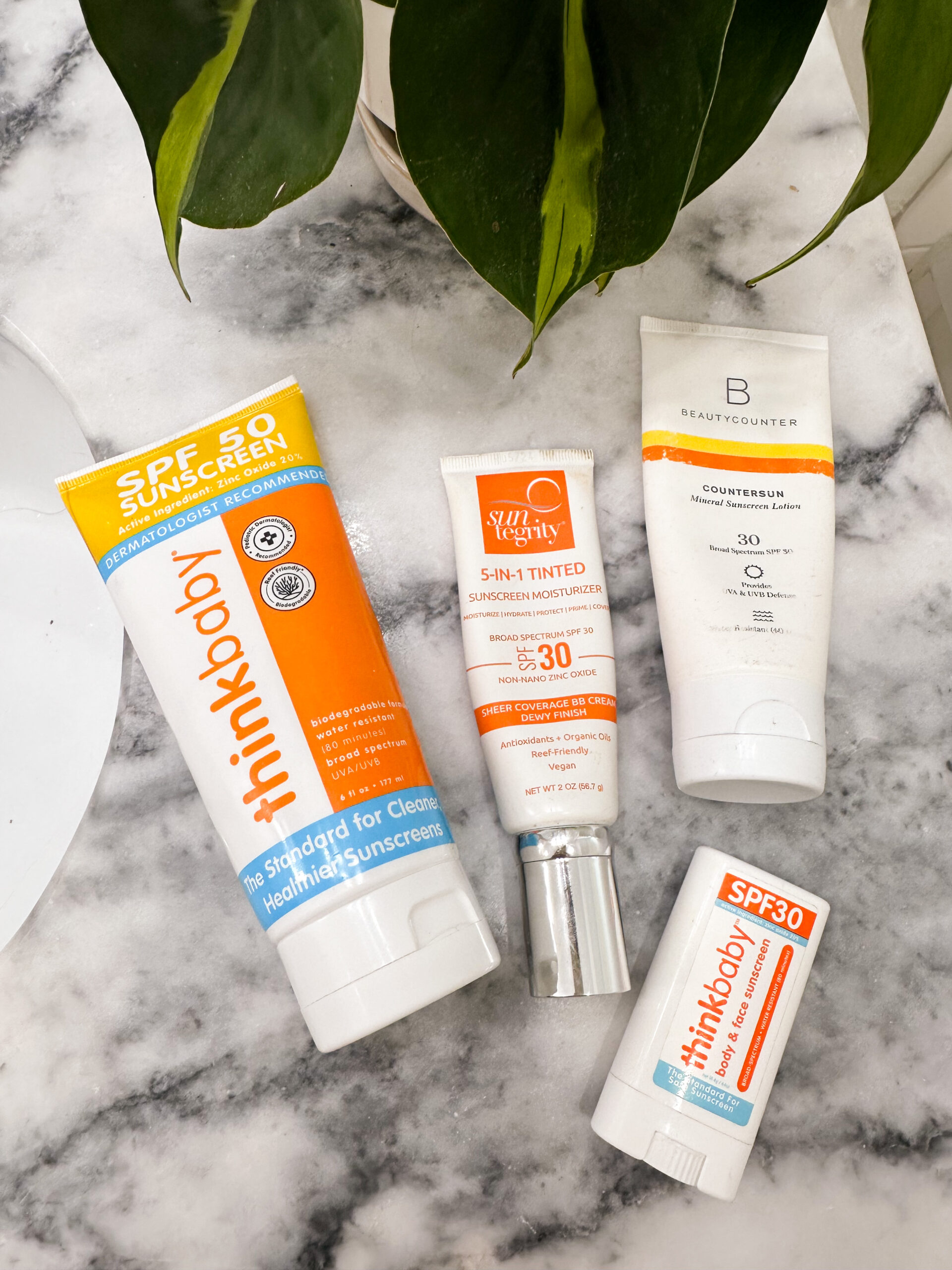 The Best Non-Toxic Sunscreens
Have you made the switch to mineral sunscreen? If not, it's time! I've shared countless articles over the years explaining why you need to ditch chemical sunscreens and make the switch to mineral SPF, but if you need a recent read as another reminder, check out this recent article: Only 25% of sunscreens offer broad-spectrum protection without 'troublesome' ingredients, report says. A lot of the name brands you're used to seeing and buying … Banana Boat, Coppertone, SunBum, Panama Jack and even Neutrogena are all on the not so good list of sunscreens that contain harmful chemicals. The EWG (Environmental Working Group), is a great place to go for additional resources on what sunscreens are safe and effective.
Chemical sunscreens contain harmful ingredients such as avobenzone, oxybenzone, ecamsule and octocrylene. Check out this article for more information.
Why not just avoid all of those ingredients and switch to a clean, non-toxic SPF? Today I'm sharing the best non-toxic sunscreens, the ones I use and love!
This time of year is the PERFECT time to throw out old SPFs and stock up on non-toxic sunscreen.
The Best Non-Toxic Sunscreens
For Everyday Use on Your Face
Suntegrity 5-in-1 Tinted Moisturizing Face Sunscreen. I use this sunscreen on a daily basis. It's a sheer tinted sunscreen that's not greasy or thick. It's great for everyday use whether you're wearing it by itself or under makeup. I love the tinted aspect for days when I'm heading to the park, pool, or beach and don't want to apply any makeup. The tint provides subtle coverage.
Beautycounter Countersun Daily Sheer Defense For Face. Michael prefers this facial sunscreen for everyday use as there's no tint to it. This SPF is designed specifically for face application – it goes on sheer and not as thick as your typical mineral sunscreen. A great option for the guys in your life!
For More Protection
Countersun Mineral Sunscreen Lotion SPF. For protection everywhere else, I use both Beautycounter's lotion and mist. The lotion is great for outdoor activities and pool days. It rubs in nicely and provides excellent protection. It's also available in a travel size for easy packing!
Countersun Mineral Sunscreen Mist SPF. I prefer the mist for beach days as it's easier to apply and generally less of a mess when there's sand involved. Again, it's easy to apply and rubs in nicely. It's available in a travel size too!
Countersun Mineral Sunscreen Stick SPF. I keep Beautycounter's Countersun sunscreen stick in my purse in case of an SPF emergency. It's small, compact, and easy to apply too. It's come in handy on so many occasions!
For Babies, Toddlers, and Kids
thinkbaby Mineral Baby Sunscreen Stick. I prefer to use child-specific sunscreen for Weldon. I've tried a few different brands of baby-specific mineral sunscreen, and thinkbaby is the winner! I have these thinkbaby sunscreen sticks stashed in every stroller, every pool bag, every beach bag … they're compact, easy to apply (especially to a squirmy child's face), and easy to rub in! I use this SPF stick on Weldon almost daily – park days, stroller walks, pool days, you name it!
thinkbaby Mineral Baby Sunscreen Lotion SPF. For full body coverage, I prefer thinkbaby's sunscreen lotion. It rubs in easily and is easy to apply. It's gentle on Weldon's skin too! Provides great protection.
More Non-Toxic Products
Work on that tan without actually being in the sun – check out my review of my favorite clean self tanner!