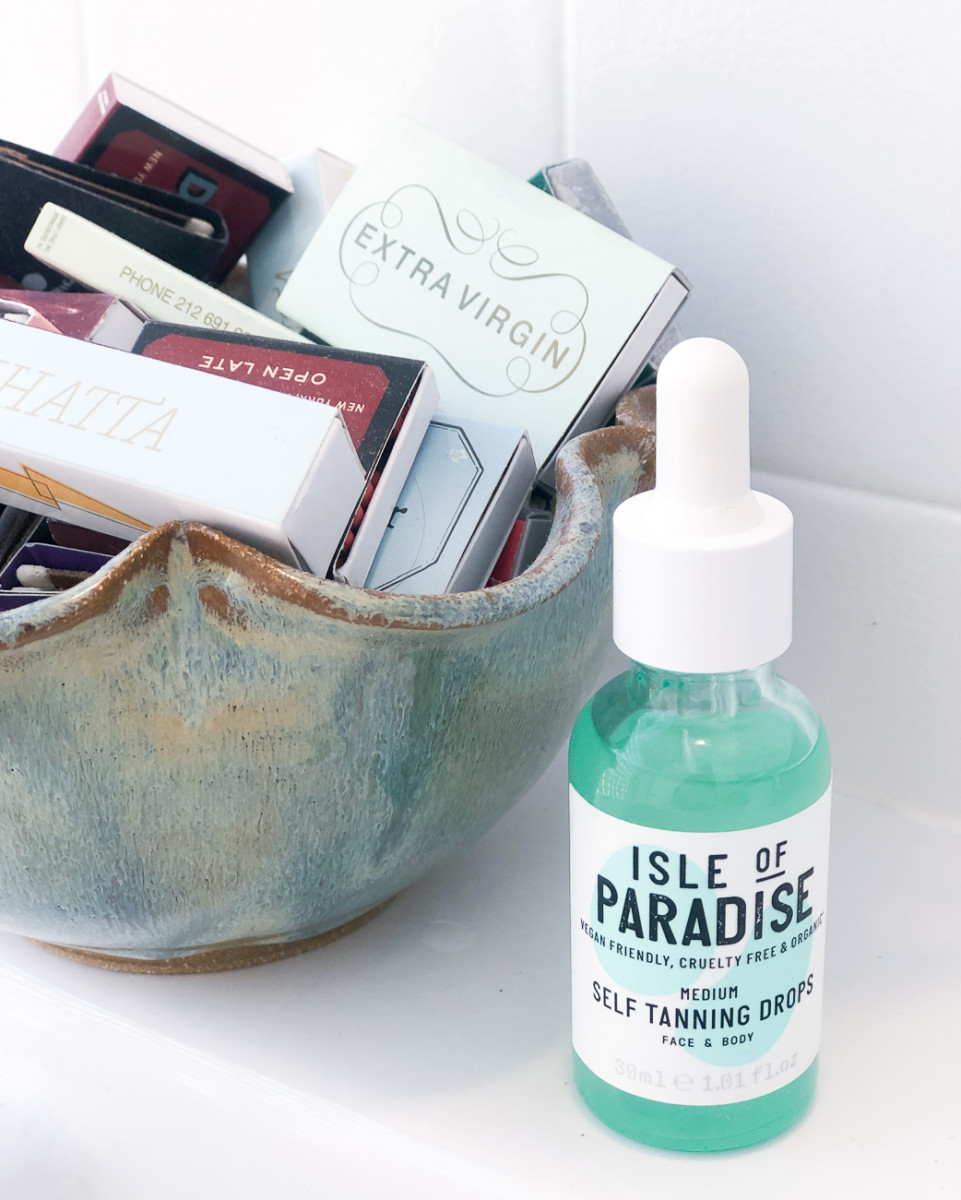 A little bit of a back story first – Michael and I decided to get married in The Bahamas, in January (2019). As our wedding date approached, I realized that my legs hadn't seen the sun since October. I started looking into self tanning options so that I'd have a good base going into the wedding week.
After seeing a few fellow bloggers posting about tanning drops on Instagram, I decided to check them out. I had never heard of the beauty brand Isle of Paradise, the brand behind the tanning drops, so I decided to do a little research of my own. I was so excited with what I found! Not only did the Isle of Paradise tanning drops have rave reviews on Sephora's website, but I learned that the drops are 100% vegan, cruelty free and organic! Hooray for no crazy chemicals!
Isle of Paradise Tanning Drops Review
Isle of Paradise is a newish brand that formulated a safe, non-toxic way to achieve a tan! No more spraying orange chemicals on your skin for a summertime glow. Since their products are organic, they're even safe to use on your face!
One thing I love about the Isle of Paradise tanning drops is that they're available in three different shades: light, medium, and dark. I opted for the medium shade.
Before trying out the tanning drops, I first tried the Isle of Paradise self tanning water because the drops were sold out. I found the drops in stock a week later, and since I'd heard the most about the drops, I switched to using them. The tanning water, which is essentially a spray mist, works well for the rest of your body, but not particularly your face. So if you only opt for one product, I'd recommend trying out the drops first.
The drops are easy to apply. Take your favorite lotion (for your body) and your favorite moisturizer (for your face), mix in a few drops, and rub in evenly on skin. Be sure to wash your hands immediately after application (to avoid tan palms)! You can also apply the drops by themselves if you prefer!
The more drops you add, the more tanning affect you'll see. I'd recommend starting off with just a few drops. Three drops per area (leg, arm, stomach etc.). For face application, I'd recommend starting off with two drops added into your moisturizer.
After application, try to avoid tight fitting clothing and water. Plan your day so that you don't have to shower within 4ish hours of applying. The tan develops pretty quickly – within a few hours. However, I saw the full affects after a full night's sleep. I like to apply my tanning drops in the evening after showering prior to bedtime. That way the tan has time to develop overnight.
I've used other self-tanning brands (mainly St. Tropez), and this is the best one I've found! And since I'm always looking for clean beauty alternatives, it's a no brainer since it's a clean product! Check out my full list of clean beauty favorites here!