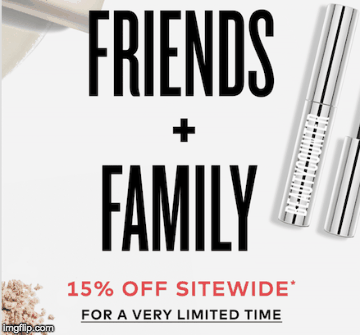 Beautycounter is having a SITEWIDE sale! Get 15% OFF sitewide (a few exclusions) + 30% off holiday sets and last chance items!
If you've been on the fence about trying out Beautycounter, today is the day to take the leap!
It's been a big week for Beautycounter! If you missed the news yesterday, Beautycounter is partnering with SEPHORA! Coming in July, for a limited time, 11 of our hero products will be available for purchase at Sephora. Get in on the goods before the whole world knows about Beautycounter. 😉
A few details before sharing all of my favorite Beautycounter products.
Beautycounter's products are CLEAN and free of toxic chemicals. I use Beautycounter's Never List as my standard when checking any products I put on my body.
Sale applies sitewide with a few exclusions.
Consider adding a Band of Beauty membership to your order ($29/year). It's like Sephora's rewards program. You get product credit on every order that you can use on future purchases, you get a free gift so long as your order with the BOB membership is at least $50, and you get free shipping on all orders over $100!
This type of sale doesn't happen often. So take advantage while the getting is good! Shop the sale HERE.
Not sure where to start? No problem! Keep reading for a few of my favorites!
Beautycounter's Return Policy
Keep in mind Beautycounter's amazing return policy when deciding what to shop during the sale. Beautycounter offers full refunds on any product that you don't love. Simply return the product within 60-days of your order (it can be used, we WANT you to try it out!). That easy!
My Favorite Beautycounter Skincare Products
I love that Beautycounter is a one-stop-shop when it comes to clean beauty. I know that every product we sell is not only safe but effective. If you're not sure where to start, try swapping out a product you use everyday for a clean Beautycounter product. Or try a regimen – Beautycounter carefully pairs its products together in regimens that offer to best results when used together.
Morning Skincare Favorites
Coutner+ All Bright Vitamin C Serum // I just got this new Beautycounter product in, and so far, I'm loving it! When it launched in May, it immediately sold out. But it's back! This vitamin C serum helps to brighten skin and even skin tone. Apply this after cleansing and before moisturizer.
Countermatch Eye Rescue Cream // I use the Eye Rescue Cream as my everyday eye cream. It's lightweight but very hydrating. A little bit goes a long way! I've had the same tube for 4+ months. If you're looking at purchasing more than one item in a regimen (like the Countermatch moisturizer and the eye cream), it may make more sense to purchase the bundle. You can check out the Countermatch Regimen HERE!
Countertime Antioxidant Soft Cream // This is my daily morning moisturizer. It's formulated with our plant-derived Retinatural Complex and Nasturtium flower extract. It helps to visibly plump and firm the skin while boosting hydration to protect skin from drying environmental stressors throughout the day. It also helps with decreasing the appearance of fine lines. It's lightweight and hydrating.
Countersun Daily Sheer Defense for Face SPF 25 // Another new product that just launched last week! This SPF is specifically formulated for your face and for everyday wear. Apply it after skincare and before your makeup.
Nighttime Skincare Favorites
Counter+ Lotus Glow Cleansing Balm // You've likely heard me rave about the Cleansing Balm plenty of times before. After rinsing my face with my cleanser and patting dry, I apply a couple of dime-sized dabs of the balm to my face (mostly around my eyes), and my makeup melts right off with a quick swipe of a cotton ball. Not only does it take my makeup off really easily, it's moisturizing too. It doesn't strip my skin while removing the makeup.
Counter+ Brightening Facial Oil // I also use the Brightening Facial Oil to help brighten any dull spots on my face. I apply the oil at nighttime after cleansing and before my moisturizer. It's VERY hydrating and leaves my skin feeling silky smooth. This is another product where a little bit goes a long way! I had one of my customer send me an email last week saying this about the Brightening Oil: "I may have developed an addiction to the oil! I have let friends/family try it because it is SO good." Makes my heart happy! It really is SO good!
Overnight Resurfacing Peel // I've been using the Overnight Resurfacing Peel 3ish times a week for over a year now, and I've noticed a big difference in the balancing out of my skin tone. I have a lot of sunspots and brown spots on my face. Consistent use of the Resurfacing Peel has helped the discoloration fade and also leaves my skin feeling like there's a fresh new layer of skin each morning after using it! Note – There's no actual peeling of your skin involved. It's especially great for clearing up any dry patches or scaly patches from getting too much sun this summer! Definitely a holy grail Beautycounter product.
Counter+ Charcoal Facial Mask // If you follow along with me on Instagram Stories, you know this is my Sunday night go to! It's the BEST face mask. I shared a full review here! It goes on thick, dries in about 5-10 minutes and makes my skin feel amazingly hydrated and clean when I wash it off!
Lip Conditioner (Peppermint) // My ride or die. I use this Lip Conditioner throughout the day, every day.
Shower and Body Care Favorites
I keep these body care products stocked at our house. They're products that Michael and I use every day.
Daily Shampoo // I buy this shampoo over and over again. It's the only clean shampoo (sulfate free, no fragrances, no harsh chemicals etc.) that I've tried that lathers well. As a bonus, it smells amazing! And obviously leaves my hair feeling fresh and clean! Michael uses it too!
Daily Conditioner // I also buy the Daily Conditioner on repeat, although I don't have to replace the conditioner as often as the shampoo. It's a great, clean conditioner!
Body Wash in Citrus Mimosa // Another product that I legit look forward to using everyday! It smells like fresh citrus fruit! I use this body wash. I included Michael's body wash below.
Countermatch Refresh Foaming Cleanser // This is a new Beautycounter product that I've been loving! The consistency of this gentle cleanser is like a thick cream. It's not so much foaming as the name makes it out to be. Great everyday cleanser!
Countermatch Adaptive Body Moisturizer // My favorite body lotion! Medium consistency, absorbs easily, and is super hydrating.
Counterman Products // Michael's Favorites
Mineral, Reef Safe Sunscreen
I keep this trio on hand for days spent outside, pool days, and beach time! All Beautycounter sunscreen is mineral sunscreen, which means the ingredients aren't absorbed into your bloodstream like most chemical sunscreens. Our sunscreen is non-toxic and reef safe!
Countersun Mineral Sunscreen Lotion SPF 30 // The lotion is my go to for my body if I'm spending long periods of time outdoors. It rubs in easily and it's not greasy.
Countersun Mineral Sunscreen Stick SPF 30 // I love the stick for my face! My friends with kids have also raved about it in that it's easy to apply to wiggly kids' faces too!
Countersun Mineral Sunscreen Mist SPF 30 // I love the mist for beach days! It's easier to rub in when there's sand involved. 🙂
My Favorite Beautycounter Makeup Products
Now for my favorite Beautycounter makeup products!
Check out my everyday makeup tutorial to see how I use these products!
Color Pinch Cream Blush (Hibiscus) // This is the first Beautycounter product I ever purchased, and I've been a repeat buyer ever since! I love how the Color Pinch Cream Blush has a dewy look to it. The Hibiscus color is perfect for spring/summer!
Satin Powder Blush (Guava and Passionfruit) // This is the blush that I've gravitated towards lately. Especially with staying at home most days. It's lightweight and adds the perfect pop of color. My favorite shades are Guava and Passionfruit.
Luminous Powder Highlighter // A must for summer! I have this highlighter in the Topaz shade. Topaz adds a little bit of bronzer in the mix as well. The perfect glow!
Volumizing Mascara // I actually returned this product the first time I bought it. I was so confused as to why it has SO MANY rave reviews online. But then I read the reviews … If the mascara is stored in a cold place, it tends to clump. That was my exact experience! I keep it very cold at night in my house, so every morning when I'd go to apply the mascara it made my lashes look spidery (not in a good way). I decided to re-order the mascara and try it again. Now I make sure to roll the tube in my hands prior to applying, and it works amazingly well! It's a repeat buy for me now that I know the scoop!
Velvet Eyeshadow Palette – Classic // The only eye shadow palette I use. The shades are perfect to mix and match for daytime and more dramatic nighttime looks too!
Sheer Lipstick (Rose is my favorite!) // I just placed a re-order of this lipstick as it's my favorite, and I somehow misplaced it. How does that happen?! It goes on so smooth, smells great, and lasts (without drying out your lips).
Tint Skin Hydrating Foundation (I wear Sand) // I think the word "foundation" in this product name is a bit misleading as the consistency is a more like CC cream in my opinion, but in a totally good way! I'm not a fan of foundation. I like to keep my look light and airy, and I don't need super heavy coverage. I apply the Tint Skin Hydrating Foundation with a damp Beauty Blender and it adds a nice layer of coverage without being too heavy or cakey.
Color Define Brow Pencil (I wear Dark) // I love using this brow pencil to fill in my brows and give them a better definition. The key to applying is to use quick, short strokes to mimic hair.
If You Buy One Product …
Overnight Resurfacing Peel OR Brightening Oil. My two can't live without skincare products!
Last But Not Least, Band of Beauty Members
Lastly, if you're going to be more than a one-time-purchaser of Beautycoutner, it's a great time to join Band of Beauty (Beautycounter's membership program). It's only $29 for the entire year and when you spend over $100 you get FREE shipping, plus you get 10% product credit on all of your orders that you can then use on future purchases! It's such a good deal that it's silly not to do it if you plan on making more than one purchase this year! Product credits should post immediately or by the next day, at the latest.
BOB Member perks:
EARN 10% back in product credits on every purchase
Get our Hydrating Body Lotion ($25 value) for FREE
FREE shipping on orders of $100 or more!
One More Thing …
If you're new to Beautycounter and not sure where to start, I know it can be overwhelming, just shoot me an email at ashlee@cobaltchronicles.com, and I can help make suggestions for your skin type and needs! I'll get back to you ASAP so you can get your order in before the sale ends.
Happy Shopping!