H&M Chenille Sweater (old, similar) | Madewell Jeans | Leopard Mules (on sale! 35% off!) | Mudpie Tassel Blanket

I'm excited to share a fun and unique gift idea with you today (and one that won't break the bank)!
I don't know about you, but every time the question, what's your family's background?, comes up in conversation, I used to clam up because I had no idea!  I felt like it's a thing that everyone knows about their families but for some reason I had no reference points.
I thought about trying out one of the many at-home DNA kits, but for some reason, I always strayed away.  Until two months ago when I tried out Ancestry DNA!
I held off for so long because I had it in my mind that the DNA tests were expensive and complicated.  Neither of those things could be farther from the truth!
How It Works
I placed my order online and within a few days, my small box arrived in the mail (seen in the photos).  The package has easy-to-follow instructions along with a tube that you use to fill with saliva for the DNA testing.
To ensure that the kit is properly linked to you, you first have to register the kit online, which is super simple.  The kit is now connected to your Ancestry account.  The real fun comes when you have to fill the small tube with saliva (it's not as gross as it sounds).  There are instructions on how to properly do this to ensure there's enough specimen to properly run the tests.  Then you package the tube up in the post-marked envelope that comes with the kit and drop it in the mail.  The entire process takes less than 10 minutes.
It takes around 6-8 weeks to receive your results.  When the results are in, you'll receive an email notification.  You'll be able to log in to your Ancestry account to see your results!
The Cost
You're in luck because Ancestry DNA is currently running a sale through Christmas Eve!  The kit is usually $99, however, up until December 24, 2018, you can get the kit for yourself or a friend or family member for $59!  Also, if you're thinking about getting your entire family involved, you can purchase 3 kits at the discounted rate and receive 1 free!
You can find out more here!
What You'll Find Out
I was so excited to receive my Ancestry DNA test results!  Not only are the results themselves fascinating, Ancestry does a great job of displaying the results in an easy-to-follow, fun way.  With the kit you receive origin and ethnicity information on you and your ancestors along with a list of any DNA matches with others in the Ancestry system (you have a choice to opt in to this feature).  You can also choose to add on a new feature called Traits, which allows you to dive deeper into things like how your DNA influenced your eye color or hair thickness.
And for the information you've been waiting for … 😉 Here's a snapshot of my ethnicity results!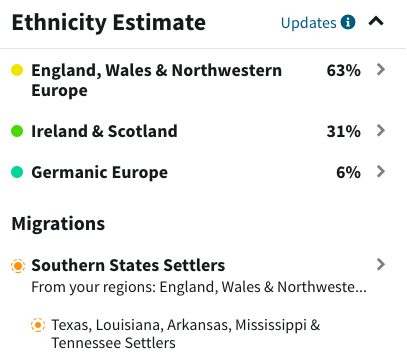 I found it so interesting that where my ancestors migrated to in the United States is exactly where most of my family still remains today!  Most of my family resides in Louisiana and Texas.
Michael picked up a kit last week.  I'm excited to compare notes on his family history in a few weeks when he gets his results in!
Get your own Ancestry DNA kit plus gifts for your family members here!
The kits are currently marked down to $59 (from $99)!

Thank you to Ancestry DNA for the complimentary DNA kit and Ancestry account!