April was a good month! I could feel the tide turn from winter to spring. It has been nice and warm in Houston (not too hot just yet) and the energy in the city has been abuzz. It was also a fun month for the blog as I felt like I was in a great rhythm of posting content I enjoyed producing, and I co-hosted a fun event at one of my favorite jewelry shops!
House Updates
We're getting more and more settled in Houston (going on two months of living in our new city!). I've mentioned this before, but even though we still live in a small space (relative to most folks' living spaces in the South), Michael and I had to purchase quite a bit of furniture to fill our new space. Our place in DC was roughly 650 square feet, while our current place is double the size.
With that said, we still have one completely empty room – the formal dinning room, which I'm hoping to put together this month.
I've pretty much finished decorating the living room, my office, and our guest bedroom. A few finds worth noting …
Living Room Updates // I'm in love with our new coffee table and living room rug! They are both neutral in color and really add freshness to the space. Right now, we are using our old couch, but this one has been on both of our wish lists for a while now!
Office Updates // I spend most of my day in my home office so making this space a space I love was really important to me! I'm still loving my desk, my new office chair, and my garment rack!
Guest Bedroom Updates // I had to completely furnish our guest bedroom as we only ever had one bedroom while living in DC. I picked up this headboard, these side tables, and this rug. I was able to use credit from our wedding registry for all three purchases, which was a really big help! I moved a couple of lamps from our living room to use as bedside lighting and sourced most of the bedding from HomeGoods.
Travel
For the most part, I stayed put in Houston this month! I traveled to DC for a week, which was so much fun! I was there mostly for work, but of course I squeezed in lots of friend dates and hit up all of my favorite spots while in town.
I flew straight to Dallas from DC to celebrate my cousin's wedding weekend. We were actually in Grapevine for most of the weekend. It was nice to explore downtown Grapevine with my family. They have a cute Main Street where we shopped around, had lunch at Jake's, and hit up Hop and Sting Brewery.
For a look at upcoming travels, check out my Summer Travel post!

Wellness Goals
I've been really mindful of sharing more wellness-related posts with you here and on my social media channels, specifically on Instagram. Wellness has always been a big part of my life, wether that be always genuinely enjoying working out or doing my best to make healthy meals at home during the week. I recently dove more into making an effort to incorporate wellness in other verticals of my life like beauty, skincare, and home products. I'm excited to be sharing more and more of this type of content with you!

Workouts
I had an eye-opening moment in April when I decided to take a look at my daily step count over the week and compare it to a similar week when living in DC. I use the iPhone health app at the moment, not the best, but so long as I have my phone on me, it does a pretty decent job of tracking.
The day I happened to look at my app, I had taken 600 steps. It was 4PM. In comparison to a typical day when living in DC where I would have taken close to 10,000 steps by that time in any given day. My mind was blown.
With that said, I've been making an effort to get up from my desk during the day to either go on one long walk (typically after lunch or in the evening after work) or several short walks around my neighborhood throughout the day. Ideally, I'd love to hit 10,000 steps everyday, but that's generally about an hour worth of walking. And while that doesn't sound like much, I also like to incorporate a more vigorous workout into my day on top of walking. So sometimes I cut the steps short.
I've still been loving Hot Sonic 60 classes at YogaWorks and my beloved SoulCycle. I'm looking to incorporate more weight training into my routine in May … will keep you posted on that venture!
Skincare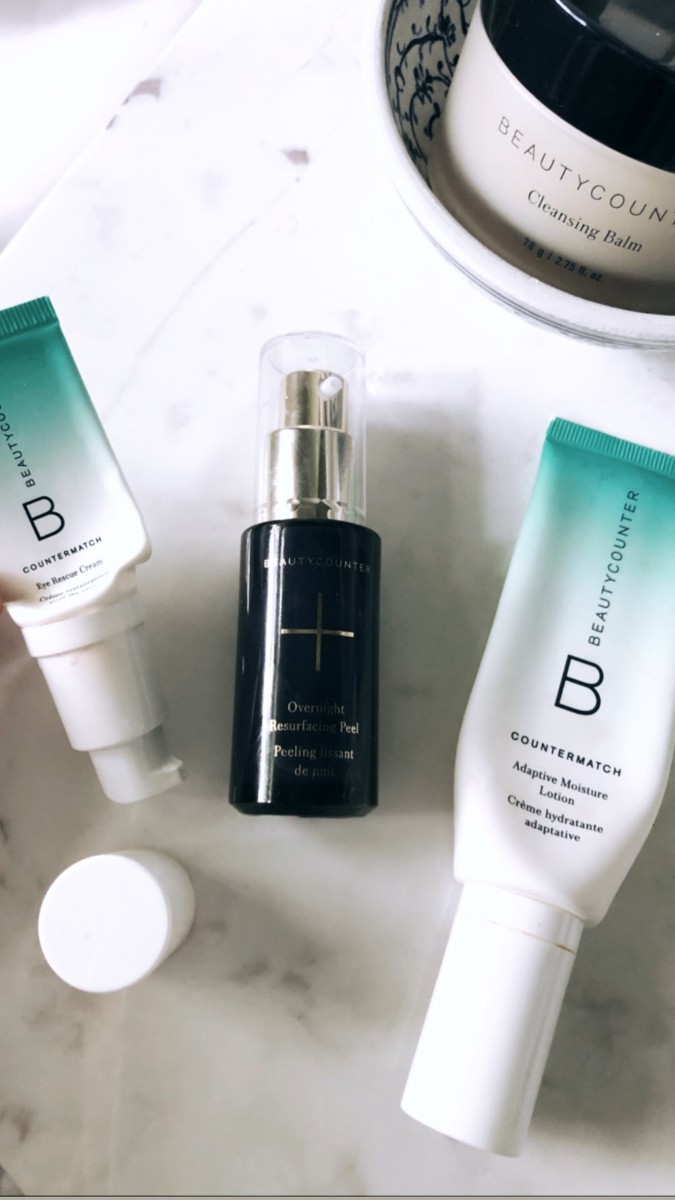 I shared my clean beauty story this month through a detailed blog post. As I've mentioned before, as I run out of my current skincare and makeup products, I'm slowly but surely replacing them with cleaner, safer products. This process isn't always easy. This month I tried out a few clean liquid eyeliners and finally settled on this one by W3LL People. Just a reminder that finding products that work for you will sometimes take a little bit of effort – does anyone remember my clean deodorant journey?!
Home Products
While I have a pretty good handle on clean beauty, I've recently become more aware of how many toxic and potentially harmful chemicals are in products I use around the house, including cleaning products and most candles (I'm a CANDLE BURNER).
This month, I switched out my surface cleaner, glass cleaner, and laundry stain remover to natural products. I used my Thieves household cleaner to make all three. If you're interested in learning more about Thieves, you can pop over here to join Young Living and place an order for yourself! I'm in a Facebook group that has served as a great resource on how to make my own cleaning products from the Thieves cleaner (it's super concentrated so I only use one cap full of the product to make most 8 ounce bottles of cleaner).
On the candle front, Follain sent me one of their non-toxic (no added fragrance) candles this month. I've actually gifted these candles to numerous friends and family, but I've never had one of my own! The candle itself is so sleek and minimalistic, and it smells amazing!
Most Read Blog Posts
I always find it interesting to see what you're enjoying reading the most! This month's most read posts were a mixed bag!
Most Clicked Items
Along with the most read blog posts of the month, I also wanted to share the most clicked items as well! This helps me to know what y'all are shopping for and what items are catching your attention the most! This month was a bit different since there was a big Beautycounter sale. Those are the items y'all purchased the most, by far. I'm excited that you're as excited about clean beauty as I am!
Most clicked Beautycounter items: Cleansing Balm, Overnight Resurfacing Peel, Satin Blush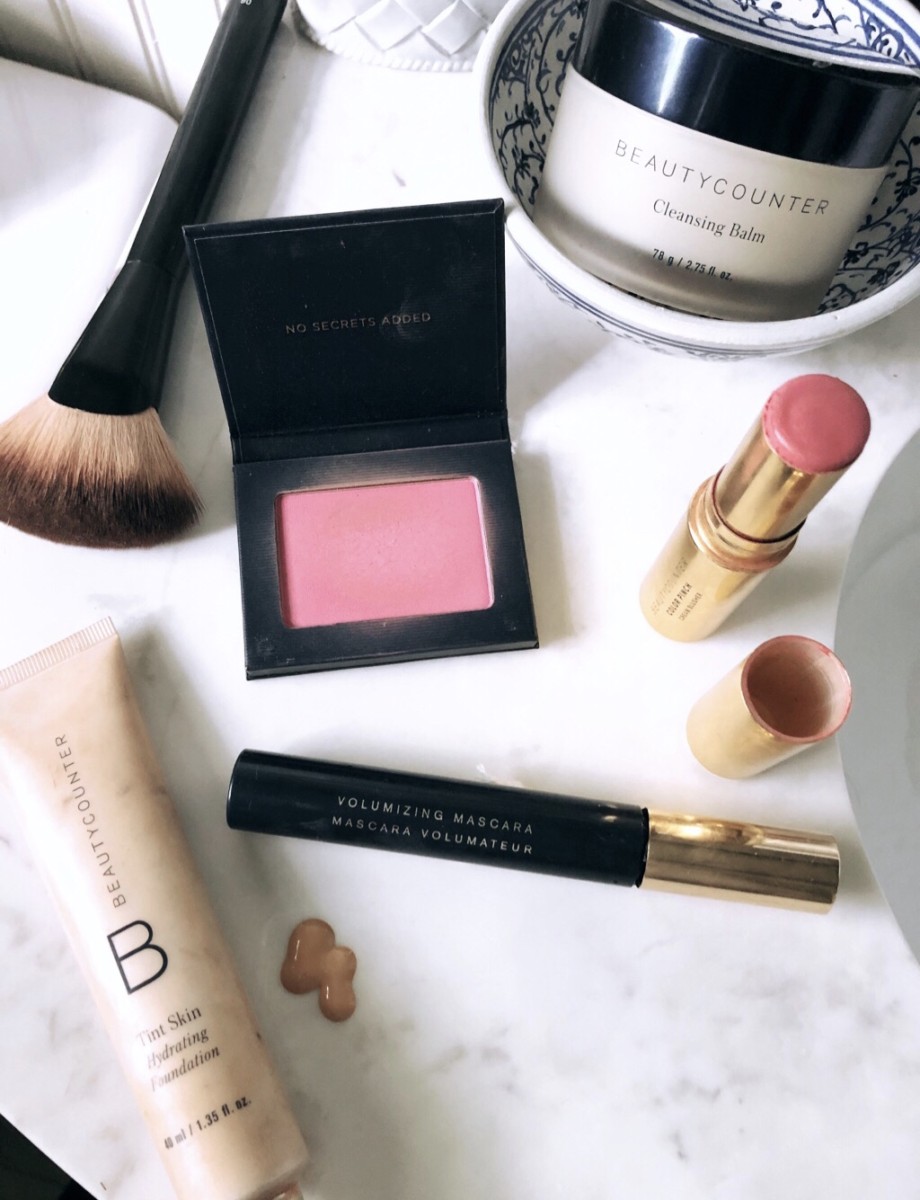 A look Ahead to May
I'm traveling twice in May, to San Francisco and then New Orleans/Baton Rouge. I'm excited for both trips as one is more work focused and one is to spend time with family. And my mom and sister are coming to visit Houston over Mother's Day weekend – our first Houston visitors!
Cheers to the month ahead!