This post is in collaboration with cabi.
Lucky Cardigan (wearing a Large, ultimately bought a Small (seen here)) | Reveal Tee (wearing XS, still long enough for leggings) | High Legging (wearing XS)
It's no secret that I'm a huge fan of cabi! If you're new to cabi, they're an amazing women's clothing and accessories brand that makes high quality pieces in limited quantities each season. I shared the entire Fall Collection here, the first set of New Arrivals here (released in September), and the second set of New Arrivals here (released earlier in November). All are still available to shop!
Recently, I had the opportunity to attend an in-home cabi Fashion Experience! I'm excited to share all the details with you today and let you know how you can attend one too!
cabi Fashion Experience
What is it?
You can always shop cabi online, but the cabi Fashion Experiences are fun ways to shop the items in-person and try the pieces on with the help of a trained cabi Stylist! And even better, the Fashion Experiences are always held in someone's home, and the hostess invites all of her girlfriends and friends of friends to join in on the shopping experience! A girls' night in! And there's almost always wine and snacks too – yes, please!
At our Girls' Night In Fashion Experience, there was wine, snacks, cabi catalogs, cabi jewelry to try-on, and all of the pieces from the Fall Collection (in multiple sizes)! I had the best time chatting with old friends, new friends, and family! It was so much fun trying on all of the pieces and sharing our opinions with each other – helping each other decide on which pieces to add to our own closets!
How does it work?
A cabi Stylist usually partners with a friend who acts as the host for the Fashion Experience. The host and Stylist send out invitations to the party and go from there!
The Fashion Experiences are really laid back since they're generally hosted in someone's home. There's absolutely no pressure to purchase anything, simply hanging out, meeting new girl friends, and learning more about the cabi brand is what it's all about!
The Stylist will usually briefly go over the season's collection and show a few styled pieces. Other than that, it's pretty much a try-on at your own pace type of event. The Stylist is there to help with sizing and styling. I love this touch! I love getting ideas in my head on how many different ways I can wear and style a piece before making a purchase. In my experience, the Stylists are always so knowledgable and helpful!
If you decide to purchase any of the items, the Stylist will input your order, and you should receive a confirmation email. The Stylist will either arrange for your items to be shipped directly to you or she may choose to hand deliver the items to you herself.
How do you attend one?
First, ask around! I bet you know a cabi Stylist or two even if you don't realize it! If not, head on over to cabi's website to find a cabi Stylist in your area! You can read more about the Fashion Experience on cabi's site here!
I had the best time at the Fashion Experience, and I'm already looking forward to my next!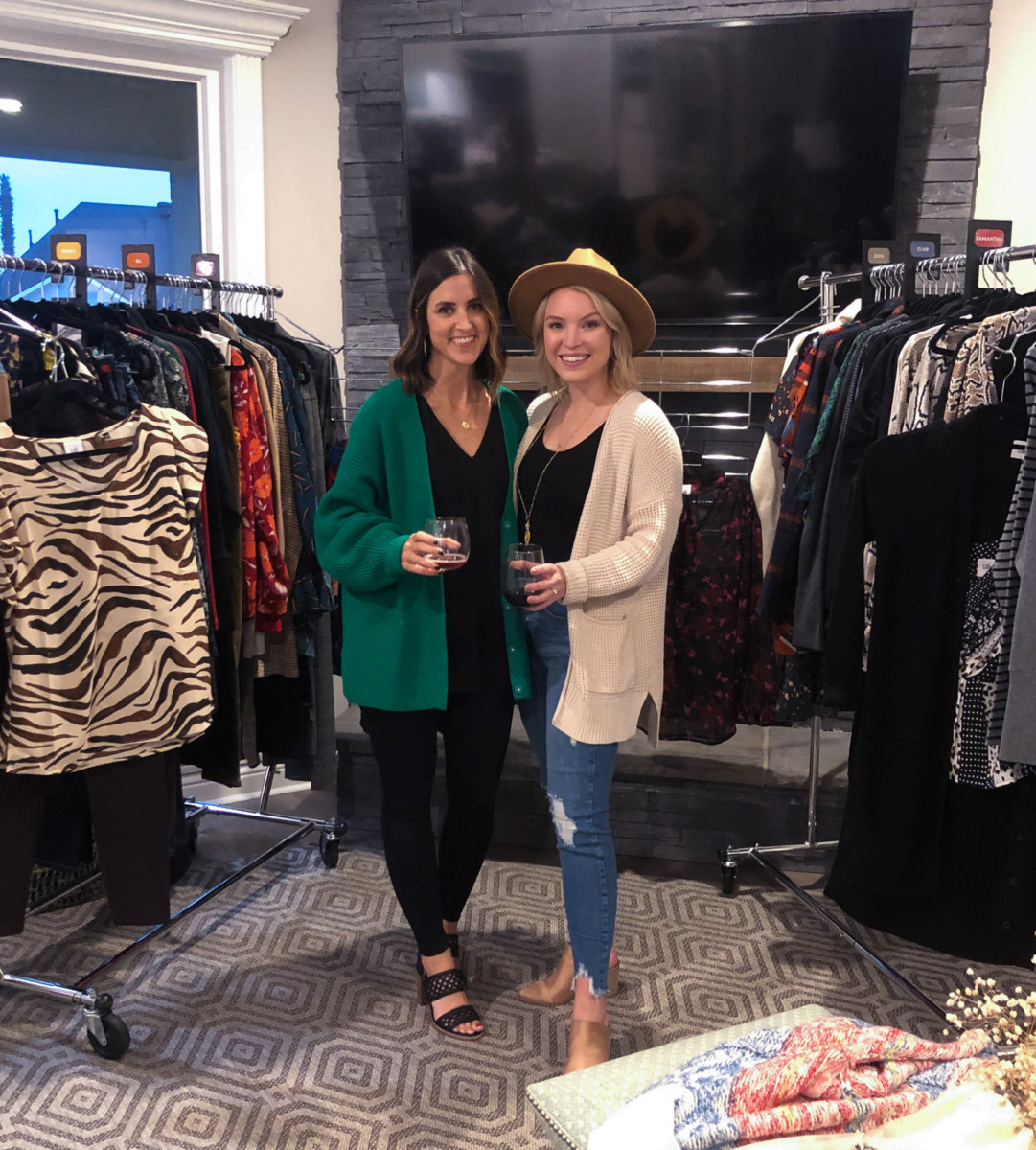 Shop the entire cabi Fall Collection & New Arrivals here!
NOTES ON CABI SIZING
I'm 5'4″ and around 120 lbs. In my experience, cabi tops and jackets tend to run a bit big, I usually go with a size 0 or XS. On the other hand, the pants and bottoms usually run a bit small, I usually go with a size 4 in the jeans (for reference, I'm usually a size 2 or 26 in other brands) and a size Small in the joggers. I wear a XS in the leggings.
Thank you to cabi, a brand I love, for sponsoring this blog post!