This post is in collaboration with cabi.
I'm so excited to share today's post with you! If you've followed along for a while now, then you've likely seen me post about cabi on numerous occasions. My mom first introduced me to the brand a number of years ago. She's a big fan, which eventually lead to me loving their pieces too!
Today I'm excited to share a few standout pieces from cabi's Fall Collection! The Fall 2019 Collection dropped a few weeks ago and is available to shop online (and through cabi's in-home Fashion Experiences – more on this later!). There are so many pieces that can be styled now while it's still a bit warm out and later as the crisp fall air moves in!
cabi Fall Collection
You'll notice that I styled each look around the Pivot Racer Tank and the Cinch Skinny Jeans – two super versatile pieces from the collection. The Racer Tank is a great layering tank that can be worn alone or underneath sweaters, cardigans, and jackets. It's also a great tank to pair with the Pivot Jogger (I have these too and LOVE them) for running errands on the weekend! For sizing reference, I'm wearing a size XS in the tank.
I like the rise and the dark black color of the Cinch Skinny Jeans. They're a bit long on me, I'm 5'4″ for reference. I'll likely get them hemmed and taken in a bit in the calf. If you prefer your skinny jeans a bit looser in the legs, this is a great pair to try! For sizing reference, I'm wearing a size 4.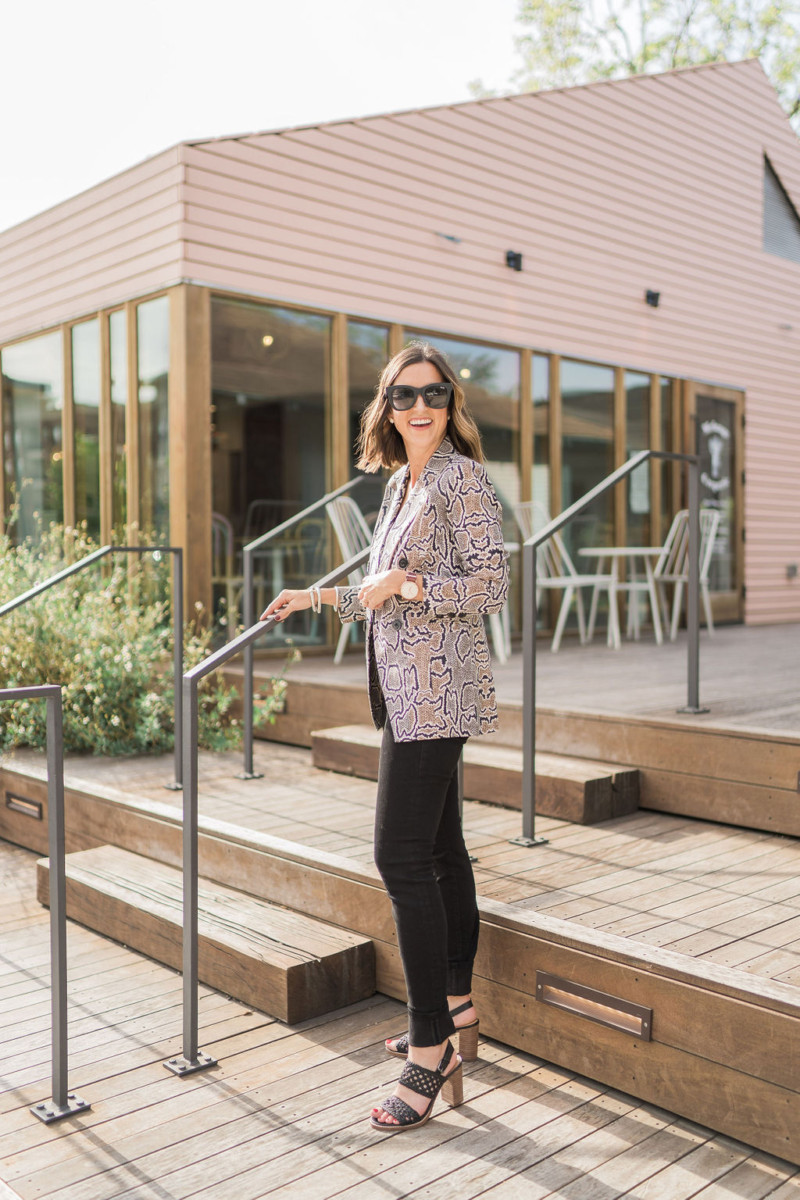 How chic is this python blazer?! I LOVE the cut of it. The material is pretty lightweight, perfect to layer over a tank during pre-fall weather days. It would look great with black straight leg pants for the office too! And super cute with a black mini skirt for date night! This is definitely a jacket I'll have on repeat over the next few months! For sizing reference, I'm wearing a size 0.
I love the mix of western vibes and lace in the St. Regis Blouse! I styled it tied at the waist with the sleeves pushed up, but it also has a gorgeous raw lace hem that's so pretty when worn untied and untucked. The intricacy in the detailing of this blouse is really gorgeous! Another top that can easily be styled for the office, transitioned to happy hour, and be worn on the weekends for date night! For sizing reference, I'm wearing a size XS.
I love the mixed prints on the Snake Charmer Blouse! A mix of snake skin and punchy florals! A couple of other unique features of this blouse are that there's a teeny tiny puff at the shoulder seam, which adds a fun little flare, and the sleeves have a rib knit inset on the under side, which really tailors the sleeves in to make the blouse super flattering! This blouse is another great transitional piece as it's super lightweight. For sizing reference, I'm wearing a size XS.
During the cooler fall months and even through winter, I find myself always reaching for my long cardigans. I love this simple black cardigan! The oversized buttons are a fun detail element, and the slits up each side make it super flattering! This piece is perfect for throwing over a tank now and can easily go over a long sleeve once the weather cools down. It's perfect for jeans and great to pair with skinny black pants for the office too! For sizing reference, I'm wearing a size XS.
How cute and cozy is this sweater?! It has me dreaming of a trip to the mountains to see all the fall colors. The deep greens and yellows in the stitch work are beautiful. It's essentially a blanket that's appropriate to wear in public! 😉 The open front drape and the fringe add even cozier vibes to this piece. For sizing reference, I'm wearing a size XS, but could have sized down to the XXS.
This is a must-have shirt for fall. The plaid screams back-to-school, football season, and pumpkin patch visits! I styled it tied at the waist, but it's cute worn with a front tuck or even fully untucked (with super skinny jeans) too! The sleeves have elastic cuff detailing, which I really like as it helps the sleeves stay up if you need to push them up your arm a bit. For sizing reference, I'm wearing a size XS.
Ok, I know it's still August, BUT I couldn't resist sharing this coat! It's my FAVORITE PIECE from the entire collection! Seriously, how fun is it?! You've likely already noticed, but leopard print is a huge trend this season. The moment I saw this piece in the sneak peek cabi did a few months ago, I knew I had to have it! I love the small details on this coat – the rib cuffs are removable if that's not your thing (or if you're wearing the coat to a dressier function) and the fur covered buttons blend seamlessly into the coat. I know I'll be wearing this coat on repeat and will have it in my closet for years to come! For sizing reference, I'm wearing a size XS.
Notes on cabi Sizing
I'm 5'4″ and around 120 lbs. In my experience, cabi tops and jackets tend to run a bit big, I usually go with a size 0 or XS. On the other hand, the pants and bottoms usually run a bit small, I usually go with a size 4 (for reference, I'm usually a size 2 or 26 in other brands).
Shop the entire cabi Fall Collection here!
Thank you to cabi, a brand I love, for sponsoring this blog post!
Photos by Lois Campos Fotography