One of my favorite places to shop, Everlane, recently introduced a sneaker to its collection! If you've been around here for any amount of time, you know Everlane is one of my favorite retailers. I love Everlane's pieces and its mission – radical transparency. Everlane even has a mission for its new sneakers! The mission: Make the world's lowest-impact sneakers. Make them to last. Make them carbon neutral. And never stop pushing to make them better. YESSS.
Today I'm sharing the scoop on the Everlane Tread Sneakers!
Everlane Tread Sneakers Review
When I first saw that Everlane was coming out with a true sneaker, I was so excited! To me, its sneaker is a GREAT way to try out the 90s sneaker trend that's making its way around. The Tread Sneakers have just the right amount of vintage vibes about them.
They're available in 7 colors. I opted for the Blush color. They're subtly blush.
Like most all of the ~ 300 reviews state, I also recommend sizing up an entire shoe size. I ALWAYS wear a size 7 (like, in every shoe), but I ordered a size 7 in these and they were way too tight. The 8 fits perfectly!
They're a bit stiff when you first put them on, but don't worry, they end up being snug in a good way. The leather and recycled rubber and plastic materials that the sneakers are made of make them incredibly comfortable! I wore mine three days in a row on a recent trip to Cleveland, Ohio. I wore them for two travel days plus one day of exploring the city. They're great travel sneakers!
I love the Everlane Tread Sneakers as they're just as comfortable as athletic sneakers, but way more stylish for wearing around town. I also love the simplicity of the sneakers. They're monochromatic with no logos.
If you're looking for a vintage inspired sneaker to wear with jeans, shorts, or even dresses this summer/fall, I can't recommend this pair enough!
Outfit Details
For this particular look, I paired my Everlane sneakers with my favorite pair of white denim by Madewell and another favorite piece by Everlane, this striped tank.
It was very spring-like in Cleveland so I opted to bring along an older studded denim jacket I picked up from SoSis in Baton Rouge (also here, similar one here). I brought my Stella & Dot Crush It Backpack with me EVERYWHERE on this particular trip! It was perfect for carrying my DSLR camera, wallet, phone, keys, and umbrella!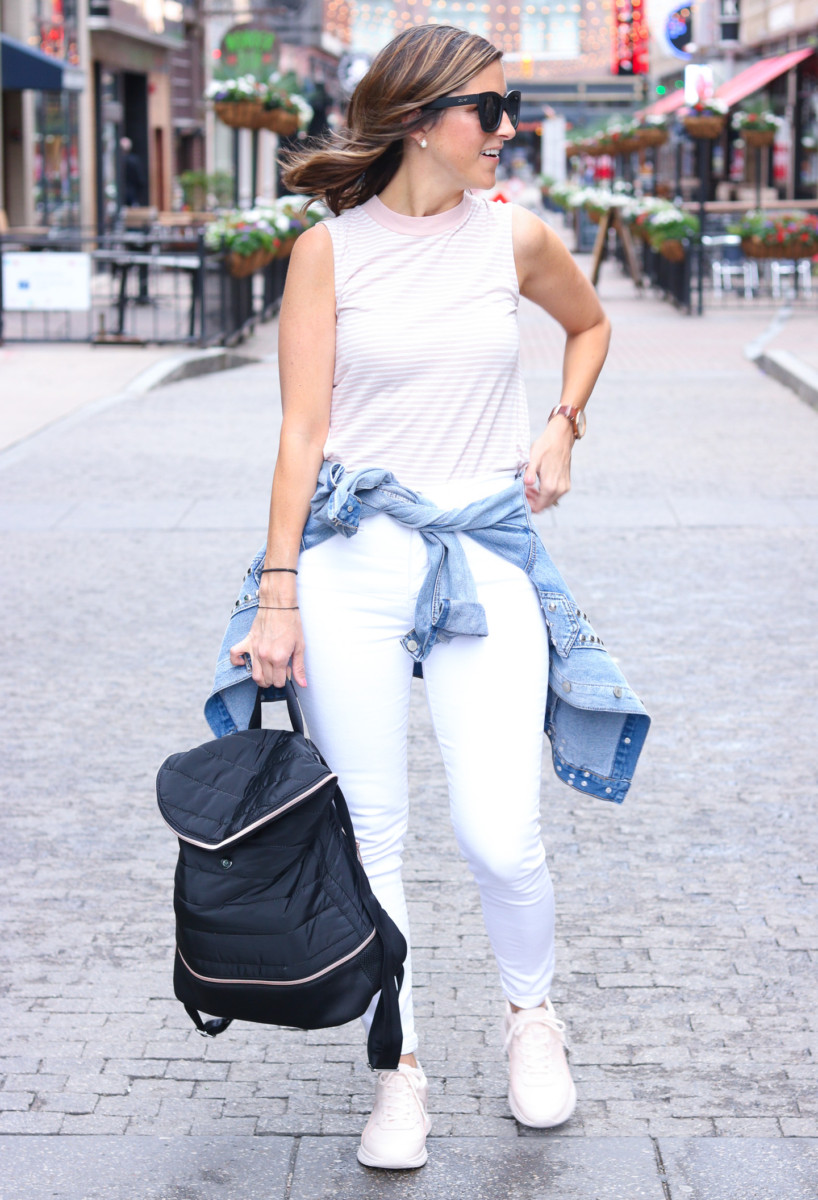 photos by Michael McHugh