This post may contain affiliate links.
Amazon Sunglasses | J.Crew Dress (wearing xs) | Nisolo Sandals (on sale!) | Kendra Scott Necklace c/o | Kendra Scott Earrings c/o

I think we're all on the same page here … FINALLY, January is coming to an end! Did it not seem like the longest month ever?! Not in a bad way, I just feel like New Year's Day was so long ago! With that said, we have a lot to recap today!
Let's take a look back at January and chat about the blog posts you loved, the items you clicked on the most, and more! If you're interested in past Monthly Recaps, you can check them out here!
Travel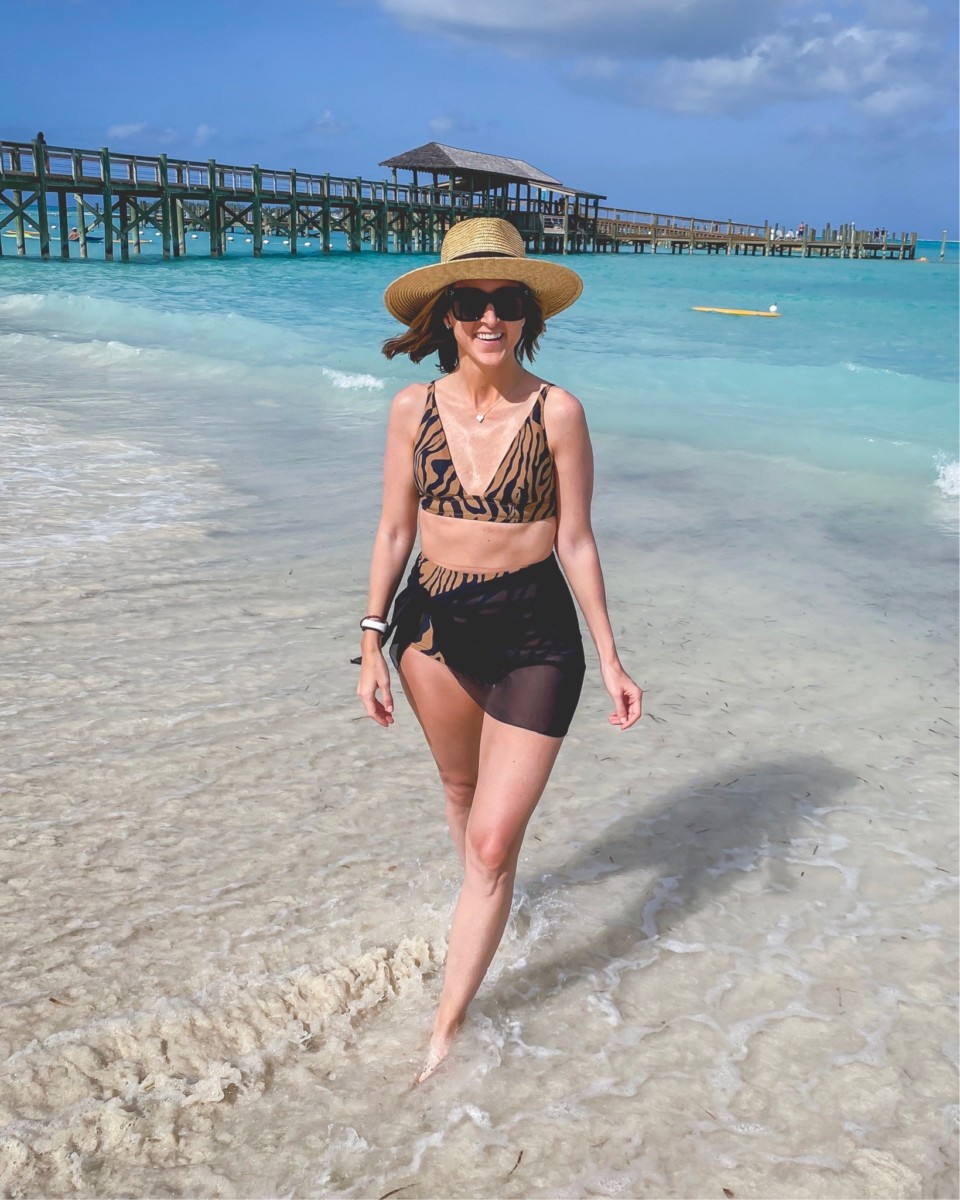 My 2019 ended with a lot of travel. Michael and I spent a week in Shreveport with my family, and then we flew to Arizona to spend a week with Michael's family. We were both exhausted upon returning to Houston on New Year's Eve.
I stayed put in Houston until our Bahamas trip. That trip pretty much bled right into my trip to San Diego. We got back to Houston on Tuesday, and I flew to San Diego on Thursday to meet the cabi team for cabi's Scoop event where they released their Spring Collection!
While I always appreciate my travels, I'm ecstatic to be in Houston for almost the entire month of February! I have one weekend trip planned, but that's it!
Wellness
Wellness is always something I'm working on and these posts are an easy way to not only keep myself accountable, but hopefully a place to share a bit of inspiration and a dose of reality as well.
Quay Sunglasses | Stella & Dot Backpack | Yoga Mat | Gratitude Tank c/o (wearing Small) | Amazon Align Dupe Leggings (wearing Small) | Golden Goose Sneakers (TTS)

Michael and I committed to another year of Dry January this year. We planned a little break for our Bahamas trip to enjoy our anniversary, but we made up the days on both the front and back end. We started on December 30th and are going through February 1st.
As it always is, it has been a really nice reset after the holidays. It's a really great feeling to wake up early on the weekends and feel like I have the entire day and eventing to get things accomplished! With that said, I'm excited to be able to post up at a brewery during the day on a Saturday (it has been really warm here in Houston lately!) and have a glass of wine at home on Friday night!
With the new year, I've also gotten back into my normal workout routine of SoulCycle, Anytime Fitness weight workouts, and yoga at Yoga Works!
If you're interested in my weekly workout schedules, check out my Week In Review posts each Friday – I share my workouts from each day of the week!
Also in the new year, I've incorporated daily vitamins into my morning routine. I've been taking elderberry gummies for immune support and Ritual's multivitamin.
Most Read Blog Posts
Brixton Hat (wearing XS) | Amazon Sunglasses | Kendra Scott Heart Necklace c/o | Amazon Cover Up | Amazon Swimsuit | Amazon Reusable Cotton Bag | Everlane Sandals c/o (TTS)

I always find it interesting to see what you're enjoying reading the most! Here are the most read blog posts from the month!
Most Clicked Items
Along with the most read blog posts of the month, I also wanted to share the most clicked items as well! This helps me to know what y'all are shopping for and what items are catching your attention the most!

A Look Ahead to February
I'm looking forward to almost an entire month at home in Houston!
Cheers to the new month ahead!