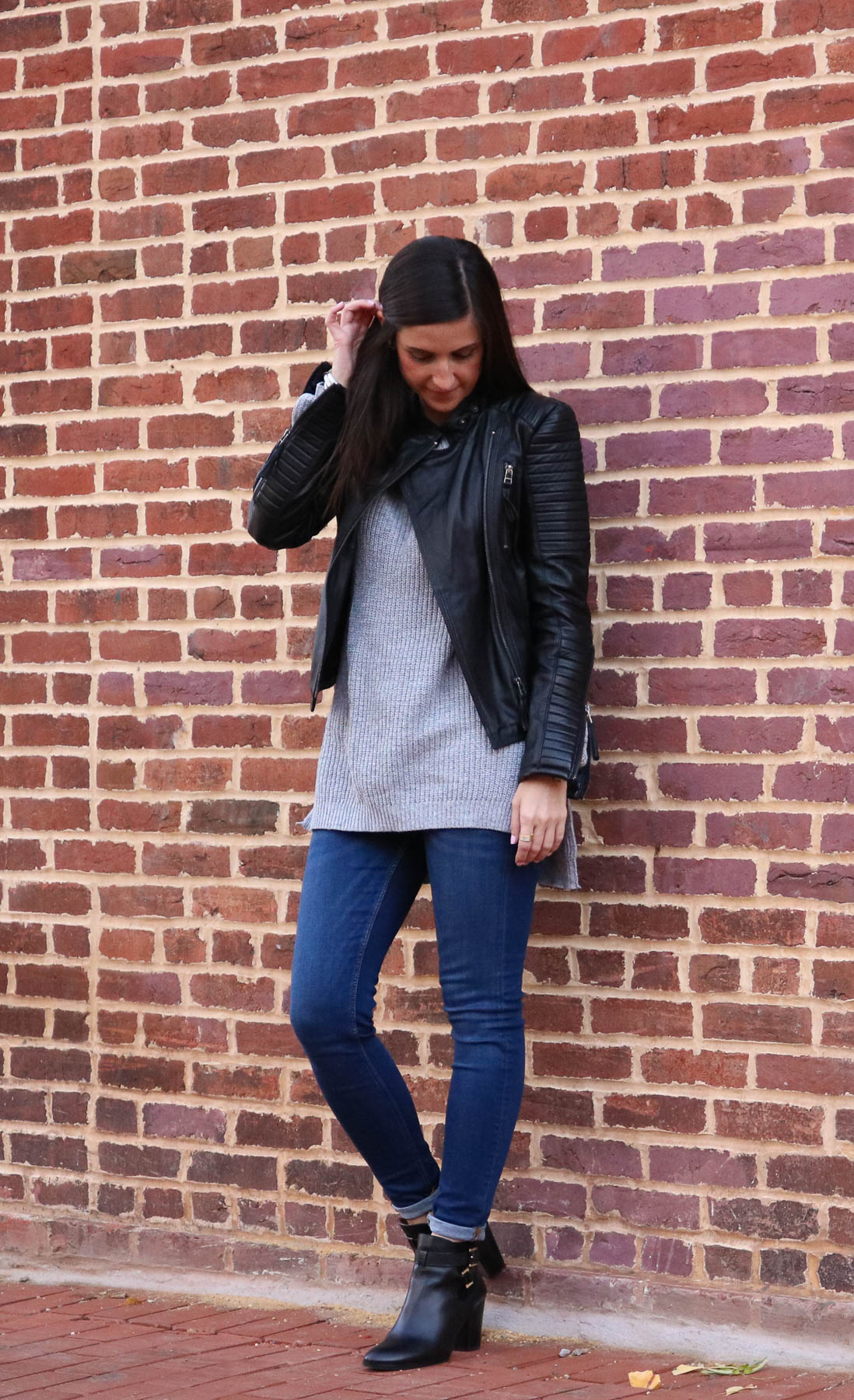 I've been searching for a moto jacket for quite some time now.  I was looking for a jacket that had detailing but wasn't too over the top, and I didn't want to spend an arm and a leg for my first moto as I wanted to try out the style before getting in over my head with a $500+ jacket.  Trying to stay at a decent price point while still wanting a quality jacket was a bit of a challenge.  But after a little research and scouring the internet, I finally found one that meets all of my requirements!
Let me introduce you to THE one!  This Lookbook Store jacket is my new favorite.  I wore it twice this weekend, and I don't plan to stop wearing it anytime soon.  The detailing is amazing.  I love the half-zip sleeves and the padding on the arms and shoulders.  The fit is great.  Although it did take a bit of work to find the right size. I ordered a small but had to return it for a medium.  The small didn't fit very well over sweaters, which is the look I wanted.  You'll notice that the size medium fits perfectly over this thick(ish) sweater without looking bunched up or too small.  And just as a reference, I wore it with a thin, white t-shirt on Friday and it wasn't oversized at all.  Basically it fits perfectly for layering over any top, and it's still slim enough to layer under a heavier coat when the time comes.
One caveat – Orders from Lookbook Store tend to take around 7-10 business days to be delivered.  But if there's any consolation, their customer service is outstanding if you have any issues or questions along the way.  When I had to return my jacket, I emailed them a copy of my shipping label, and they immediately shipped the correct size, which cut down on the wait time by a lot!
One other tip!  I had my eye on this jacket for a while, and I saw it go on sale at random times quite frequently.  When I finally decided to bite the bullet on it, I waited until it went on sale again to snatch it up.  So if you're thinking of purchasing it, put it in your cart and check on it every couple of days.  If you have any questions, definitely let me know!