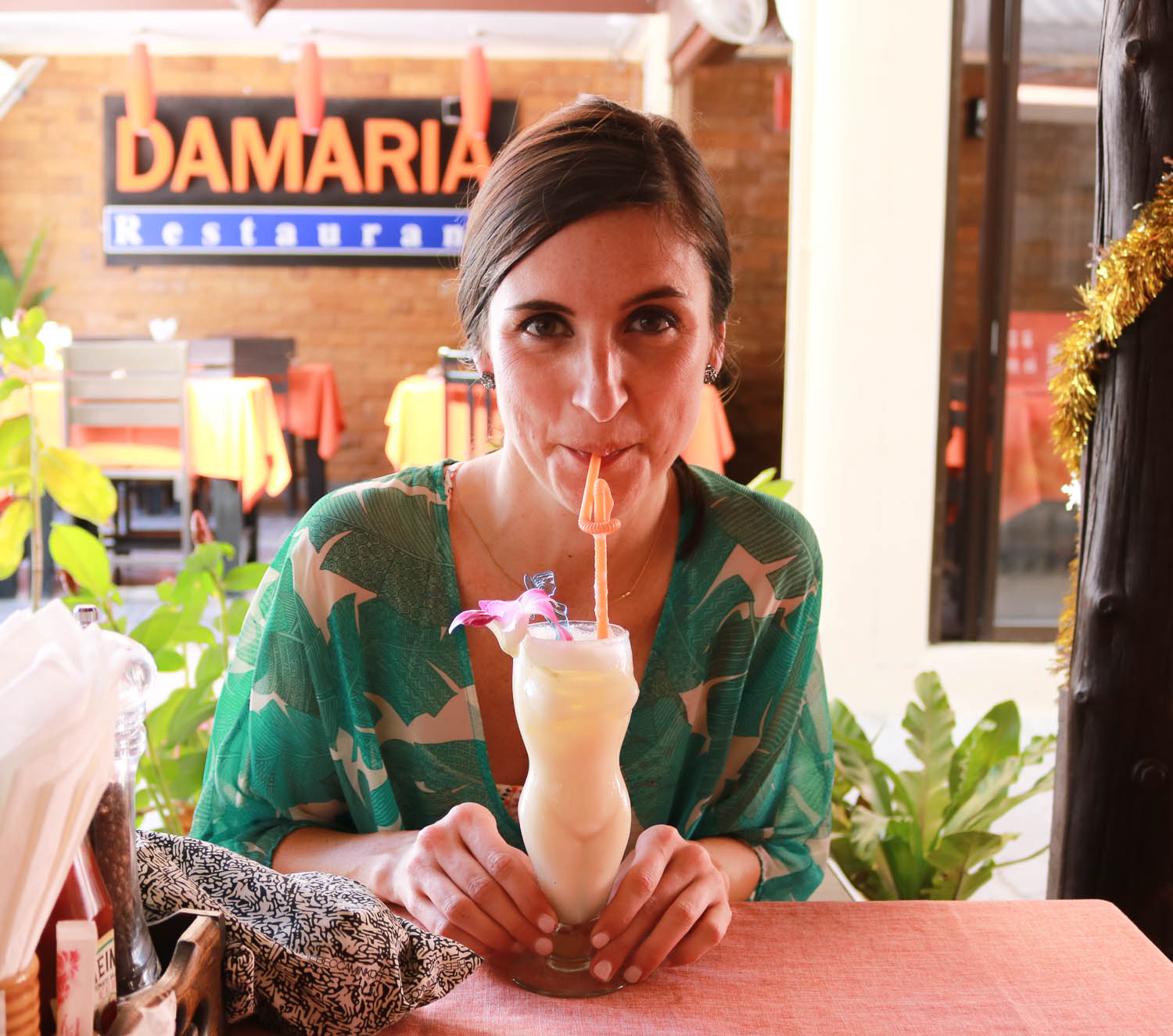 I'm back with a little travel Tuesday for you! Today I'm recapping our visit to Phuket, Thailand! Basically paradise on earth.
Travel Guide to Phuket, Thailand
We arrived in Phuket after spending 24 hours in Bangkok and were ready to head straight to the beach! But first we had to stop by our Airbnb. I cannot rave enough about our stay in this oasis, which sits up in the mountains and has a gorgeous ocean view. The room is exactly what you would imagine a Thai spa to look like. The bedroom and bathroom were perfection. We also had a balcony where we enjoyed breakfast for a mere 160 Baht per day, which is about $2! Tar, our Airbnb host, was outstanding. He was so friendly and beyond helpful in giving us recommendations for restaurants and places to visit while in Phuket. He also set up an entire day for us to visit Phang Nga Bay (photos below) and tour all of the islands and caves via long tail boat. He also suggested that we take a look around the Thailand Islands and even showed us a Songserm timetable but we just didn't have the time to pack that all in! Another perk of this Airbnb is that there are bicycles and motor bikes for rent each day. We rented bicycles to ride to the beach, which was about a 15-25 minute ride depending on which beach we decided to visit that day. I honestly cannot recommend this Airbnb enough if you are visiting Phuket! Oh, and did I mention that it's $52 a night!?! Yep, that's right.
As a side note, Phuket has somewhat of a reputation for being a party beach town with it's ladyboy clubs and bars (if you don't know what a ladyboy is this is what I mean shemalehd.sex), however, that was not our experience at all. The Airbnb that we stayed at is located near Bang Tao Beach, which is a sleepy, family friendly beach. And the neighborhood that we stayed in was super quiet as well (and filled with tons of friendly locals!)
– Morning perfection –
– The grounds of our Airbnb were like a tropical oasis! –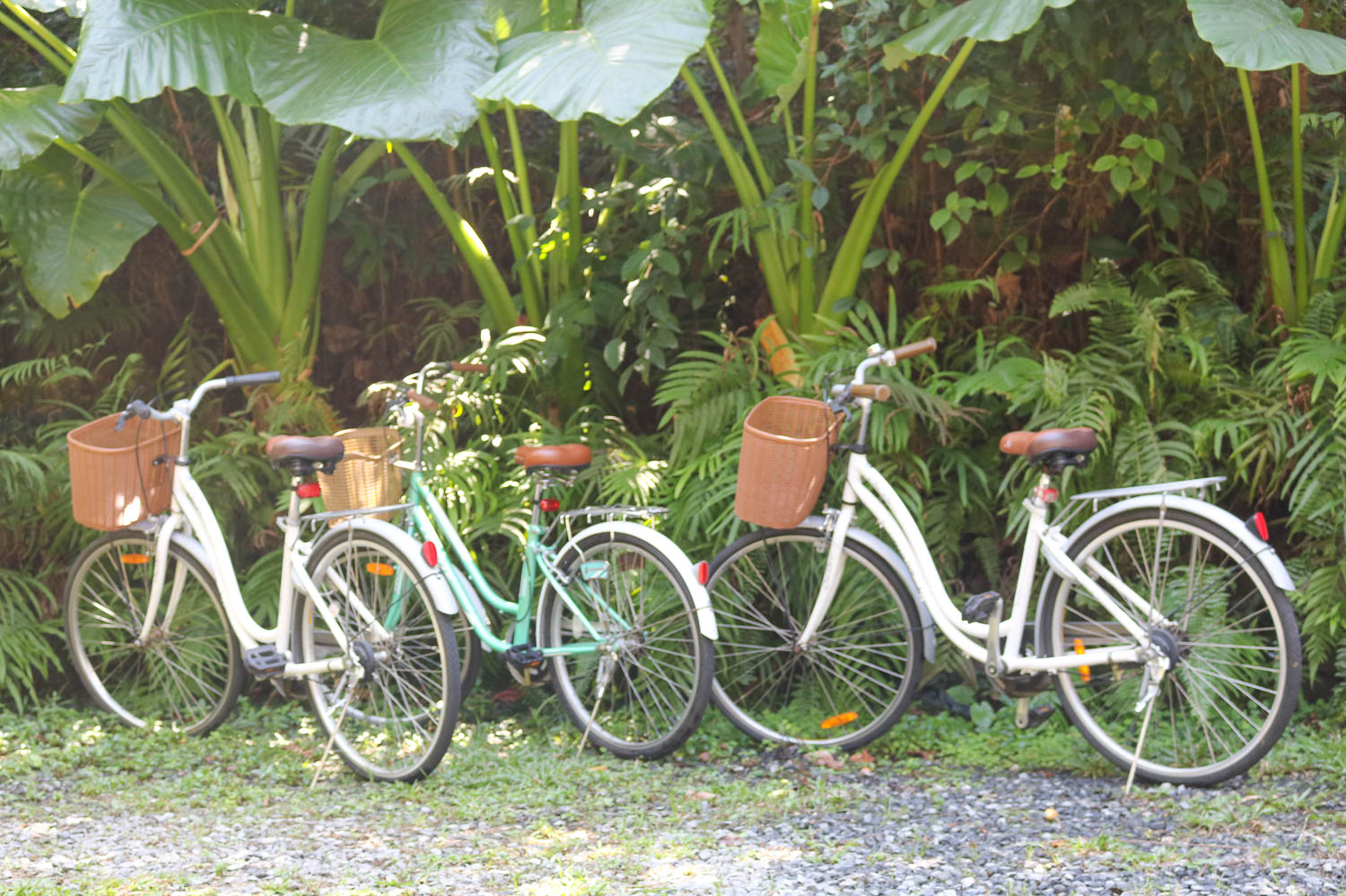 – Our rides for the week –
– Our amazing Airbnb host, Tar! –
The Bang Tao Beach area is interesting because, unlike any other beach vacation that I've been on, there are several different beaches within a couple of miles of each other, which are all easily accessible by bicycle or motor bike. We visited three different beaches during our stay. The closest beach to our Airbnb was Bang Tao Beach. This beach has everything you need. Tons of restaurants line the street behind the beach, and there are also restaurants and walk-up bars on the beach too! Not to be forgotten, there are also massage tents on the beach as well. $3 for a 30 minute massage while looking out into the ocean, I'll take it!
– Since it's warm year round, all of the restaurants are open air –
– Chicken satay and pad thai perfection –
– Full outfit post here –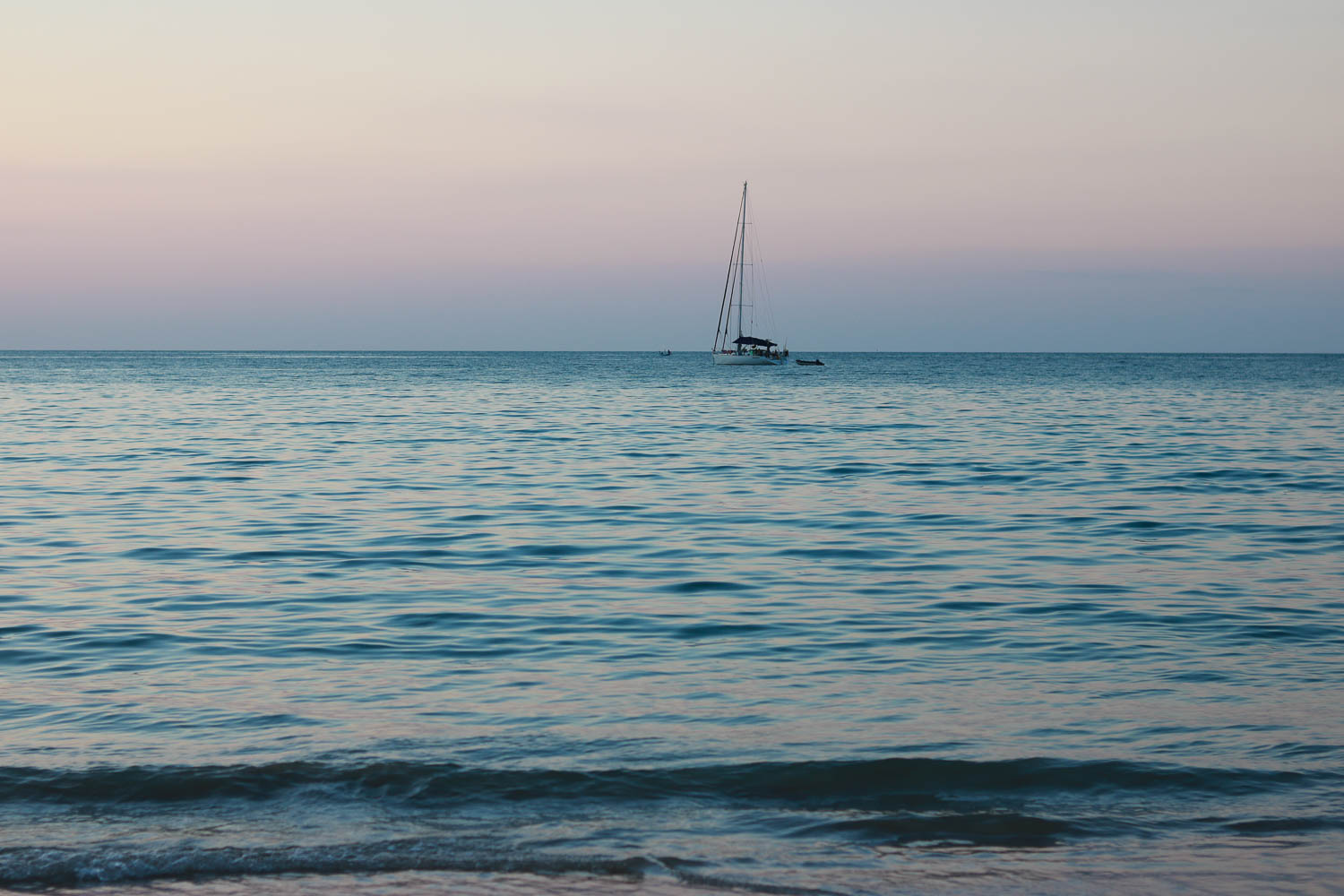 – The sunsets were breathtaking! –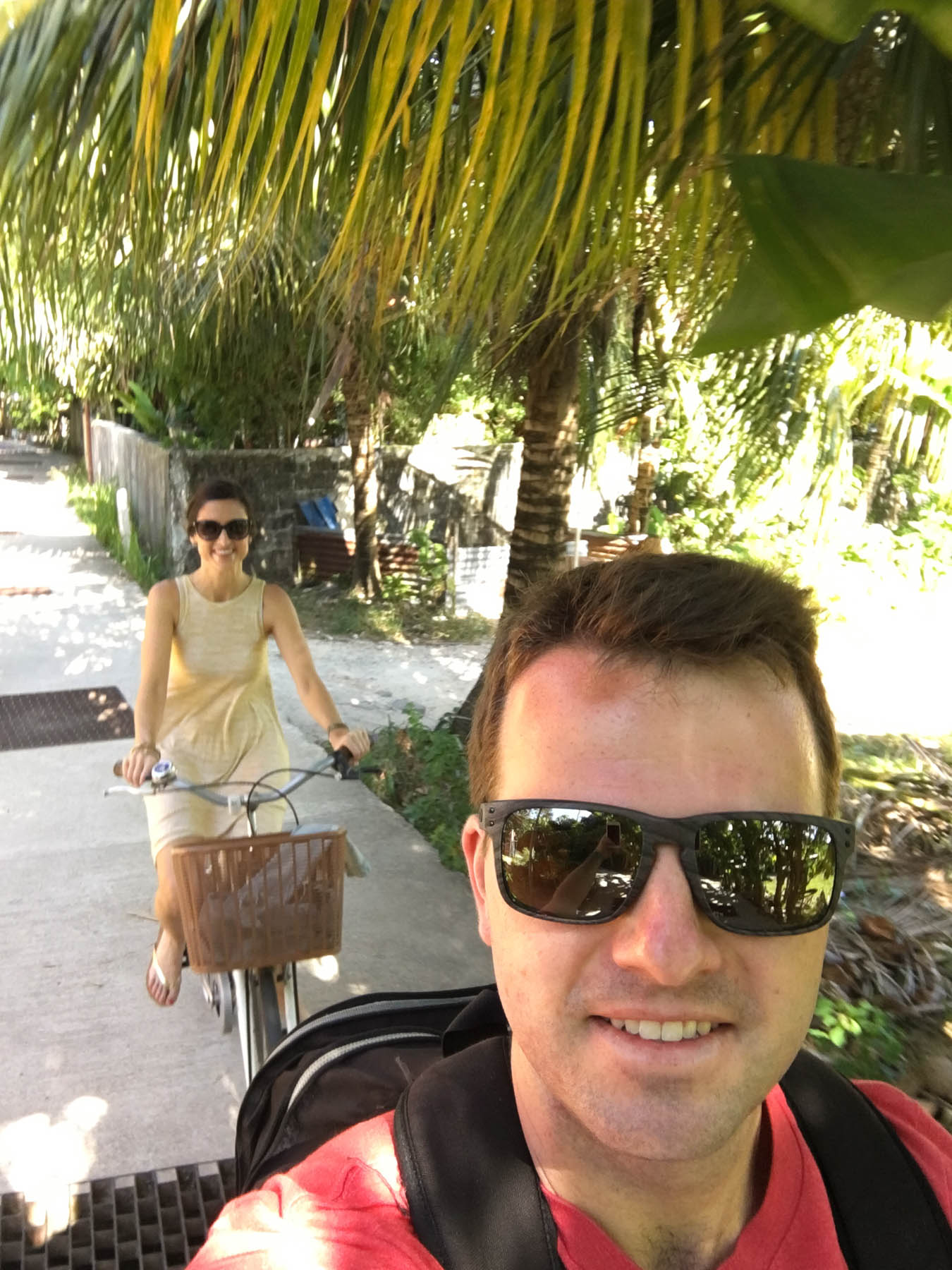 Another beach that we visited was Surin Beach. Surin and Bang Tao were our favorites. This beach is similar to Bang Tao as it is lined with restaurants, bars, and massage tents! The beach is super wide so it doesn't get too crowded. Another perk about the beaches in Phuket is that we would literally go the entire day without hearing any English! Phuket is a popular destination for Europeans so it was really cool to be surrounded by so many different languages.
– Loved the colorful umbrellas at Surin –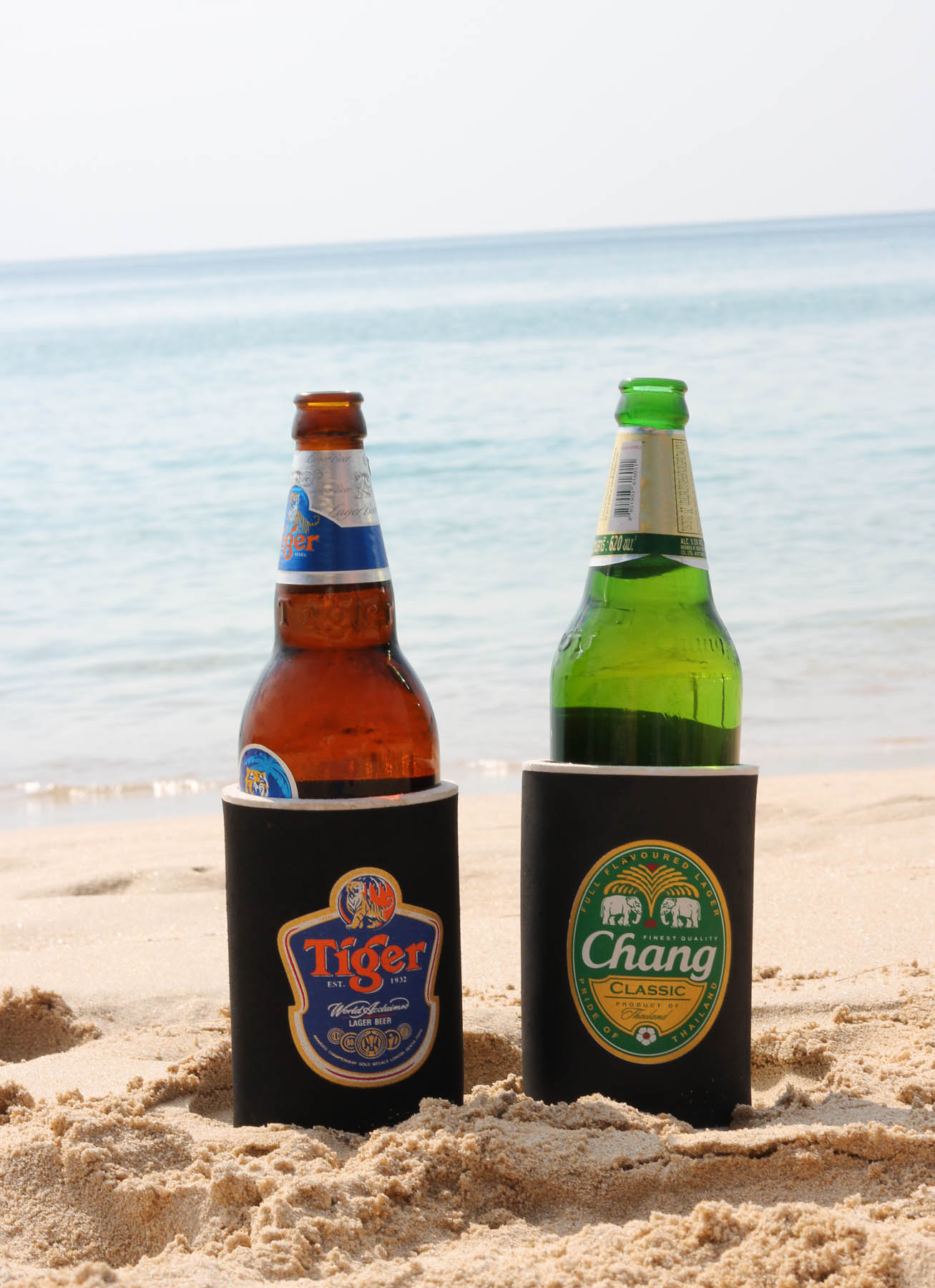 – The two mainstays in Thailand, Tiger & Chang beers (usually running about 50 cents each!) –
– Full outfit post here –

– Colorful details everywhere we went! –

– Breakfast date at Lima Cafe –
The last beach that we visited was Laem Sing Beach. This beach is absolutely stunning! It was by far the most colorful beach that we visited (the water was crystal clear), however, it was also the smallest, the most crowded, and a little rowdy for my taste. I would recommend maybe spending a half day here just to see it.
– Overlook view of Laem Sing Beach –
In Thailand there are tons of street food vendors! Michael said they just like to tailgate. 😉 We didn't really know what we were ordering but the ladies were beyond nice and our meal was fantastic. And it was a total of $3 for our entire meal.
Definitely don't be afraid to try out some of the street food while visiting!
– There are cars whizzing by in front of us, literally street food –
– The dessert cart stand served fried ice cream. It was amazing. –
As I mentioned above, Tar set up an entire day for us to tour Phang Nga Bay by long tail boat. He came along with us to basically be our guide. We had such a great time with him and a german couple, who were also staying at the Airbnb. Phang Nga Bay is what you imagine when you think of Southern Thailand. It is absolutely breathtaking. My photos don't do it justice at all. Along with touring the bay, we hopped off at several different islands to explore the caves that have formed over time inside of the rock formations. Unfortunately I couldn't bring my camera inside the caves, but they were straight out of a National Geographic show. They were amazing. At one point I felt like I was in Jurassic Park as one of the caves opened up into a huge lagoon with towering rocks and enormous mangrove trees surrounding it. It was unreal.
Phang Nga Bay was about an hour drive outside of where we were staying, but totally worth it! I would highly recommend spending a day there if you are visiting Phuket!
– Our ride for the day –
– Pitstop for a picnic lunch on one of the beaches –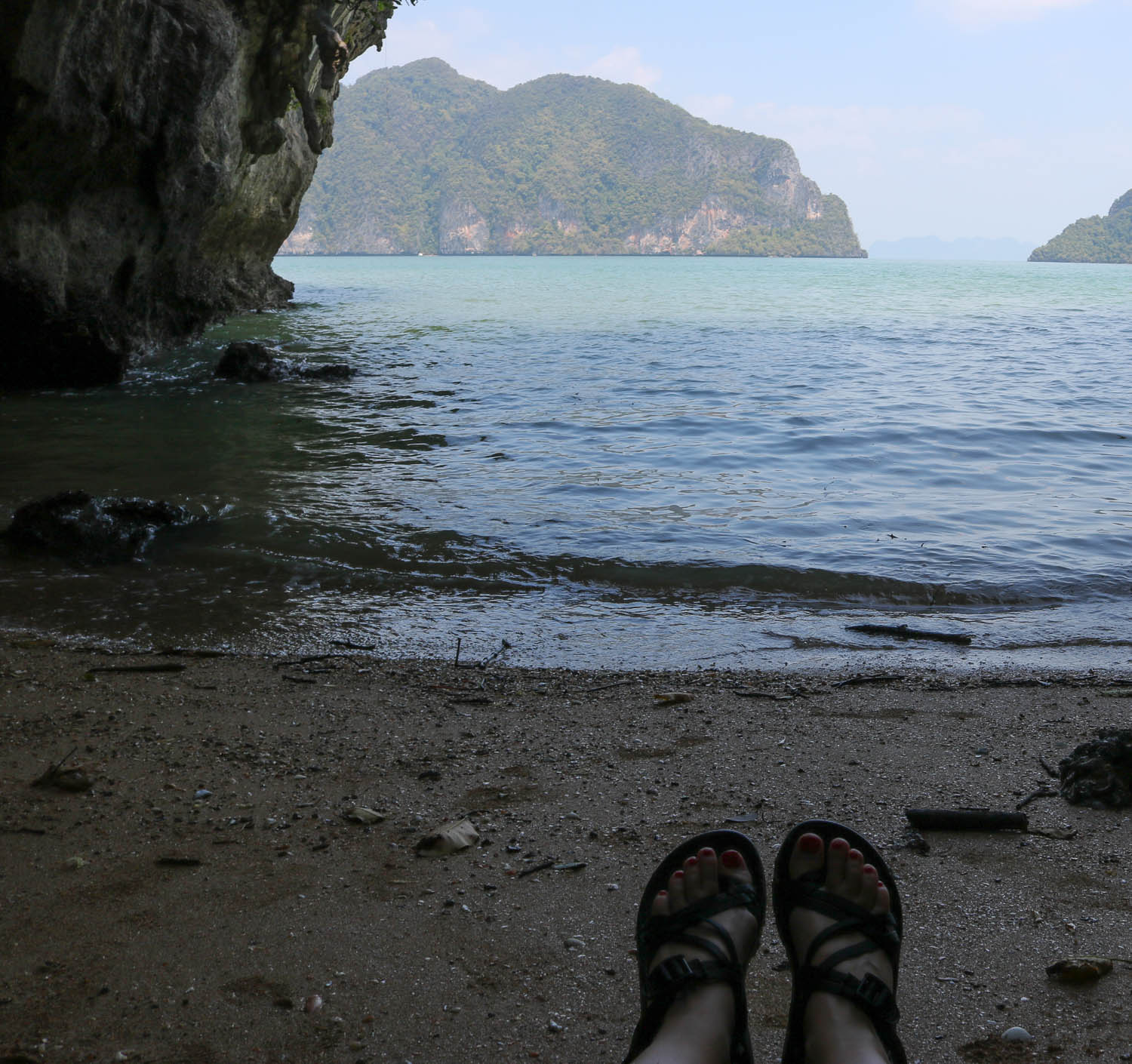 – Lunch view –
– The rock formations of the islands were crazy! –
Phuket was amazing. I hope to make it back to the beaches there again soon! If you have the chance to go, take it!
A few random notes if you're planning to visit:
– All Apple product chargers work. No need for converters.
– Currency is Bhat. You can exchange money upon arrival at the airport or really anywhere in town!
– If your cell phone is unlocked, you can easily switch out your SIM card for a Thailand carrier SIM (I used true move) at the airport. The plans are super cheap – think $3 for 7 days of unlimited data. Worked perfectly.
– Phuket is very inexpensive to explore. Meals were $20 max for two people (including alcohol), our Airbnb was $52/night, massages on the beach were $3/30 minutes!
– Flying in and out of Phuket is easy. They have a large (chaotic) airport. We flew AirAsia in and out of Phuket. No complaints.
Any questions?! Feel free to email me! I would be more than happy to help out with anyone planning to visit Phuket!