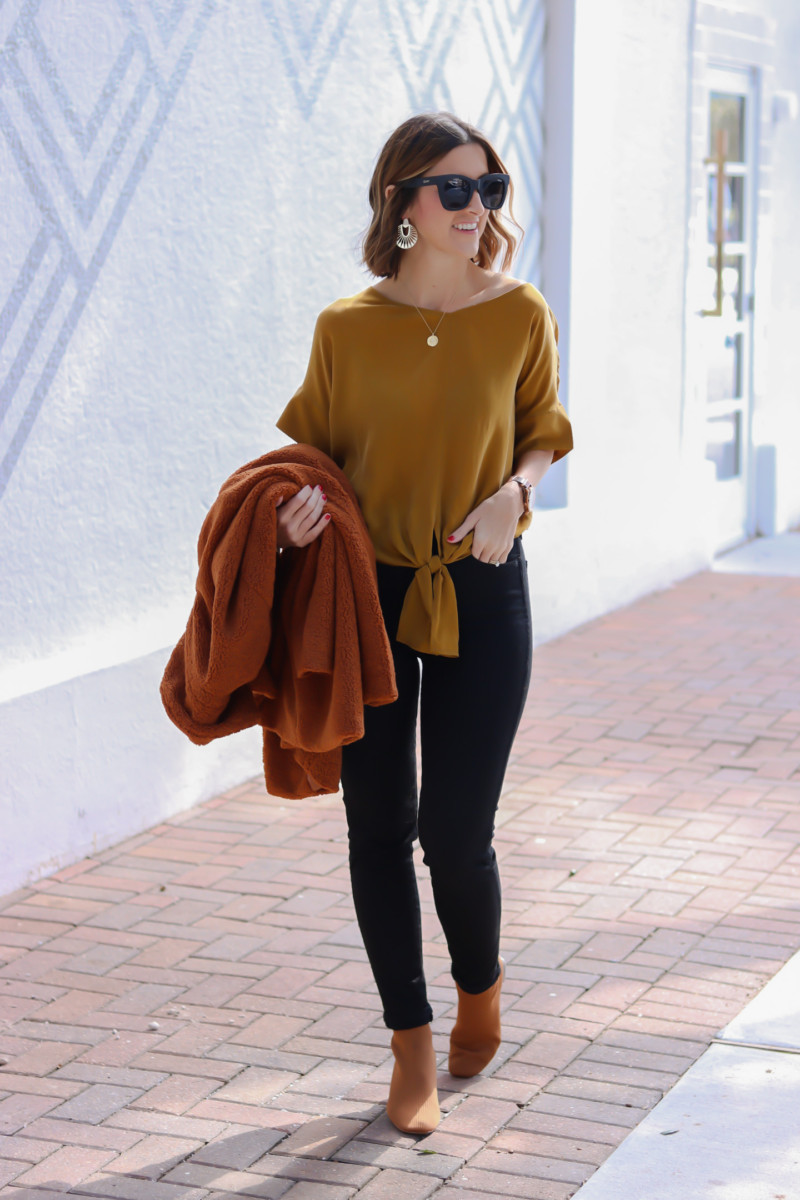 Everlane Top c/o (wearing small) | Teddy Coat c/o (wearing small) (similar here and here)| Madewell Jeans (TTS, wearing 26) | Everlane Boots c/o (TTS) | Kendra Scott Earrings c/o | Gorjana Sunburst Necklace | Quay Australia Sunglasses

Today I'm celebrating my 35th birthday! And I'm ecstatic to be sharing it with you. As always, thank you so much for visiting my little corner of the internet! I'm not sure how it's possible that I'm 35 years old. I still feel like I'm 30 or maybe even closer to 28 … does this last forever? Do we always feel younger than our actual age? I don't know the answer to that … but today I want to share a few thoughts on turning 35.
Thoughts on Turning 35
As one does on "milestone" birthdays, I've been thinking back on the last few years and even thinking about what I was doing 10 years ago at age 25 … I was likely planning my Halloween costume for our law school Halloween party. 😉
Age 35 holds a weight to it that for a lot of people (women in particular) seems scary. Like an age where you should have everything figured out. Married, check. Thriving career, check. Homeowner, check. Two kids, check. I remember asking my doctor, at age 30, when, biologically speaking, did I need to start considering having children if that's something I wanted … her response … before age 35 when you'll technically be "advanced maternal age" … I remember thinking 35 was SO FAR OFF. Welp, here I am, and don't worry, my current doctor reassured me that I'm not doomed just because I hit 35 (and neither are you).
There's so much pressure on us, again, especially on women, to hit milestones that correspond with age – especially in the south, where I grew up. When I look back on the last 5 years, I'm amazed at how much I've grown, how much my life has changed (but also stayed the same), and how much I've accomplished.
A few months before my 30th birthday, I up and moved half-way across the country from Birmingham to Washington, DC. I laugh thinking back to those first few months in DC. Michael and I lived in a huge apartment building, on the busiest street, and our actual apartment had this horrendous red wall (three things I would never agree to now). I started a new job at a global publishing company, eventually launched Cobalt Chronicles, and then Contracts for Creatives. I made the most amazing group of friends. We eventually moved into a bright white apartment in a row house on my favorite street in DC – Swann Street. At age 33, Michael and I got engaged, and I quit my corporate job to run my two businesses full time. And at age 34, Michael and I got married and after spending nearly 5 years in the nation's capital, we moved back to the south – Houston, TX.
So while I may not have checked all of the boxes – Not a homeowner and I don't have any children on the way – age is just a number. Everyone does things in their own time, and when I look back on even just the last 5 years, I'm in awe. I can't wait to see what life looks like after the next 5!
A few final thoughts …
I'll leave you with a few last thoughts on turning 35 – a few things I've learned and a few things I'm still working on.
SAVE YOUR MONEY. Don't touch your savings account, always contribute the max amount to your 401K, and invest whenever possible. Read this book.
Skip the tanning bed. (Hopefully no one still does this?!)
Always apply sunscreen to your face. And start using moisturizer sooner than you think necessary.
Travel anytime you get the chance (experiences > things).
Call your Mom, call your Dad, call your siblings.
Stay in touch with childhood friends, college friends, law school friends … it gets more and more difficult to form those types of relationships as you get older.
Eat the queso, pizza, ice cream, all the things, but maybe, like, keep running too and have a salad every once in a while. #balance
If you have a big idea, just do it. Move to a new city, start your own side hustle. You can always move back home, you can always find a way to make money.
Be patient, know that you're on your own timeline.
Keep learning! I barely even knew what a blog was 5 years ago, and here we are today!
Thanks so much for reading! And if you're looking for a few new fall pieces, I absolutely adore every piece I'm wearing in these photos! Channeling all of my brown fall vibes into one look. 🙂
Everlane Top c/o (wearing small) | Teddy Coat c/o (wearing small) (similar here and here)| Madewell Jeans (TTS, wearing 26) | Everlane Boots c/o (TTS) | Kendra Scott Earrings c/o | Gorjana Sunburst Necklace | Quay Australia Sunglasses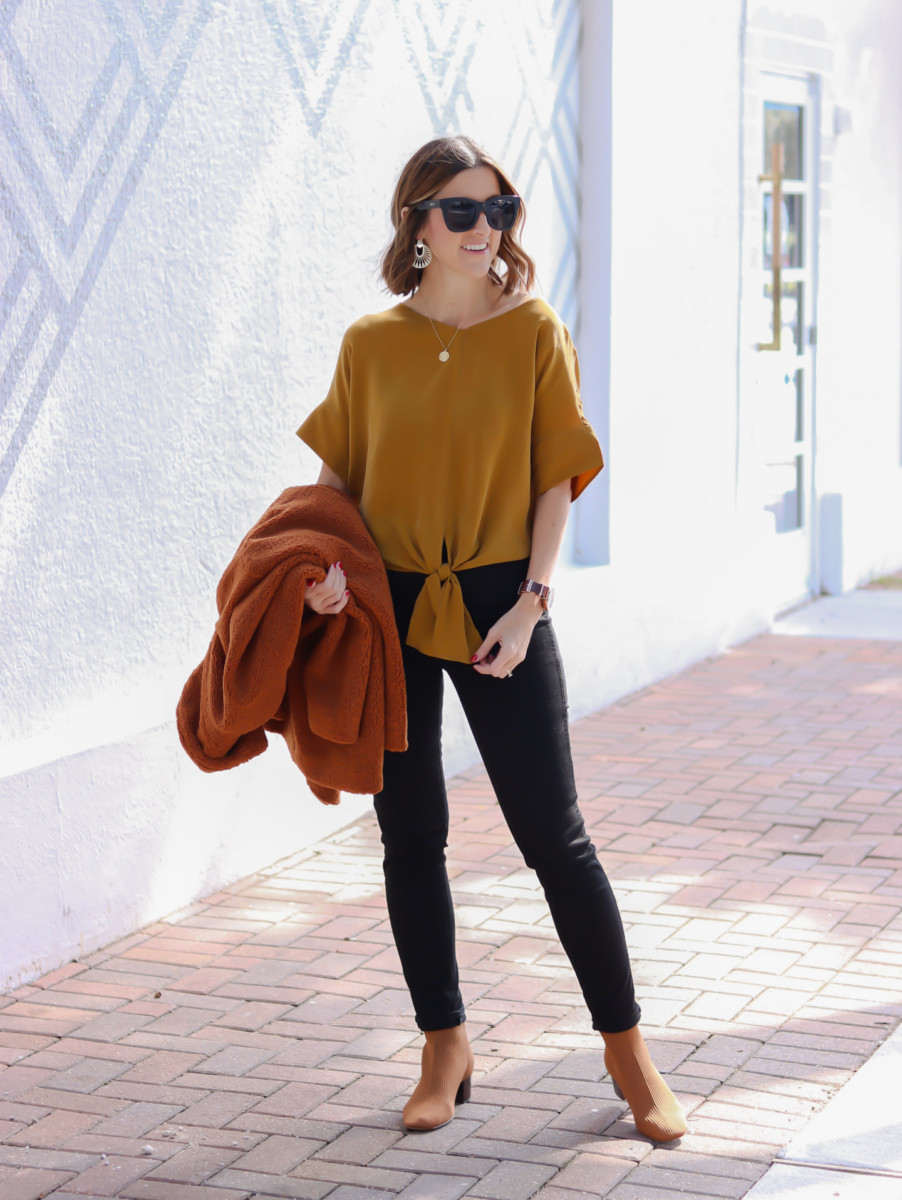 Everlane Top c/o (wearing small) | Teddy Coat c/o (wearing small) (similar here and here)| Madewell Jeans (TTS, wearing 26) | Everlane Boots c/o (TTS) | Kendra Scott Earrings c/o | Gorjana Sunburst Necklace | Quay Australia Sunglasses

Photos by Michael McHugh