Let's chat about how to mix different price points into one outfit, shall we?! I always find myself teetering between wanting to invest in higher end, quality pieces while also keeping in mind that I have a budget to stick to and can't afford to deck out my wardrobe with designer duds.
Over the past few years, I've started to incorporate higher end pieces with my lower end finds to achieve a nice balance. I'm 34, so I always want to look somewhat put together and elevated. Gone are the days of straight Forever21, Target, Zara outfits. Mixing in higher end pieces with my lower end finds has helped me elevate my wardrobe while still sticking to a budget. Let's dive into my tips for mixing different price points into one outfit!
3 Tips for Mixing Different Price Points Into One Outfit
Make the Higher End Piece the Statement Piece
I tend to invest in higher end pieces that make a statement. Not trendy pieces, simply pieces that stand out. For example, for this look, I wore my Loeffler Randall heels. They are definitely an investment, but Loeffler Randall makes the most beautiful, high quality shoes. I have two pairs and they were both worth every penny.
The gold, pleated fabric makes this pair stand out and of course the bow on the front too! I've paired these heels with dresses for weddings, worn them with casual dresses like in today's look, and paired them with jeans for girls' night out and date nights! Having the higher end piece as the statement piece of your look draws everyone's attention to that piece and takes attention away from the lower end pieces.
Choose Fabric that Looks Luxe
Even when shopping on a budget, try to always opt for pieces that are made with luxe looking fabric (even though the fabric may not actually be luxe). This dress is an Amazon find, but the fabric and the ruffle detailing make it look much more expensive than it is – it's only $25.
Add Well Made, Quality Jewelry Pieces
One of my favorite ways to mix and match high and low end pieces in one outfit is to add well made, quality jewelry pieces to the look. Here, I added three pieces by Kendra Scott – the gold hoop pearl earrings, the Y necklace, and the pearl cuff bracelets. The jewelry elevates the entire look.
In addition to the jewelry, I added this fun, clear tote (another lower end piece that looks more expensive than it is – only $25!).
As a side note, don't forget about my Kendra Scott discount code, COBALT, which will get you 15% off (almost) any purchase at Kendra Scott through July 31st!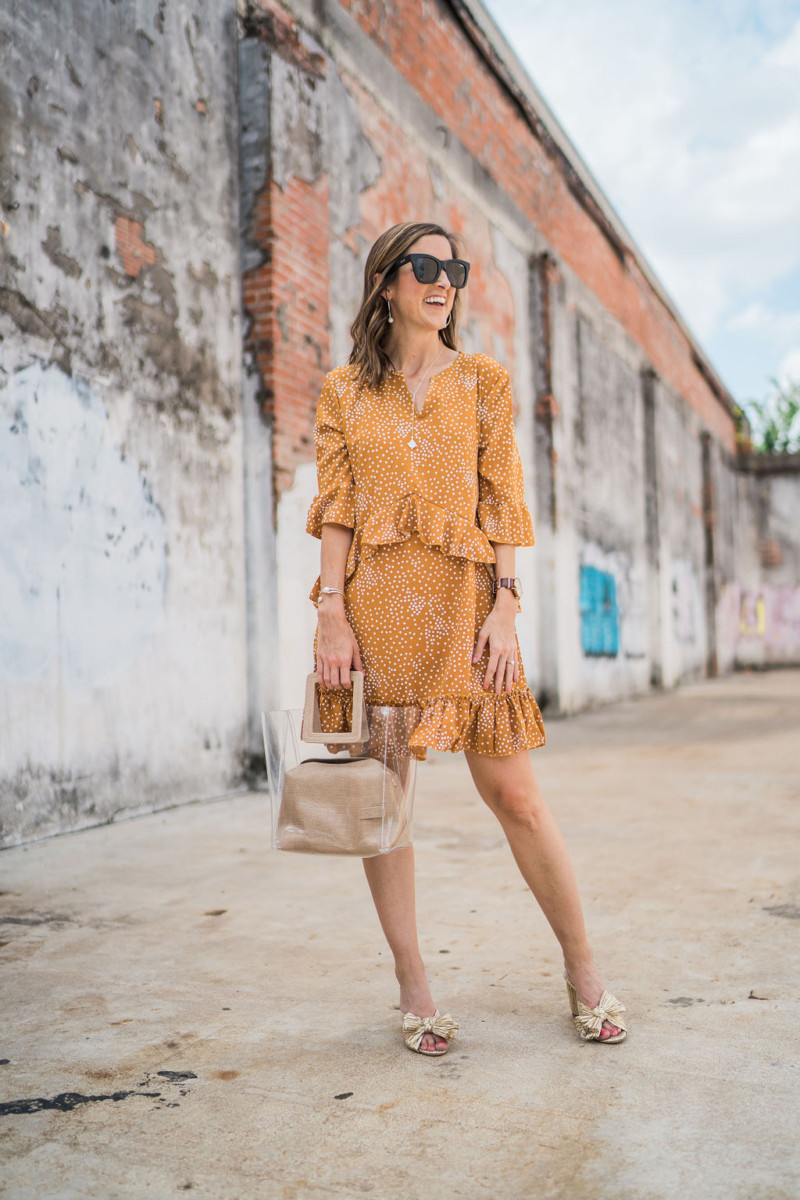 Photos by Lois Campos Fotography