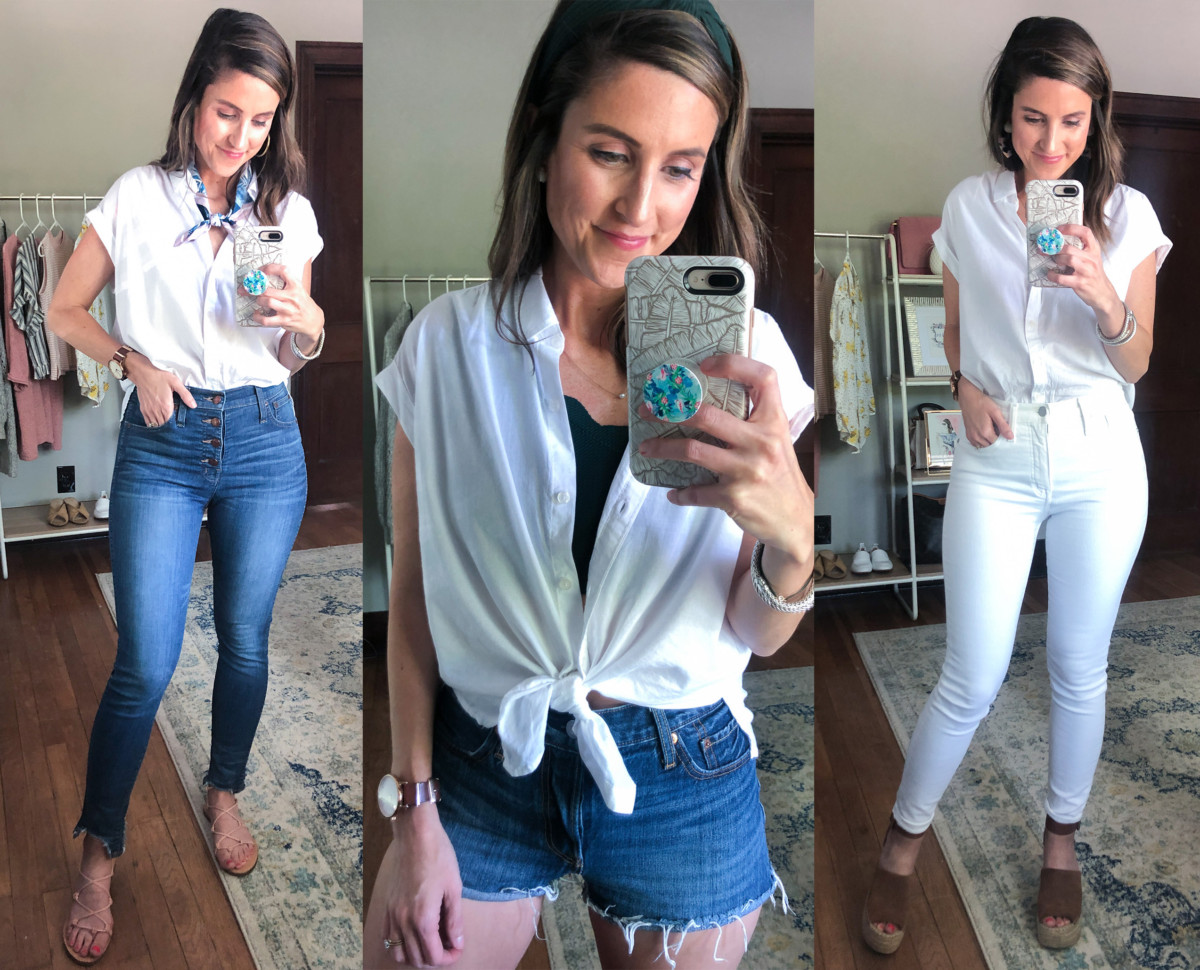 I've been wearing this white button up non-stop since I snagged it a few weeks ago! Since it's a pretty basic staple that I'm assuming you likely have in your closet, I thought it would be helpful to share three ways to style a white button up for a little style inspiration! If you don't have a white button up in your closet, check out this one. It's currently on sale for $24 and can be styled so many different ways!
3 Ways to Style a White Button Up
Let's jump into 3 ways to style a white button up!
All White, Front Tuck
For an extra springy look, the white button up pairs perfectly with white jeans! Madewell jeans are some of my favorite. I love the high rise waist of the 9 inch or 10 inch rise. This pair is the 9 inch rise. They run TTS.
I threw on my go-to pair of wedges with this all white look. These wedges are worth every penny as this will be my 3rd year sporting them.
I added a little color with heart-shaped acrylic earrings. This cute pair of earrings is only $10 on Amazon and they're available in tons of different colors!


Blue Jeans, Flats, Neck Scarf
The white button up is easy to pair with your favorite pair of blue jeans. I chose my 10 inch rise, Madewell, button fly pair. I've had this pair of jeans for several years now, and they're still one of my favorites!
Sticking with the Madewell theme, I paired this look with a flat Madewell sandal for a more casual look. I've been wearing these leather lace up sandals to death since I snagged them a couple of weeks ago. They're available in brown, black, and the peach color that I have. The quality is fantastic, and they're a steal in my opinion at only $60!
To add a little something extra, I added a neck scarf for a pop of color. This exact one is from last year and no longer available, however, I found a super similar print here! Last but not least, I added my favorite pair of gold hoop earrings by Sheila Fajl.


Denim Shorts, Bathing Suit
Another easy way to wear your white button up this spring and summer is over your bathing suit to the pool, lake, or beach! I scooped up this swimsuit before our honeymoon in Hawaii earlier this year. It's under $25 but the quality is superb! I love the scalloped detail and the high-waist bottom!
I threw on my favorite pair of Levi's jean shorts and added a matching headband since I'm always trying to keep my hair out of my face when by the pool or at the beach. And lastly, I added my Dolce Vita slides. These sandals are my everyday spring/summer sandals. They're available in tons of colors. I'm eyeing the off white color for my next pair!


I hope that left you with a few ideas on all the ways you can wear your white button up!