As promised, I finally organized photos from our trip!  Today I want to share a recap of the first city we visited, Bangkok, Thailand!  We made stops in Bangkok and Phuket (Thailand), Siem Reap (Cambodia), Ho Chi Minh City (Vietnam), and Singapore on this same trip!
After traveling for close to 30 hours, we landed in Thailand and spent exactly 24 hours in Bangkok before heading to the beaches in Phuket.  Upon arrival at the Bangkok airport (there are two, just FYI), our Airbnb host's father picked us up and taxied us to our Airbnb (about a 30 minute drive).  We stayed here.  I cannot recommend this Airbnb enough if you are visiting Bangkok!  Our host was beyond helpful in answering any questions that we had and made awesome recommendations on the top things that we should see in the city since we were only there for a short period of time.  The Airbnb host doesn't/didn't actually live in Bangkok so that's how we got hooked up with her father who could not have been nicer!  See below for a photo!
Keep in mind that we had been awake and traveling (no showers, ick) for about 35 hours at this point.  And it was in the mid 90s there so forgive the sweaty, tired looks in the photos below.  🙂
After unpacking, we immediately headed down to the river to catch a water taxi to the Grand Palace and Wat Pho.  I would say these are the main attractions in Bangkok.  The Grand Palace was built in the late 1700s and used to be the home of the King.  The architecture and craftsmanship is amazing.  Every detail is exquisite and the colors are all brilliantly bright.  Wat Pho is a Buddhist temple complex located right by the Grand Palace (honestly, it's hard to tell where one ends and one begins).  Wat Pho is home to several different stunning temples all within the same complex.  One of the temples is home to the Reclining Buddha.
– Wat Pho.  Dress code: No shoes, shoulders covered. –
– Reclining Buddha –
– Reclining Buddha –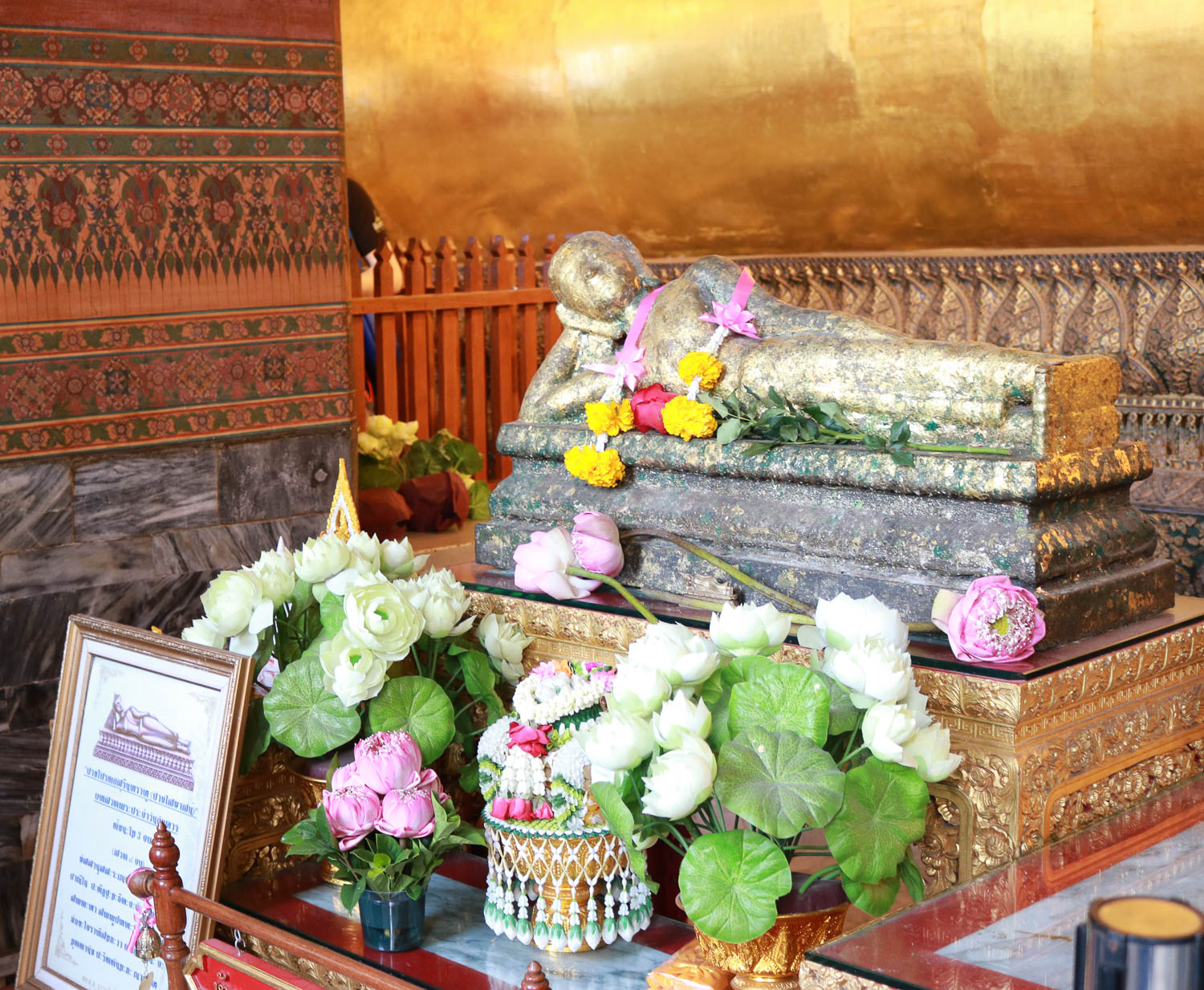 – Mini reclining Buddha –
– Walking through the Grand Palace –
– The detailing was amazing –
After visiting the Grand Palace and Wat Pho, we ventured outside of the complex into a sea of street vendors.  We popped in a local restaurant for lunch.  Pad Thai!  Michael and I both agree that this was one of the best meals of our entire trip.  So simple, yet so delicious!  For dessert we stopped by the coconut ice-cream cart, where a local man was hand scooping fresh coconut ice-cream out and serving it in freshly cracked coconuts.  It was ah-maz-ing.
After exploring the street vendor carts, we took the water taxi (long boat style!) back to the train station where we hoped on the train and headed to one of the famous malls in Bangkok.  The train was pretty easy to figure out (especially if you're used to riding the metro or subway).  This mall, MBK Center, was on almost every trip advisor type list that we read prior to visiting Bangkok.  The only reason we went was because I had one mishap early on, I left my camera charger on the long haul flight from Newark to Hong Kong (oops!).  I'm glad we went so that I can recommend to others that they NOT go.  Unless you're dying to spend time in a shopping mall while in Bangkok, definitely skip this place.  I'm not sure why it's always recommended as a place to hit.
That night we mustered up the energy to stay awake a little longer and ventured out for Valentine's Day dinner.  Yes, they celebrate V-Day too!  We went to a nice restaurant on the river, recommended by our Airbnb host.  And then crashed when we got back.  It was a great day in Bangkok.  I definitely recommend fighting through the fatigue to stay awake and adjust to the time difference.  Once we had a good night's rest, we felt like a million bucks!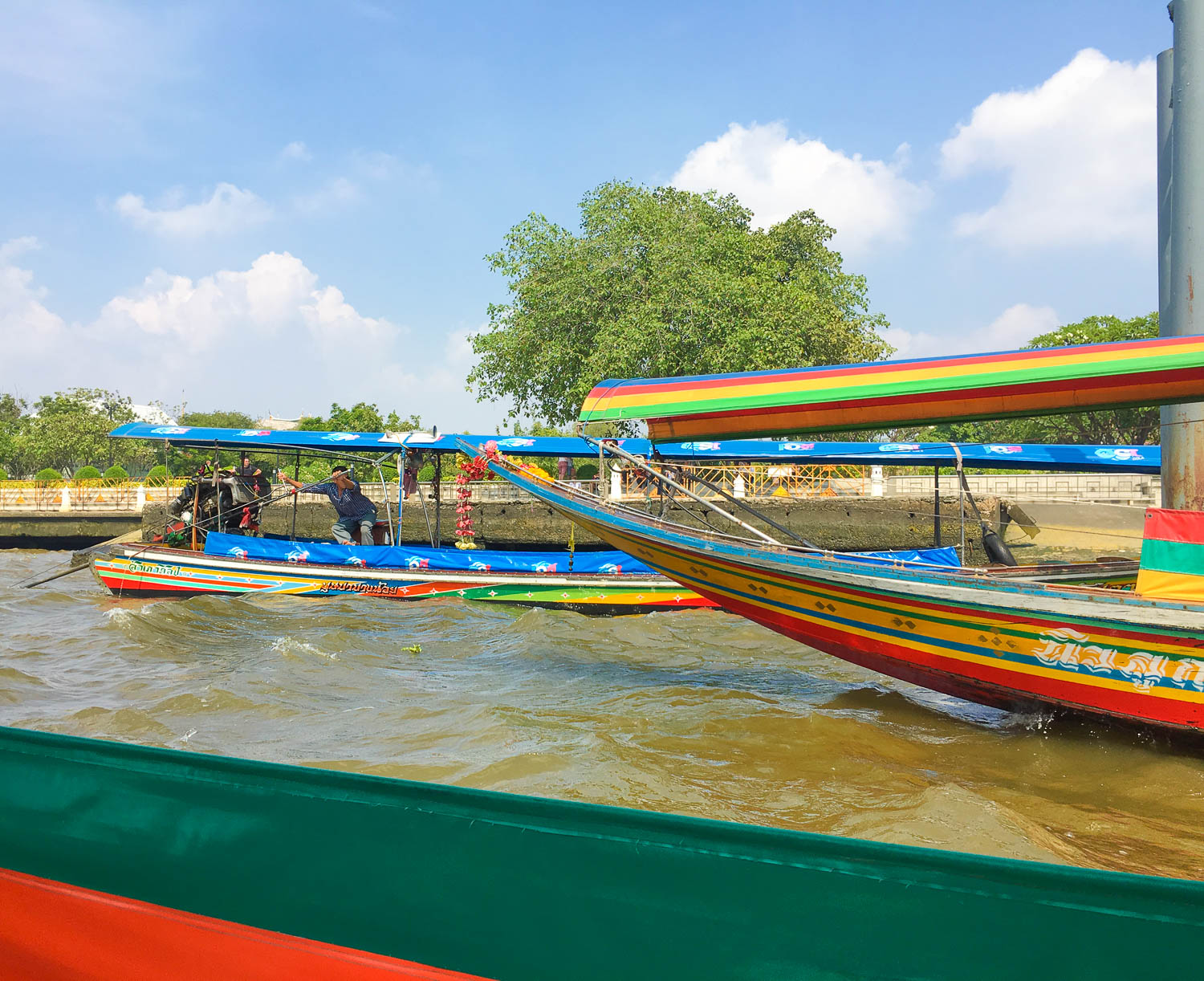 – Water Taxi –
– iPhone pic at dinner on Valentine's Day –
– The restaurant even got into the V-Day spirit! –
– A farewell selfie with our amazing host for our 24 hours in Bangkok! Po is the best!! –
It was a short stay, but we had an amazing time exploring the city!
A few random notes if you're planning to visit:
– All Apple product chargers work.  No need for converters.
– Currency is Bhat.  You can exchange money upon arrival at the airport.
– If your cell phone is unlocked, you can easily switch out your SIM card for a Thailand carrier SIM (I used true move) at the airport.  The plans are super cheap – think $3 for 7 days of unlimited data.  Worked perfectly.
– The city is very inexpensive to explore.  Meals were $25 max for two people (including alcohol).  Cabs were $2 to $7 to basically get anywhere.
– It's hot in Bangkok.  All year long.  So be prepared.
Any questions?!  Feel free to email me!  I would be more than happy to help out with anyone planning to visit Bangkok!