I'm back with my final post recapping Michael and I's Southeast Asia trip. Check out my recaps of Bangkok, Phuket, Siem Reap, and Ho Chi Minh City if you missed them! Our last stop was Singapore. The whole spurring of this trip was a result of our good friends moving to Singapore a couple of years ago. We promised we would visit, so we had to make it happen!
Singapore is very different from all of the other cities in Southeast Asia that we visited. It is very westernized and reminded me a lot of Chicago or a mini NYC. Two of the biggest tourist attractions in Singapore are the Marina Bay Sands hotel and casino and Merlion Park, also situated right on the bay. The photo above was taken from atop Marina Bay Sands. The rooftop deck provides outstanding views of the city and is definitely worth a trip to the top, even if it's just for a drink. You don't have to be staying at the hotel to access the deck. However, you do have to be staying at the hotel to access the infinity pool. Note – Guys must have pants on after a certain time in the evening (it was 8PM on the night that we were there).
I'm getting a little ahead of myself. Upon first arriving into Singapore (we flew Tiger Air from Vietnam), we ventured to Chinatown, which is pretty much what you would expect. It is a cool area of town with lots of little market shops, a Ventriloquism Show and lots of bars and restaurants. For lunch, we made our way to one of the famed Hawker Centres – Maxwell Road Hawker Centre. Hawker Centres are basically pavilions with one food stall after another. You can usually find any type of food that you're looking for at these places. It's truly a site to see! I was craving a bit of "normal" American food at this point, so I found a salad bar stall and it did not disappoint!
– Chinatown –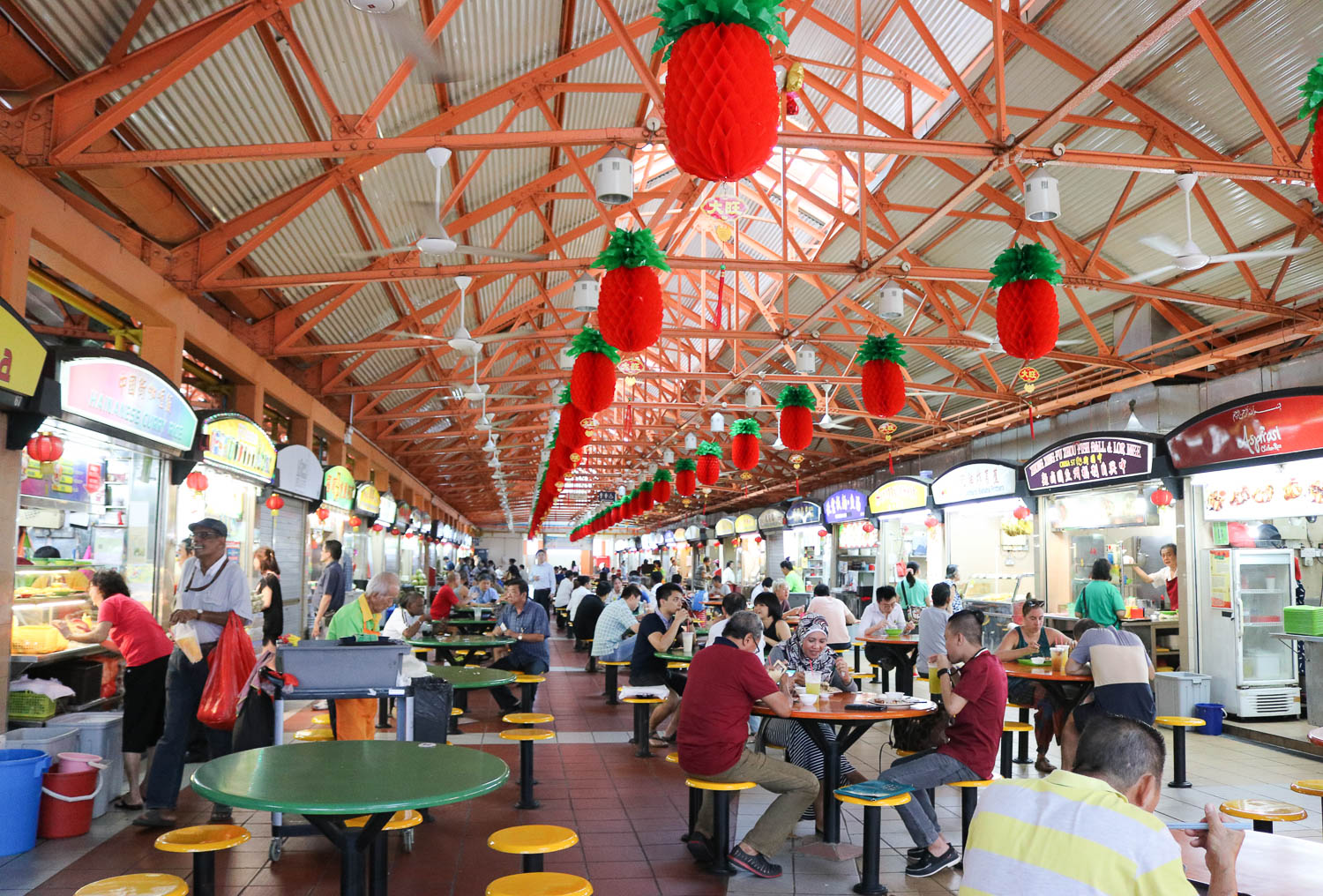 – Hawker Centre –
After a quick lunch we wandered around for a bit and then stopped in The Spiffy Dapper for an afternoon pick-me-up. This place is a pretty cool spot. It's a coffee shop during the day but slowly transitions to a bar in the afternoon/evening. Definitely recommend.
After we were re-caffeinated, we made our way to the Boat Quay area of town. It is situated right along the river, and there are tons of restaurants and bars. This is the part of the city that reminds me of Chicago. I guess it's the river running through the middle of the city! Definitely grab a happy hour beer at a restaurant along the water and watch as the water taxis make their way up and down the river.
– Boat Quay –
We then made our way up to the top of Marina Bay Sands to check out the spectacular views of Singapore. I would recommend heading upstairs to the bar and skipping the observation deck. You get the same views and instead of buying a ticket to get up to the deck, just buy a beer or cocktail at the bar and take in the panoramic views from there!
We capped the night off at one of THE BEST restaurants. It may have been my favorite meal of the entire trip. Din Tai Fung. Lucky for you west coasters, they have a few locations in California and one in Seattle. It is a traditional Taiwanese restaurant serving noodles, steamed buns, and dumplings. It was outstanding. If you're in Singapore, definitely check this spot out!
Definitely make a point to visit the area around Masjid Sultan Mosque. The mosque itself is beautiful. We happened to be in the area around prayer time so the chanting and bells ringing only added to the beauty.
– Masjid Sultan Mosque –
We spent most of our second (and last) day in Singapore exploring the Arab Street area. This area is filled with the cutest shops and authentic restaurants. The shops are a mix between market type shops and the cutest boutique clothing stores. That's the cool thing about Singapore, it has a very interesting mix of old world character and modern city conveniences. For lunch, we popped in the most amazing Turkish restaurant, Alaturka. If you ask around, you're bound to find it. It was delicious!
Here's my number one tip if you're visiting Singapore – GO TO Turkishlamps Sufitrading. Ask for Faizullah. He is one of the nicest people I have ever met! Our friend, David, that lives in Singapore introduced us to him and his shop. We spent an hour in his shop chatting and picking out Turkish dishes to take home with us. The dishes are absolutely stunning. He frequently travels to Turkey to pick up the hand painted dishes (I got a large decorative plate, a few small bowls, and the cutest coffee mugs!), and he knows the back stories on all of the families in Turkey that craft the dishes for his shop.
– Arab Street –
– Alaturka –
– Shops around Arab Street –
After wandering around Arab Street, we made our way to back to the bay to check out a view of Marina Bay Sands from across the water. Singapore is full of opulence. I wanted to just move in to this restaurant/hotel situated on the bay. How gorgeous?!
– Marina Bay Sands from across the bay –
– Our last meal in Singapore –
We stopped in a noodle bar before heading to Club Street to cap off the night (before catching our 1AM flight home). Club Street is a must if you're looking for a little night life. They close down the street and all of the restaurants set up shop in the street. There are tons of nice restaurants and bars along the strip.
A few random notes if you're planning to visit:
– You need converters here! Singapore uses UK plugs. Find adapters here.
– Singapore Dollar is the currency. You can exchange USD at the airport or use an ATM at the airport to withdraw Singaporean money. Make sure you have a widely accepted (big bank) debit card to use while abroad.
– Most US cell carriers have plans in Singapore that are super affordable. I have Verizon and added a "travel pass" plan for Singapore. It was $10/24 hours that I was connected to the Singapore network. The data was charged to my regular plan. Let me know if you have questions on this. Happy to explain more!
– Unlike most everywhere else in Southeast Asia, Singapore is very expensive. Think NYC prices. The upside is that you're probably saving a lot of money in other SE Asian countries, so the splurge here doesn't seem so bad.
– Flying in and out of Singapore is easy! And the Singapore airport is stunning. Need a new designer handbag before your flight? They got you covered! The airport is filled with high end shops. Getting in and out of customs is also super easy here. We flew Tiger Air into Singapore and Cathay Pacific out. Flying out of Singapore, we flew to Hong Kong and then to JFK. I highly recommend Cathay Pacific. The service on our 16 hour flight was outstanding.
It's not hard to see what attracts people to this city. With so much to experience, you could quite easily spend a lifetime here. Those looking to make the leap and do just that can see here to learn more.
Any questions?! Feel free to email me! I would be more than happy to help out with anyone planning to visit Singapore!
SHOP THE POST