This past weekend I joined my blogger turned real-life friends for a fun day trip to a couple of Virginia vineyards!  We made a full day of it, and it was the BEST girls' day!  Jenn did all of the planning (thanks Jenn!) and had us over for an early morning brunch before we headed out for the day.  Monica, Laura, Kristyn, Katie, and I all arrived at Jenn's place around 10AM for breakfast burritos and mimosas.  As Katie said so perfectly, we had to "prime before we paint" – Katie hit us with LOTS of one liners throughout the day! 😉
One of the perks of living in DC is having so many vineyards close by in Virginia.  This was something that I wasn't aware of until I moved to the city!  I had no idea Virginia has such a booming wine business.  There are tons of vineyards within an hour drive outside of the city.
Getting There
The best way to get to and from the wineries is to hire a driver.  I've visited the Virginia wineries on a few different occasions, and I've always hired a driver.  This weekend we scheduled DCA Car to pick us up at Jenn's place.  We had a suburban, which was perfect for our group of six!  Our driver Alex took care of us all day and provided us a ride to and from the wineries.  I've actually used DCA Car service before and would highly recommend checking them out!  You can read all about my first experience with their services here!
We let Alex know ahead of time the wineries we would be visiting as well as our tentative time schedule.  He kept us on time and was wonderful throughout the day!
Best Virginia Wineries
It was my first time to visit the two vineyards we decided on.  I was excited to check two more local spots off of my list!  We settled on Zephaniah Farm Vineyard and Greenhill Winery and Vineyards.  The two wineries were so different!  In the best way!
Zephaniah Farm Vineyard was so charming and quaint.  The property was beautiful.  There was still snow on the ground from the first snow of the season earlier in the week.  The tasting rooms are rooms within the farm house where the family that runs the vineyard actually lives.  It was so cool to be in such a special place.  Our host, Bonnie, is one of the wine makers.  She had so many wonderful family history stories to tell us about the wine, the farmhouse, and the vineyard!
The wine itself was delicious.  We enjoyed the tasting, which included six wines.  Bonnie shared two extra wines with us, including a hot, mulled wine, which was outstanding!  Perfect for the chilly November day!
If you're visiting Zephaniah with six or more people in your party, you must make reservations ahead of time.  The tasting is very reasonably priced at $15 per person.  Expect the tasting to take an hour or so.  I'll also note that you aren't allowed to bring in your own food to Zephaniah, just something to keep in mind when planning the timing of your visit.
Our next stop was Greenhill Winery and Vineyards.  It's about 20 minutes from Zephaniah.  Greenhill has a completely different vibe.  It's more modern and new feeling.  It was hopping with people as there's a large tasting area indoors as well as a multi-level outdoor space with tons of tables.  Although it was a bit chilly, it was nice and sunny so we opted to sit outside for our tasting.  We all chipped in and brought snacks along for the day.  Greenhill allows you to bring outside food so long as you enjoy it on the patio or lawn (you can't eat it indoors).  We snacked on our spread of salami, cheeses, grapes, strawberries, chips, dip, and even a cookie cake (to celebrate Katie's birthday) while we enjoyed a sampling of their wines.
We made a reservation for the tasting ahead of time.  Our tasting included six wines and was also reasonably priced at $15 per person.  The wines were great – the reds were my favorite, but that's not surprising as I generally always prefer reds over whites.
Greenhill has a farm store that has lots of fun gifts – a great place to grab a take home item!  A few of the girls grabbed the seasonal mistletoe candles to bring back to DC.
Just so you'll have a since of timing when planning your own trip, we left DC around 11:15AM and made it to Zephaniah by 12:15PM.  We left Zephaniah around 2:45PM and made it to Greenhill around 3PM.  We left Greenhill around 4:45PM and made it back to DC around 6PM.
The Winery at Bull Run and Barrel Oak Winery are also great wineries to visit for a day trip from the DC area.  You can read about my trip to these two fabulous wineries here!
And if you're wanting to make a weekend trip out of it, check out my Charlottesville, VA guide!  Michael and I did a one-night weekend stay in Charlottesville and visited three vineyards during our stay –Pippin Hill Farm and Vineyard, Afton Mountain Vineyards, and King Family Vineyards!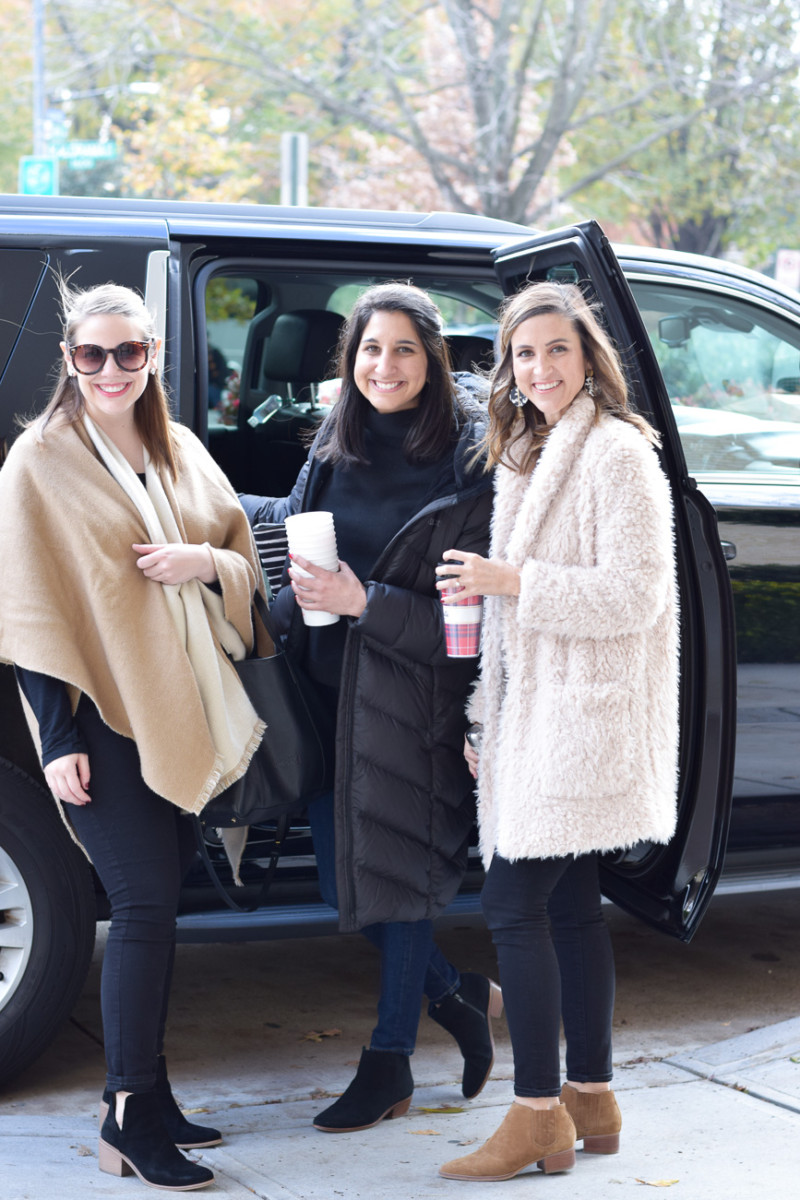 BB Dakota Teddy Jacket c/o LUNA (wearing XS) | NYC Cami c/o LUNA  (wearing XS) | Madewell Belt (wearing XS) | Madewell Jeans (TTS, wearing 26) | Halogen Cashmere Scarf | Sarto Franco Booties (TTS) | Quay Sunglasses | Similar Tortoise Earrings

You can read Katie's post about our trip here and Jenn's post about our brunch here.
Thank you to DCA Car for providing us with a complimentary round-trip ride to the vineyards!
Photo contributions by Monica Dutia and Jenn Rogers