Amazon Ice Roller | Everlane Striped Tank (exact color sold out) | H&M Sweater (similar here & here) | Kendra Scott Heart Necklace | Kendra Scott Love Knot Earrings

Last week I shared 5 Ways to Practice Self Care at Home as part of April's Do Good Challenge. Today I'm sharing another inexpensive and easy way you can treat yourself while you're at home! Let's talk about ice rolling! My Amazon ice roller is debatably the best $15 I've ever spent on Amazon.
How I Use My Ice Roller to De Puff My Face
It's inevitable that some days I wake up more puffy than others. On mornings when my face looks puffed up, I like to add in a little ice rolling to my morning routine. My Amazon ice roller is a plastic tool that I keep in the freezer (and wash after every use). I use it after I shower and/or wash my face and apply my morning skincare. I apply my usual vitamin C serum and daily moisturizer. Hold off on the SPF until after ice rolling.
The most affective way to use the ice roller is to think of your nose as the center point of your face. Start your rolling strokes from the center of your face and roll in an outward motion towards your jawline and hairline while applying pressure as needed.
The combination of the pressure and the cold temperature will noticeably help with de-puffing your face. It also noticeably lifts and tightens your jawline. An added perk is that it feels REALLY nice.
If the roller is too cold for your liking straight out of the freezer, let it sit out on a wash cloth for a few minutes. You don't want it to completely warm up as you'll lose the benefits from the ice cold temperature being applied directly to your face.
I usually ice roll my face for about 5 minutes. You could definitely do this for as long as you like though. It's very calming! You may want to combine this with some CBD oil as people have noted that it can help reduce redness in the face and keep it nourished. You can search online for things like 'the UK's best CBD brand' if you are from there or if you want it imported to where you are. There are a range of options to use with your ice roller.
I 100% believe in this product. It's an effective and affordable way to help your skin look less puffy. It also helps to reduce redness and inflammation. You can even use it to help soothe your skin after too much sun or beauty procedures that cause redness or inflammation such as brow waxes or peels (with the approval of your esthetician/doctor, of course).
Happy rolling!
Amazon Ice Roller | Everlane Striped Tank (exact color sold out) | H&M Sweater (similar here & here) | Kendra Scott Heart Necklace | Kendra Scott Love Knot Earrings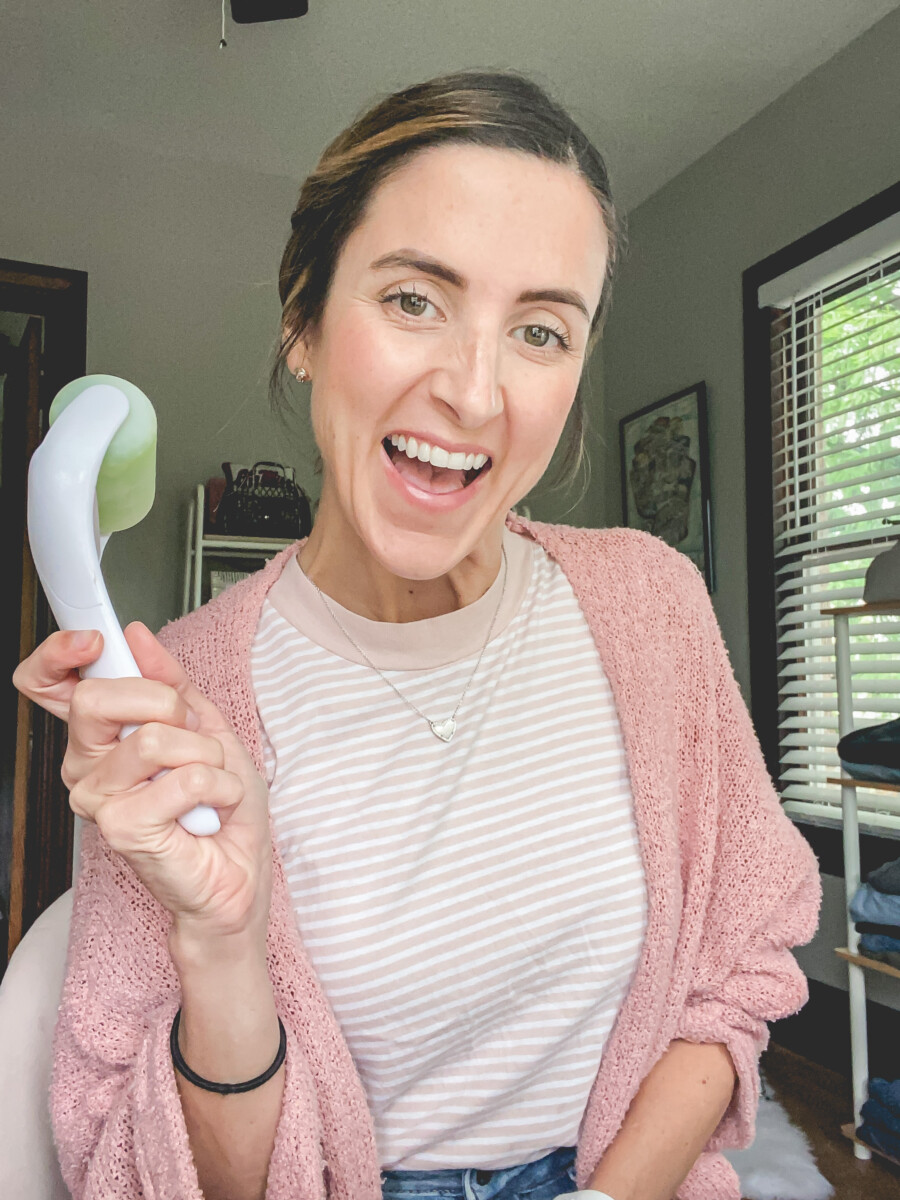 Amazon Ice Roller | Everlane Striped Tank (exact color sold out) | H&M Sweater (similar here & here) | Kendra Scott Heart Necklace | Kendra Scott Love Knot Earrings