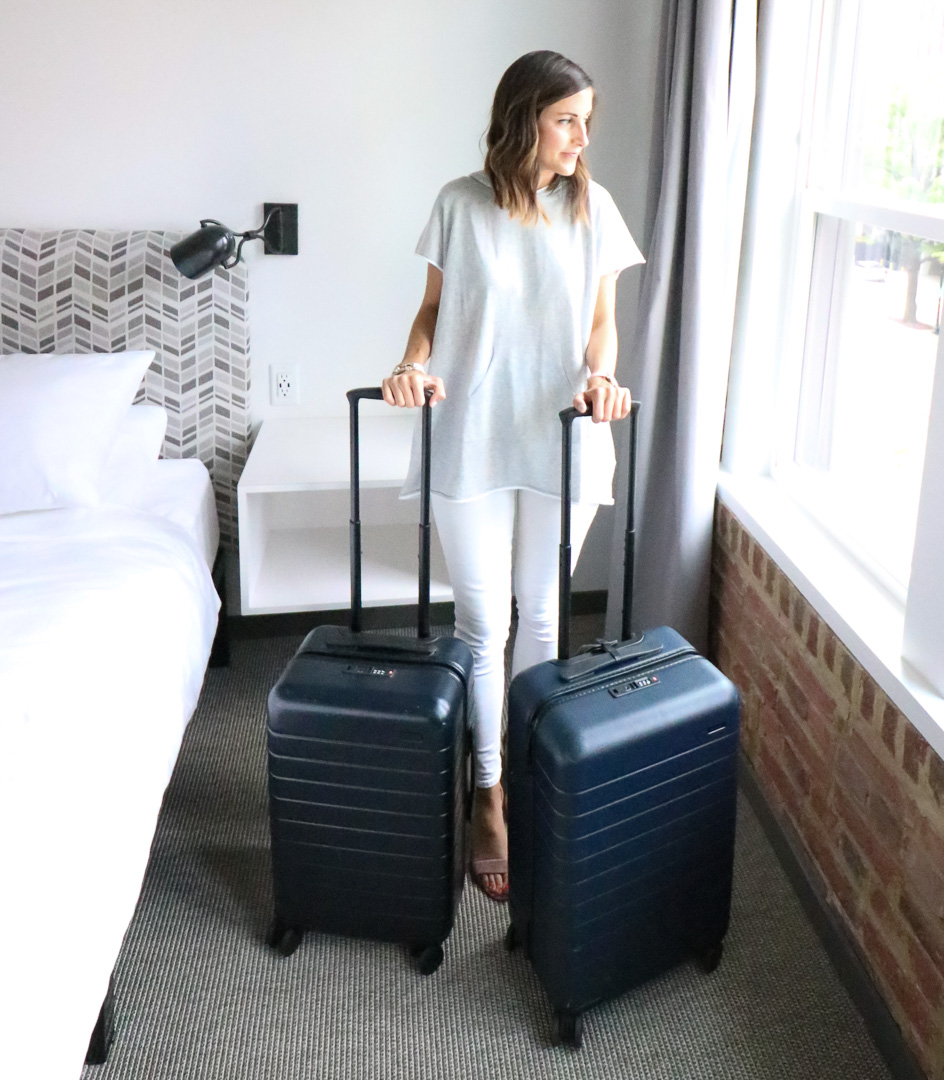 I get tons of questions regarding my Away Carry On Bag.  I did an initial Away Carry On Bag review on the Original Carry-On Bag a while back, but then, shortly thereafter, Away came out with the Bigger Carry-On.  So now I have both!
I mainly travel with the Bigger Carry-On now, so I thought I'd share my take on both of the bags with you!
Both Away Carry On Bags Have Similar Features
Spoiler alert, essentially, size is the only differentiator between the bags.  Both Away Carry On bags have the following features:
Two inside compartments.  One with adjustable clip-straps that help to compress items on that side.  And one with a full, mesh, zip closer, which also assists in compressing clothes and items packed on that particular side.  See the photo below.
A hard outer shell.  Surprisingly, the shell is quite flexible but doesn't break (and if it does, there's a lifetime warranty for cracks or breaks in the shell!).
Four spin wheels.  If you're not working with four wheels on your carry-on luggage, you're doing it all wrong!
A TSA approved lock.  Honestly, I never use this feature, but it's nice to know I could if I wanted to.  This would come in handy if you end up having to check the bag.
An external charger that has two USB ports.  This is a feature that I use ALL the time; it comes in super handy!  Especially because I always have my boarding pass on my phone so I need my phone to always be fully juiced.
A nylon laundry bag, which I really appreciate!
The Difference Between the Original Away Carry On Bag and the Bigger Carry-On Bag
Size.
The Original Away Carry-On is 21.7" x 13.7" x 9"
The Bigger Carry-On is 22.7" x 14.7" x 9.6"
I can easily fit 2 more pairs of shoes and around 2-3 more outfits in the Bigger Carry-On.
The only con of the Bigger Carry-On and pro of the Original Carry-On is that the Bigger Carry-On bag will not fit in most international flight overhead bins, but the Original Carry-On will!
Check out my YouTube video comparing the two bags in real life!
My Experience Traveling Abroad
On my recent trip to Europe, I flew United from DC to London and back via Amsterdam to DC. Bigger Carry-On fit perfectly in the United overhead bin for the transatlantic flight. However, when traveling from city to city in Europe (Paris to Barcelona to Berlin to Amsterdam), I flew on budget airlines (Easy Jet, Ryan Air, Transavia). I had to check my Bigger Carry-On as they said it wouldn't fit in the overhead bins (although I'd beg to differ). So I did have to check it on the budget airlines. (One side tip on this – If you end up doing this, be sure to pre-pay online to check your bag before arriving at the airport. They will up charge you if you wait until arriving at the airport and will up charge you even more if you bring your rolling bag through security to the gate and then end up having to check it.)
On the opposite end of the spectrum, I flew to Thailand last year from NYC on Cathay Pacific airlines, and the Bigger Carry-On bag did not fit in the overhead bins on that transatlantic flight, their overhead bin space is tiny!  With that said, the Original Carry-On bag wouldn't have fit either.
I travel a lot, but I only go out of the country one to two times a year.  So for me, Bigger Carry-On bag is a better buy.  It fits in the overhead bins of every U.S. carrier.  But if you're a light packer and travel out of the country more frequently, you'd probably be better off with the Original.
Away Carry On Bag – Final Verdict
I highly recommend the Away Bigger Carry-On Bag.  It's the only bag I use.
If you're planning on doing a lot of international travel and don't want to check your bag, go with the Original Away Carry-On bag.
Bottom Line: You can't go wrong with either!
Questions?  Leave them in the comments below, I'm more than happy to answer!
Want $20 off of your Away Carry On bag?!  Click here to receive $20 off of your first Away bag! (Make sure you create an account to see the $20 discount on your bag!) 
I received both Away bags as gifts from Away.  However, this post is not sponsored.  All thoughts are my own.