Last summer, Michael and I visited Portland, Maine and loved it so much that we knew we wanted to venture up to New England again this year!  So this past weekend Michael and I joined Monica and her boyfriend, Joe, for a weekend trip to Newport, Rhode Island!
Getting There
If you're in the D.C. area, it's a super easy weekend getaway!  Southwest flies direct from DCA to Providence.  The flights are usually pretty cheap, and since Michael and I have the Southwest Companion Pass, we flew roundtrip for under $200 total!  Newport is a short 45 minute drive from the Providence airport.  We rented a car, but if I had to do it all over again, I'd suggest just catching an Uber from the airport to Newport, especially if there's a few of you to split the cost.  If you're planning on driving outside of Newport during your stay, definitely opt for the rental car, but we didn't end up using it at all.  We took Uber everywhere once we were in Newport.
Where to Stay
When we booked our flights back in January, we didn't realize that there happened to be a pretty big tennis tournament going on in Newport the same weekend we were visiting (big as in Chrissy Teigen and John Legend were spotted in town as spectators!).  By the time we got around to booking a place to stay, almost all of the affordable hotels were sold out and the Airbnb pickings were slim!  Although I wouldn't necessarily recommend our Airbnb, it was in a great location!  Thames Street is the main street that runs a few blocks from the water and is filled with shops, restaurants, and bars.  We stayed on Thames Street, which was perfect!  I highly recommend staying within walking distance to Thames – it made grabbing breakfast, lunch, dinner, and drinks so much easier!  Don't forget, you can get $40 off of your first Airbnb stay if you sign up through my link!
What to Do
There's actually a lot to do in Newport!  Our first night in town, we strolled along the waterfront and docked ourselves at a waterfront bar for margaritas to watch all of the sailboats and yachts make their way in for the night.
After grabbing a quick coffee Saturday morning, we headed for the cliff walk.  I highly recommend fitting the cliff walk into your schedule when visiting Newport!  It's a gorgeous trail with the Atlantic Ocean on one side and massive mansions on the other!  It's also as short or as long of a walk as you'd like it to be.  You can hop on and off of the cliff walk at different points along the trail.   One question I had before we went was what type of shoes are appropriate – I'd definitely recommend wearing sneakers.  While most of the trail is paved, there are a couple of spots where you're walking on giant boulder-type rocks.
Newport has several different beaches.  We choose to spend an afternoon at Easton's Beach.  I'm pretty accustomed to gulf coast beaches (white, sugary sand, short beaches, crystal blue water).  Newport's beach was quite different, but still lovely!  One difference, the width of the beach.  It's massive!  The sand was dark grey, almost black, and hard.  Almost like walking on concrete.  It was an overcast day when were there, but it was still so nice to sit by the ocean for a bit!
We ended the day with a sailboat cruise, which I HIGHLY recommend!  We did the sunset sail with Classic Cruises of Newport.  It was such a fun and relaxing way to end the day!  They provide beer and champagne for the entire length of the cruise, which was a nice perk!
On Sunday, we spent the morning popping in shops along Thames Street.  Michael and I try to pick up a Christmas ornament in every new city that we visit so we were on a mission.  We found the cutest sailboat ornament at one of the shops, Primavera (they also carry my favorite, catstudio design pieces!).
We ended our trip at Castle Hill Inn, which I can't recommend enough!  Castle Hill Inn is a hotel with a fabulous lawn that overlooks the ocean and all of the passing sailboats.  They have an incredible restaurant where we had lunch before getting on the road to head back to Providence.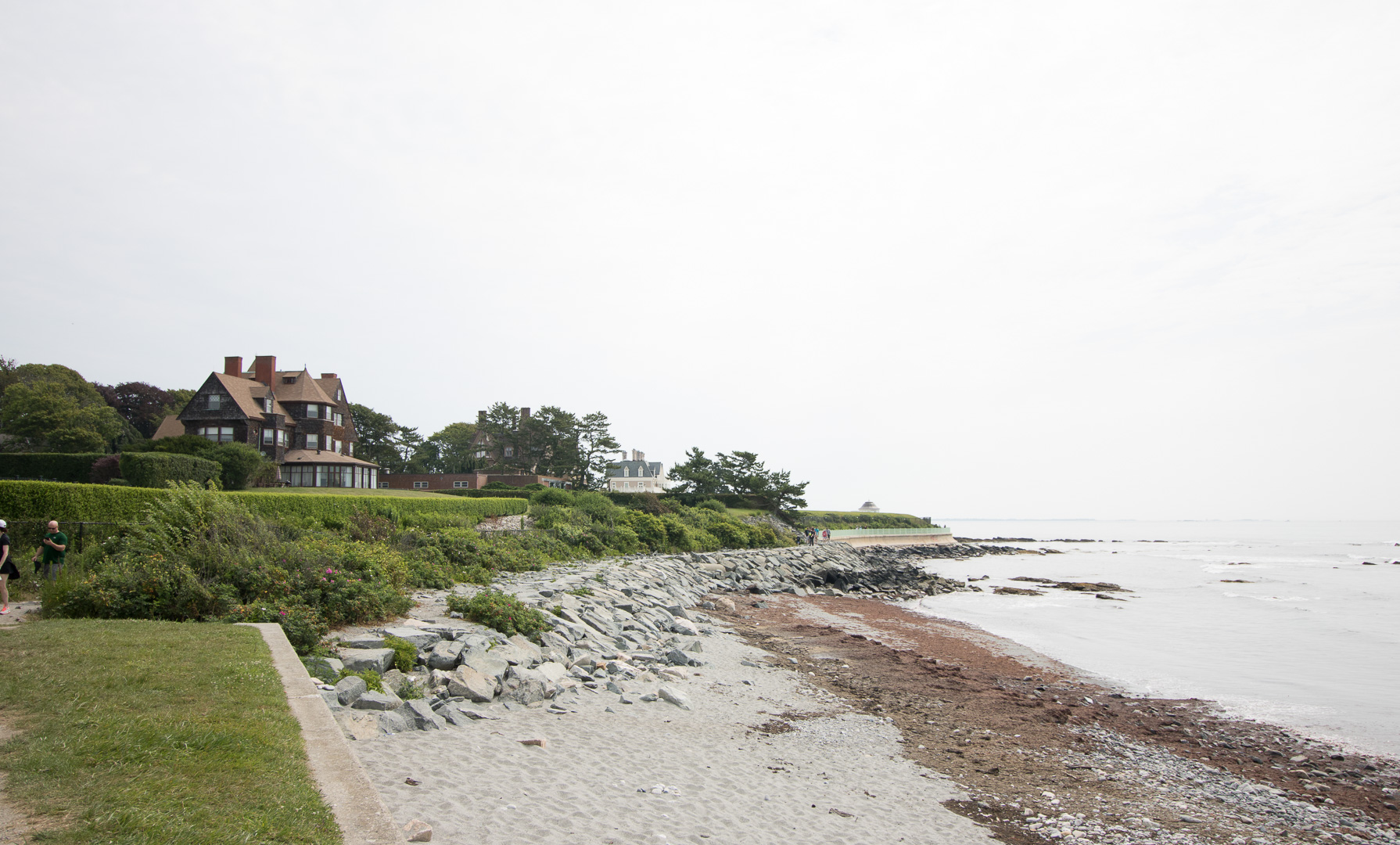 Where to Eat
Coffee/Breakfast:
We stopped in Mokka Coffee for a quick coffee before heading to the cliff walk.  This spot is nothing fancy, but does have a nice outdoor seating area, and the iced coffee was on point!
Coffee Grinder was our spot on Sunday.  I highly recommend this cute little coffee shop!  It's right on the water and has the cutest adirondak chairs facing the water.  It was so nice to sit outside and enjoy my morning coffee while watching all of the boat crews get ready to head out for the day!
Lunch:
Flo's Clam Shack is right across the street from Easton's Beach.  It's your typical hole in the wall seafood joint.  The food was delicious and cheap!  I'd recommend the lobster roll!
We ventured to Castle Hill Inn for lunch on Sunday and it was wonderful!  It's a little pricey, but the view makes it totally worth it!  Be sure to add in wait time for this spot.  We arrived shortly after they opened and had a 45 minute wait.  But with that said, there's a massive lawn that overlooks the ocean spattered with adirondack chairs so the wait isn't bad at all!
Drinks/Dinner:
Be sure to check out Monica's recap of our trip!  Her and Joe hit up a design house that you don't want to miss!
Lastly, Michael documented our trip with a VLOG!  Check it out below!
Outfit Details: Ruffle Top (part of the Nordstrom Sale, $23 marked down from $35! Wearing an XS) | Cardigan (wearing an XS) | White Denim (similar) | Quay Sunglasses | Gold Slides (sold out, similar)
On another travel note, interested in learning more about my favorite credit card that I use for travel (earn 2x points on any travel purchase!)?!  Check out this post and compare my favorite card with other travel cards here!