Beautycounter launched 5 new holiday gift sets today in addition to the 11 holiday sets launched last month. The sets are a mix of holy grail Beautycounter products packaged in unique sets and new, limited edition products that I'm already loving (and secretly hoping they're not so limited edition!).
One item I wanted to point out because it's set to sell out soon is the Bright Side Duo. This is a great set to treat yourself! It includes two of my favorite Beautycounter products, the All Bright Vitamin C Serum + the Overnight Resurfacing Peel. I use the All Bright Vitamin C Serum every single morning (after cleansing and toner, before moisturizer). It helps to even out skin tone and skin texture and overall brightens the skin. The Overnight Resurfacing Peel is great for use 2-3 times a week. Apply it at night, after cleansing. It gets rid of any dry patches, helps to even out skin tone, and helps to clear up any blemishes. The Bright Side Duo is a great way to try out both products at a discounted price!
The three sets that I personally love the most … the Good Scents Hand Cream Trio, the Ultimate Bath Renewal Set, and my favorite set from last year, the Polish & Protect Lip Duo.
All of the Beautycounter Holiday Sets included below are perfect for treating yourself, and they make the perfect holiday gifts! A little tip … I like to purchase the sets and take them apart to mix and match sets and make a few different holiday bundles for friends and family! The Jellies, Body Butter Trio, Hand Cream Trio, and Beyond Gloss Trio are perfect for this little hack!
Beautycounter Holiday Sets
5 Newly Launched Sets
FINALLY! Beautycounter's clean deodorant has been a long awaited product. This mini set is a GREAT way to try out the different scents to see which one works best for you! I personally like the Fresh Coconut and Soft Lavender scents and formulas the best. As a consultant, I was able to get my hands on the deodorant a few months ago. I've been using it ever since and have been loving it. Michael loves it too (he prefers the Fresh Coconut scent). I have a feeling this set will sell out, so if you're eyeing it, go ahead and scoop it up!
Need a little glow this winter and holiday season?! This duo is the perfect set for just that! This set comes with Beautycounter's Sunlit Highlighting Powder and Beautycounter's newly launched cream eyeshadow in Sunstone. The perfect duo to add a little summertime glow to your face this holiday season!
I don't know about you, but my hands get incredibly dry during the winter months, especially with all of the hand sanitizer and extra hand washing I'm doing these days! This duo comes with a hand wash and hand lotion in beautiful, refillable glass bottles.
One of Beautycounter's new makeup products I'm most excited about! Check out this set of never before launched cream shadows in the dreamiest colors for fall and winter!
The Jellies – Shimmer, which are included below, are my FAVORITES! I was excited to see Beautycounter launched an additional set of colors! Don't be intimidated by these bright hues. They go on like a sheer gloss with just a slight tint. These are the perfect gift for all ages! From little kids to ladies like myself, everyone love these fun little juicy tubes. And since they're a safe, clean product, you can feel good about giving this fun gift! They make a great stocking stuffer too!
___________________________________________
I had my eye on this set as soon as it launched! I've been dying to get a dry brush and now I have one! This set comes with a dry brush that you can use before showering or bathing, on dry skin, to stimulate micro-circulation to lightly exfoliate dead skin cells for a glowing, smooth appearance of skin. Use the brush in steady, upward strokes. It also comes with Sugarbuff Body Polish and Luminous Hydration Body Oil! This set makes the PERFECT gift!
Limited edition lip glosses! The perfect shades for fall and the holidays. These are all glosses – they're more sheer than they appear in the tube. The glosses have Vitamin E in them so they're moisturizing and not sticky at all. Another stand out ingredient, our responsibly sourced vanilla. It's ECOCERT – certified organic vanilla from Madagasca, which is responsible for the glosses' signature scent. Our supplier is committed not only to sourcing the highest quality of vanilla, but also to improving the quality of life for their community of farmers. A product you can feel good about purchasing and gifting!
I love the simplicity of this palette! It makes putting on everyday makeup this fall a breeze with 4 easy-to-blend-eye shadows, a pretty blush, and a golden highlighter! All talc-free. It also comes with a mirror that conveniently slides out.
This set was one of my personal favorites from last year! The packaging is revamped this year – I love it! The Lip Polish is perfect for dry winter lips – it gently buffs dead skin away without being too harsh. I love this scrub and so does Michael! The Better Balm helps protect and smooth lips. I love Beautycounter's lip balm in general, but this one gets extra props from me since it's in a tube (compared to our usual balms that are in a small jar).
The Jellies are BACK! These were a hot item last holiday season so Beautycounter brought them back this year! These take me back to middle school days of juicy tubes. The Jellies come in a set of 5 shades – Cocoa, Caramel, Peppermint, Sorbet, and Honey. Truly the perfect gift for all ages (stocking stuffer anyone?!).
Two of my Beautycounter holy grail skincare products in the perfect trial sizes! Both are .5 fl ounces. I use the All Bright C Serum every morning to help brighten my skin and even out skin tone. The Overnight Resurfacing Peel works its magic overnight to reveal improved skin texture and clarity by morning. If you've been wanting to try out either product without making a the full investment, this is a great set to grab!
Three ultra-hydrating creams that smooth and protect the skin. These limited edition aromatherapeutic scents are designed to calm, uplift, and balance – three things I'm pretty sure we all need right now! The Body Butter is like a thick lotion. And the clean scents (no fake fragrances) smell heavenly.
I'm loving this trio! The hand creams are the perfect size to keep at your desk, in your purse, or in your medicine cabinet. They're actually larger in person than I expected them to be. The Hand Cream is lightweight but ultra-hydrating with shea butter and jojoba oil. These limited edition aromatherapeutic scents are also designed to calm, uplift, and balance.
The Countertime line is Beautycounter's anti-aging line. This set includes the Countertime Tripeptide Radiance Serum plus the Turn Back Time Facial Roller. The Roller boosts the benefits of the plant-derived Retinatural Complex in the serum and creates a little treat-yourself moment!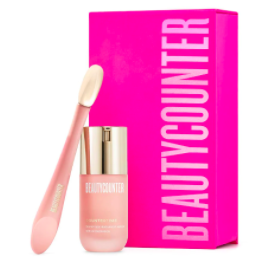 This set comes with a Sugarbuff Body Polish that exfoliates and increases circulation in the skin + the Body Glow Illuminating Lotion that not only hydrates but also adds radiance to skin thanks to responsibly sourced mica.
I use my Cleansing Balm every single day to take off my makeup at the end of the day. It's super gentle. A little bit goes a long way! I apply a dab to a cotton ball and easily wipe away my eye makeup along with my other makeup. The Cleansing Balm is also great for dry winter skin. I use it on my face, elbows, hands, and feet to moisturize and hydrate.
Ways to Save this Holiday Season
New customers can use code CHANGEBEAUTY10 for 10% OFF your first purchase!
Join Band of Beauty! This is a no brainer. BOB is Beautycounter's reward program. It's like a mix between Sephora Insider and Amazon Prime. You earn product credit on every single purchase to use on future purchases (it's essentially free Beautycounter cash). You also receive FREE shipping on all orders of $100+, and you get a FREE gift when you join and spend at least $50. The FREE gift is a Clean Set Duo and includes the Overnight Resurfacing Peel + the Charcoal Detox Mask, two of my favorites ($43 value)! It's $29/year, which you'll easily recoup not only with the free gift but with product credit earned and free shipping. As a note, there's no commitment if you sign up for Band of Beauty, no auto-ships, nothing like that. It's a win, win with no catches!