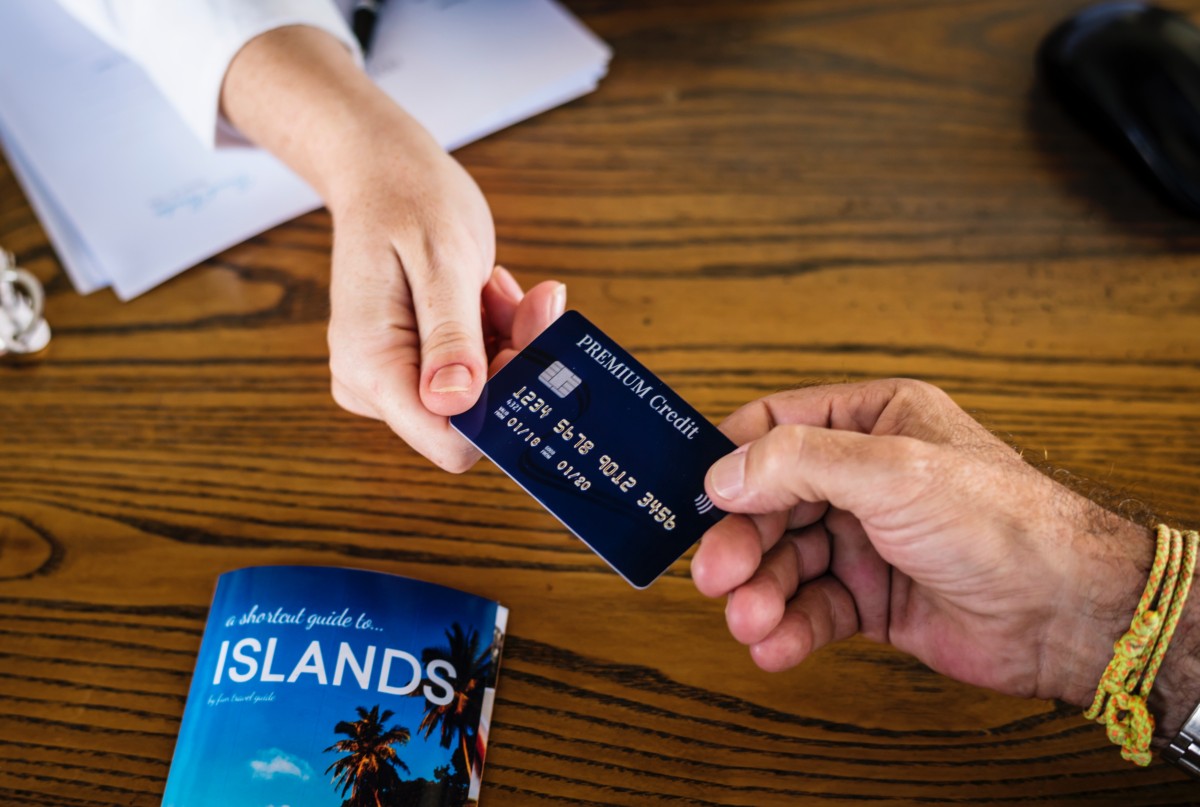 The credit card listings that appear on my website are from companies that I may receive compensation from if you click on a link and sign up for a card.  This compensation may impact how and where products appear on this site (including, for example, the order in which they appear). Please not that not all credit card companies are included in my posts, only the ones that I personally use and recommend.
My credit card posts may seem a bit random, but if used wisely, credit cards can be an excellent tool to enable you to travel for FREE to destinations that you'd never be able to travel to otherwise. That's how Michael and I are able to travel as much as we do!
So when I speak to credit cards and the credit cards that I currently use and have in my wallet, know that there's always a very specific reason I have certain cards. I don't just recommend cards or sign up for cards on my own without having a reason behind the recommendation and/or sign up.
Today, I want to chat business credit cards with you! It's the beginning of a new year, and with that, a lot of small business owners are getting their finances together. When I refer to "small business owners" I mean anything from a solo blogger to a shop owner to a wedding planner. If you run your own business, even if it's a side hustle, you need to be keeping all of your business finances (income and expenses) separate from your personal finances. How people do this is completely individual; some people may keep on top of their expenses by using a financial advisor or perhaps use the best bank for small business in florida. No matter how expenses are recorded and kept separate, it's vital to get it right to avoid confusion. Without expenses recorded properly, businesses will fail. I wrote an entire blog post on how to make your business official over on my Contracts for Creatives site. The first step is to have a business bank account and credit card.
Not only does having a business credit card make it so much easier to keep track of business expenses, it's an easy way to earn more points to add to your stash to use for travel! Business expenses add up fast and so do the points you earn on those expenses!
The 3 Best Small Business Credit Cards
I have three business credit cards. I applied for all of them for specific reasons and I use all of them for specific purchases depending on which card earns the most points for each purchase and expense. For example, one card may earn 3x points on shipping expenses while another card may earn 2x on internet charges.
Chase Ink Business Cash
I recently added the Chase Ink Business Cash business card to my collection.  If you have a higher tier Chase card (Sapphire or Ink Business Preferred), the sign-up bonus is worth a large number of Ultimate Rewards.  There's no annual fee on this card, which makes it a no brainer.  I also love this card because it offers 5X Ultimate Rewards on all office supply store purchases and internet, cable, and phone services.
I use the Ink Business Cash card for all office supply store purchases and my internet and cable bill.
Chase Ink Business Preferred
The Chase Ink Business Preferred is part of the Chase family that offers earning Ultimate Reward points. As a welcome bonus, you'll receive 80,000 Ultimate Reward points after spending $5,000 or more within the first 3 months of having the card (3 months from your approval date).
You'll earn 1 Ultimate Reward point on every dollar you spend on the card AND 3 Ultimate Reward points on every dollar spend on shipping, advertising purchases made with social media sites and search engines, travel, internet, cable, and phone services.
The annual fee is a manageable $95/year, which you'll easily make up for in the Ultimate Reward points you earn throughout the year.
Ultimate Rewards are a valuable currency to have because Chase offers a number of travel partners that Ultimate Rewards can be directly transferred to for booking travel. These travel partners include: Southwest, United, JetBlue, Virgin Atlantic, Hyatt, Marriott, and Ritz Carlton, just to name a few! Check out this post I wrote explaining all of the advantages to using Chase travel partners to book your next trip!
Check out the Chase Ink Business Preferred card here!
American Express Blue Business Plus
Learn more about the AmEx Blue Business Plus.
Similar to the Chase Ink Business Preferred, the American Express Blue Business Plus earns a transferable point as well – AmEx's version of Ultimate Reward points are called Membership Rewards points. Read more about the card and compare it to other cards HERE!
One of the perks of this card is that you'll earn 2 Membership Rewards points on every dollar spent on the card (up to $50,000 each year). Another perk, there's no annual fee! The no annual fee makes this card a no brainer.
Like Chase, AmEx offers a number of travel partners that Membership Rewards can be directly transferred to for booking travel. These travel partners include Delta, British Airways (used to book American Airlines flights – see this post for details, same logic applies), Hilton, and Marriott, just to name a few. Check out all of the details here!
If you have any questions at all about either card or about other small business credit cards, shoot me an email at [email protected]! I'm happy to chat about what card might be best for you and your business!
Disclaimer: If you click and/or sign up for a credit card through certain links on this site or any of my related social media platforms, I may make a commission from that click through.  The editorial content on this page is not provided by any of the companies mentioned, and has not been reviewed, approved or otherwise endorsed by any of these entities. Opinions expressed here are mine alone.