I've had so much fun sharing my love for cabi through the fall/winter season this year! I've shared several posts on cabi's collection this season: Getting Fall Ready with the cabi Fall Collection!, cabi New Arrivals!, and cabi November New Arrivals! Today I wanted to share my top 10 winter favorites from the collection!
If you're new to cabi, the brand releases several collections throughout the year. Once the collection has run its course, the pieces are no longer available for purchase. This collection is only available to purchase through the end of December. So if you're eyeing a piece, scoop it up before it's gone forever!
The coziest turtleneck for winter! This piece exceeded my expectations when I received it and saw it in person! It's so easy to wear casually with blue denim or distressed denim and flats and just as easy to dress up with statement earrings and heeled booties! For sizing reference, I'm wearing a XS in the sweater.
This piece is my FAVORITE PIECE from the entire collection! Seriously, how fun is it?! You've likely already noticed, but leopard print is a huge trend this season. The moment I saw this piece in the sneak peek cabi did a few months ago, I knew I had to have it! I love the small details on this coat – the rib cuffs are removable if that's not your thing (or if you're wearing the coat to a dressier function) and the fur covered buttons blend seamlessly into the coat. I know I'll be wearing this coat on repeat and will have it in my closet for years to come! For sizing reference, I'm wearing a size XS.
Truth, I own way too many blazers from the recent cabi collection! But I can't help myself, they're all too cute! I have the Python Blazer (seen here, wearing 0) and the Checkmate Jacket (size XS), and I just added the Holiday Blazer to my collection too! It's just too good! I love the subtle holiday vibes with the colors, pattern, and texture of the blazer. It's great for work, cocktail parties, and dinner with friends! And since the holiday vibes are muted, you can wear this blazer through the winter season! For sizing reference, I'm wearing a XS.
How chic is this python blazer?! I LOVE the cut of it. The material is pretty lightweight, perfect to layer over a tank if you live in a warmer climate. It would look great with black straight leg pants for the office too! And super cute with a black mini skirt for date night (styled here)! This is definitely a blazer I'll have on repeat over the next few months! For sizing reference, I'm wearing a size 0.
This is a must-have shirt for winter. I styled it tied at the waist, but it's cute worn with a front tuck or even fully untucked (with super skinny jeans) too! The sleeves have elastic cuff detailing, which I really like as it helps the sleeves stay up if you need to push them up your arm a bit. For sizing reference, I'm wearing a size XS.
How cute and cozy is this sweater?! It has me dreaming of a trip to the mountains. The deep greens and yellows in the stitch work are beautiful. It's essentially a blanket that's appropriate to wear in public! The open front drape and the fringe add even cozier vibes to this piece. For sizing reference, I'm wearing a size XS, but could have sized down to the XXS.
I love the Purr Blouse! It's so versatile! It's perfect for girls' night out, date night, and even the office! And the bright green color even makes it great for holiday parties too! I paired it with jeans, velvet bow-detailed heels, and gold jewelry. This is a look I would easily where out to dinner with Michael and friends! Two other fun features of this blouse are the ruffle, flutter sleeves and the tie back. For sizing reference, I'm wearing a XS. There are more general notes on cabi sizing at the end of the post.
I love the mixed prints on the Snake Charmer Blouse! A mix of snake skin and punchy florals! A couple of other unique features of this blouse are that there's a teeny tiny puff at the shoulder seam, which adds a fun little flare, and the sleeves have a rib knit inset on the under side, which really tailors the sleeves in to make the blouse super flattering! Pair this look with black booties for the winter! For sizing reference, I'm wearing a size XS.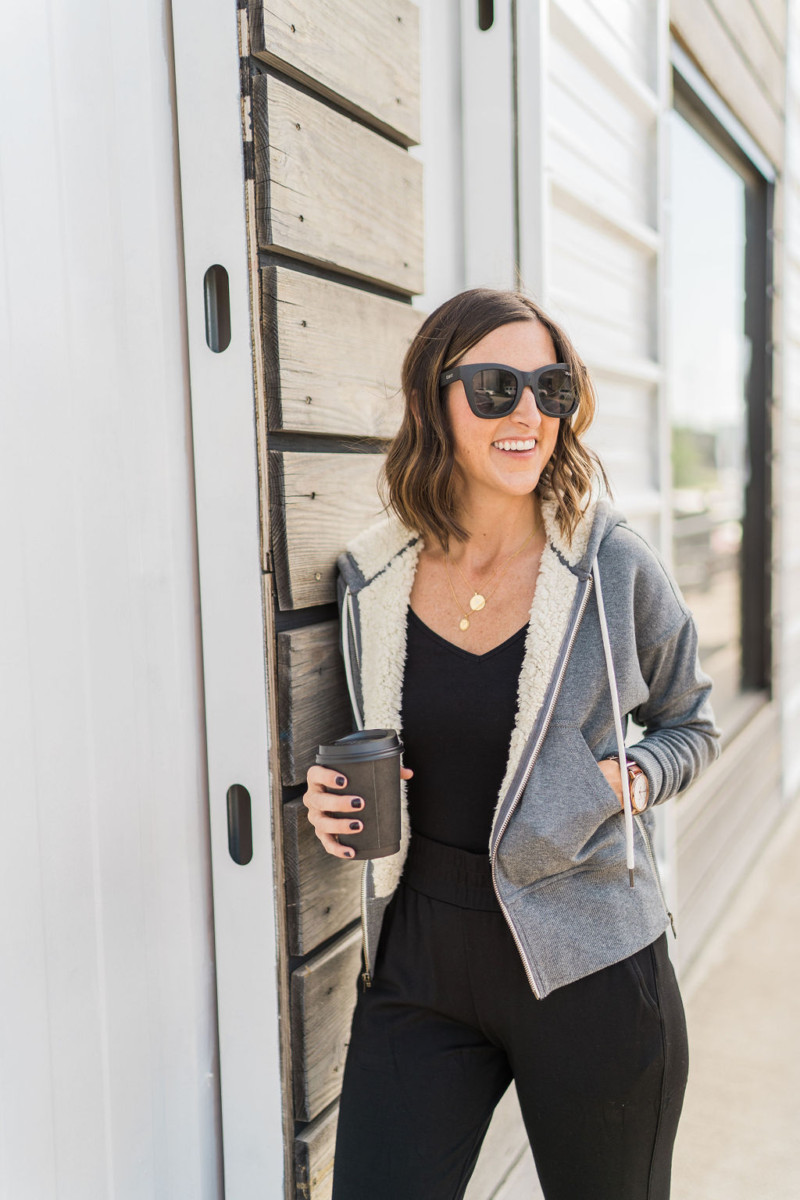 I'm in love with this cozy, cute hoodie! The lining is SO SOFT! I love the zip detailing on the sides and the thumb holes for when it's chilly outside. I love that this hoodie is elevated – it can easily be thrown on to run to the gym and then afterwards to run errands or grab coffee with friends! When I saw it online, I knew I'd love it, but when I received it in person, it completely exceeded my expectations! I paired it with the Pivot Jogger (wearing S), Pivot Racer Tank (wearing XS), and sneakers for a casual look. For sizing reference, I'm wearing a XS.
Shop the full cabi collection HERE!