At this point, I've pretty much switched over all of my beauty, skincare, makeup, and body care products to clean products, free of potentially harmful chemicals. All of my favorites are here. One of the last products I swapped was dry shampoo. I previously used a mixture of Living Proof, Dry Bar, and R+Co dry shampoos. They're all aerosols (spray), none of them are clean. I find that aerosol dry shampoos work better for my hair. However, finding an aerosol (spray) dry shampoo that's clean has proven to be a nearly impossible feat!
I've tried out a handful of clean dry shampoo brands, and I've narrowed in on my 3 favorites, all of which I'm reviewing in today's post! I definitely have my favorites even within these top three.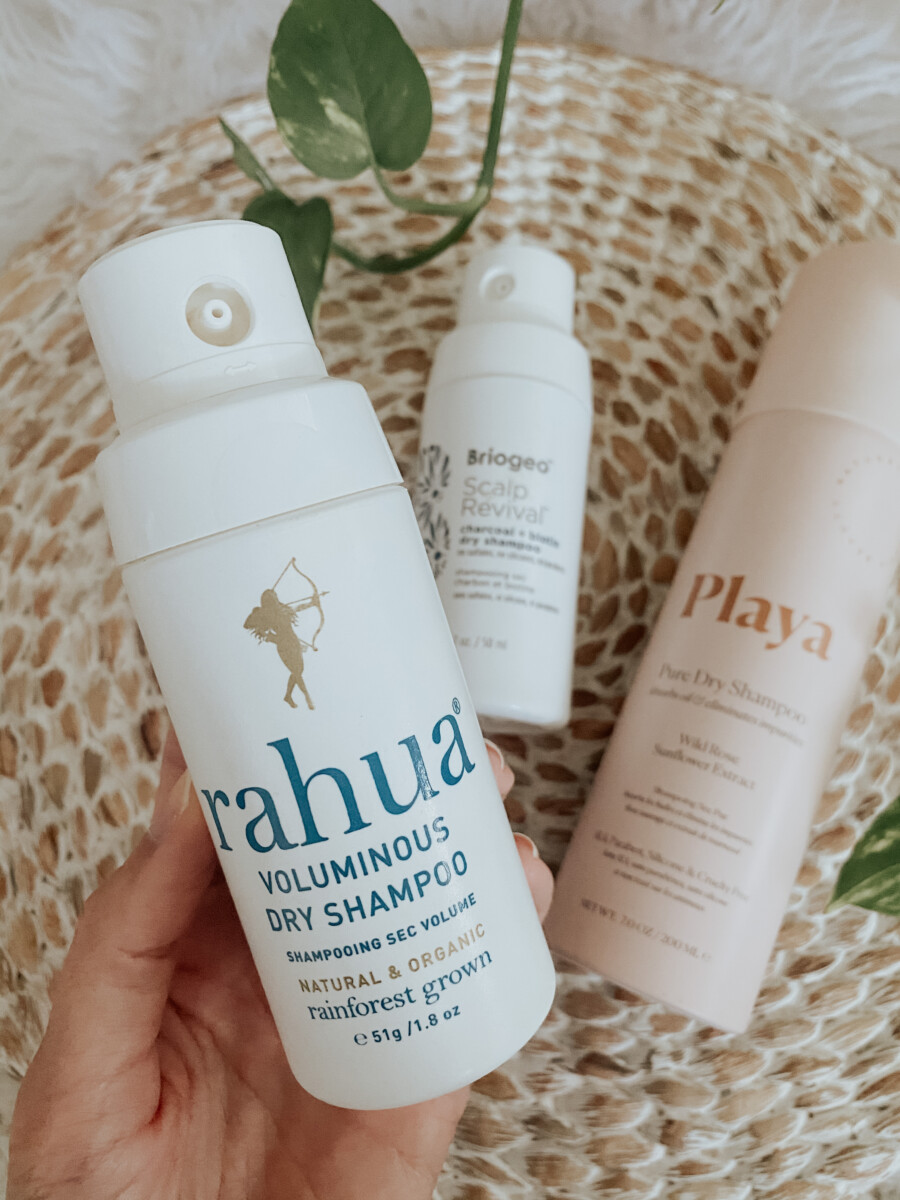 Rahua was the first clean dry shampoo brand that I tried and actually liked. It has the fewest ingredients of all three dry shampoos I'm reviewing today, which is a plus in my book. It's also the only product that is fragrance free.
Fragrance is a big deal because the FDA allows brands to list "fragrance" as an ingredient in personal care products without listing the actual ingredients as brands are allowed to tag "fragrance" ingredients as proprietary information. Many brands use "fragrance" as a way to hide potentially harmful ingredients.
The Rahua dry shampoo is a powder product. To use, you shake and then squeeze the bottle and a poof of powder dispels. It works well to absorb oil and add texture to my hair.
The Rahua dry shampoo is the most expensive product in today's review. For 1.8 ounces, the cost is $32. Although it's a bit pricey, the bottle lasts for a while. I've had mine for several months.
The one con to this product is that it has a strong smell. It's not a particularly bad smell, it's just strong, which isn't my cup of tea.

Briogeo is a new to me clean haircare brand. I've been using their Deep Conditioning Hair Mask for a few weeks, and I'm really loving it. Briogeo's dry shampoo formula is similar to Rahua's although it does have more ingredients than Rahua and it has fragrance listed as one of the ingredients.
Funny enough, even though Briogeo's dry shampoo has fragrance as an ingredient, the smell of the product is much less strong than Rahua's.
The Briogeo product dispenses similarly to the Rahua product. It's a powdery substance that poofs out with a squeeze of the bottle. It works well to absorb oil and add texture to my hair.
The cost of the Briogeo dry shampoo is a little less than Rahua at $24 for 1.7 ounces.

I recently discovered this Playa dry shampoo. I've been using it for a few weeks, and I'm loving it! It's an aerosol (spray)! I definitely prefer this style dry shampoo over the powder. To me, it works better than the powders and it's easier to apply.
This product does have fragrance listed as an ingredient, which I'm not thrilled about, but seeing as it's the first clean spray dry shampoo I've found, I'm willing to let it slide for now.
The Playa dry shampoo tops my list out of all three of the dry shampoos reviewed here today. I love the spray, it absorbs oil in my hair, and adds a nice texture. The smell of the product isn't too overwhelming either. It's also the most cost effective product at only $22 for 7 ounces.
Final Ranking
Bottom line, I'm partial to the aerosol formulation as it just works better for my hair. I'm willing to accept the fragrance ingredient for now in the Playa dry shampoo. My final ranking: 1) Playa, 2) Briogeo, 3) Rahua.
The Briogeo and Rahua formulas are very similar, I simply prefer the smell of the Briogeo product over the Rahua product. The Briogeo product is also less expensive.
I hope this was helpful! As you're switching out your personal care products to clean products, remember that it's a marathon not a sprint. As you run out of products, find a clean replacement! Eventually you'll have a bathroom full of clean and safe products!