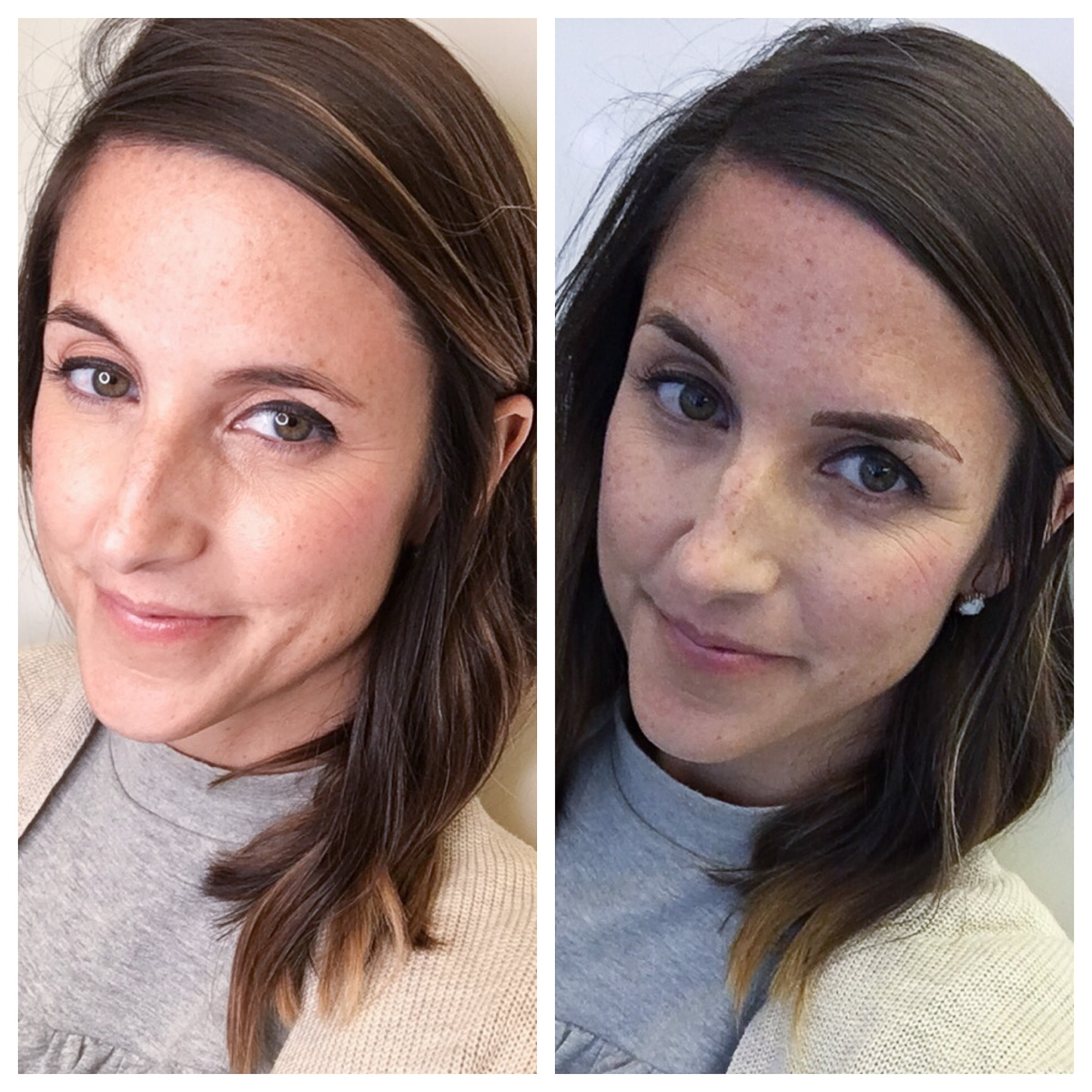 If you follow along with my Instagram Stories, you may have seen where I recently had my eyebrows microbladed. I'd been looking into the procedure for a while. I'm a big eyebrow person and fill mine in daily. I was super interested in microblading because of the results that I'd seen on others and for the simple fact that having it done would save me time while getting ready in the morning (no more filling in!). So when Dollistic, here in D.C., reached out about providing the service, I jumped at the chance. Ok, jumped is a strong word. I did my research first. Everything I read about Dollistic was positive, and I even had a friend that had her brows done by Dollistic so I reached out to her and she had nothing but good things to say. So then I jumped at the chance. 😉
What is Microblading?!
For those of you who aren't familiar, microblading is a type of cosmetic tattooing done by professionals like Cecilia Giovacchini. Microblading is performed with a very fine hand tool that deposits pigment into the skin under and around your brows. The tool makes it easier for the artist to create natural looking hair strokes to enhance the shape and density of the brows. Microblading is a multi-step process, which I wasn't aware of until I got into it. Curious about the process?! Well let's get to it …
The Process
The process actually starts 48 hours before your first appointment. Because the procedure requires puncturing your skin (it's not as bad as it sounds, promise!), there are pre-appointment guidelines you have to abide by. Mainly, no alcohol, caffeine, or advil for 48 hours prior to your appointment time. The worst part of the entire process to me was no caffeine. Yes, no caffeine was WAY worse than the pain of the actual procedure. Dramatic? Maybe. But by day two, I had a SERIOUS caffeine headache. #addict
When you arrive, your love and roots – Aesthetician will walk you through the entire process. Meagan did my brows, and she was amazing. She put me at ease about the whole process.
First, the aesthetician applies numbing cream to your brows. After letting that sit for a while, the outlining/measuring process begins. See a photo of my finished outline below. Next, after the numbing cream has done its job, a few initial strokes are made and more numbing cream is applied. This is the worst part pain-wise, although it's not really that bad. Once this second round of numbing cream is applied, you literally can't feel anything. I legit fell asleep during the initial procedure and during my follow up appointment.
From start to finish, the initial session lasts about three hours. Like I said, it's a process.
When you leave, the process isn't over. There's a healing period. Your aesthetician will provide you with all of the post-procedure care steps, but a few big hitters are that you must avoid direct sunlight and avoid sweating for 10 days after microblading. Both will cause the pigment to fade, discolor, and not take to the skin well.
During the healing process, you have to apply a small amount of Aquaphor ointment 2-3 times a day after washing the brow area. The healing process affects people differently … I had minimal scabbing (really none at all), with some flaking of skin in the brow area.
Your brows are the darkest that they will be right after the microblading procedure. The pigment fades over time, and that's why you have to go back for a touch up session 8-12 weeks after the first session. The touch up session is much shorter and a much easier process overall. It's the same general process, but the aesthetician is just filling in where the pigment has shrunk up or didn't take to the skin. My touch up session lasted about 1.5 hours. The post-care procedures are the same – no direct sunlight, no sweating, and washing/applying Aquaphor daily.
For more information from the pros, check out Dollistic's site for FAQs and tons of details on the pre and post care instructions.
The Results
I love the results and would recommend the procedure to anyone looking to enhance the shape and density of their eyebrows! It's so nice waking up with them already done. After the initial procedure and the touch up session, you're all set. Dollistic recommends coming in once a year for a touch session as needed.
Any questions?! Feel free to email me at [email protected]!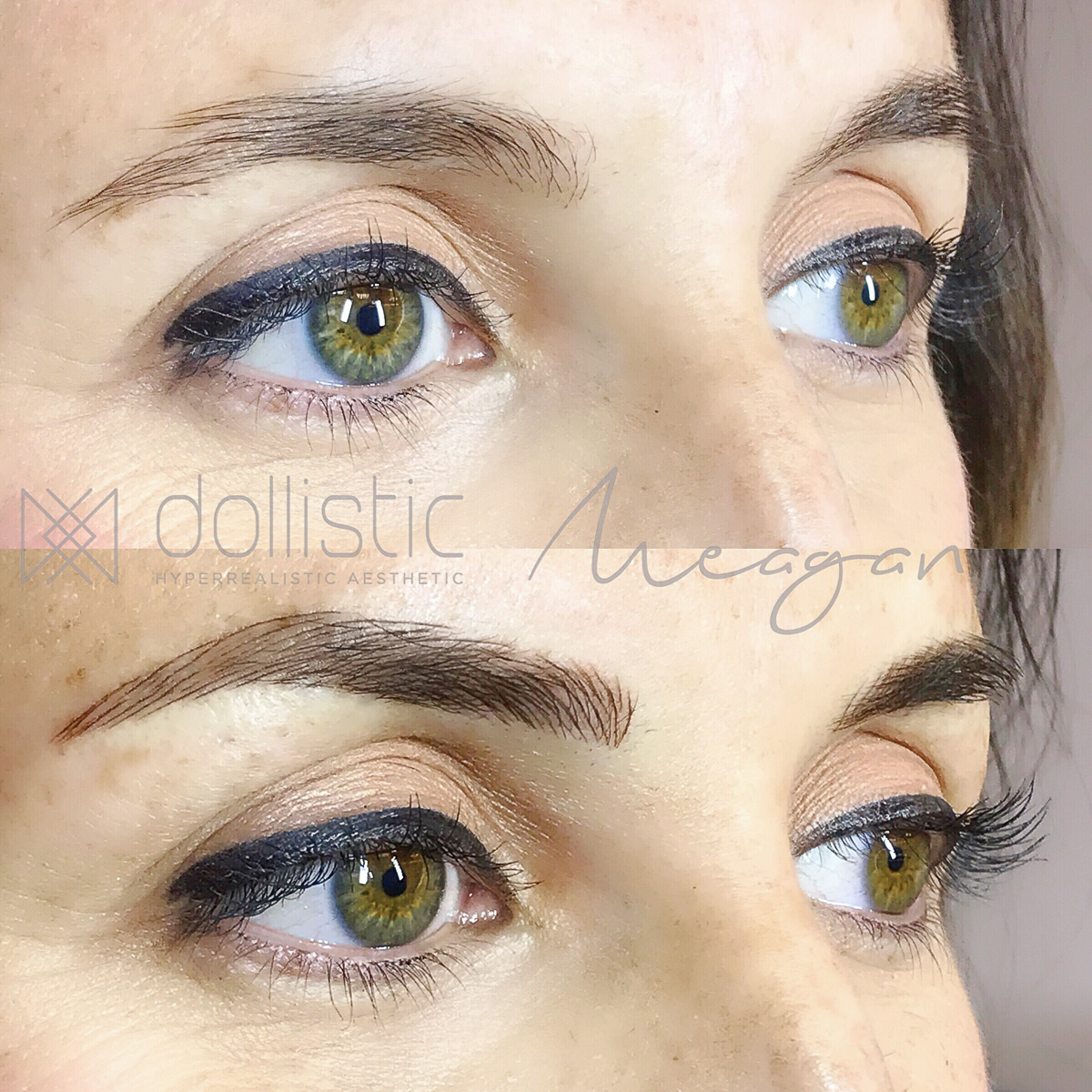 Thanks to Dollistic for providing the microblading services free of charge. Although they did provide the complimentary services, they did not sponsor this post. As always, all thoughts are my own.