The highlight of my trip to Arizona a couple of months ago was my hot air balloon ride with Hot Air Expeditions in Phoenix! I spent Thursday through Sunday exploring Mesa and Phoenix. The trip culminated with an early wake-up call on Sunday morning for the most exciting day of the whole trip!
I traveled to Arizona as part of a media trip with Visit Mesa and Visit Phoenix. With that said, I had an itinerary of our trip weeks in advance. I knew the hot air balloon excursion was part of our trip, and I was super hesitant about it. I'm not good with heights and I get quite claustrophobic at times. I also knew this was a once in a lifetime opportunity that I couldn't pass up.
A few days before the ride was scheduled, I looked up every review and article I could on hot air balloon rides in Arizona. I even messaged Natalie and Meg who I knew had both done similar hot air balloon rides in the past. I decided to go ahead with the ride as I didn't want to miss out on the experience.
Hot Air Balloon Ride with Hot Air Expeditions
We had a super early wake-up call as it's quite the process to actually get out to where the balloons take off from, and the rides are scheduled so that you catch the sunrise. I was staying at The Phoenician and a shuttle from Hot Air Expeditions picked me up (along with a few others in our group) around 5:00AM. We picked up a few more folks along the way and made our way out to the takeoff spot. All in all, it was about an hour drive.
One recommendation – Don't drink coffee or a lot of water prior to the ride. Our driver made a pitstop for a bathroom break on our way to the takeoff spot, but other than that, there's no bathroom availability for about 2-3 hours.
It was pretty chilly (and wet) the morning of our ride. I had a big coat on that's not pictured in the photos and wore it the entire morning including on the ride. We arrived in time to see the balloons being blown up, and it was an amazing site to see! Seeing how massive and colorful the balloons are was really breathtaking. We hurriedly snapped photos as they were inflating. That helped to take my mind off the fact that I was about to soar thousands of feet into the air in a basket …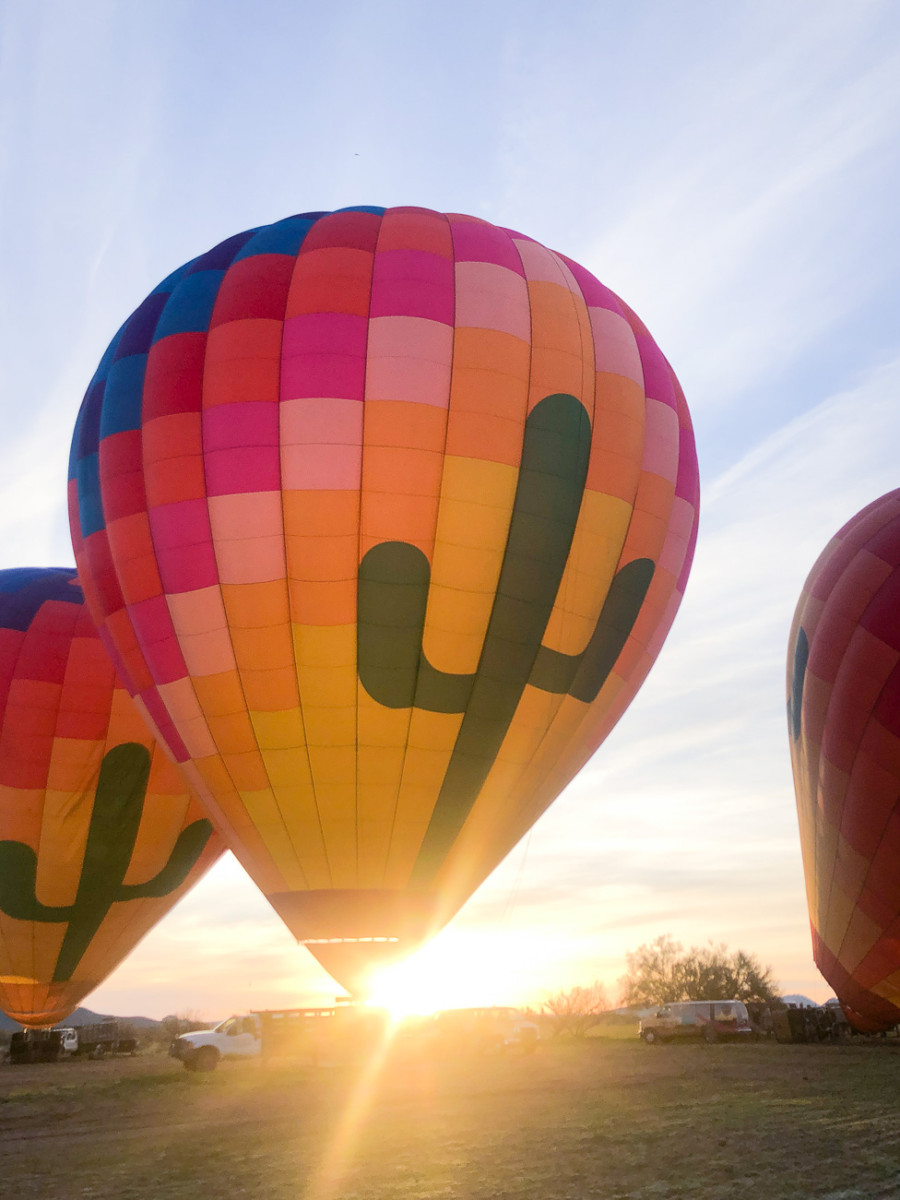 The Hot Air Balloon Ride
Once the balloons were inflated (there were several different balloons going up that morning), we were waved over to our basket. The basket was much larger than I expected. It's partitioned into 8 sections plus one large section in the middle for the captain. There were 14-16 people in our basket (I can't remember exactly). When I got in, I was terrified, but I knew there was no turning back. When we began to lift off of the ground, I turned inward to face the other folks in the basket, latched onto the basket, and closed my eyes. I'm pretty sure I blacked out and didn't open my eyes until about 5 minutes into the ride.
I definitely had to talk myself into opening my eyes to take in the views. It's a little unnerving as there's literally the bottom of a wicker/wooden basket between you and 3,000 feet of air … No buckles and no straps to hold you in, just one captain and hot air.
Once I talked myself into opening my eyes, the views were like nothing I'd ever seen before. It's hard to put into words how incredible it was to look out over the landscape at the other hot air balloons scattered in the sky with the mountains as the backdrop. Don't get me wrong, I still had a death grip on the basket and didn't dare look straight down, but I was able to take in the gorgeous views and feel the wind against my face without freaking out too much.
The ride is about an hour long. We went up and down and floated along with the wind. The captain was outstanding and chatted with us and answered all of our questions throughout the entire ride. I made him repeat numerous times how high we were in the air for my Instagram Stories video (watch the video in my Arizona highlight!).
The views were incredible and it really was a wild experience. One I'd recommend to anyone! I had the best experience with Hot Air Expeditions and highly recommend riding with them when you're in the Phoenix area.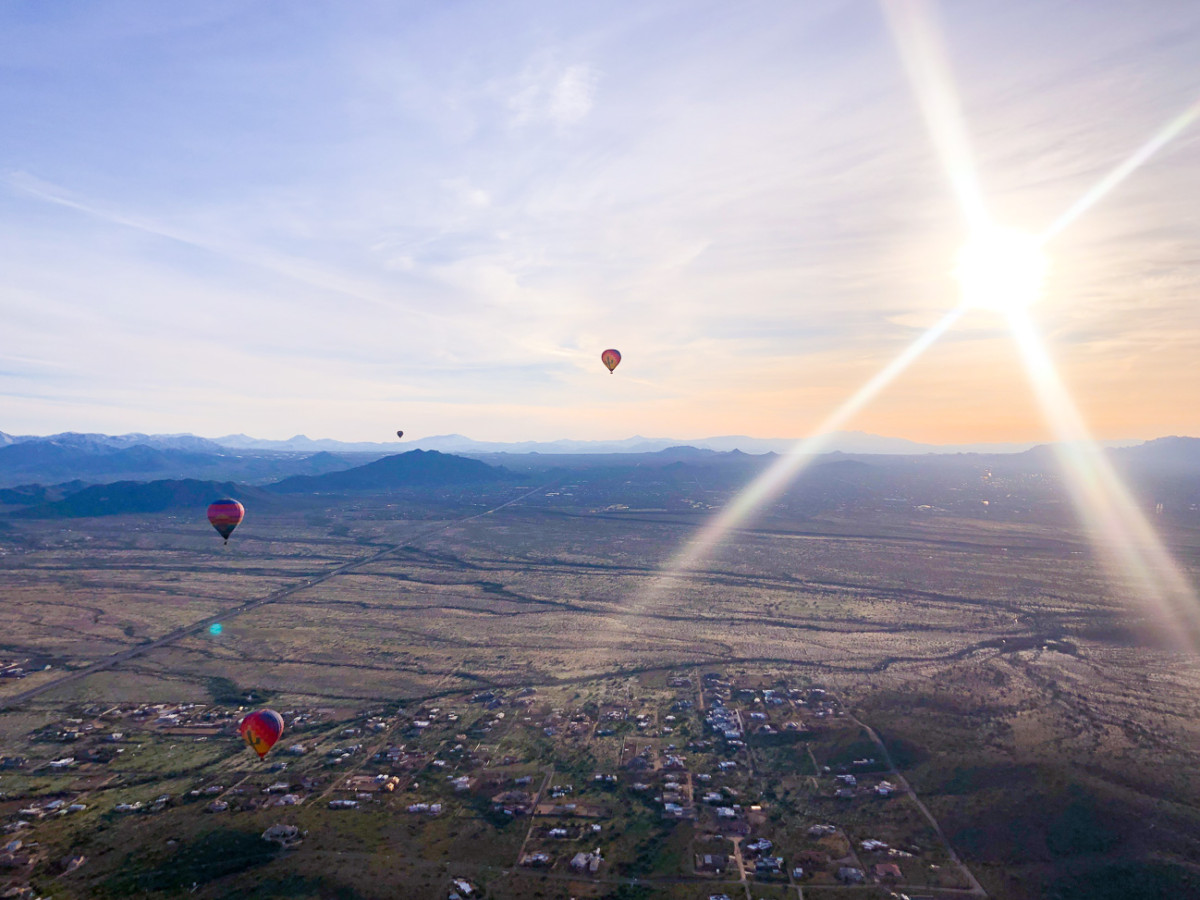 I also captured our landing on video and included it in my Stories. It was a bit bumpy, but not bad, and somewhat exciting and exhilarating! After landing safely back on solid ground, the Hot Air Expeditions team set up a wonderful breakfast for us to enjoy while watching all of the other balloons land.
While I was obviously apprehensive about the hot air balloon ride, it was so worth it and such an incredible, unforgettable experience! I'm so glad I decided to go for it!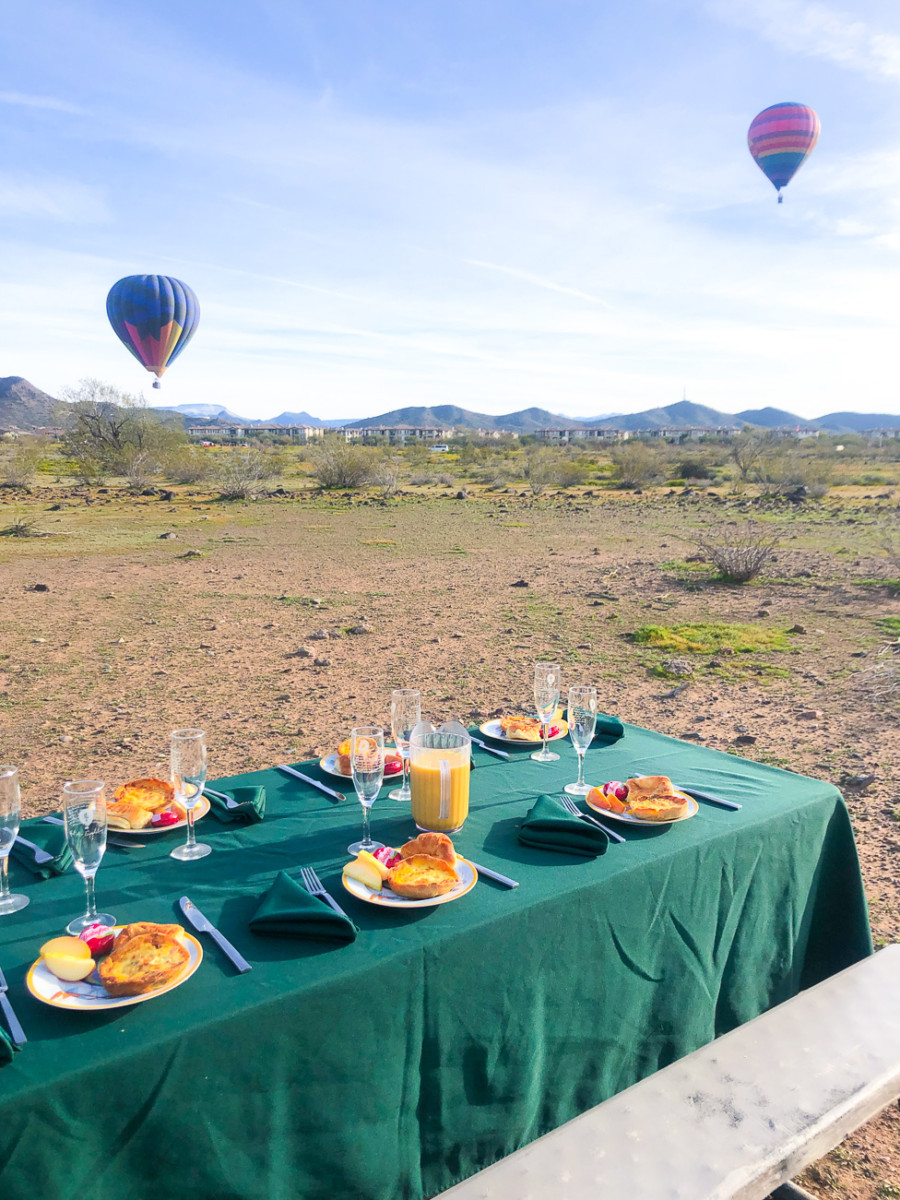 See my other posts from Arizona here:
Thank you to Visit Phoenix, Visit Mesa, and Hot Air Expeditions for hosting me!