I'm so excited to share my first post from my Arizona trip with you! If you missed it, I traveled to Arizona in February for a long weekend to explore Phoenix, Mesa, and a few other surrounding towns. Visit Mesa and Visit Phoenix graciously hosted me and a group of other travel writers for the trip.
The flight to Phoenix from DC was an easy direct flight from BWI. You may be wondering why I'm wearing a turtleneck sweater and jeans in Arizona … Usually, February is a GREAT time to visit Arizona as it's normally warm and dry and a great escape from the wintertime temps freezing out the rest of the country. My trip happened to coincide with a "once-in-30-years" cold front. There was even snow in the mountains right outside of Phoenix!
Despite the cold, I had a great time exploring the city. Upon arrival to Phoenix, I headed downtown to check out a few of the amazing murals and grab lunch at The Churchill.
Murals in Phoenix
The number of murals in Phoenix is mind blowing! Our group bounced around to a few of the colorful murals including the balloon mural (pictured below) by Kelsey Montague that was hidden in the mall (our driver tipped us off to this find). Kelsey has a few murals in the Phoenix area and murals in different cities throughout the world. You can check out a map of all of her murals here!
There's an entire website devoted to the murals in Phoenix too! You can check out this site and this map to make sure you don't miss any on your next trip to PHX!
The Churchill
While you're bouncing around to all of the murals, be sure to pop in The Churchill for lunch, an afternoon snack, or a happy hour cocktail (really, they have it all!). The Churchill is such a cool space and concept! It's home to ten small local businesses with a mix of established shops and start-ups. All of the businesses residing at The Churchill focus their efforts on collaboration over competition, finding ways to benefit each other.
We sampled eats and drinks from a few of the local spots, including pizza, tacos, açai bowls, coffee, and beer. Everything was delicious! Another perk of The Churchill is that it's open air. It's covered in case there's a rain shower that blows through and to protect you from the Arizona sunshine. It was nice even in the cold when we visited since they have heaters installed around the community seating area to keep everyone warm!
Have you visited the murals in Phoenix?! If so, let me know which ones were your favorite in the comments below!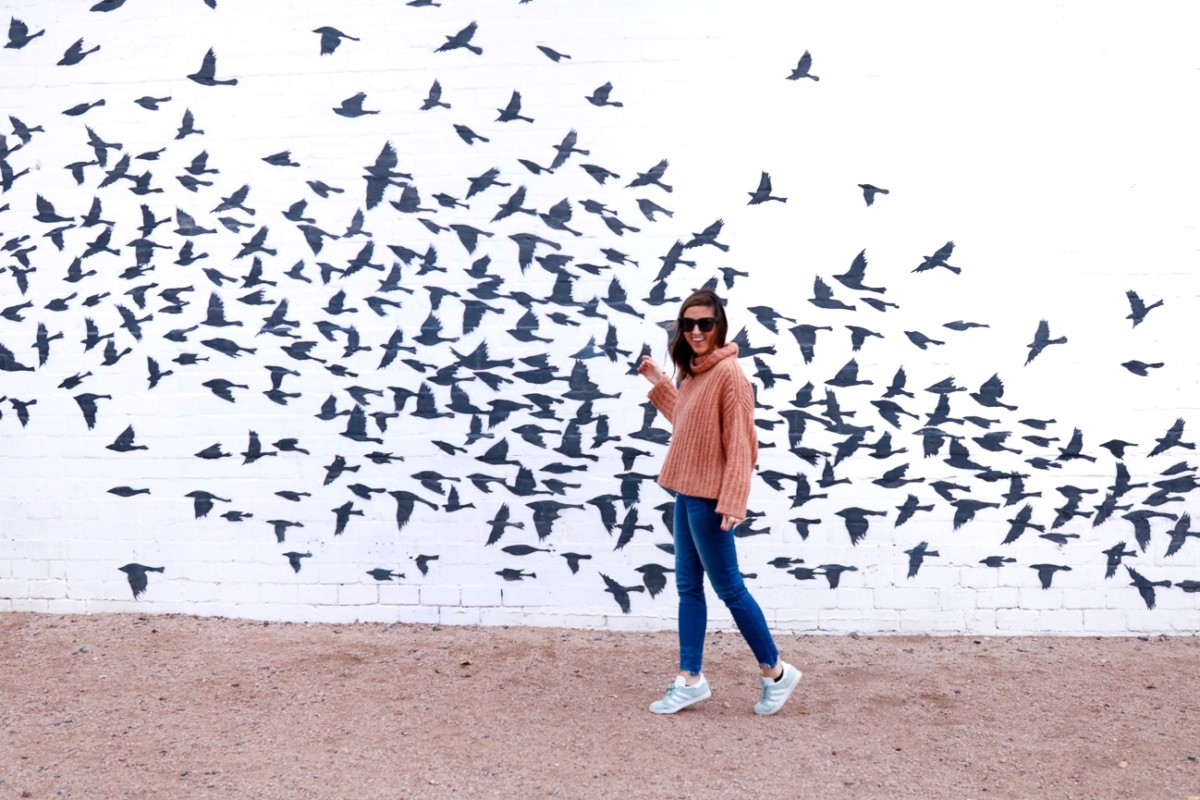 See my other posts from Arizona here:
Thank you to Visit Phoenix and Visit Mesa for hosting me!