Portland, Oregon has been on my travel list for quite sometime, and this past weekend, I finally checked it off!  Michael and I both loved our trip to Seattle and ever since then, we've been itching to get back to the Pacific Northwest.  We had a great time visiting the city!  I highly recommend checking it out!
I used Liz Adams' (really, her assistant's) Weekend Guide to Portland to help with the initial planning and then ran everything by a friend from my hometown that actually lives in Portland.  Whenever possible, I love getting a local's input on where to eat and what to do while visiting!
Getting There

If you're flying from the east coast, I highly recommend taking the earliest flight out to head west.  Michael and I took a 6AM flight out of DCA and with the time change, we arrived in Portland by 11AM.  We flew Southwest through Chicago.  We essentially had almost the entire day in Portland!
Of note, we flew through Kansas City on our way home.  It was my first time visiting MCI airport, and to be honest, I'll likely try my best to avoid ever flying through there again.  The MCI airport has a crazy weird security system where you're basically trapped in a narrow hall where all of the gates are located.  There aren't that many food options, unless you leave security and then have to go back through it again to arrive back at your gate.  It was crowded and hot and loud.  Not my idea of a place I like to travel through.
I don't usually talk about food at airports because generally it's pretty bad, but the Portland airport is spectacular!  It's a great size airport, big but not too big, super clean, and there are lots of great local spots to grab a quick bite to eat.  We grabbed Stumptown Coffee and bagels from Kenny & Zuke's.
Where to Stay 
We actually stayed at two different hotels in Portland, both are located downtown.  While I'm sure there are great Airbnb options in Portland (the neighborhoods are really cute there!), we opted to stay downtown at hotels because of Michael's hotel status and because we had a free SPG anniversary night to burn.  We stayed at The Nines for our first night in Portland.  The Nines is a super chic, contemporary hotel located right in the middle of everything.  If you're looking to splurge or if you just prefer nicer hotels, this one doesn't disappoint.  Everything about this place was superb.  The rooms were cool, the bed was super comfy, and the staff was incredible friendly.
After one night at The Nines, we moved to AC Hotel.  AC Hotel is also located downtown, just two blocks from The Nines.  AC Hotel was nice, but nothing to write home about.  If you're looking for a standard hotel room for your stay, this one is perfectly fine.  It's in a great location.  All of downtown is walkable and most everywhere else we visited was a quick Uber ride away.
What to Do 
There's so much to do in and around Portland!  On Thursday, after grabbing lunch, we meandered around downtown where there are lots of cool, eclectic shops mixed in with big box retailers.  I recommend walking around SW Stark and 12th.  My friend who lives in Portland recommended these shops, and they were all really unique and worth popping in: Frances May, Woonwinkle, Canoe, Alder & Co., and Backtalk.
While you're exploring downtown, you MUST stop in Powell's Books, which is said to be the world's largest independent bookstore.  I believe it!  We used a map to navigate the all of the different rooms!  We spent the afternoon at a brewery (more on that below) before heading back to our hotel to freshen up for dinner.
Another shop worth popping in is Made You Look.  My friend from home who now lives in Portland owns this adorable, quirky children's shop.  It's so cute!

On Friday we planned to spend most of the day visiting Willamette Valley to do a little vineyard hopping.  If you're not familiar, Willamette Valley is about an hour outside of Portland, and it's known for producing the best Oregon pinot noir!  Michael and I are both big pinot noir fans so we were really looking forward to visiting the wineries!
We popped in Whole Foods downtown (an easy walk from both The Nines and AC Hotel) and grabbed a spread of snacks including meats, cheeses, fruit, salsa, chips, and a sandwich to bring with us for the day.  I had read that most of the vineyards don't have full kitchens.  This seemed to be true.  I highly recommend bringing a picnic style lunch along if you're going for the day.
I looked up driving services before we left for our trip, but they all seemed really expensive – around $85/hour.  If you're traveling with a bigger group, perhaps splitting the cost wouldn't be too terrible.  We actually ended up Uber-ing to/from Willamette Valley from Portland.  And we also used Uber to go in between vineyards.  I was a little nervous about calling an Uber in Portland to drive us an hour to the vineyards, but after hopping in our car, it seemed like this is pretty standard around the area.  Same for when we caught a ride back into the city.  Our Uber driver said it was pretty common for folks to grab Uber/Lyft to/from the vineyards.  It ended up being around $60 each way for our rides.  Not bad!
We visited Sokol Blosser, which I highly recommend.  We had a great time in their tasting room, and the views are incredible!  After our tasting, we grabbed a class of our favorite red wine and enjoyed our picnic on tables out near the vineyards.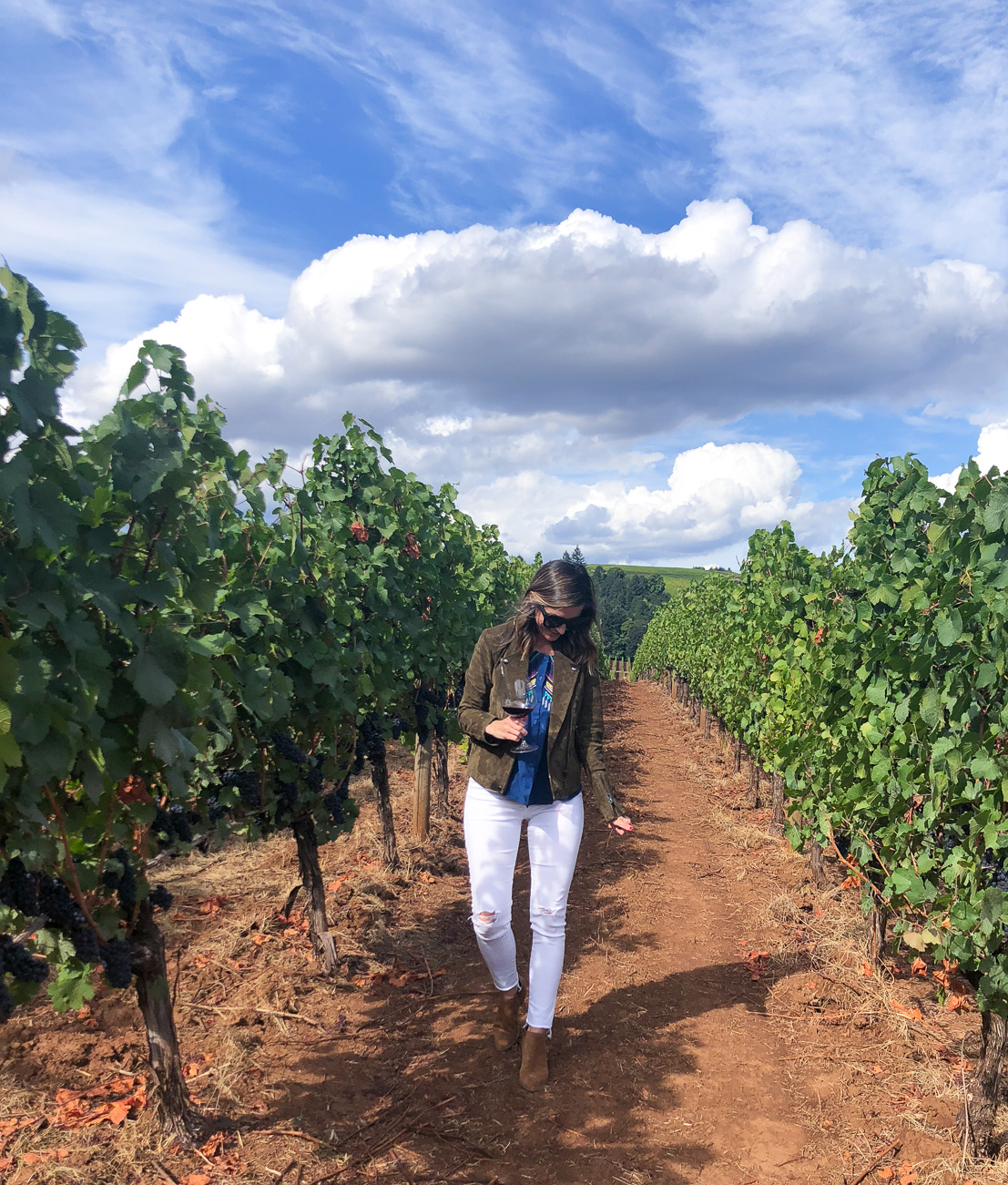 We also visited White Rose Estate, which I actually wouldn't recommend.  The views are incredible, the tasting room is unique, and the wines were great.  However, the tasting room is in a window-less cabin.  I kind of felt like I was in a casino and had no idea what time it was while we were tasting.  It's dark and small.  There are also only three wines on their tasting menu, and they don't offer wine by the glass.  Another drawback was that all of their wines are on the higher price end.
We had such a long list of recommended vineyards, I wish we would have picked another one on our list.  But that just means we'll have to make another trip!  A few other spots that were on our list: Domaine Drouhin, Penner-Ash, Argyle, and Stoller.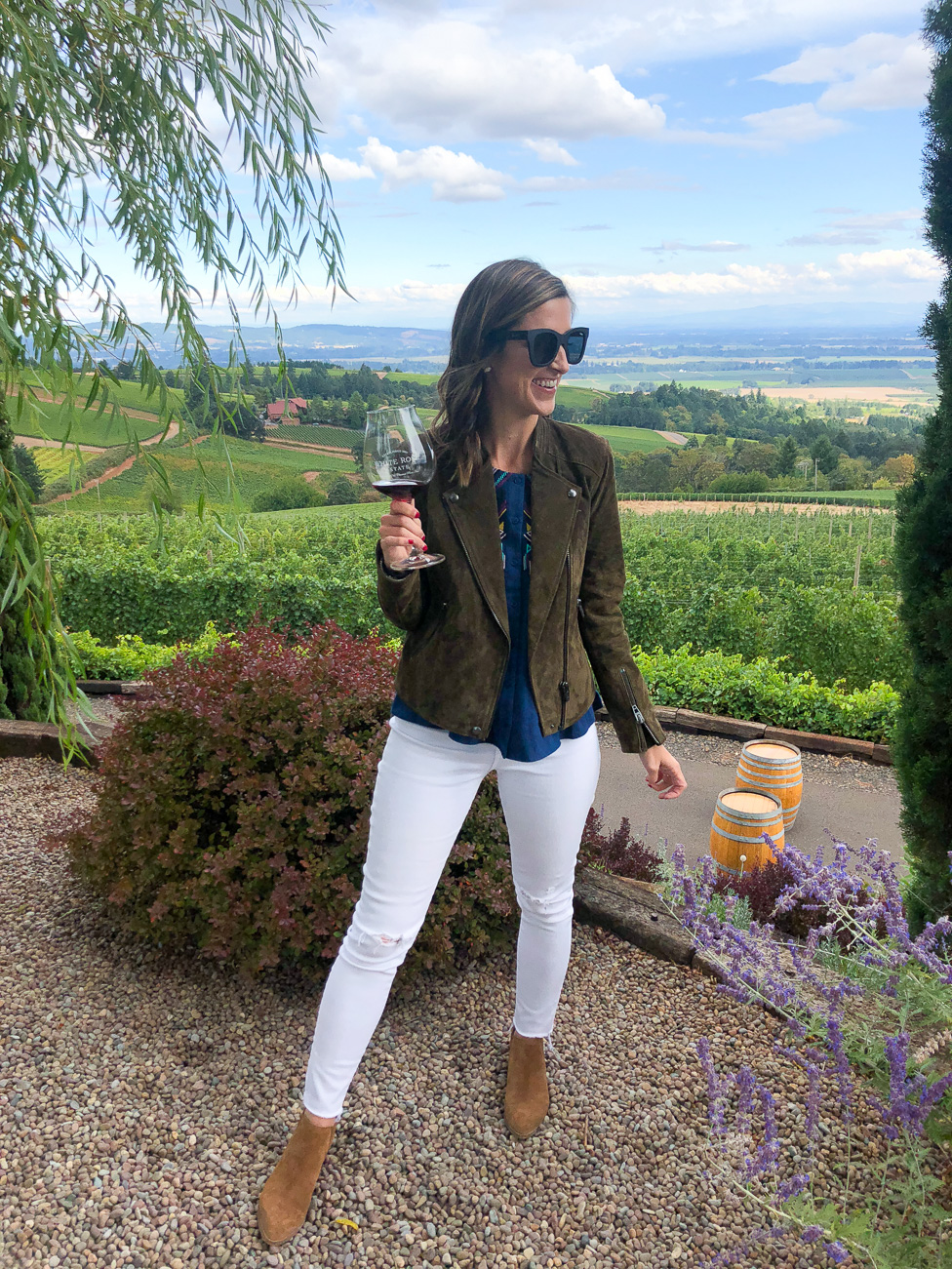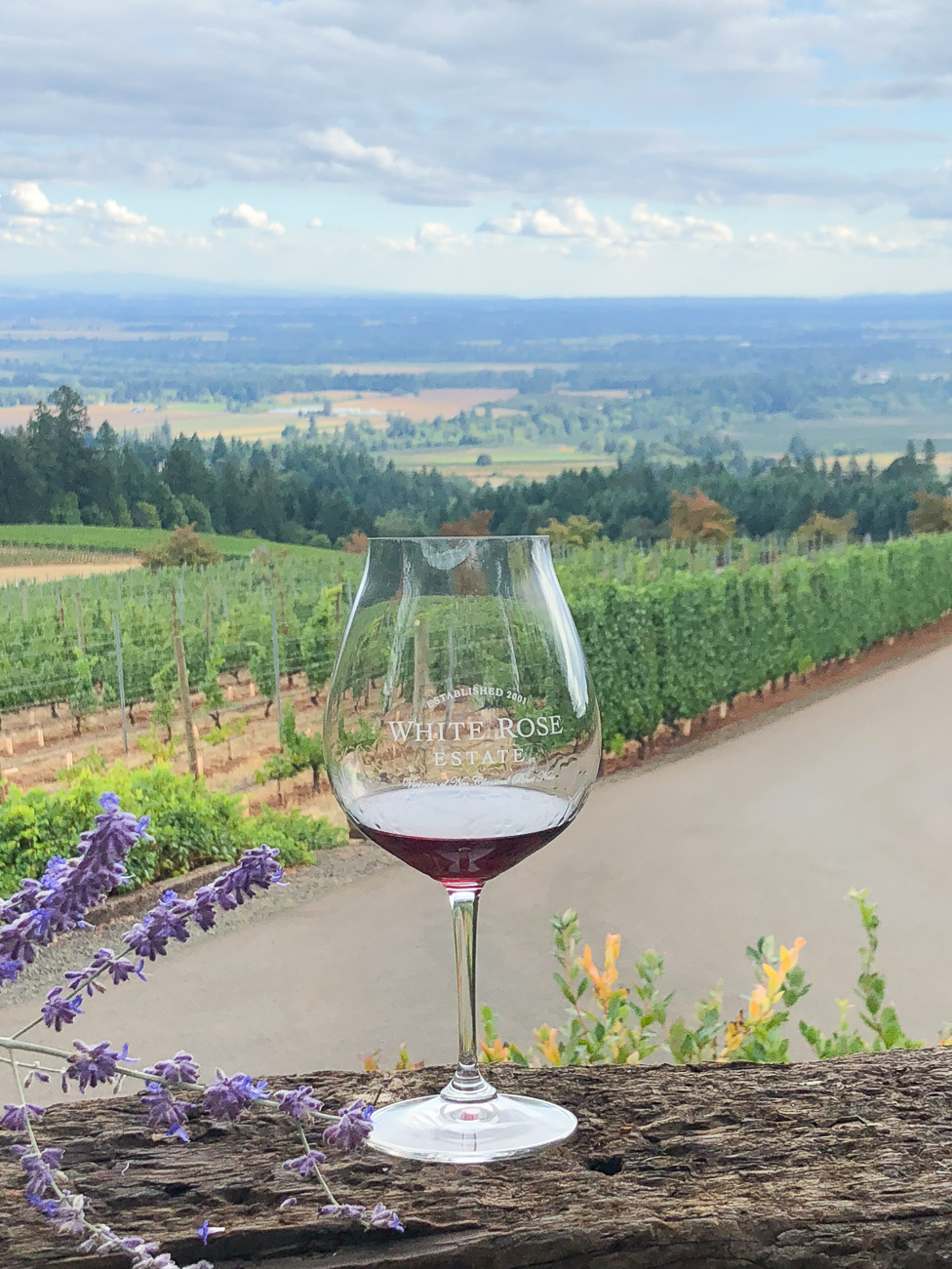 On Saturday morning we woke up and headed straight to Washington Park to do a little hiking.  It was beautiful!  And only a 10 minute Uber ride from downtown.  I highly recommend checking out this park.  This is the route we took: We took Wildwood Trail, which you can pick up at Lower McLeay (google maps from AC Hotel) and take all the way up to Pittock Mansion) (~ 2.0 mile hike).  It was a great way to start the day!  We rewarded ourselves with Blue Star Donuts afterwards!

We spent the rest of the day bar hopping to watch the LSU and Ole Miss games.  Friends of ours from DC who recently moved to Seattle came down for the day to join us.  It was pretty low key, but fun to check out some of the local beer spots in town!
Where to Eat 
Michael and I both agree that Portland is one of the best food cities we've visited.  Every meal we had was outstanding!
Coffee //
Heart: We popped in Heart after lunch on our first day in town.  It's a great coffee shop.  The space is inviting and the coffee was delicious.
Stumptown Coffee: If you're a coffee drinker, you've likely heard of or seen Stumptown Coffee.  Its coffee is in coffee shops around the country.  However, it was born in Portland!  We stopped by the location adjoined to the ACE Hotel downtown.  It's a cool spot, and you can't beat the coffee!
Blue Star Donuts: Portland is known for its donuts.  Blue Star and Voodoo are the two big spots.  We opted to try out Blue Star, and it didn't disappoint!
Breakfast/Brunch // 
Michael and I aren't big on sit-down breakfast spots or brunch, but here are a few spots that people kept recommending: Proud Mary, Sweedeedee, and Milk Glass Market.
Lunch // 
Shalom Y'all: Make a point to go here!  The cucumber, tomato, and onion Chop Salad is to die for and the hummus and fresh pita are out of this world.  The falafel sandwich was also outstanding.  I really liked the atmosphere too.  This could even be a great dinner spot, although the actual space is pretty small so it might get crowded around dinnertime, but it's definitely worth the wait!
Breakside Brewery: We ended up eating lunch at Breakside Brewery on Saturday while watching football games.  For a brewery, the food was pretty good!  I snagged a steak salad and curly fries.  Perfect football watching lunch!
Kenny & Zuke's: We didn't eat at the actual restaurant (we snagged bagels at the airport), but it came highly recommended!  And based on their bagels, I'm sure their lunch wouldn't disappoint!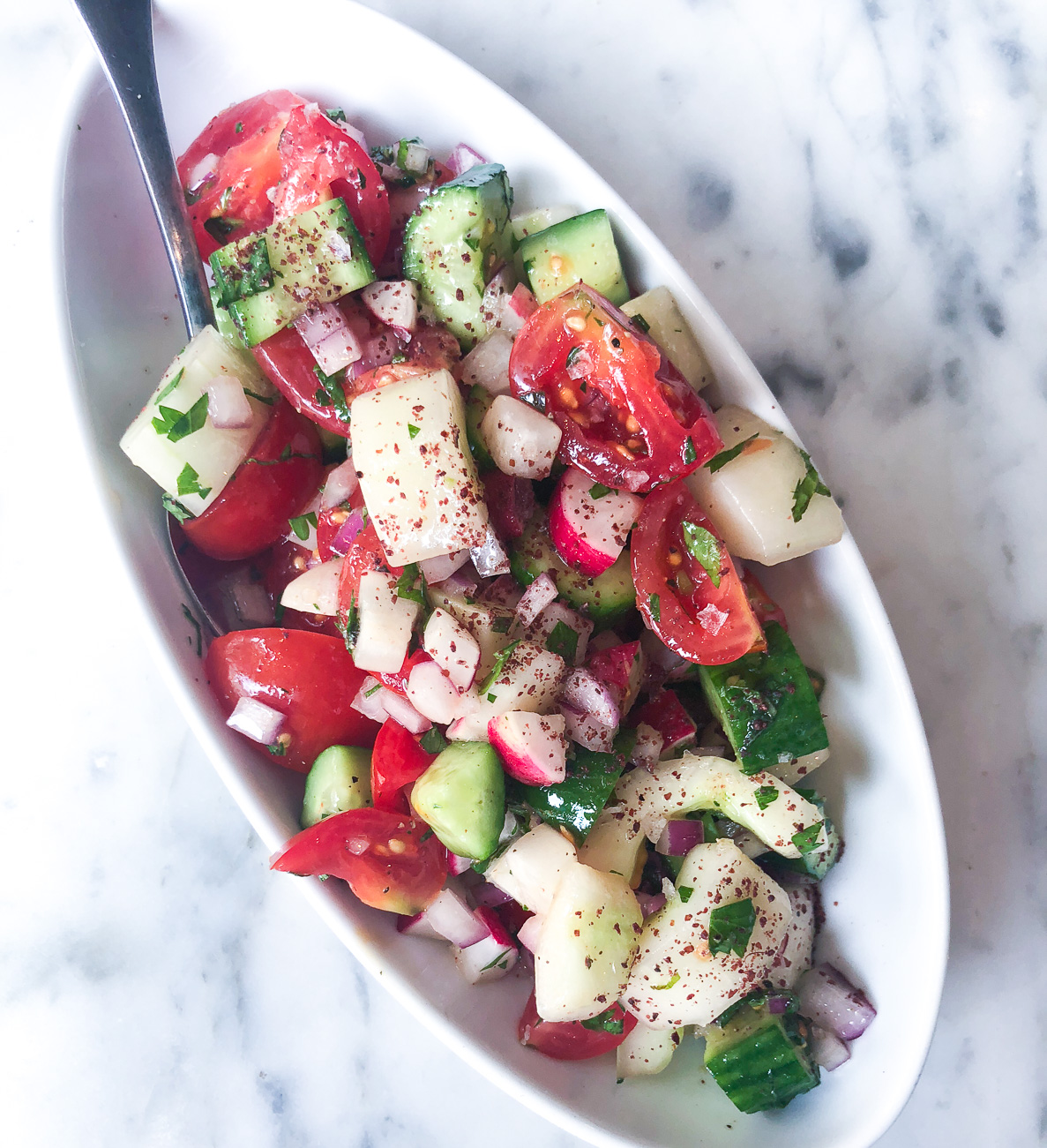 Dinner // 
Ken's Artisan Pizza: If you're looking for a low key spot with delicious pizza, check out Ken's!  We were exhausted by the time dinner rolled around on our first night in Portland because of the time change.  Ken's was the perfect spot to roll in, have a delicious meal, and head home.  The space is really cool, and the wine list looked outstanding!
Pok Pok: You MUST go here if you visit Portland!  Pok Pok is a funky little Thai food spot on Division Street, which in and of itself is worth walking down.  The food was out of this world good.  The service was awesome, and the drinks were delicious.
Tusk: Another must visit!  Tusk serves Middle Eastern food, wines, and crazy good cocktails.  The space is really cool, and it's located on another happening street, Burnside.
Breweries // 
Great Notion: Great Notion was our favorite brewery.  If you like fruity beers and sours, this is your spot!  They have a great outdoor space where we enjoyed a flight of beers and then indulged in a our favorite on the menu, I Love it When you Call Me Big Papaya.  The name is amazing and the beer tasted even better!
Breakside Brewery: Breakside is great if you're a fan of IPAs.  Again, it has a great outdoor patio, and the indoor space is large and has several TVs if you're looking to watch sports.
A few others that were high on our list: Ecliptic Brewing, Culmination Brewing, Cascade Brewing, and Modern Times Brewing.
Dessert //
Salt & Straw: If you're an ice cream person, you have to hit up Salt & Straw.  There are a couple of locations around the city.  If you visit Pok Pok for dinner, which you must, there's a Salt & Straw right down the street.  They serve unique ice cream flavors and the waffle cones are to die for!  Expect a long line, it moves fast.
How to Get Wine Back Home
I shared this tip in my Napa Valley post, but in case you missed it …DO NOT HAVE YOUR WINE SHIPPED TO YOU!  I repeat, DO NOT.  It will cost you an arm and a leg.  Also, DO NOT pack the bottles in your suitcase.  Spare the chance of pinot noir ruining your favorite dress.
We picked up a few bottles of pinot noir while we were vineyard hopping.  We used the trick we learned in Napa and asked our first vineyard host if they offered any packing boxes for purchase.  They did (and our server actually didn't even charge us for the box).  You have to ask for the box, they won't offer it up.
Then, all you have to do is pack all of your wine up in the box, take it to the airport with you, and bring it to the check-in counter of the airline that you're flying.  Don't tape it up, the airline counter attendant will handle it.  We were flying Southwest, so Michael brought our box full of wine to the check-in counter and explained that he wanted to check the box and that it was fragile material.  The counter agent taped the box up and labeled it with FRAGILE written all over and off it went!
Apparently when luggage is labeled as fragile, it's placed in the compartment with the animals and strollers, not in the giant compartment with all the other luggage.  Our wine arrived unscathed!  And since we were flying Southwest, which offers two free checked bags, our wine flew for free!  Even if you're flying on an airline that charges for shipped bags, the cost will still be cheaper than having each vineyard ship your wine to you.
Have you been to Portland?!  Any other recommendations you'd like to share?! Leave a comment below!