This post may contain affiliate links.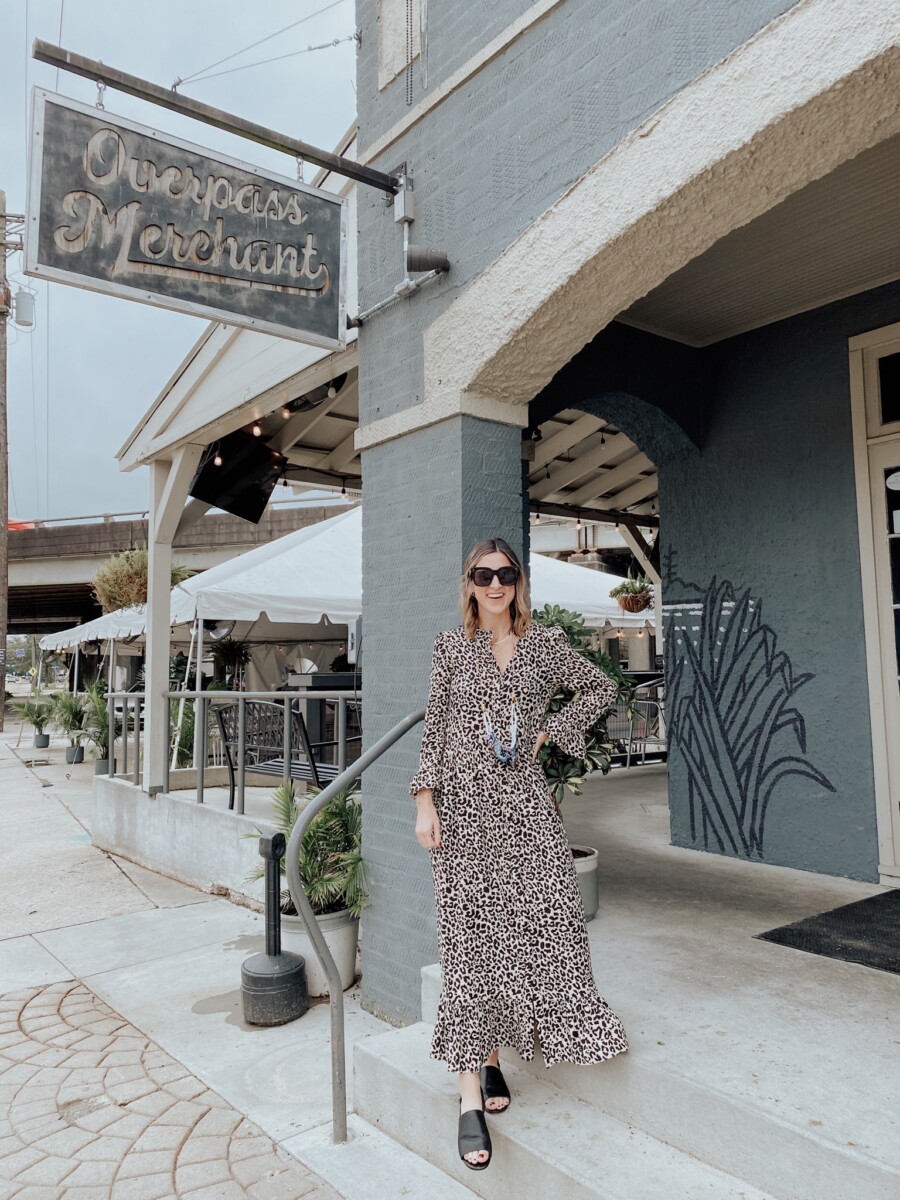 Amazon Sunglasses | Leopard Dress (wearing a 2) | Madewell Sandals (TTS) | Mask Chain | Mask | Gorjana Necklaces Here & Here

Happy Friday from Baton Rouge! This post was supposed to be coming to you from the beach, but unfortunately because of hurricane Sally, we had to cancel our trip. So instead, Michael and I drove to Baton Rouge for the weekend to stay at his parents house. It's SEC kickoff weekend and LSU actually has a home game tomorrow. We'll be watching from home, but it's nice to be here and get a little bit of the "feel" of a game day during this weird season.
This Week's Blog Posts
3 Ways to Style the cabi Autumn Dress // The most versatile piece I've added to my closet this fall! A two-in-one dress that can be styled SO MANY different ways!
The Best Trader Joe's Fall Items! // You know fall is in full swing when TJ's brings out all the fall goodies! I'm excited for another loaf of pumpkin bread this weekend (yes, I brought a box of the mix to Baton Rouge)!
Another Surprise! We're Having a … Boy or Girl?! // Making things feel real, real over here! I shared the gender of our baby this week! Plus how we were able to find out pretty early, how we found out, and how we shared the news with our families.
Weekly Workouts
This week's workouts …
Still loving the Peloton app! Michael and I did a 30-minute strength training class on Monday, Tuesday, Wednesday, and Thursday. Peloton offers a 30-day free trial of the app. After the free trial, the app membership is only $12.99/month.
A little more about the Peloton app … it offers a variety of recorded and live classes, including strength training, yoga, meditation, outdoor running, walking, running, stretching, cycling, and bootcamp classes – AND they just added barre classes last week! You don't need the bike to sign up for the app. Highly recommend checking it out!
Today (Friday), we're going to go on a long walk around the lakes on LSU's campus. I haven't walked the lakes in ages. In fact, I think the last time I was over that way, I was running them in the Baton Rouge Marathon with my sister a few+ years ago!
Cobalt Household Favorites + Discount Codes
Beautycounter // SPECIAL PROMO! Get 10% OFF your first order with code CHANGEBEAUTY10 + I'm adding on a special bonus … for any new Beautycounter clients that place their order with me as their consultant before the end of the month – by September 30, 2020 – I'll send you a free ice roller for your face! I love mine! It's great for de-puffing and feels like a treat in the morning. A few of my FAVORITE Beautycounter skincare products: All Bright C Serum (vitamin C serum), Brightening Facial Oil, and Charcoal Facial Mask.
Grayson // My favorite button ups! Get $25 OFF your purchase with code ASHLEEHIGHTOWER. I have several styles of their button ups, but my latest favorite is this dark navy and white buffalo check liquid flannel! The liquid flannel is a new line, and it's essentially a super soft, lightweight flannel. Perfect for fall! And will be a great layering piece during the winter. Seen wearing here.
SoSis // Get 15% off your purchase with code OURGIRL – One of my favorite local, women-owned Louisiana boutiques!
Nécessaire // I've been trying out the Body Essentials Kit (the Body Wash, Body Lotion, Body Exfoliator). Nécessaire is a clean brand that I've seen hyped all over social media. They reached out to see if I wanted to try out a few of their products. So far, really liking them, especially the Body Exfoliator!
Branch Basics // My FAVORITE non-toxic cleaning products! The best non-toxic household cleaning supplies! Check out my review here! Get 10% OFF your Starter Kit with code COBALT.
Territory Food Delivery // Healthy, locally prepared, and already cooked! All you have to do is warm them up! Use my code – COBALT – for $50 off across your first two orders ($25 off each order).
M.Gemi // Use code COBALT60 for $60 off your first purchase! M.Gemi shoes are handmade Italian shoes. The quality is outstanding. They run TTS. I have the Feliz Suede Drivers and love them!
Weekend Plans
We're in Baton Rouge all weekend. We're planning on fresh boiled crabs for dinner tonight, grabbing coffee (tea for me!) at one of our favorite coffee spots, French Truck, tomorrow, and watching football most of the day! The weather is supposed to be gorgeous here all weekend long so I'm hoping to spend most of it outdoors!
My Favorite Things this Week
Nike Sweatshirt // I've been living in this sweatshirt! I'm tempted to grab another color, it's so good! It's super soft and cozy. It runs oversized. I have a size small. I could have gone with an x-small, but it's a bit cropped – that's why I went with a small. Love the oversized fit.

VOTE Tee // My friend Jess Keys collaborated with Alice & Wonder to create this fun VOTE tee. 10% of the proceeds from the tee will be donated to Vote Save America's Every Last Vote fund to support on-the-ground efforts to mobilize Black, brown, indigenous, and other marginalized communities that are routinely victims of targeted voter disenfranchisement efforts.
Do you have your voting plan mapped out?! First, double check that you're registered to vote. Once you've confirmed you're good to go, Google where you're polling stations are located and look to see if you're able to early vote in-person. Mark the day you're planning to vote (and time!) in your calendar. Block off enough time to account for lines at the polls. Get your plan together NOW so you're not scrambling on Election Day.

Otherland Candle // Clean candles that smell amazing! Otherland sent over a few of their fall scents for me to try out – I love the Cardamom Milk! On top of being clean (no chemicals + cotton wick), their candles are beautiful too!