Today I'm sharing our first stop from our two week jaunt around Europe!  Michael and I used our accumulated Ultimate Rewards points and transferred them to United Airlines, one of their many travel partners, to book our trip!
(Check out this post for more information on Ultimate Rewards and check out this comparison chart for the best travel credit cards.)
We left at 10:00pm out of D.C. on a Friday night and after a 6 1/2 hour direct flight, we landed in London at 10:00am local time.  It was the easiest flight!
We only spent two nights in London, so let's jump right in to where we stayed, what to do, and where to eat!


Where We Stayed
Y'all know I'm a fan of Airbnb (check out this post and get $40 off of your first stay!).  We stayed at this adorable spot that was no more than a 10 minute walk to Parliament, Big Ben, and the Thames River.  Iana, our host, was amazing.  She greeted us upon arrival and answered any questions we had throughout our stay (via text message).  The Airbnb itself was so cute, spacious, welcoming, and had loads of charm!  I highly recommend her place if you're visiting London!
You'll likely see me mention this in every city recap from our trip, but we didn't take one single car (not an Uber or a taxi), during our stay in London.  We either walked or took the Tube (their subway system) everywhere.  Upon arrival, be sure to purchase an Oyster card (their subway card) and use Google Maps – it shows subway routes and the system is super easy to navigate!  The train even goes to and from the airport – we saved so much money this way!
Not related to where we stayed, but kind of … The number one travel accessory that I HIGHLY recommend purchasing if you're traveling abroad is this power converter + adapter!  It's amazing.  You need both because the converter is used to convert the voltage from their usage to what your electronic device is programed to use – this is why most ladies' hair straighteners melt when they just use a power adapter and not a converter too!  My straightener worked perfectly.  The converter has three outlets and SIX USB ports – AMAZING!  We called it our command center when everything was plugged up into it. 🙂
What to Do
It was Michael's first time to London, and only my second since high school so we had to hit up all of the touristy spots!  We spent an entire afternoon walking along the Thames River.  If you start at one end, you can walk from Parliament and Big Ben to the London Eye down the river past tons of restaurants and bars and on to the Tower Bridge!  We did this walk in various chunks throughout our two days in the city.
Must Sees Along the Thames: Parliament, Westminster Abbey, Big Ben, the London Eye, Shakespeare's Globe (we just looked from the outside), Tower Bridge, Borough Market (see below on Where to Eat for more!)
You can't go to London without saying hello to Queen Elizabeth!  We spent one morning wandering around outside of Buckingham Palace.  The amount of people there was crazy!  It was definitely the most tourist packed spot that we visited. Hyde Park is near the Palace so we strolled through there as well.  It's similar to Central Park – The weather was perfect when we were in London so it was really nice to leisurely walk through the giant green space where there were tons of runners, bikers, and people out and about playing an assortment of sports.  Also within walking distance is Carnaby – Located in the heart of the West End neighborhood, Carnaby is a collection of 13 streets with the cutest shops, murals, cobblestone streets, restaurants, and bars!  A great place to pop in a few shops, eat lunch, and grab an afternoon beer!
Must Sees: Buckingham Palace, Hyde Park, Carnaby
We spent our last half-day exploring Notting Hill.  When I visited London in high school I thought that every piece of London would look like the movie Notting Hill (ha!).  I didn't make it to the neighborhood on my first trip so this was a high priority on my list!  Y'all, it did not disappoint!  It reminded me a lot of Georgetown, here in D.C., with colorful row houses, beautifully landscaped yards, the cutest shops and restaurants … you get my drift!
Must See: Wander around Notting Hill (see where we went to brunch below!)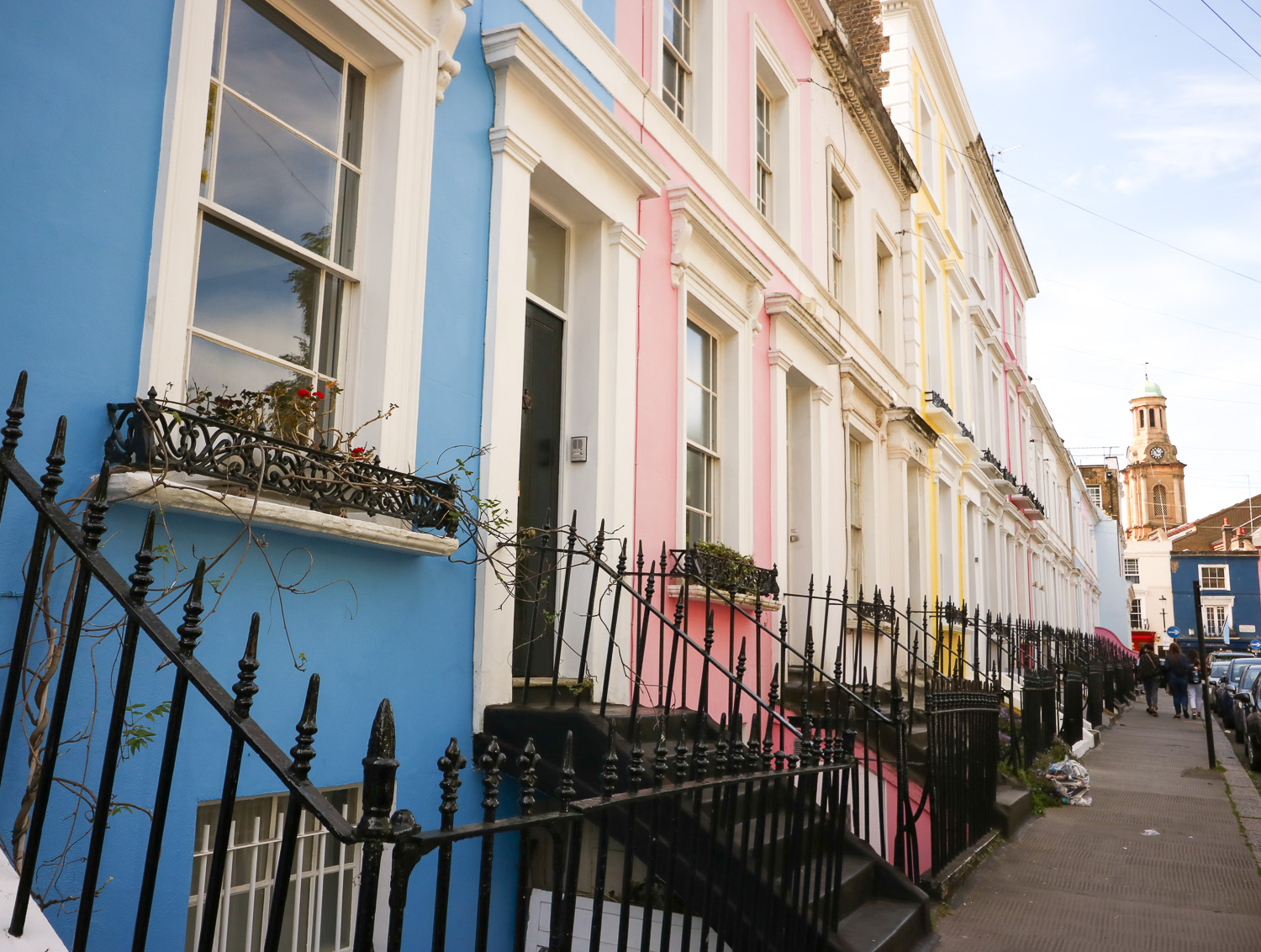 Where to Eat
Unfortunately, I don't have that many photos from places that we ate (maybe because I was just too hungry to snap pics?!) …
Coffee/Breakfast:
Lunch:
Dinner:
If you're walking along the Thames River (on the side with the Eye), there are really cool pop up food trucks along the river and food stands under one of the bridges.  We grabbed beers one afternoon from a beer stand and took them to the foot bridge above and just sat and watched all of the boats passing by as well as all of the people!  We also snagged yogurt one night from one of the food trucks.
And then we were off to Paris! I'll have our Paris recap up next week so be sure to stop back by!
Fossil Bag c/o (on sale!) | Frame Denim | J.Crew Linen Tee | Cole Haan Sneakers | Away Bigger Carry-On c/o
Michael made a little video recap of our time in London – you can check it out here if you're interested!
Things to Know:
ICYMI: