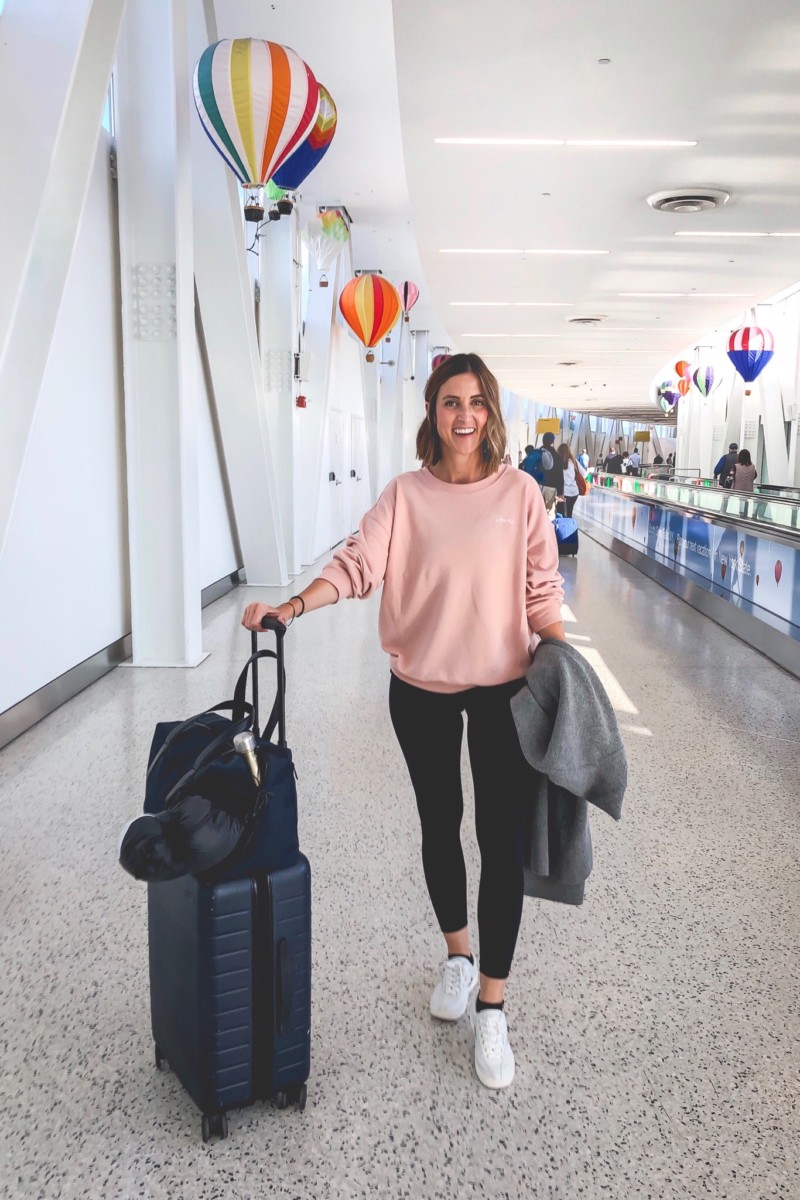 Away Everywhere Bag | Away Bigger Carry On | H&M Sweatshirt (so soft, wearing size Large, $10) | Lululemon Leggings | Tretorn Sneakers | Madewell Sweater Coat (similar)
We're closing out our two week trip to Portugal and Morocco this week (heading back to Houston on Wednesday). While in Portugal, we spent time in Lisbon, Porto, and the Douro Valley. Today I'm sharing what I packed for Portugal (and Morocco)!
Keep in mind that I packed in only carry on bags (pictured above). I used the Away Everywhere Bag as my personal item and the Away Bigger Carry On as my main suitcase. I've had more than enough pieces to mix and match for our two week vacation! And I even brought along all of my favorite makeup and skincare products too!
What to Pack for Portugal
When packing only in a carry on bag for a long-ish trip, the key to getting lots of different outfits out of the minimal amount of pieces is to stick with a color scheme. Most of my wardrobe is made up of muted neutrals. Whites, creams, light pinks, and black, so that's the theme I went with for my trip to Portugal.
Tops
In total, I packed 12 tops! This is way more than I actually needed on our trip, but I would like to reiterate that YES, I fit 12 tops plus everything else in this post in my carry on bag! Here are the specifics …
2 Long Sleeve Tees: One Madewell tee (similar to this one) and this Mott & Bow cotton/cashmere blend long sleeve.
1 Short Sleeve Tee: This Everlane tee.
1 Striped Tank Top: This Everlane tank.
1 Lace Cami: This CamiNYC tank. I packed this as a nicer option for layering to go out to dinner at night.
3 Layering Camis: I picked up this pack of camis from Amazon right before our trip. They were great for layering while traveling!
1 Nice Blouse: This Joules blouse was great for looking a bit more dressed up during the day.
2 Heavy Long Sleeve Tops: I brought this Joules striped long sleeve and this Amazon sweater (perfect for leggings/travel and it rolls up pretty tightly – great for packing!).
1 Sweatshirt: I picked up this H&M sweatshirt before my trip. It's easily one of my best recent purchases. It's super soft and was great for the long haul flights and for lounging at the hotel. I have a size Large.
Bottoms
1 Pair Joggers: I brought this pair of cabi joggers. Super comfy for travel and they were great for the Moroccan heat (the other leg of our trip). Full post on my Morocco essentials coming Wednesday!
3 Pairs of Jeans: I brought two pairs of skinny jeans (one black, one dark denim) and a looser pair of light washed jeans.
Dresses
4 Dresses: The #amazonnightgown came in clutch! I brought both of mine (I have the blue and pink), plus a lightweight sleeveless dress from H&M (similar to this one), and this button up midi-dress (wearing a size 2).
Shoes
I brought 4 pairs of shoes with me. My Nike running shoes, Tretorn sneakers, flat ankle boots (similar), and a pair of flat sandals (same, different color). My Tretorn sneakers were by far the most worn! They're perfect for travel days and they paired perfectly with my dresses and jeans!
Workout/Lounge Items
I really wanted to maintain my workout schedule while on our trip as well as keep up with our half-marathon training, so I packed more workout clothes for this trip than I normally would. For workouts, I packed 3 sports bras, 3 workout tops, and 2 pairs of workout shorts.
For travel days, more casual days, or for just lounging around the hotel, I packed 3 pairs of my favorite lululemon leggings and one lululemon workout jacket (similar).
I also packed the obvious, bras (2), panties (16), and socks (5).
Accessories
I brought a few accessories to pair with different outfits, while being really thoughtful and making sure the accessories worked with multiple outfits. I brought a small cross body bag (similar to this one), one pearl embellished headband (from this set), one neck scarf, and one oversized scarf.
Random Items
A few random items that I brought along were a swimsuit (for Morocco – it's really hot there and our hotel had a pool), my bath robe (I always travel with it), this utility jacket (for cooler nights), and my Madewell sweater coat. I carried the sweater coat with me on travel days and used it as a blanket on the plane. It came in handy at night in Porto where the temps dropped into the 50s at night.
Along with all of my clothing and accessories, I also packed my toiletries, makeup, chargers, laptop, DSLR camera, polaroid camera and a few other trinkets all in both my Away Bigger Carry On Bag and my Away Everywhere Bag. Two items that came in really handy: this adapter/convertor set (we've had it for years, it's a MUST for international travel) and this electronics organizer!
I hope this post was helpful, and I hope it encourages you to pack a little lighter on your next trip! It's so much easier to travel when you only have to worry about carry on bags!