Today I'm sharing my Beautycounter favorites, including my favorite skincare, body care, and makeup products! I broke it down for you below!
One of the main reasons I love shopping at (and being a consultant for) Beautycounter is that all of their products are clean. They are committed to getting clean, non-toxic personal care and cosmetic products into the hands of women (and men). Today's a great day to make a clean swap – swap out one of your everyday skincare, body care, or makeup products for one of my Beautycounter favorites below!
Beautycounter Favorites
My Beautycounter Favorites: Skincare Products
Cleansing Balm – You've likely heard me rave about the Cleansing Balm. After rinsing my face with my cleanser and patting dry, I apply a couple of dime-sized dabs of the balm to my face (mostly around my eyes), and my makeup melts right off with a quick swipe of a cotton ball. Not only does it take my makeup off so easily, it's really moisturizing too. It doesn't strip my skin while removing the makeup.
Countermatch Pure Calm Cleansing Milk – My everyday cleanser! I LOVE this gentle cleaners. It's not a gel or lotion, it's more like a milky consistency that honestly smells like oatmeal, in the best way possible. I look forward to using it everyday! Unlike my old Cetaphil cleanser that was doing absolutely nothing for my skin, the Pure Calm Cleansing Milk keeps my face clean and clear!
Countermatch Adaptive Moisture Lotion – I use the Countermatch Adaptive Moisture Lotion as my everyday moisturizer. It's lightweight but super moisturizing. I have normal to dry skin, just for reference. It's great by itself on no-makeup days and also works as a great foundation for my makeup when I'm heading out and about for the day.
Countermatch Eye Rescue Cream – I also use the Eye Rescue Cream from the Countermatch Regimen as my everyday eye cream. Again, it's lightweight but very hydrating. And a little bit goes a long way! I've had the same tube for 4+ months. If you're looking at purchasing more than one item in a regimen (like the moisturizer and the eye cream), it may make more sense to purchase the bundle. You can check out the Countermatch Regimen HERE!
Overnight Resurfacing Peel – I've been using the Overnight Resurfacing Peel 3-4 times a week for over year now, and I've noticed a big difference in the balancing out of my skin tone. I have a lot of sunspots and brown spots on my face. Consistent use of the Resurfacing Peel has helped the discoloration fade and also leaves my skin feeling like there's a fresh new layer of skin each morning after using it! Note – There's no actual peeling of your skin involved. It's especially great for any dry patches or scaly patches from getting too much sun this summer! Definitely a holy grail Beautycounter product.
Brightening Facial Oil – On the same note of evening out my skin tone, I also use the Brightening Facial Oil to help brighten any dull spots on my face. I apply the oil at nighttime underneath my moisturizer. It's VERY hydrating and leaves my skin feeling silky smooth. This is another product where a little bit goes a long way! I had one of my customer send me an email recently saying this about the Brightening Oil: "I may have developed an addiction to the oil! I have let friends/family try it because it is SO good." Makes my heart happy! It really is SO good! *I receive questions often about how this differs from the Maelove Vitamin C Serum (full review here). The Maelove product is really lightweight, not oily at all. I use the Maelove Glow Maker Serum in the morning and the Beautycounter Brightening Facial Oil at night.
Balancing Charcoal Facial Mask – If you follow along with me on Instagram Stories, you know this is my Sunday night go to! It's the BEST face mask. It goes on thick, dries in about 5-10 minutes and makes my skin feel amazingly hydrated and clean when I wash it off!
Lip Conditioner (Peppermint) – My ride or die. I use this Lip Conditioner throughout the day, every day.
Two Holy Grail Beautycounter Favorites
I credit the Overnight Resurfacing Peel & the Brightening Facial Oil with drastically improving the appearance of my skin. The combination of these products has reduced the uneven skin tone and helped to fade the sun spots on my face.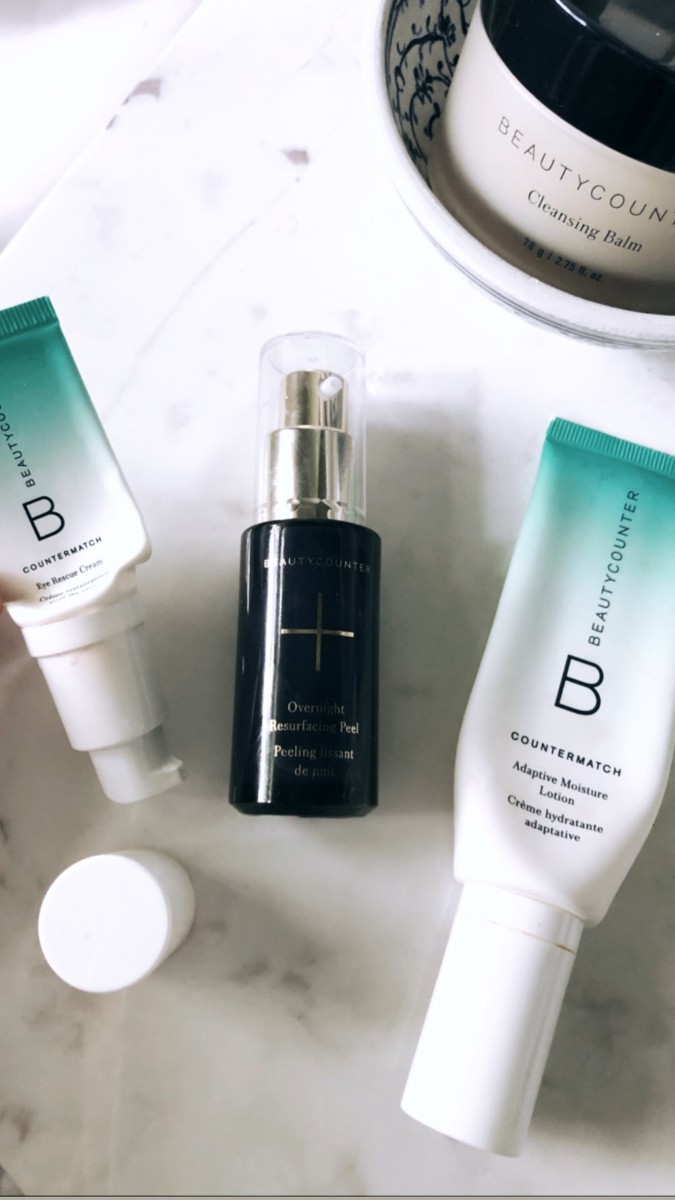 My Beautycounter Favorites: Body Care Products
Daily Shampoo – I stock up on this product! It's the only clean shampoo (sulfate free, no fragrances, no harsh chemicals etc.) that I've tried that lathers well. As a bonus, it smells amazing! And obviously leaves my hair feeling fresh and clean! Michael loves it too! If it's currently out of stock, no worries, they are replenishing and it should be available for order this week (3/17 week).
Daily Conditioner – I also buy the Daily Conditioner on repeat, although I don't have to replace the conditioner as often as the shampoo. It's a great, clean conditioner!
Body Wash in Citrus Mimosa – Another product that I legit look forward to using everyday! It smells like heaven!
Men's Counterman Daily Exfoliating Cleanser – Michael's face cleanser! He uses this on the daily and loves it. It's a repeat buy for him for sure!
Men's Counterman Energizing Charcoal Body Wash – Michael's body wash. It smells so good! Another one of his favorites!
Did you know Beautycounter offers baby and kid friendly bath and body products as well?! Check them out here!
Last but not least, sunscreen! This time of year, I always stock up on Beautycounter's mineral sunscreen. I wrote an entire post on why you should switch to mineral sunscreen here! I like the Mineral Sunscreen Lotion (travel size too), the Mineral Sunscreen Stick (great for face!), and the Mineral Sunscreen Mist!
My Beautycounter Favorites: Makeup Products
Now for my favorite Beautycounter makeup products!
Check out my everyday makeup tutorial to see how I use these products!
Flawless In Five Set – If you're interested in swapping out a few of your current makeup products, I highly recommend checking out the Flawless In Five set. It's a bundled set of 6 products that you can use to get ready and out the door in under 5 minutes. You get to choose your shades too!
Color Pinch Cream Blush (Hibiscus) – This is the first Beautycounter product I ever purchased, and I've been a repeat buyer ever since! I love how the Color Pinch Cream Blush has a dewy look to it. The Hibiscus color is perfect for spring/summer!
Satin Powder Blush (Guava) – I love applying the Satin Powder Blush alone or over the Color Pinch Cream Blush. The Guava color is the perfect pop of pink for spring/summer! If you're a NARS Orgasm fanatic, try Nectar – I hear it's a great clean dupe!
Volumizing Mascara – A little secret that I shared with my newsletter subscribers – I actually returned this product the first time I bought it. I was so confused as to why it has SO MANY rave reviews online. But then I read the reviews … If the mascara is stored in a cold place, it tends to clump. That was my exact experience! I keep it very cold at night in my house, so every morning when I'd go to apply the mascara it made my lashes look spidery (not in a good way). I decided to re-order the mascara and try it again. Now I make sure to roll the tube in my hands prior to applying, and it works amazingly well! It's a repeat buy for me now that I know the scoop!
Sheer Lipstick (Rose is my favorite!) – I just placed a re-order of this lipstick as it's my favorite, and I somehow misplaced it. How does that happen?! It goes on so smooth, smells great, and lasts (without drying out your lips).
Tint Skin Hydrating Foundation (I wear Sand) – I think the word "foundation" in this product name is a bit misleading as the consistency is a bit more like CC cream in my opinion, but in a totally good way! I'm not a fan of foundation. I like to keep my look light and airy, and I don't need super heavy coverage. I apply the Tint Skin Hydrating Foundation with a damp Beauty Blender and it adds a nice layer of coverage without being too heavy or cakey.
Dew Skin Tinted Moisturizer with SPF (I wear No. 3) – This product is very similar to the Tint Skin Hydrating Foundation. I prefer the Dew Skin during the warm weather months because of the dewy finish and additional SPF.
Color Define Brow Pencil (I wear Dark) – I love using this brow pencil to fill in my brows and give them a better definition.
Brilliant Brow Gel (I wear Dark) – I love using the brow gel to add a deeper tint to my brows and to tame them. You can really use the Brow Pencil or the Brow Gell or both! I switch back and forth.
Eyeliner Pencil (I wear Black) – I mention this in my tutorial video, but I haven't been able to find a clean beauty liquid eyeliner I love, so I've been using this pencil. It gets the job done!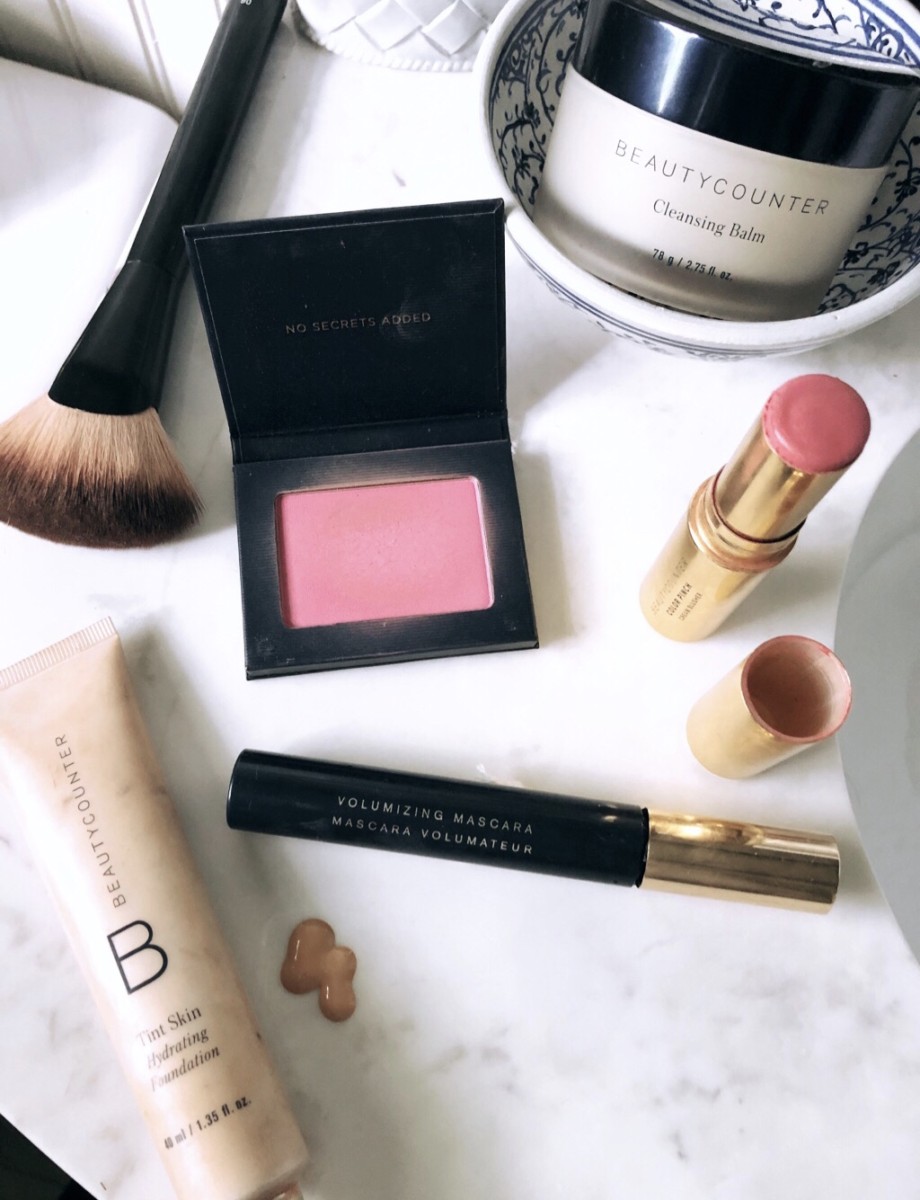 Last But Not Least, Band of Beauty Members
Lastly, if you're going to be more than a one-time-purchaser of Beautycoutner, it's a great time to join Band of Beauty (Beautycounter's membership program). It's only $29 for the entire year and when you spend over $100 you get FREE shipping, plus you get 10% product credit on all of your orders that you can then use on future purchases! It's such a good deal that it's silly not to do it if you plan on making more than one purchase this year! And you get a FREE gift when you spend $50+ on product when enrolling – the current gift is the Charcoal Mask!
Here are the BOB Member perks:
EARN 10% back in product credits on every purchase
Get our Hydrating Body Lotion ($25 value) for FREE
FREE shipping on orders of $100 or more!
FREE GIFT
Beautycounter's Return Policy
ALSO, keep in mind Beautycounter's amazing return policy. Beautycounter offers full refunds on any product that you don't love. Simply return the product within 60-days of your order (it can be used, they WANT you to try it out!). That easy!
One More Thing …
If you're new to Beautycounter and not sure where to start, I know it can be overwhelming, just shoot me an email at [email protected], and I can help make suggestions for your skin type, skin tone, and needs!
For more posts on clean beauty, check out the Clean Beauty tab at the top of the page!
And if you're a Beautycounter fan and interested in receiving 25% off all products, all the time, join as a consultant with me! As a consultant you receive 25% off all products! – You can sign up here with me! Or shoot me an email me if interested!
Happy Shopping!