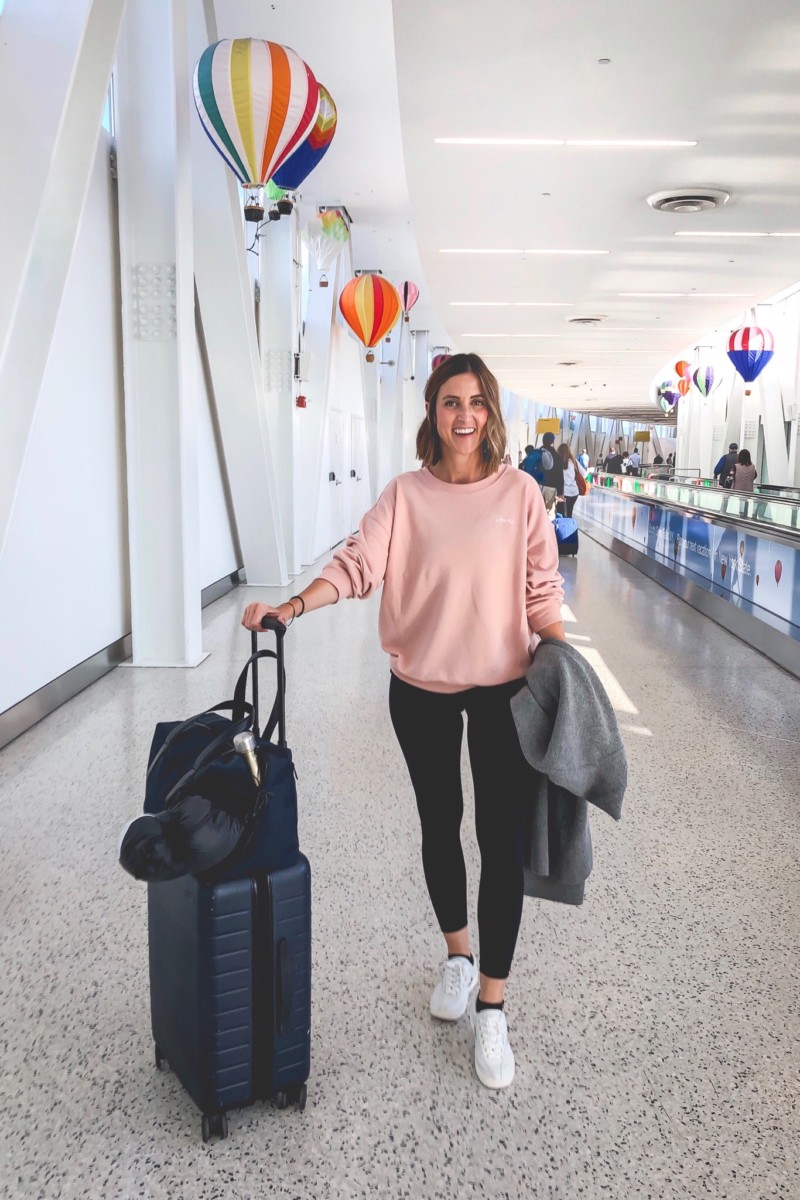 Away Everywhere Bag | Away Bigger Carry On | H&M Sweatshirt (so soft, wearing size Large, $10) | Lululemon Leggings | Tretorn Sneakers | Madewell Sweater Coat (similar)
One of my favorite things about blogging is that it serves as somewhat of an online journal for me to look back on! As the months roll on, I forget about things that happened earlier in the year. The same goes for travel! I recapped my 2017 travel at the start of 2018 and my 2018 travel at the start of 2018, so I thought I'd do the same again this year to see exactly where I spent my time away in 2019!
The funny thing about this year's travel is that before I looked back at my planner to write this post, I thought for sure I traveled less in 2019 than in 2018, but in fact, I traveled to nearly the exact same number of countries, states, and cities as I did the year before. However, one notable difference in 2019 as compared to 2018 is the number of times I was able to visit Shreveport and Baton Rouge where our families are based. Being closer to our families was one of the biggest factors that motivated us to make the move from our beloved DC back down south to Houston. The fact that I was able to make so many trips home to Shreveport, even sometimes just for a day or two, has made the move worth it.
January
ASOS Dress (out of stock, similar) | Madewell Sandals (color no longer available) | Anthropologie Bag (no longer available, similar)
I started off the year with a bang! Michael and I spent a week in The Bahamas for our wedding followed by a week in Kauai, Hawaii for our honeymoon! Hawaii was one of three new states I visited this year.
February
In February, I visited Arizona for the first time. (Another new state for me!) I traveled to Arizona on a press trip with Visit Phoenix & Visit Mesa. Check out all of my Arizona posts …
March
Michael and I made the move from DC to Houston in March. With our big move, I stayed put in Houston for most of the month with the exception of a couple of road trips to my hometown of Shreveport, Louisiana.
April
At my cousin's wedding in Dallas. Wearing an old &Other Stories Dress (similar).
In April I made a trip back to DC for a week of work and attended a wedding in Dallas.
May
Lilla P Jacket (old) | Everlane Tank (on sale!) | Madewell Denim | Everlane Loafers
Michael and I both flew to San Francisco for a week of work at the beginning of May. We also road tripped to Baton Rouge to celebrate my sister-in-law's graduation.
June
EVERLANE TREAD SNEAKERS (ORDER ONE SIZE UP) C/O | MADEWELL DENIM (TTS) | EVERLANE TANK C/O (TTS) | STUDDED JEAN JACKET (SIMILAR) | STELLA & DOT BACKPACK | QUAY SUNGLASSES | KENDRA SCOTT EARRINGS
I kicked off June with a trip to Shreveport for a wedding, and we had another wedding later in the month in Cleveland, Ohio. Ohio was another new state for me! I ended the month with a girls' trip to Oxford, Mississippi, my college town.
July
SWIMSUIT (TTS) | KIMONO (OLD FROM JAC CLOTHING) | BRIXTON HAT (WEARING XS) | KENDRA SCOTT EARRINGS | QUAY SUNGLASSES
In July, I traveled to Mobile, Alabama for a baby shower and Destin, Florida for a week at the beach with my family.
August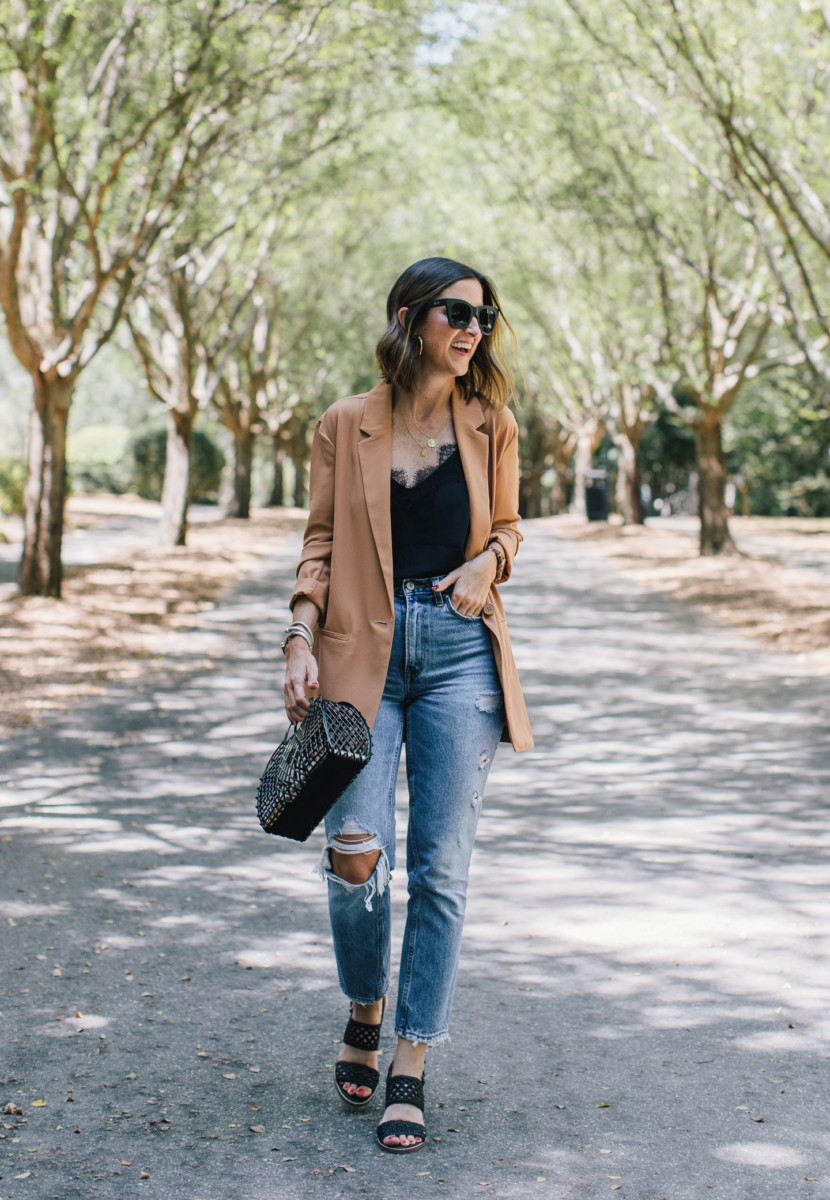 LEITH BLAZER (WEARING XS) | CAMINYC TANK (WEARING XS) | ABERCROMBIE JEANS (WEARING 26) |SHEILA FAJL HOOP EARRINGS | Gorjana Necklace | MADEWELL HEELS (TTS) | My Kind of Lovely Bag
I made another trip back to DC in August and traveled to Atlanta for The Blog Societies Conference.
September
CAMI NYC TANK (WEARING XS) | BLANKNYC COATED DENIM SKIRT | ANTHROPOLOGIE BAG (OLD) |KENDRA SCOTT GOLD SUNBURST STATEMENT EARRINGS |GORJANA SUNBURST NECKLACE | TIMEX WATCH | BANGLE BRACELETS (HERE, HERE, HERE) | MADEWELL SANDALS (OLD, SAME STYLE DIFFERENT MATERIAL)
Michael and I kicked off the month of September in Austin for the LSU vs. Texas football game, and I made a trip home to Shreveport later in the month.
October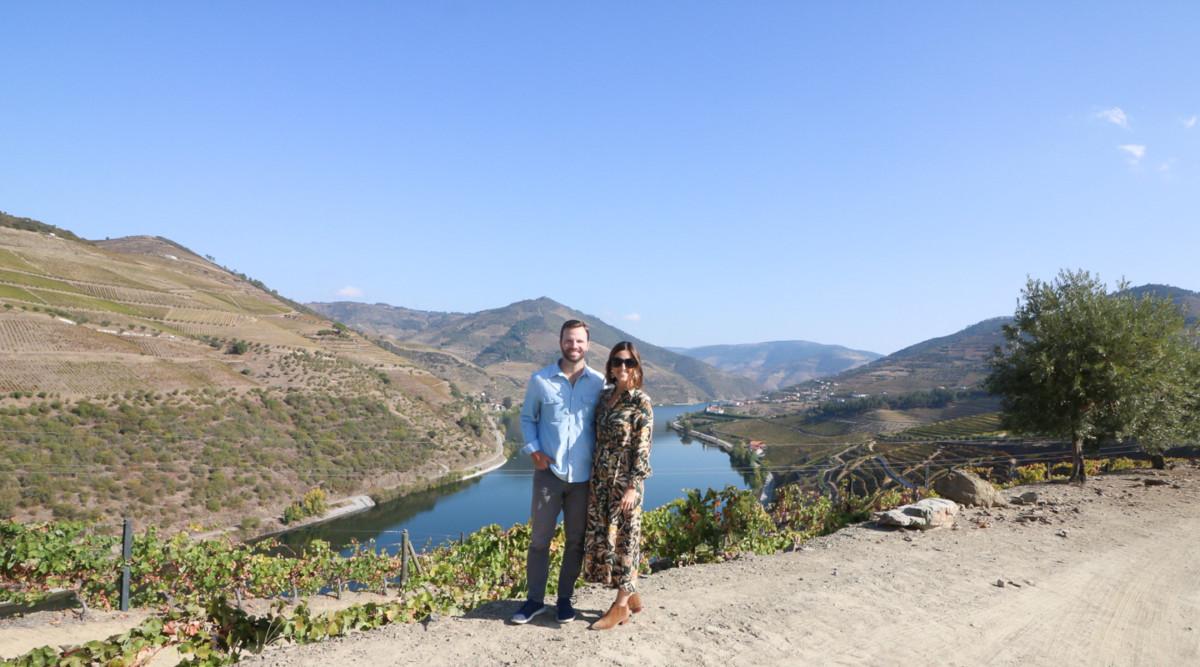 We took our annual international trip in October to Portugal and Morocco. Check out my Lisbon, Porto, and Morocco blog posts plus our full itinerary here!
November
Amazon Teddy Coat c/o (wearing XS) | Everlane Sweatshirt c/o | Mott & Bow Denim c/o (TTS) | Golden Goose Sneakers (usually a size 7, wearing 37) | Anthropologie Bag (old)
November was a whirlwind travel month. I spent one weekend in New Orleans, the next in Birmingham, the next in Mobile, and the next in Baton Rouge.
December
My Outfit: Quay Sunglasses | Cabi Cardigan | J.Crew Tee | Amazon Goodthreads Jeans | Golden Goose Sneakers | Michael: Everlane Bomber | Bonobos Button Down | Bonobos Pants | Allbirds | Warby Parker Sunglasses
December was just as busy as November. I kicked off the month with a week in NYC. For the holidays, Michael and I spent a week in Shreveport with my family and a week in Arizona visiting Antelope Canyon, the Grand Canyon, and Sedona with Michael's family.
All in all I visited 3 countries (The Bahamas, Portugal, Morocco), 11 states, 3 of which were new to me (Hawaii, Arizona, Ohio), and 24 cities in 2019!
Cheers to all of the travels to come in 2020!